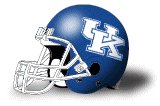 ---
Looking for current Kentucky Wildcats football info? Check out
2010 Kentucky Wildcats Football
---
Kentucky football wins the Music City Bowl for the second year in a row. This time they beat Bobby Bowden and Florida State. Congrats to Rich Brooks, Andre Woodson and the rest of the team. Great job. And...the SEC is now 3-0 in bowl games this year.


Looking to 2008, it will be tough for the Wildcats to replace Woodson. But, Rich Brooks has UK football headed in the right direction.


Add your comments about Kentucky Wildcats football at the bottom of this page.
Our 2007 pre-season forecast follows:
Kentucky football has been under the radar for many years. But, after a winning season last year, (and particularly their huge upset of Clemson in the Music City Bowl) the Wildcats are attracting attention. Head coach, Rich Brooks, has definitely brought new excitement to Commonwealth Stadium.
Wildcat receiver dives for the football .
Thanks to ukathletics for the photo .
---
Kentucky had a
great
(by Kentucky football standards) season in 2006, pulling out an 8-5 record and ranking third in the SEC East. They beat traditional college football powers - Georgia and Clemson. The Clemson win (28-20) in the Music City Bowl was particularly memorable as Clemson was the most heavily favored team in the entire bowl season! It was Kentucky's first bowl bid in six years and first bowl victory in 22 years!
They also made it to the Music City Bowl, the first bowl for the Wildcats in six years, where they defeated Clemson 28-20. The Wildcats had a strong season offensively last year, ranking ninth nationally in passing, the highest of any SEC team. Quarterback Andre Woodson, had a 63% completion record and passed for 3,515 yards.
However, Kentucky's rushing game was lacking, ranked only 101st in the nation. And, their defense was considered one of the weakest in the SEC.
---
---
Kentucky's tight end, Jacob Tamme, has been put on the watch list for the John Mackey Award as the top tight end in college football. Tamme was named to the first team All-SEC last year thanks to his high number of pass receptions. The Wildcats had a total of five players named to the pre-season All-SEC team, with Woodson and Tamme being named to the first team.
With fifteen returning starters and a strong offense, the Wildcats look good coming into the 2007 season. Their main concern will be their defense.
New defensive coordinator Steve Brown is implementing a plan this year to focus on attacking, rather than reacting. Some players expected to help put this plan in action are defensive tackle Myron Pryor and defensive end Jeremy Jarmon, who led the team in sacks last season. Linebacker Wesley Woodyard will also be an asset after finishing second in the SEC for tackles.
UK linebacker readies for play.
Thanks to ukathletics for the photo .
---
The bottom line is Kentucky football will likely be "strong" again. They will compete in virtually every game. But"¦.the SEC is just so darn tough. We don't see them finishing any higher than last year.
Thanks to JEFFHREED at flickr.com for this photo of a Kentucky cheerleader at a Wildcat football game.
---
Fortunately, not all their games are in the SEC. They'll win most, if not all, non-conference games. Thus, another winning season and another bowl game is likely.
Go wild for the Wildcats with all the
Merchandise and Apparel
,
Tickets
, and
Baseball Caps
that you need for this season.
2007 Kentucky Football Schedule:
Sep. 1 Eastern Kentucky Home
Sep. 8 Kent Home
Sep. 15 Louisville Home
Sep. 22 Arkansas Away
Sep. 29 Florida Atlantic Home
Oct. 4 South Carolina Away
Oct. 13 LSU Home
Oct. 20 Florida Home
Oct. 27 Miss. State Home
Nov. 10 Vanderbilt Away
Nov. 17 Georgia Away
Nov. 24 Tennessee Home
---
Other Kentucky Football Pages
Kentucky Wildcats football running back
Thanks to ukathletics for the photo
---
2007 Kentucky Football Roster:
#1 QB, Fr., Will Fidler
#2 S, Jr., Marcus McClinton
#3 QB, Sr., Andre' Woodson
#4 LB, So., Micah Johnson
#5 QB, Fr., Mike Hartline
#7 WR, Jr., David Jones
#8 WR, Jr., DeMoreo Ford
#12 WR, Jr., Dicky Lyons Jr.
#13 WR, Sr., Steve Johnson
#15 QB, So., Curtis Pulley
#16 LB, Sr., Wesley Woodyard
#17 WR, So., E.J. Adams
#18 TE, Sr., Jacob Tamme
#19 WR, Sr., Keenan Burton
#20 DL, Sr., Dominic Lewis
#21 S, So., Michael Schwindel
#22 RB, Sr., Rafael Little
#23 CB, Jr., Shomari Moore
#24 DB, Fr., Randall Burden
#25 DB, Jr., Ahmad Grigsby
#26 WR, Fr., Terrence Jones
#26 S, Sr., Martin McPherson
#27 DB, So., Ashton Cobb
#28 ATH, Jr., Tony Dixon
#29 RB, So., Alfonso Smith
#30 RB, Fr., Moncel Allen
#31 FS, So., Jordan Nevels
#32 CB, So., Trevard Lindley
#33 RB, So., Antoine Brown
#33 S, So., Calvin Harrison
#34 CB, So., Paul Warford
#35 S, Sr., Roger Williams
#36 K, So., Lones Seiber
#37 LB, Jr., Patrick Barnette
#37 RB, Fr., Trey Bowland
#38 FB, So., John Conner
#39 RB, Fr., Jimmy Chafin
#39 S, Jr., Adam Richey
#40 FB, So., Maurice Grinter
#41 LB, So., Ben Bates
#43 FB, Fr., Stephen Ball
#43 LB, So., Mikhail Mabry
#44 P, Jr., Tim Masthay
#45 DE, Fr., Antwane Glenn
#47 LB, So., A.J. Nance
#47 RB, Fr., Matt Ramsey
#48 LB, Sr., Terry Clayton
#49 ILB, Fr., Chris Cessna
#50 LB, So., Sam Maxwell
#51 LB, Jr., Johnny Williams
#53 DE, Fr., Ricky Lumpkin
#54 LB, Fr., Brandon Thurmond
#55 OL, So., Sefo Mailau Blaylock OL
#56 LB, Jr., Braxton Kelley
#57 LB, Fr., Jacob Dufrene
#59 OL, Sr., Eric Scott
#61 OL, So., Jorge Gonzalez
#64 OL, Jr., Josh Winchell
#65 C, Fr., J.J. Helton
#66 OL, Sr., Jason Leger
#68 OT, So., Michael Williams
#69 OL, So., Dustin Luck OL
#70 OL, So., Zach Hennis
#71 OL, Jr., James Alexander
#72 OL, So., Zipp Duncan
#73 OL, Jr., Jess Beets
#74 OG, Jr., Joe Fischer
#74 LS, Fr., Brad Hart
#75 OL, Fr., Brad Durham
#76 DL, So., Justin Jeffries
#77 OL, Fr., Marcus Davis
#78 OL, Jr., Christian Johnson
#79 OL, Jr., Gary Williams
#80 TE, So., T.C. Drake
#82 TE, So., Tyler Sexton TE
#83 WR, Jr., Anthony Stewart
#83 WR, Fr., Michael Strickland
#85 WR, So., Anthony Cecil
#86 TE, So., Ross Bogue
#87 WR, Fr., Andre Henderson
#88 TE, Fr., Chris Goode
#89 WR, Sr., Sean Murphy
#90 DE, So., Jamil Paris
#91 DT, So., Corey Peters
#92 DE, Fr., Josh Minton
#93 DT, So., Austin Moss
#94 LB, Sr., Travis Day LB
#95 DL, Jr., Ventrell Jenkins DL
#96 DE, Sr., J.D. Craigman
#97 K, Jr., J.J. Housley
#97 DE, Jr., Nii Adjei Oninku
#98 NT, Jr., Myron Pryor
#99 DL, So., Jeremy Jarmon
What do you think?


We'd love to hear your comments and/or opinions. If you submit them here, other visitors can read them, rate them and comment on them. An e-mail address is not required.

---
Return to Home Page
Alabama Football
Arkansas Football
Auburn Football
Florida Football
Georgia Football
LSU Football
Mississippi State Football
Ole Miss Football
South Carolina Football
Tennessee Football
Vanderbilt Football
From Kentucky Football to SEC Sports
SEC Football
SEC Basketball
SEC Women's Basketball
SEC Baseball
SEC Track and Field
SEC Swimming and Diving
SEC Tennis
SEC Golf
SEC Gymnastics
SEC Soccer
SEC Softball
SEC Volleyball
Best College Sports Conference
SEC vs Big Ten Debate
SEC Sports News
SEC Sports Blog
SEC Sports Fan Forum
2007 SEC Football Tickets
SEC Sports Fan Trips
SEC Sports Fan Store
About Us
Contact Us
Site Search
---