Billy Cannon Biography
Billy Cannon was born August 2, 1937 in Philadelphia, Mississippi. At the height of World War II, Billy's father found work in Baton Rouge, Louisiana, so the family moved there. Cannon graduated from Istrouma High School in Baton Rouge.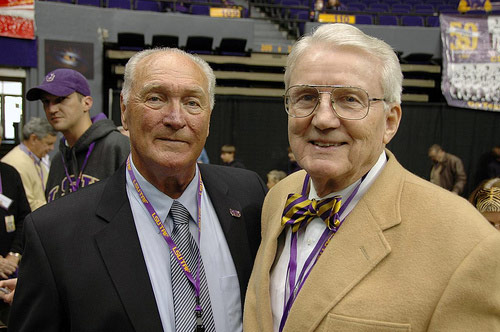 Billy Cannon (left) in 2008 at a 50th Anniversary celebration of the 1958 National Champion LSU football team. Thanks to Paul Dietzel II for these pictures.
After high school, Cannon enrolled in Louisiana State University (LSU) where he began his great football career. Billy Cannon played three seasons for LSU and led the team to their first College Football National Championship in 1958. The Tigers captured the football title after defeating Clemson 7-0 in the Sugar Bowl.

You can vote for the '58 Tigers as the best SEC team ever at Top All-Time SEC Football Team Survey.

After the 1959 football season, Billy Cannon was awarded the Heisman Trophy, the most prestigious and coveted award in college football. To earn this honor, Cannon gained 598 yards rushing, returned eights kickoffs for 191 yards, and scored seven touchdowns.

For his accomplishments on the LSU football team, Cannon's jersey number, "20", was retired after the 1959 season. LSU had never before, and has never since, retired a player's number.

Soon after Cannon's senior season ended, he secretly signed a $50,000 contract with the National Football League's Los Angeles Rams. A few weeks later, Cannon signed another contract with the Houston Oilers of the American Football League for $100,000 a year.

This obviously caused a battle between the teams, and a court later ruled that the Houston contract was binding. This tug of war between the established NFL and the new AFL caused Cannon to be the most publicized football player of 1960.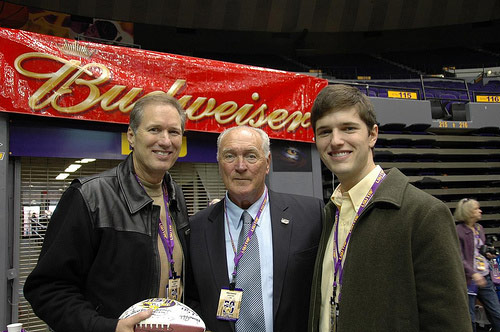 Billy Cannon (center) in 2008 at a 50th Anniversary celebration of the 1958 National Champion LSU football team. Thanks to Paul Dietzel II for these pictures.
Cannon spent four seasons with the Oilers and was named an "All-AFL" running back in 1961. He was traded to the Oakland Raiders in 1964 where he became a tight end and was named to the "All-AFL" team again as tight end in 1967.

Billy remained with the Raiders until 1970, when he played one more season in the AFL with the Kansas City Chiefs. He is one of only twenty players in history that played in the AFL for the entire 10 years of the league's existence.

While Cannon played professional football, he went to dental school at the University of Tennessee where he received his D.D.S. in 1968. He studied orthodontia and obtained two additional degrees at Loyola in Chicago. After his retirement from professional football, he became an orthodontist.

THIS IS LSU FOOTBALL PART I: WELCOME TO THE DEATH VALLEY
In 1983, Billy was tried and convicted of participating in a counterfeiting operation and was sentenced to five years in prison. Although sports writer Frank Deford denies the rumors, many believe that the novel and movie Everybody's All American was based on Billy Cannon's life.
In 1986, Cannon ran into serious financial problems and sold his Heisman Trophy to restaurant owner Tom Moran. To this day, Cannon eats for no charge at T.J. Ribs in Baton Rouge, where his trophy is displayed.

Although he has had unfortunate circumstances plague him over the past 25 years, Cannon was once - and still is - football icon - especially to LSU and Southeastern Conference (SEC) fans.
Many long-time fans still recall listening to Billy Cannon's football heroics on the radio. Even though he no longer owns his trophy, Billy Cannon's legend lives on and his name is permanently etched in football history.
Offense Billy Cannon
Read more at Billy Cannon History. To read about other great SEC football players, read Best All-Time SEC Football Player. See also 2007 LSU Football.

Chapter four of the book to the right "Game of My Life" is dedicated to the Billy Cannon story.
Check out our current page about LSU Tigers Football and LSU Tigers Football History.

What do you think?

We'd love to hear your comments and/or opinions. If you submit them here, other visitors can read them, rate them and comment on them. An e-mail address is not required.

What Other Visitors Have Said
Click below to see contributions from other visitors to this page...

By
Mo Johnson
, Copyright © 2006-2017 SECSportsFan.com