2007 Auburn Football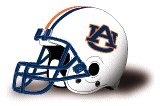 ---
Read about the
Current
Auburn football team at
2010 Auburn Tigers Football
.
---
2007 turned out to be a great year for Auburn football after all. First, the amazing 6th straight Iron Bowl win. Now, the 23-20 overtime win over Clemson in the Chick-Fil-A Bowl. After a rough start to the 2007 season, the Auburn Tigers finished strong and ended up 9-4, and ranked 15th nationally. They also may have found their QB of the future in Kodi Burns who led Auburn to the Clemson win.
Our 2007 pre-season discussion of Auburn Tigers football follows:
Auburn football has a proud Southern tradition. It was home to Heisman Trophy winners Bo Jackson and Pat Sullivan and was where John Heisman himself once coached. (See the numerous articles listed below relating to Auburn Tigers football history).
The 2007 edition of Auburn football will be very strong again. The Tigers have become a top-tier SEC football fixture under the head coach Tommy Tuberville.
Of course, their rivalry with Alabama (the "Iron Bowl") is probably the
biggest all-time college football rivalry
in America. The Iron Bowl is watched by tons of college football fans every year who find it nearly impossible to get tickets to the big game.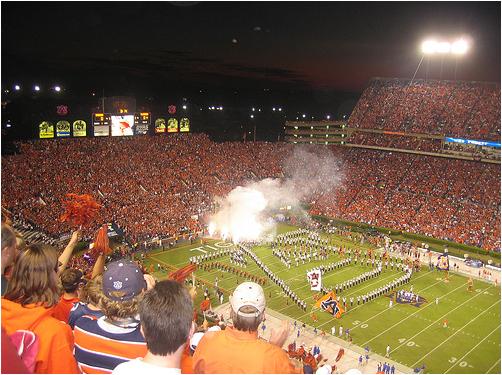 Pre-Game Festivities at Auburn's Jordan-Hare Stadium .
Thanks to bjsmith at flickr.com.
---
Auburn football went undefeated in 2004 when they won the SEC Championship but were famously snubbed from the BCS Bowl Championship. With great talent and smart coaching the Tigers will be serious contenders in the SEC again this year.
In 2006, Auburn had a great season with an 11-2 record and finished third in the SEC West (behind Arkansas and LSU - isn't the SEC
amazing
?). The Tigers went on to defeat Nebraska in the Cotton Bowl 17-14 and finish ranked in the top 10 nationally. Their defense was outstanding, ranked seventh in the nation, and only gave up 13.9 PPG.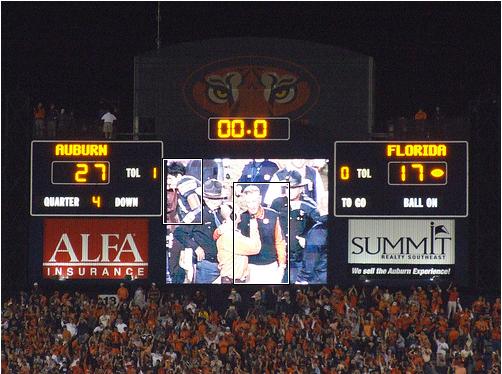 Tommy Tuberville on jumbotron at Auburn's Stadium .
Thanks to earthsound at flickr.com.
---
After continuing "the streak" and winning the fifth straight Iron Bowl, the Auburn Tigers enter this season with great confidence. Despite the loss of key players Kenny Irons, David Irons, and Courtney Taylor, the Tigers are optimistic that their starting quarterback, Brandon Cox, and seven returning defensive players, will maintain their winning culture.
Cox will also have several big targets in Rod Smith, Montez Billings and Prechae Rodriguez. However, aside from Smith, none of them have much experience. One big question about Auburn football this pre-season is their offensive line, which returns only one starter, King Dunlap.
Auburn football had eight players asked to join the pre-season All-SEC coaches' team, with DE Quentin Jones, who nearly tied Auburn football's record for most sacks last season, being selected to the first team. Jones is also on the watch list for the 2007 Ted Hendricks Defensive End of the Year Award.
There is little doubt that Auburn will go to a major bowl game again. They have a shot at pulling out the SEC West Championship. The problem is - as we say often - the SEC is just so darn tough.
Auburn has a really tough schedule playing Florida, Arkansas, LSU and Georgia on the road. How many wins can you reasonably expect in those 4 games. Then, they have the Iron Bowl game against Alabama. The rest of their games should be relatively easy wins. Still, you have to expect 2-3 losses in those 5 big games. They probably cannot win the SEC-West with 2-3 losses.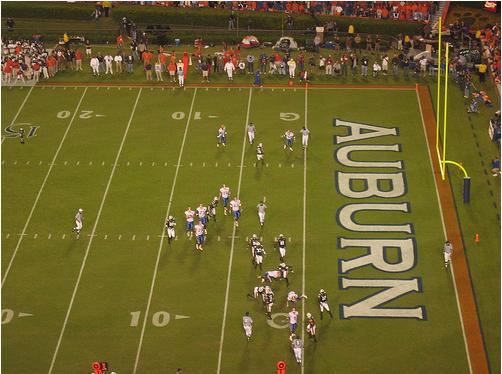 Auburn vs Florida 2006 football game.
Thanks to bjsmith at flickr.com.
---
So, we pick Auburn to finish second in the SEC West, behind LSU.
Pick out your Tigers
Merchandise and Apparel
,
Tickets
, and
Auburn Fight Song/Logo Poster
from these links.
2007 Auburn Football Schedule:
Sep. 1 Kansas State Home
Sep. 8 South Florida Home
Sep. 15 Miss. State Home
Sep. 22 New Mexico St. Home
Sep. 29 Florida Away
Oct. 6 Vanderbilt Home
Oct. 13 Arkansas Away
Oct. 20 LSU Away
Oct. 27 Ole Miss Home
Nov. 3 Tennessee Tech Home
Nov. 10 Georgia Away
Nov. 24 Alabama Home
---
---
---
Other Auburn Football Pages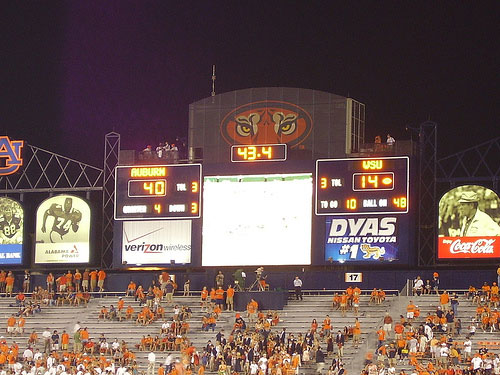 Auburn Football Scoreboard .
Thanks to Carolina Hornig at flickr.com for the picture .
---
What do you think?

We'd love to hear your comments and/or opinions. If you submit them here, other visitors can read them, rate them and comment on them. An e-mail address is not required.

What Other Visitors Have Said
Click below to see contributions from other visitors to this page...

Watch Out for the Auburn Tigers Not rated yet
Hey War Eagles -- I just wanta say that after auburn has lost to missisiipi state and south florida, winning the SEC is out of the question. But I'm …
2007 Auburn Football Roster:
#1 RB, Jr., Brad Lester
#2 S, So., Aairon Savage
#3 WR, Jr., Robert Dunn
#4 CB, Fr., Zac Etheridge
#4 K, Fr., Ryan Shoemaker
#5 S, Fr., Michael McNeil
#5 TE, So., Tommy Trott
#6 CB, So., Walter McFadden
#8 CB, So., Jerraud Powers
#9 RB, Jr., Tristan Davis
#10 LB, So., Tray Blackmon
#10 K, Sr., Tyler DiPace
#11 QB, Fr., Steven Ensminger
#11 CB, Fr., Mike Slade
#12 QB, Sr., Brandon Cox
#13 WR, Fr., Tim Hawthorne
#14 S, Jr., Lorenzo Ferguson
#15 WR, Sr., Prechae Rodriguez
#16 QB, Jr., Blake Field
#16 K, So., Zach Kutch
#17 LB, Fr., Josh Bynes
#17 S, Jr., Jonathan Vickers
#18 QB, Fr., Kodi Burns
#18 K, Fr., Wes Byrum
#18 S, So., Austin Hoyt
#19 QB, Fr., Neil Caudle
#20 CB, Sr., Pat Lee
#20 ATH, Sr., Matthew Motley
#21 WR, Fr., Alex Rose
#22 CB, Sr., Zach Gilbert
#24 CB, Sr., Jonathan Wilhite
#26 LB, Jr., Steve Gandy
#27 RB, Fr., Mario Fannin
#28 LB, Fr., Bo Harris LB
#28 S, Jr., Blake Shrader
#29 FB, So., Jason King
#30 FB, Fr., John Douglas
#31 FB, Sr., Danny Perry
#32 RB, Sr., Carl Stewart
#33 S, Sr., Eric Brock
#35 TE, Fr., Brent Slusher
#36 S, Sr., Brant Haynie
#37 S, So., Brett Carr
#38 K, Fr., Ross Gornall
#39 DB, Sr., Josh Hebert
#41 DE, Fr., Darrell Roseman
#43 RB, Sr., Perry Hooper
#43 S, Sr., Pete Ruzicka
#44 RB, So., Ben Tate
#45 DE, Fr., Antoine Carter
#46 LB, Fr., Craig Stevens
#47 LB, Fr., Adam Herring
#48 TE, Fr., Bailey Woods
#49 DE, Fr., Michael Goggans
#50 LB, Jr., Greg Johnson
#50 C, Fr., Ryan Pugh
#51 DE, Fr., Bryant Miller
#52 DE, So., Antonio Coleman
#53 OL, Fr., Bart Eddins
#54 DE, Sr., Quentin Groves
#55 OLB, Jr., Merrill Johnson
#56 LB, Jr., Courtney Harden
#56 LB, So., Jacob Shirey
#57 OL, Fr., Byron Isom
#57 LB, So., Brian Summerhill
#58 OL, Fr., Kyle Coulahan
#59 LB, Jr., Chris Evans
#60 LS, So., Robert Shiver
#61 OL, So., Conrad Lynch
#63 LS, So., Rick Cherry
#63 OL, So., Brennan Palmer
#64 G, So., Leon Thompson
#65 OG, Jr., Nathan Farrow
#65 OL, So., Jackson Timmerman
#66 OL, Fr., Mike Berry
#67 OL, So., Michael Hatter
#68 OL, Jr., Jason Bosley
#69 OG, So., Rudy Odom
#70 OT, Jr., Antwoin Daniels
#71 OG, Jr., Tyronne Green
#72 OG, Sr., Leon Hart
#73 OT, Fr., Lee Tilley
#73 OL, Fr., Lee Ziemba
#74 C, So., Ryan Shuler
#75 OT, So., Andrew McCain
#76 OL, Fr., Chaz Ramsey
#77 OT, Sr., King Dunlap
#78 OL, So., Oscar Gonzalez
#79 OL, Fr., Jared Cooper
#80 WR, Jr., Clayton Jones
#80 WR, Jr., Rod Smith
#81 WR, Fr., Terrell Zachery
#82 WR, Jr., James Swinton
#83 TE, So., Gabe McKenzie
#84 WR, So., Montez Billings
#85 WR, Fr., Quindarius Carr
#85 WR, So., John Cubelic
#87 TE, Sr., Cole Bennett
#88 WR, So., Luster Lewis
#89 WR, So., Sam Olatunji
#90 DE, Fr., A.J. Greene
#91 DL, So., Jermarcus Ricks
#93 DL, Fr., Mike Blanc
#93 DE, Sr., Brandon Haley
#94 DT, So., Sen'Derrick Marks
#95 DT, Jr., Pat Sims
#97 NT, Sr., Josh Thompson
#98 DL, Fr., Zach Clayton
#99 NT, Sr., Tez Doolittle
Auburn Elvis at Tigers Football Tailgate.
Thanks to auburnelvis at flickr.com for the picture .
---
---
Return to Home Page
Alabama Football Arkansas Football Florida Football Georgia Football Kentucky Football LSU Football Mississippi State Football Ole Miss Football South Carolina Football Tennessee Football Vanderbilt Football From Auburn Football to SEC Sports SEC Football SEC Basketball SEC Women's Basketball SEC Baseball SEC Track and Field SEC Swimming and Diving SEC Tennis SEC Golf SEC Gymnastics SEC Soccer SEC Softball SEC Volleyball Best College Sports Conference SEC vs Big Ten Debate SEC Sports News SEC Sports Blog SEC Sports Fan Forum 2007 SEC Football Tickets SEC Sports Fan Trips SEC Sports Fan Store About Us Contact Us Site Search
---