2010 - 2011 SEC Bowl Previews
Here are our current 2011 - 2012 SEC Bowl Previews and Predictions
Since the games are over, you might like to read our Review of the 2010 - 2011 SEC Bowl Season
Looking for the absolute best SEC Bowl Previews? Without question, we've got them right here. All ten of them!
With ten of it's twelve teams getting bowl bids, the SEC tied it's own record for most bowl bids in a single season. This is part of what makes the SEC the top college football bowl conference. Last year ('09 - '10) the SEC tied the record set the previous year by the ACC with ten bowl bids -- the most all-time college football conference bowl bids.
This year we are picking the SEC to go 7-3 in it's bowl games. Contrary to popular opinion, the bowls are actually stacked against the SEC because SEC teams generally face higher seeded teams from other conferences. This happens for reasons discussed in more detail at SEC Bowl Predictions.
Nevertheless, at 7-3, we think the SEC will, as per usual, be the top college football conferences in the 2010-2011 bowl season.
And, the biggest game of the 2010 - 2011 bowl season will be won by the SEC's Auburn Tigers further cementing the grip Southeastern Conference Football holds on the title of Top CFB National Championship Conference.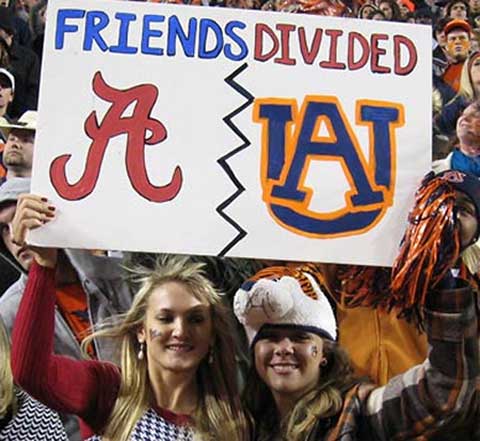 Friends divided Alabama vs Auburn the Iron Bowl.
Thanks to IllegalShift at flickr.com for the picture.
---
Here's the 2010 - 2011 SEC Bowl Line Up -- with point spreads as of 8 Dec 2010:
Franklin American Mortgage Music City Bowl December 30
Tennessee (6-6) vs North Carolina (7-5) (UNC favored by 1.5)
An ACC v SEC match up will take place in Nashville as North Carolina takes on Tennessee. The Tar Heels finished in third place in the ACC Coastal division. Tennessee finished in fourth place in the SEC East. This will be the first match up of these schools since 1961. The Volunteers entered the month of November with just two wins, but won four in a row to finish 6-6 (exactly as we predicted before the season at SEC Sports Fan). North Carolina was able to bounce back after a player/agent scandal brought suspensions on to start the season. This appears to be an offensive game as both teams will be lead by their quarterbacks. Tennessee got on their roll after Freshman Tyler Bray took over at Quarterback. He had 12 touchdowns and only 4 interceptions in Tennessee's win streak. Senior T.J. Yates led North Carolina with 3,184 passing yards and 18 touchdowns.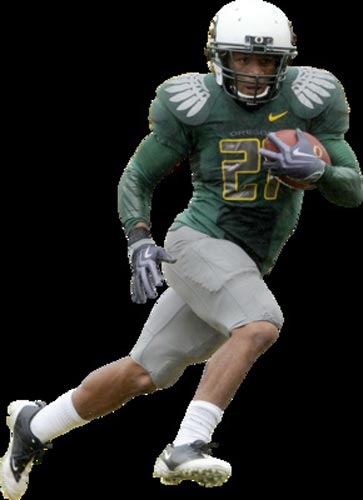 LaMichael James Oregon.
Thanks to IllegalShift at flickr.com for the picture.
---
Overall, both the Tarheels and Volunteers have been troubled teams in 2010. However, the difference is that North Carolina on the way down and Tennessee on the rise with their talented and surprising freshmen quarterback. UNC has seen so much turmoil with players and coaches that I can't see them focusing enough to win this game. North Carolina has so many players suspended and they seem to have nothing bringing to them together. The controversy could result in their coach (Butch Davis) losing his job at the end of the year and I just think they will lay down and take a dive in this game. Tennessee has played hard all year and finally put the talent together. They're on the upswing. It's weird that these teams are playing. Tennessee got rid of a coach who was doing things wrong and causing turmoil and they're playing UNC who may be about to do the same. Prediction: Tennessee outplays a dead UNC and wins 28-10.
Autozone Liberty Bowl December 31
Georgia (6-6) vs Central Florida (10-3 C-USA Champs) (GA favored by 7)
Georgia was another SEC East team that got out of the gate slow. They started 1-4 before winning five of seven games to reach a bowl. Central Florida was only 2-2 before winning seven of their last eight to each the C-USA title game. They beat Southern Methodist 17-7 to reach the Liberty Bowl. This should be a high scoring game with both teams coming in averaging over 30 points a game. But where UGA likes to pass the ball around (246 yards a game), UCF would like to run it (192 yards a game). The SEC currently holds a four game winning streak in the Liberty Bowl. UCF last played in Memphis in 2007 losing to Mississippi State 10-3. Georgia last played in 1987 defeating Arkansas 20-17.
UCF may not be big in name, but they are huge in stature. They play up for big games. Georgia has been steadily improving and their coach (Mark Richt) really needs this win. Georgia had a struggle at the beginning of the year and it seemed as though a great coach might get fired. The Bulldogs have improved and Coach Richt now seems like a genious again. We have seen this team grow. I don't think they're going to win this game though. UCF has been counted out of everything for the whole year. People thought they would lose to SMU in the C-USA championship game and they made it look easy in winning. UCF is a sleeper and wins the 2010 Liberty Bowl 21-14. Editor's Note: Sorry, after substantial deliberation SEC Sports Fan is going to have to override this writer's opinion. Much of the trouble Georgia had this year was due to the controversial suspension of All-American Wide Receiver AJ Green. Well, AJ will be playing in this game and will have a huge game. Mark Richt needs a win; we think the Bulldogs rally and win this game in a wild one, 38-35.
Chick-Fil-A Bowl December 31
South Carolina (9-4; SEC East Champions) vs Florida State (9-4; ACC Atlantic Champions) (SC favored by 3)
The is a New Years Eve match-up of conference championship game losers as South Carolina takes on Florida State. South Carolina comes in after winning the SEC East for the first time, but was blown out in the second half against Auburn in the SEC Championship Game. Florida State was able to regain the ACC Atlantic Division title but was not able to win the ACC Championship Game (losing to Va. Tech). For USC (East), they will come in on the strength of freshman running back Marcus Lattimore (1,198 rushing yards and 17 touchdowns) and wide receiver Alshon Jeffery (79 receptions, 1,387 yards). Florida State comes in with a balanced offense lead by senior quarterback Christian Ponder (2,038 yards passing and 20 touchdowns). South Carolina last played in this bowl in 1969, losing to West Virginia 14-3. Florida State last played in this bowl in 1983, defeating North Carolina 28-3.
South Carolina will run the ball effectively, but doesn't have the gas in the tank for Florida State and their passing ability and speed on defense. The Gamecocks have one of the best freshman running backs in the country, but holes will be few and far between as Florida State's size and speed seals them. The Ol' ball coach will have to work some magic to win this one and I don't see it happening. Florida State is back in a big way and will show it throwing, running and bruising on offense (did you see what they did to the Gators?). Their speed on D will guide them to beat up on SC and I say the Florida State Seminoles win this one 28-10.
Outback Bowl January 1
Florida (7-5) vs Penn St. (7-5) (Florida favored by 7)
This will be a match up of two coaching heavyweights as Urban Meyer's Gators take on Joe Paterno's Nittany Lions. Both of these teams saw plenty of ups and downs throughout 2010. Florida came into the season highly ranked and started out 4-0, but struggled in the second half of the season. The Gators normally high powered offense did not click all the time with sophomore John Brantley (2,020 yards passing and 9 touchdowns) taking over at quarterback. Penn State also had some struggles. The Nittany Lions' main offensive threat is senior Running Back Evan Royster who rushed for over 900 yards on this season. This will be the third meeting between the two schools with Florida enjoying a 2-0 head-to-head record.
This game will come down to power and Penn State will come out on top. They simply outclass Florida in this one. I hope Florida proves me wrong, but I just don't think they have the focus. Florida is so up and down; their game-breakers are small and they don't have strong quarterback play. Penn State has developed a quarterback and is peaking at the right time. They play big and have more speed than in years past. They have finally figured things out and will win this one in the trenches 10-7. Editor's Note:Due to Urban Meyer's decision to resign effective after this game, we think the Gators will be fired up to send him out a winner. So, we are now PICKING THE GATORS to win 21-17.
Capital One Bowl January 1
Alabama (9-3) v Michigan State (11-1; Tied for 1st place Big Ten) (Alabama favored by 11)
Alabama would have preferred to be defending its National Championship in the BCS title game. Michigan State would have liked to be playing in a BCS Bowl game, mainly the Rose Bowl. Both fell short of their goals. For Alabama it was inconsistent play that caused them to drop in the SEC West. For Michigan State, who did finish tied for first in the Big Ten, they were left out of the BCS due to the tie-breaker rule where the Rose Bowl bid went to the highest ranked Big Ten team, according to the BCS, which turned out to be Wisconsin. Both teams bring balanced offense into the game with experienced Quarterbacks. For Alabama, Senior Greg McElroy leads an offense featuring Heisman Trophy winner Mark Ingram, fellow running back Trent Richardson, and wide receiver Julio Jones. For Michigan State, QB Kirk Cousins also has 1,000 yard rusher Edwin Baker in the back field to keep the Crimson Tide defense honest. This will be the first meeting between the two schools.
I watched on ESPN as they talked about how great Michigan State was and how Alabama was only good because of its coach, Nick Saban. Need I remind you of the talent on that side of the field? Alabama will come out and shove Michigan State around and pound the ball down the throats of the Spartans. Michigan State will play for a quarter before they waive the white flag. Michigan State had to go to a trick play to beat Notre Dame; whereas, Alabama's losses where to big time opponents (LSU, Auburn and South Carolina) in close, tought games. The Crimson tide runs the ball with two backs that can beat most defenses by themselves. There's nothing you can do to stop them out of the wildccat. Alabama is just too physical. Michigan State may be smarter, but that won't be enough to beat the Crimson Tide athletes. 28-14 Alabama.
Gator Bowl Presented by 5-Hour Energy January 1
Mississippi State (8-4) vs Michigan (7-5) (Miss. State favored by 6)
This has all the makings to be a grind-it-out football game. Mississippi State will come into this game with an offense averaging 215 yards per game on the ground. Michigan comes into the game averaging 251 yards rushing. The main difference in this game will be on defense. The Bulldogs only give up 20 points a game. The Wolverines give up over 30. For Mississippi State the backfield duo of Junior Vick Ballard (892 yards rushing, 16 touchdowns) and Junior Quarterback Chris Relf (1,508 yards passing, 10 touchdowns and 683 yards rushing and 4 touchdowns) will attack the Wolverines defense. For Michigan, they will be led by their do it all Sophomore Quarterback Denard Robinson. The early season Heisman leader passed for 2,316 yards and 16 touchdowns and ran for 1,643 yards and 14 touchdowns.
Michigan came out of the Big Ten on the losing end and hurt. They have a good quarterback who seemed to be on a sure way to the Heisman at the beginning of the season, but because he hurt himself so much by running getting hard yards, he ended up not playing as much as he needed to in order for the team to win. They ended up playing a sub-par backup that can't play their style of offense because he doesn't have the running ability. Mississippi State has been the little brother of the SEC for quite some time, but look out cause little brother is all grown up. They have a great coach (Dan Mullen) and are really doing some things and going about things in a different way this season. MSU is simply playing tougher and looking more athletic, like a real SEC team. Michigan will still win this game on talent like they should. Mississippi State will pick up a moral victory though and the MSU kids will grow and the program will get recognition.
Wolverines coach Rich Rodriguez could well get fired if the Wolverines lose this game. This is another reason Michigan will win 21-17.
Allstate Sugar Bowl January 1
Arkansas (10-2) vs Ohio State (11-1; tied for 1st in Big Ten) (Ohio State favored by 3)
Arkansas finds itself in a BCS bowl after defeating the LSU Tigers in the final week of the season to end up #2 in the TOUGH SEC West. Ohio State finds itself once again in a BCS Bowl after tying for first place in the Big Ten, but not getting the tie-breaker. Most people know that in recent years Ohio State has not faired well against SEC schools. In fact, Ohio State holds an 0-9 record against the SEC in bowl games. OSU will try to stop that streak behind a strong rushing attack. Junior Quarterback Terrelle Pryor (2,551 yards passing, 25 touchdowns and 639 yards rushing with 4 touchdowns) and Junior Running Back Dan Herron (1,068 yards rushing with 15 touchdowns). Ohio State also features one of the best defenses in the nation giving up only 13 points a game.
Arkansas will counter with Junior Quarterback Ryan Mallett (3,592 yards passing with 30 touchdowns) leading a high powered offense. Sophomore Running Back Knile Davis rushed for over 1,000 yards and 13 touchdowns and Mallet will spread the ball passing with five receivers catching over 30 passes, three with 40.
I hate to talk about this one because I'm from Arkansas. Ohio State is a good team with an awesome quarterback. I just don't think they can hang offensively with the Hogs after the U of A found a running game and came up with a real offense. The Razorbacks' speed on defense is something that I don't think the Buckeyes have seen. Arkansas has such depth at the receiver position and the running backs along with a quarterback that should have won awards that they are unstoppable by anyone but themeselves on offense. Ohio State is a powerful team with solid play from the backs, but they don't have enough team speed. Arkansas is hungry and they are going to be playing for pride and will win the 2011 Sugar Bowl 35-24. And, the amazing streak lives on, OSU goes to 0-10 vs the SEC in Bowl Games.
AT&T Cotton Bowl January 7
LSU (10-2) vs Texas A&M (9-3) (LSU favored by 1)
The Mad Hatter had his luck run out of against Arkansas. But a 10-2 season is nothing to be upset about, but knowing Les Miles, he probably is. Texas A&M will get a little taste of what could have been. During the summer of 2010, there were rumors that Texas A&M would be interested in joining the SEC if the Big 12 fell apart. Well they stayed home. Now they get a taste of SEC football in the Cotton Bowl. LSU will bring a rush happy offense, 179 yards a game, with Junior Running Back Stevan Ridley over 1,000 yards rushing and 14 touchdowns leading that attack. LSU will also bring in a Top 10 defense giving up only 18 points a game. For A&M, they will bring a pass happy offense lead by Junior Ryan Tannehill, who came on after a three game losing streak to guide Texas A&M to six wins in a row.
Texas A&M has really improved since switching quarterbacks. LSU is a good tough football team, but makes too many mistakes. They have a few explosive players on offense, but can the Tigers' quarterback Jordan Jefferson get it to them? I hope so, but I'm not sure. A&M is a solid team and wants to play hard, but may fall short because of lack of talent. As much as I don't think the mad hatter can pull it out of his hat, I think in this one the talent of LSU will be decisive. LSU wins 21-10.
BBVA Compass Bowl January 8
Kentucky (6-6) vs Pittsburgh (7-5; tied for 1st in Big East) (Pittsburgh favored by 3)
Both teams came into this season with high hopes. Pittsburgh's goal was to win the Big East. For Kentucky it was to move up the ladder in the SEC East. Neither team got what it wanted. Pittsburgh did claim a share of the Big East title, but after losing to West Virginia the Panthers had to watch UConn claim the Big East's BCS Bowl bid. Kentucky thought this was the year to move up in the East. After beating South Carolina in October, fans believed it could happen. However, the Wildcats didn't come through in the end (among other things, losing to Tennessee for an NCAA record 26th straight year). Although this will be a school record fifth straight bowl for the Wildcats, fans were disappointed in the way the team finished the year. For Kentucky it will be all about offense. Kentucky will be led by do it all Junior RB Randall Cobb.
Pittsburgh should take advantage of a less the stellar Wildcat Defense. Indeed, UK's running defense should be considered poor. Then again a "poor" SEC defense might be a very good Big East defense. So, we'll see.
But, in the end, I have to say Kentucky was lucky to get a bowl bid and should enjoy the trip cause the game is likely to not be enjoyable for them. Pitt is a big time team with a big time running back. Three of Pitt's five losses came to major non-conference opponents (Utah in OT, Miami and Notre Dame). The Panthers will pound the ball over and over. Kentucky fans should feel lucky they're here and that they were in the SEC East this year. If they were in the SEC West they're a sub .500 team and they stay home. They are not there yet, give them a year or two and maybe they've got something on the way. Pitt is way too physical for them. Pitt grinds it out 21-3.
Tostitos BCS National Championship Game January 10
Auburn (13-0; SEC Champions) vs Oregon (12-0; Pac-10 Champions) (Auburn favored by 3)
#1 vs #2. Even though the BCS might not be perfect, it usually does deliver College Football fans the right Championship Game. The match-up this year is no different. The #1 Auburn Tigers face the #2 Oregon Ducks for the National Championship. For the fifth straight season the SEC Champ finds itself in the BCS Title game. Will Auburn be able to keep the SEC streak alive? Auburn is led by Heisman Trophy leader Cam Newton. While rumors and allegations swirled around him, all Newton did was pass for 2,589 yards, 28 touchdowns, run for 1,409 yards, 20 touchdowns, and he also caught one touchdown pass. He will lead an Auburn offense averaging 42 points a game.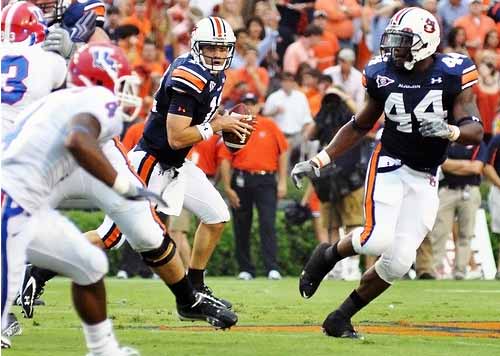 Auburn Tigers Todd & Tate.
Thanks to Victorie@flikr.com for this photo.
---
But they will face the highest scoring team in the country in the Oregon Ducks. They score 49 points a game on the year. They have their own Heisman Trophy candidate in Running Back LaMichael James. He ran for 1,682 yards with 21 touchdowns. The thing about Oregon's offense is that it is a "fast break" offense, where they like to run a play as fast as they can to try and force teams to match them. Oregon may have a better defense, giving up only 18 points a game to Auburn's 25 points a game. Then again, Oregon's Pac-10 schedule was easier. This game will probably come down to which offense can take control. Either way, it is shaping up to possibly be the highest scoring game of the bowl season.
Oregon has tons of team speed. They can be described as explosive. Auburn is explosive as well, but also has a toughness I don't see as much from Oregon. I know their running back runs through guys, but not SEC guys. I just think Auburn played tougher guys each week. They have the best player in the nation and if he wants it, he's taking the yards or the touchdown. Cam Newton just plays so much better than anyone else. He is a man among boys out there. He left Florida and became better than Tim Tebow. He has a shady past, but let's forget that and look at the game. He will dominate. I think it's high scoring. We saw a game with Arkansas and Auburn and I see the same kind of game here. For entertainment's sake that's what I hope for. BCS Championship Game Prediction: Auburn 48 - Oregan 44.
For a more comprehensive review of College Football's 2011 BCS National Championship Game read Auburn vs Oregon Preview and Review.
Here's your 2010 - 2011 Bowl Game Schedule and the rest of the 2010 - 2011 College Football Bowl Predictions.
You might also be interested in SEC Bowl History or SEC Bowl Game Tickets.
.
---
What do you think?

We'd love to hear your comments and/or opinions. If you submit them here, other visitors can read them, rate them and comment on them. An e-mail address is not required.

What Other Visitors Have Said
Click below to see contributions from other visitors to this page...

---
From SEC Bowl Previews to SEC Football Blog | SEC Sports Blog | SEC Football | SEC Football Blog | SEC Basketball | SEC Women's Basketball | SEC Baseball | SEC Track and Field | SEC Swimming and Diving | SEC Tennis | SEC Golf | SEC Gymnastics | SEC Soccer | SEC Softball | SEC Volleyball | Best College Sports Conference | College Football Bowl History | BCS Controversy | SEC vs Big Ten Debate | SEC Sports News | Current SEC Sports News | SEC Sports Pictures and Videos | SEC Sports Fan Forum | College Sports Blogs | College Football Association | SEC Sports Fan Trips | College Sports Gift | Fathead | College Sports Tailgate Party Shop | College Sports Merchandise | College Sports Apparel | SEC Sports Fan Store | SEC Football Tickets |
---
Home Page

About Us | Contact Us | Site Search | Advertise | Terms of Use |
---