Florida Gators vs Oklahoma Sooners
2009 BCS Championship Game

Update: Congrats to the Gators on their 24-14 victory over the Sooners and their 2nd NC in 3 years
Yes, we were off on predicted score a bit (see below). But, we got the important stuff right. First, obviously, Florida won. Second, Tebow and Harvin were key. Third, Florida's defense was the best defense Oklahoma played all year and shut the Sooners down.
But, good job by the Sooners D as well as it held the Gators in check to some degree. It was a great game.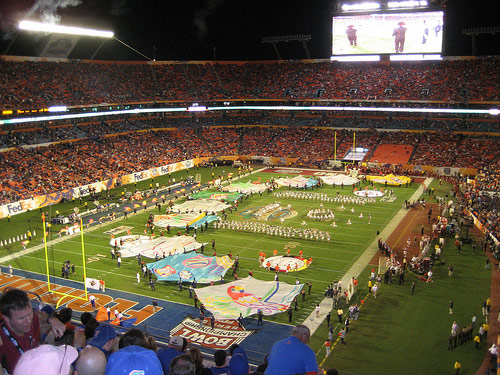 Picture of the Orange Bowl at half time of the 2009 BCS Championship game.
Prior Article as written:

Game on!! Florida vs Oklahoma will decide College Football's 2008 National Championship. It should be a great game.
Before getting into the nitty-gritty details of the Gators-Sooners match-up, I have to tip my hat to the Texas Longhorns. Once again, we arrive at the end of the college football season and find that the way we determine our Champion is "unsatisfactory" to say the least.
Texas, in particular, has a great argument that they have been "mistreated" (a courser word would be more accurate) by the Bowl Championship Series (BCS) system. It happens every year that some arguably deserving team (or teams) gets left out in the cold.
Texas' case is simple. Just like Florida and Oklahoma, Texas also has only one loss. But,
Texas beat Oklahoma
45-35 earlier in the season. So, how does Oklahoma end up in the BCS Championship Game playing for the National Championship and Texas is relegated to the Tostitos Fiesta Bowl to play Ohio State?
Answer: Dunno. Except that, due to the Big 12's arcane tiebreaker rules, Oklahoma emerged from the 3-way tie between themselves, Texas and Texas Tech, to represent the Big 12 South in the Big 12 Championship Game. Oklahoma destroyed Missouri in that game to win the Big 12 and the rest is history.
Other teams with decent arguments they belong in the BCS Title Game include one-loss Penn State and USC. Also, what about Utah and Boise State who both went undefeated? They have good arguments as well.
If you want to read more about the BCS mess, check out
We Need a College Football Playoff
.
In my opinion, given that the BCS could only pick two teams, I think they were right to pick the Champions of the SEC and Big 12 to face off for the National Championship. I actually don't think many college football fans would argue this point.
All season long a debate has raged over which college football conference is the best. Actually, that debate rages all the time, every year. This year the debate centered on the
SEC vs Big 12
.
The Southeastern and Big 12 conferences dominated college football in 2008. If you don't agree just check out the final polls after the end of the regular season. You will see that both the BCS and AP polls list the top four ranked teams from these two conferences: two teams from the SEC and two from the Big 12.
Unfortunately, teams from the two conferences rarely play each other. In fact, the University of Florida and the University of Oklahoma's football teams have
never
played each other. Never. So, the BCS Championship game (January 8, 2009, in Dolphin's Stadium, in Miami) will be a real treat.
And there are interesting similarities between the two teams. First, they both represent State Universities and major college football programs with great fan bases and football tradition and history.
In fact, both Oklahoma and Florida have won the National Championship one other time this decade. In case you forgot, the Gators won it all, just two years ago. Here's a story about
Florida's 2006 National Championship
.
Also, there is a coaching connection. Oklahoma's head football coach, Bob Stoops, was the Defensive Coordinator
at Florida
from 1996 - 1998. Stoops moved to Oklahoma in 1999 and led the Sooner's to their seventh national title in 2000.
After Steve Spurrier left Florida in 2001, UF tried to bring him back to Gainesville. Stoops opted to remain at Oklahoma and has become a college football coaching legend in Norman.
There's a lot at stake in this game.
First, the game should settle the argument over which conference is the best this year. The winner decides the debate for their entire conference.
Second, the winner of this game will join LSU as the only programs with 2 BCS Titles this decade. The victor will have a great case that they are the top college football program of the decade (at least).
Of course, if Florida wins the game, that will be three straight National Championships for the SEC and will move the two conferences into a dead heat; each with 16
All-Time National Championships
. Here's an interesting spreadsheet showing how the Big 12 and SEC dominate the field in obtaining
consecutive national championships
.
Additionally, the SEC will have 5 BCS Titles (4 in the past 6 years). No other conference has more than 2 (since the BCS began in Jan 1999). And, it will further consolidate the SEC's grip on the title of
Top College Football Bowl Conference
.
OK, so, who will win the big Florida vs Oklahoma game?
I think I know. I even have a pretty good idea what the score will be. And, you will probably be surprised.
But before I blurt it out, let's look at the teams.
The 2008 Oklahoma Sooners are a great college football team. Especially on offense. OU broke the all-time NCAA record for scoring this season, racking up a grand total of 702 points. That's an
average
of 54 points a game! In fact, they are the first college football team since 1919 to score over 60 points in five straight games. Their last five games of the season. And three of those games were against Top-20 teams.
The problem, for Oklahoma, is that each of those games was against Big 12 opponents.
I won't recount all his numbers here. If interested, you can read about them at
Tim Tebow's Heisman Trophy
.
You can also see a video recounting Tebow's legendary leadership qualities and his nearly mythological "The Promise" speech at
Florida Gators Football.
If you aren't fired up for the game yet, you will be after you watch this:
And, with Percy Harvin back (he did not play in Florida's SEC Championship Game win over Alabama) - well, let's just say - expect to hear the names "Tim Tebow" and "Percy Harvin" over and over and over again on January 8.
So, that about sums is up. Florida's tough defense and even tougher Tim Tebow will lead the Gators over the Sooners.
A couple things have happened since the teams last played that may impact on the game. First, Florida's Offensive Coordinator, Dan Mullen, was hired by Mississippi State to be their head football coach. Between now and the BCS Championship Game, Mullen will split his time between UF and MSU. That's not good for the Gators.
On the other hand, Tim Tebow lost the 2008 Heisman race, in a very close vote, to Sooners' QB Sam Bradford. Believe me that will fire Tebow and the Gators up. Here's what TT had to say about it:
I don't have to try to use it as motivation, it just is," Tebow said. "And it is for my teammates, too.


Yes, one of the teams will score over 60 in this game. But, it won't be the Sooners. I don't see Oklahoma's defense stopping Florida much.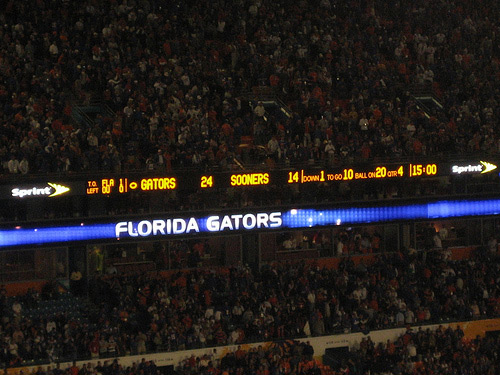 Scoreboard showing final score of 2009 BCS Championship game: Florida Gators 24; Oklahoma Sooners 14.



Predicted Final Score of 2009 BCS Championship Game:


Florida Beats Oklahoma 62 - 37
The Sooners have not experienced playing against a team with the kind of speed Florida has. Especially Florida's tough, fast, physical (SEC-style) defense. Oklahoma will certainly score on the Gators; even score plenty. But, they will not be able to run up and down the field at will as they have virtually all season long against the porous defenses in the Big 12. This will be the toughest defense Oklahoma has played this year.
The other thing Oklahoma is unprepared for; indeed, they
cannot
prepare for is Florida's QB, Tim Tebow. Tebow won the Heisman Trophy last season, and should win it again this year, for good reason - he
is
Superman.
If you don't have tickets to the game yet, check out
BCS Championship Tickets
.
And, you'll want to have plenty of
Florida Gators Apparel and Gear.
If you are an Oklahoma fan (or any fan for that matter) you can get your gear at the same place, just click on the "Powered by Amazon.com" link in the upper right corner of that page. That will take you to Amazon.com where you can buy pretty much anything you want - and often at great prices.
---
What do you think?

We'd love to hear your comments and/or opinions. If you submit them here, other visitors can read them, rate them and comment on them. An e-mail address is not required.

What Other Visitors Have Said
Click below to see contributions from other visitors to this page...

---
SEC vs ACC Football SEC vs Big Ten Football From Florida vs Oklahoma to SEC vs Big 12 Football SEC vs Pac-10 Football SEC vs Big East Football SEC vs Ivy League Football Biggest All-Time College Football Rivalry SEC vs Big Ten Debate Top College Fan Attendance Conference Best College Basketball Conference Best All-Time NCAA College Football Program Best All-Time NCAA College Football Coach Best All-Time NCAA College Football Player Best All-Time NCAA College Football Team Best SEC Sports College Most All-Time College Football Rankings Top College Football Bowl Conference Top All-Time College Football Conference Record Top College Football Fan Attendance Conference Top College Football Revenue Conference
---
SEC Sports Blog | SEC Football | SEC Basketball | SEC Women's Basketball | SEC Baseball | SEC Track and Field | SEC Swimming and Diving | SEC Tennis | SEC Golf | SEC Gymnastics | SEC Soccer | SEC Softball | SEC Volleyball | Best College Sports Conference | SEC vs Big Ten Debate | SEC Sports News | Current SEC Sports News | SEC Sports Pictures and Videos | SEC Sports Fan Forum | College Football Association | SEC Sports Fan Trips | 2008 SEC Football Tickets | Fathead | College Sports Tailgate Party Shop | College Sports Merchandise | College Sports Apparel | SEC Sports Fan Store |
---
Return to Home Page
About Us | Advertise | Contact Us | Site Search |
---