---
If you are looking for our Current Auburn Tigers Football page, check out 2010 Auburn Tigers Football.
---
Tommy Tuberville Resigns!!
After 10 years as head Auburn Tigers football coach, TT has stepped down. This year was a major disappointment for Auburn fans, as the Tigers went 5-7 and got destroyed by Alabama in the Iron Bowl. One of the five wins was an ugly 3-2 win vs Mississippi State (worst team in the SEC). Auburn's offense was just terrible and after firing a couple Offensive Coordinators, maybe TT had no where else to look but the mirror after the embarassment against Bama.
So, it was a bad year. But, Tuberville had an 85-40 record at Auburn (4th most wins of any AU coach in history). He led the tigers to a perfect 13-0 season in 2004 and to victories in 5 of their last 6 bowl games.
This was somewhat similar to the
Phil Fulmer Firing
. Difference is the Tuberville wasn't fired; he quit. But, he quit because he felt that a couple members of the Auburn Board of Trustees had lost faith in him.
The wierd thing is the Tommy will still be hanging around. He'll still be helping out with fundraising and recruiting and this will allow him to "step back for a year or two."
Now that could be a problem for the new coach -- having TT looking over his shoulder.
Who's the new coach? Gene Chizik. Don't know much about him? No problem, check out our new
Gene Chizik Biography
.
Chizik was a controversial pick. Many thought Tuner Gill should have gotten the job. Not sure this will work out very well. But, we'll see.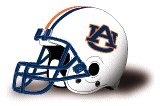 All good things must come to and end. And, for Auburn, that means the end of "The Streak." After winning 6 straight Iron Bowls, Auburn was thumped (36-0) Saturday by the Alabama Crimson Tide. It will be an interesting off-season for the Tigers, and a long one, as they will not be playing in a bowl game. You can read more about that at
Auburn Disappointments
.
Nice win by Auburn against Tennessee. But, the Tigers' offense was dreadful. Luckily Tennessee's was even worse. But, Auburn goes to
Vanderbilt
this week for the game of the week in the SEC. Auburn will be tested in Nashville. Hey, the Dores' are undefeated in 2008 so far. Will be very interesting.
Update:
Indeed it was. Vandy won the game 14-13 for its first win vs Auburn since 1955. The Tigers' offense is simply not getting the job done. Luckily, hapless Arkansas is up next.
"Hapless"
Arkansas beat the Tigers on the Plains. This immediately after Tuberville fired his OC, Tony Franklin. Wow, I foresee a tough year for TT. Auburn's offense is just terrible. At some point, the head coach needs to accept responsibility for that. Auburn plays at West Virginia Thursday night on ESPN. After a week off, I'd like to pick Auburn. I just don't see a rational basis to do that. We'll see.
2008 looks to be a strong year for Auburn Tigers football. One of the challenges will be that Auburn has new Offensive (Tony Franklin) and Defensive (Paul Rhoads) Coordinators. However, Franklin helped coach in last year's bowl win against Clemson and the offense looked good. But, on the defensive side, losing former defensive coordinator Will Muschamp will be a tougher loss.
Auburn finished up 9-4 in 2007. They made some mistakes in the Mississippi State game which led to a 19-14 loss. When they played LSU towards the middle of the season, a couple key fumbles resulted in a 6 point loss in Baton Rouge. The lost big to Georgia. And, then there was the really bad loss to South Florida in overtime early in the season (at home) 26-23.
Of course they bounced back with a strong second half of the year, including wins against Florida, Alabama and the Chick-fil-A Bowl win against Clemson.

Thanks to flickr.com/photos/bjmillican for pictures #1, #4, #6 and #8. Thanks to flickr.com/photos/earthsound for photos #2, #3 and #7. Thanks to flickr.com/photos/pholower for photo # 5. Some rights are reserved for these photos.
---




2008 looks good for the War Eagles. This is a very talented team. Auburn has 17 returning starters (9 offense; 6 defense; 2 special teams). Kodi Burns replaces Brandon Cox at QB (many Auburn fans are happy about this). Look for a more wide-open offensive scheme from OC Franklin. The Tigers will battle it out with LSU and Alabama for the SEC West championship. One big advantage Auburn has is that they have one of the easier SEC schedules. Still, we think odds are they will have 2 SEC losses going into the final regular season game at Alabama in the Iron Bowl.

And, we don't think the Tigers will win a 7th straight against Alabama. Just not going to happen (we don't think). But, odds are good that that game will decide the SEC West. So, obviously Auburn will be in the thick of it all year.

Wondering which Auburn games will be televised in 2008? So far we know three of them will be. The Tigers' home game against Southern Miss will be televised by Raycom at 11:30 am. The Tigers will follow that with a 6 p.m. game on ESPN 2 the following week at Mississippi State on Sept. 13. The West Virginia Mountaineer game on Oct. 23 to be aired by ESPN, will kick off at 6:30 p.m. The Thursday night game will be Auburn's eighth all-time game on Thursday and their first time to ever play at Morgantown, West Virginia. That will be a tough place to play for sure.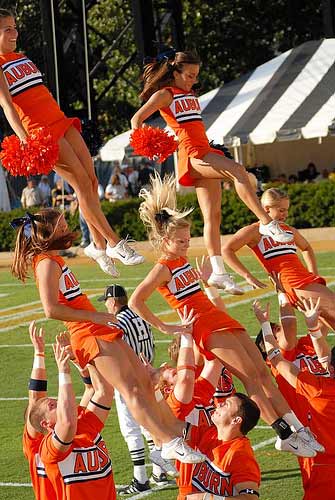 Thanks to JEFFHREED at flickr.com for this photo of Auburn's cheerleaders flying through the air.
---


2008 Auburn Tigers Football Schedule

Aug. 30 Louisiana-Monroe
Sept. 6 Southern Mississippi
Sept. 13 at Mississippi State
Sept. 20 LSU
Sept. 27 Tennessee
Oct. 4 at Vanderbilt
Oct. 11 Arkansas
Oct. 23 at West Virginia
Nov. 1 at Ole Miss
Nov. 8 UT-Martin (homecoming)
Nov. 15 Georgia
Nov. 29 at Alabama


Auburn Tigers Merchandise and Apparel, Tickets, and Baseball Caps.


---



2008 Auburn Tigers Football Roster

Key players for Auburn this year will be Kicker Wes Byrum; Running back Ben Tate; Offensive Lineman Tyronne Green; Defensive Lineman Antonio Coleman; Cornerback Jerraud Powers; Defensive lineman Sen'Derrick Marks and punter Ryan Shoemaker.

Auburn had a nice bunch of players selected for the 2008 pre-season All-SEC teams. Selected 1st team All-SEC were Ryan Shoemaker. Second Teamers were Ben Tate, Antonio Coleman, Sen'Derrick Marks, and Jerraud Powers.

You can see the full 2008 Auburn Tigers football roster at 2008 Auburn Tigers Football Roster.

Head Coach: Tommy Tuberville -- (105-53 .665); 14th season coaching; 10th at Auburn

Stadium: Jordan-Hare (87,451) 67 years old. On game days it is the 5th biggest city in Alabama.




Other Auburn Tigers Football Pages





What do you think?

We'd love to hear your comments and/or opinions. If you submit them here, other visitors can read them, rate them and comment on them. An e-mail address is not required.

---
Return to Home Page
Alabama Crimson Tide Football
Arkansas Razorback Football
Kentucky Wildcats Football
Ole Miss Rebels Football
Mississippi State Bulldogs Football
South Carolina Gamecocks Football
Florida Gators Football
Georgia Bulldogs Football
LSU Tigers Football
Tennessee Volunteers Football
Vanderbilt Commodores Football
From Auburn Football to SEC Sports
---
SEC Sports Blog | SEC Football | SEC Basketball | SEC Women's Basketball | SEC Baseball | SEC Track and Field | SEC Swimming and Diving | SEC Tennis | SEC Golf | SEC Gymnastics | SEC Soccer | SEC Softball | SEC Volleyball | Best College Sports Conference | SEC vs Big Ten Debate | SEC Sports News | Current SEC Sports News | SEC Sports Pictures and Videos | SEC Sports Fan Forum | College Football Association | SEC Sports Fan Trips | 2008 SEC Football Tickets | Fathead | College Sports Tailgate Party Shop | College Sports Merchandise | College Sports Apparel | SEC Sports Fan Store |
---
Return to Home Page
About Us | Contact Us | Site Search |
---