University of South Carolina Columbia Trip
From their Fan Appreciation Day to their jam-packed stadium on game day, the athletes of the University of South Carolina know how to entertain their devoted fans. From basketball to football, the spirit is alive on campus and wherever the Gamecocks travel to play. If you've never been to a South Carolina game, then you haven't lived!
Located in Columbia, South Carolina, the city isn't far from the beautiful beaches of Charleston, Myrtle Beach, and Hilton Head, to name just a few. The campus is located in a city ripe for entertainment and you'll find it is one that offers a little bit of everything for the Gamecock fan!

Fans who know all about The University of South Carolina look forward to the home games and watching their favorite athletes play on the home field. But more than anything else, they often look forward to the Cockaboose Railroad. What is the Cockaboose Railroad you might ask? It's only the most exciting tailgating in college football!

At the University of South Carolina, the college, players, and fans all believe in traditions and tailgating is a tradition in Columbia just like it is on all other SEC campuses. Only, in Columbia, the Gamecocks have raised the bar! The Cockaboose Railroad consists of twenty-two cabooses equipped for those fans who want to tailgate in style so when you're in South Carolina; make sure to check these little cabooses out! See how fans in South Carolina prepare for game day!

For more about the Cockaboose Railroad check out SEC Football Traditions.

There are many great places to stay in Columbia. But if you want to be close to the action, you can't get much closer than the Holiday Inn located on the campus of the University of South Carolina. The Carolina Coliseum is directly across the street from the hotel and fans can easily walk to Williams Brice Stadium where the Gamecocks play football to win!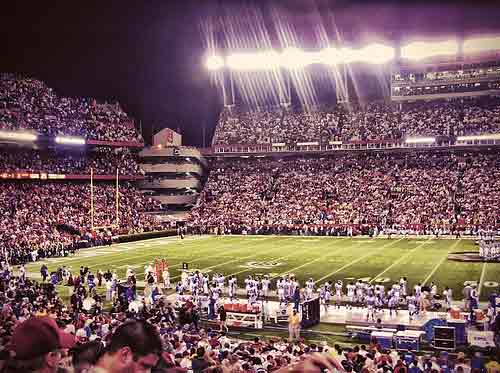 Gamecocks Football.


In Columbia, the Gamecocks are the featured attraction during football and basketball season. But even the most die-hard sports fan can tire of sports. You can only talk so much football right? Well, depends on who you ask! In any case, Columbia, South Carolina is a cultural hub and Gamecock fans find plenty to do while their in town.

Five Points Entertainment District is a popular stop for South Carolina sports fans. There, you'll find Mr. Friendly's. An intimate dining experience, Mr. Friendly's is a favorite for fans of USC (the real USC).

Also, just a note, discriminating travelers often choose to stay with the Claussen's Inn and it is located right next door to Mr. Friendly's. When choosing to stay at Claussen's, ask for a loft suite! Worth the extra money for the contemporary appointments and space!

University of South Carolina fans also know that when they are in South Carolina, there's no better place to shop than Columbia. For many years, Columbia Place Mall and Columbiana Centre have been favored shopping venues and now, there's a new game in town too!

Check out The Village at Sandhill for a shopping experience located on a spectacular three hundred acres. Yes, in South Carolina, Columbia keeps fans entertained regardless of what they enjoy.

So, what are you waiting for? It's time to plan your next trip to see the University of South Carolina Gamecocks!

To "Name Your Own Price" on flights hotels and car rentals, click .
---

Gamecock merchandise at: South Carolina Gamecocks Fan Store.


University of South Carolina Columbia Trip
University of South Carolina Columbia Trip
University of South Carolina Columbia Trip


Have A Great Trip Story To Share?


Do you have a great story about this? Share it! An e-mail address is not required.
By
Mo Johnson
, Copyright © 2006-2017 SECSportsFan.com