Mississippi State University Starkville Trip
Think about it. Mississippi State is often the team in the SEC that is under-appreciated. They are the "other" Mississippi team and the "other" Bulldogs. Yet, they often find some of the best athletes in the country to play on their sports teams and their fans support them until the bitter end!
Starkville, Mississippi is home to the Fighting Bulldogs. The Mississippi State football team plays at Davis Wade at Scott Field. The basketball team plays at Humphrey Coliseum.

Outside of the college, there really isn't a lot to do in the town. Bulldog Lanes seems to be a popular hub to bump into a few die-hard Mississippi State fans, but unless you like to bowl, chances are you won't necessarily make it a stopover while you're in town for a ballgame.

For golfers, The Dogwood Golf Club is an eighteen-hole golf course and seems to be the day-after attraction for many fans of Mississippi State. Those who like to take a few swings will be pleased to know that the golf course does have a pretty good reputation among golfers.

Located on Highway 12 West, fans of the Mississippi State Bulldogs will find the Holiday Inn Express University Center. Located only about a quarter-mile from the campus, the Holiday Inn Express advertises that they are a non-smoking hotel so keep that in mind when booking your room on game day.

Listed on the National Register of Historical Places, you must see the Hotel Chester whether you stay there or not. The hotel only has thirty-seven rooms but its elegance and beauty are timeless and a "can't-miss" while you're in town for a Mississippi State ballgame!

Since there isn't a lot to do in Starkville, Mississippi State fans find that after game day, they typically head north to Tupelo or further north to Tunica.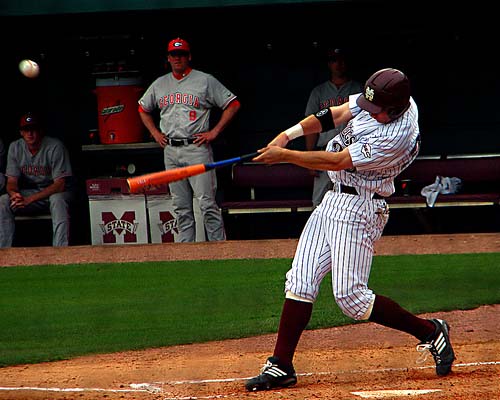 A Mississippi State University batter makes contact at Dudy Noble Field/Polk-Dement Stadium in Starkville, Mississippi.
Tupelo is the birthplace of Elvis Presley so if you want to do something really neat after the game, stopover in Tupelo and then head further north to Memphis and visit Graceland. Not a bad idea if you love Elvis.

The casinos of Tunica are welcoming to Mississippi State fans, just like they are to that "other" Mississippi school. Stay at any one of three Harrah's properties or check out Sam's Town Tunica or Hollywood for a wonderful casino experience.

Starkville isn't short on good restaurants. Two of the best are always packed but worth the wait. Stop in Harvey's for steaks and seafood and if you want to take your food back to the room after the game, call ahead for curbside service.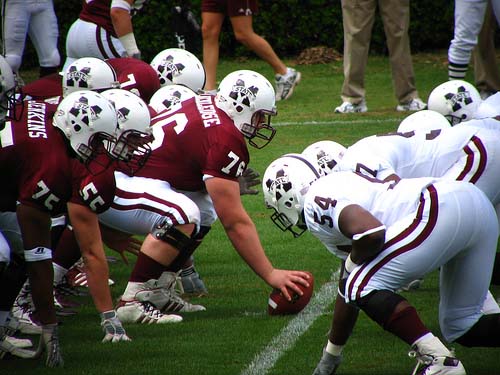 The MSU bulldogs line up against themselves during the Spring scrimmage football game at Davis-Wade Stadium at Scott Field.
A Starkville favorite is Cappe's Steak House where you'll find flavorful Charcoal-broiled steaks and some of the best food in the state of Mississippi. Always welcoming to Bulldog fans, expect a wait after the game. Of course, anywhere you go to eat in Starkville, during a Southeastern Conference game, will be crowded. Cappe's is worth the wait!

Starkville, Mississippi is home to the bulldogs of Mississippi State. The entire town seems to pride itself on being home to the university. More than anything else, fans who love the Bulldogs, enjoy Starkville most because it is, after all, home to the Bulldogs.

---
Mississippi State University Starkville Trip
Mississippi State University Starkville Trip
Mississippi State University Starkville Trip

Have A Great Trip Story To Share?


Do you have a great story about this? Share it! An e-mail address is not required.
By
Mo Johnson
, Copyright © 2006-2017 SECSportsFan.com