Best Coach Ever
Just who is the best coach ever?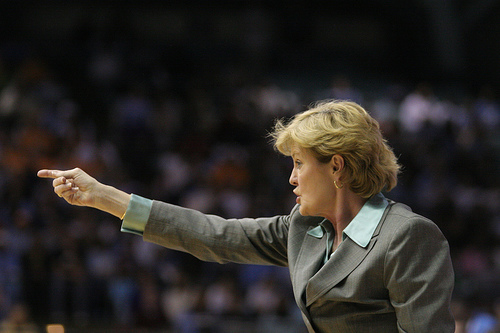 Watching Pat Summitt's Lady Vols win their 8th NCAA Women's College Basketball Championship (2d straight) gave me a clue.
So, I did some research. Here's what I found out.
Pat Summitt has more wins than any other coach. Period. [ 2/6/09 Update: Summitt got her 1,000 career win last night in Knoxville as the Lady Vols beat Georgia 73-43. Pat Summitt is the first Division I basketball coach (men's or women's) to get one thousand wins. Wow.]
Pat Summitt has a higher winning percentage than any other coach. Period.
Pat Summitt has taken her teams to more Sweet 16's; Great 8's; Final 4's; and National Championship games than any other coach. Period. Full stop.
Over the past couple days, when discussing the Lady Vols' latest Championship, I've mentioned to a few people that I think Pat Summitt is not only the top women's basketball coach, and best college coach, but also the best basketball coach of all time. More often than not, the response back has been: "What about John Wooden or "Red" Auerbach?"
So, I looked up their stats. They are shown in the chart below and compared with Pat Summitt's.
| | | | | | |
| --- | --- | --- | --- | --- | --- |
| | Wins | Losses | Win % | Championship Appearances | Championships |
| Pat Summitt (so far) | 983 | 182 | .844 | 13 | 8 |
| John Wooden | 671 | 161 | .807 | 10 | 10 |
| Red Auerbach | 938 | 479 | .662 | 11 | 9 |
As you can see, the only significant coaching record that Pat Summit is not #1 for is number of Championships. Wooden had 10; Auerbach 9. Summitt is not quite there yet.
But, in totality, the cold hard stats, alone, prove Pat Summitt is already the best coach ever. The deeper you look; the more overwhelming the evidence becomes.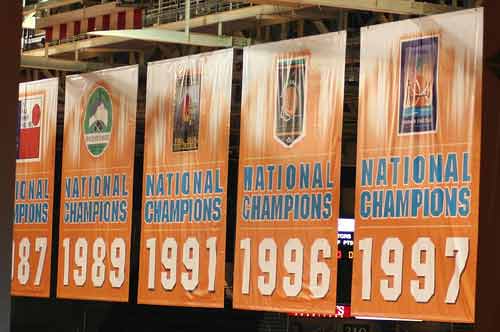 Some of the Tennessee Lady Volunteers Basketball Championship Banners.
Thanks to majorvols at flickr.com for this picture.
---
Yes, Wooden had 10 Championships (compared to Summitt's 8); but he only got to the Championship game 10 times (she's been there 13 times so far). And Summitt has taken teams to the Final Four an amazing 18 times; Wooden only 12.
[And, remember that Summitt began coaching UT in 1974. The first Women's NCAA Basketball tournament was in 1982. So, There's 7 years that Summitt could have racked up even more tourney stats.]
Red Auerbach has one more championship title than Pat Summitt. But, he also fades away when you compare the overall record. In particular, his winning percentage is significantly lower than Summitt's. This is even more pronounced when you compare the post-season records of the two coaches.
Auerbach teams, overall, went 99 – 69 (.589) in the playoffs. Summitt teams have a record of 102 – 18 (.850) in the post-season (NCAA Tournament).
And of course, Summitt has the most important stat of all. When you talk top NCAA coaches, Pat Summitt is the all-time winningest coach in NCAA basketball history men or women – and, as best I can tell – has the most wins of any coach in any major American sport. [I define "major" as a sport that's Championship game is shown on national TV.]
Notice I am not limiting this to just Women's Basketball; College Basketball; Basketball; Football; Hockey; Baseball; Tiddlywinks; Whatever. I don't care what sport you are talking about – no one can match Pat Summitt's record and she's still going strong. Even if you aren't with me on this now; I bet, in time, you will be.
Obviously, when you try to compare coaches across sports, you are comparing apples to oranges. No doubt. That's inherent in the argument. If you are going to debate who is the best coach ever – well, you are going to have to consider all sports.
So, let's talk football.
First name that comes to mind is probably the legendary Vince Lombardi. A towering figure in the football world. No doubt. Lombardi's Packer teams won 3 NFL Championships and 2 Super Bowls. So, 5 Championships total.
Summitt has 8 and 5 other years that her teams finished as runner-up. Lombardi has 0 of those.
Lombardi's overall record was 105-35-6. Obviously, it's not fair to compare his 105 wins to Summitt's 983 (and counting) since basketball teams play way more games in a season. But, what about comparing winning percentages? That's fair, right?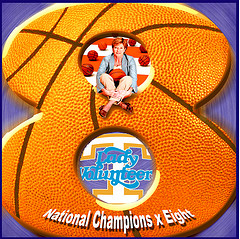 Here they are:
Lombardi: .740
Summitt: .844
So, really it's not close. Summitt leads Lombardi in every statistic. Period.
You'll likely be relieved to know that this article will not thoroughly discuss every possible "best coach" candidate in every sport. Impossible. (But, please feel free to make a case for your own candidate for "best coach ever" at the bottom of this page if you'd like).
In the end, whether or not you agree that Pat Summitt is the best coach ever, you will surely agree that she stands out most because she has dominated her sport as no coach has ever dominated any other sport.
For instance, if you talk about men's college basketball, you not only have to talk about John Wooden, but what about Adolph Rupp, Dean Smith, or Bob Knight?
In the NBA, you have Red Auerbach, of course, but also Pat Riley and Phil Jackson.
When you talk women's basketball, Pat Summitt is it!
This brings me to what you surely thinking right now. You are probably saying to yourself: "Come on, Mo, women's college basketball just doesn't compare with the other major sports -- like college football, basketball, pro football, baseball, etc. The competition is just not as tough. So, winning lots of women's b-ball games isn't as difficult or impressive as winning a bunch of games in those other sports."
This is really the heart of the argument. Because, as shown above, if you just look at the cold hard stats, no one compares, in totality, to Pat Summitt.
The only way she is not #1 all-time is if you devalue the significance of her statistics. If you say they are not worth as much as they would be if she earned them as men's college b-ball coach or NFL coach or whatever.
I understand the point. It is worth considering for sure. But, in the end, I just don't buy it. It really doesn't make sense. The fact that few women's college basketball programs have been able to significantly challenge the Lady Vols during Summitt's career, is more evidence that she is the best coach ever. How, can that, somehow, be used to minimize her accomplishments?
If you buy that argument, are you really then saying that no one could ever be deemed the best coach of all time unless they coach in one of the sports you consider "highly competitive?"
So, that whole line of argument, to me, doesn't make sense.
When Summitt started coaching at Tennessee in 1974, Lady Vols basketball was not even on the national radar. She turned them into a dominant national power. That was all Pat Summitt.
The things that have made her great are the same things that make anyone great at anything. Dedication (got from her dad), passion, and willingness to change when necessary (adding junior college transfers to the team).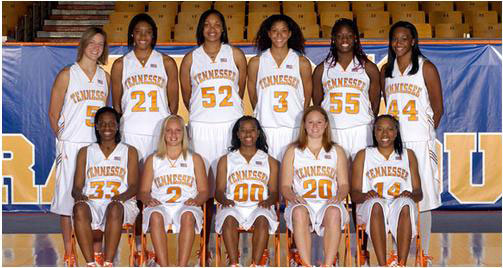 2007-08 University of Tennessee women's basketball team photo.
Thanks to beemoe75 for the photo.
---
You could clearly see Summitt's mark on Tennessee's 2008 National Championship team. The Lady Vols were blessed with a great player in Candace Parker. She was the 2007-2008 Women's College Basketball Player of the Year. She won her second straight Final Four MVP. And, the day after winning the National Championship, Candace was the first pick in the WNBA draft, drafted by the Los Angeles Sparks.
But, Parker played with a dislocated shoulder injury throughout the final two games of the 2008 NCAA Tournament. She played well (and courageously) despite the injury, but she was certainly not a dominant player in the Final Four.
It was Tennessee's team defense and will to win that won the Championship.
Tennessee held both teams it played in the Final Four (LSU and Stanford) to under 50 points.
In the Championship game, UT's defense (led by Nicky Anosike) held Stanford to only 19 field goals and forced 25 turnovers. It was Stanford's most turnovers in 3 years and their lowest point total in 5 years.
Besides, Parker and Anosike, Shannon Bobbitt (Jr.College Transfer) and Alexis Hornbuckle also played crucial roles in winning this Championship.
The Lady Vol's 2008 Championship was a great illustration of the fact that the driving force behind the amazing success of the Top NCAA Women's Basketball Program is, and always has been, Pat Summitt's dedication, passion, and willingness to change.
That's what a great coach gives a team. Any coach; any team; any sport. No coach, anywhere, has ever given more to his or her team than Pat Summitt.
In the end, that's what makes her the best coach ever. Period.
But, I hope you'll let us know what you think below.
Update: You may have heard that Pat Summitt was recently diagnosed with early onset alzheimers disease. But, that just ads to her legend because she's not letting it slow her down and will continue to coach. Wow, what an inspiration! You can read more at Pat Summitt Biography.
Some other related articles you might be interested in include:
Our other "best all-time coaches" articles include:
What do you think?

We'd love to hear your comments and/or opinions. If you submit them here, other visitors can read them, rate them and comment on them. An e-mail address is not required.

What Other Visitors Have Said
Click below to see contributions from other visitors to this page...

---
Wendell Hudson Biography -- Alabama coach | Tom Collen Biography -- Arkansas coach | Nell Fortner Biography -- Auburn coach | Amanda Butler Biography -- Florida coach | Andy Landers Biography -- Georgia coach | Matthew Mitchell Biography -- Kentucky coach | Van Chancellor Biography -- LSU coach | Sharon Fanning Biography -- Mississippi coach | Renee Ladner Biography -- Ole Miss coach | Dawn Staley Biography -- South Carolina coach | Pat Summit -- Tennessee coach | Melanie Balcomb Biography -- Vanderbilt coach |
---
From Best Coach Ever to SEC Women's Basketball | SEC Sports Blog | SEC Football | SEC Football Blog | SEC Basketball | SEC Baseball | SEC Track and Field | SEC Swimming and Diving | SEC Tennis | SEC Golf | SEC Gymnastics | SEC Soccer | SEC Softball | SEC Volleyball | Best College Sports Conference | College Football Bowl History | BCS Controversy | SEC vs Big Ten Debate | SEC Sports News | Current SEC Sports News | SEC Sports Pictures and Videos | SEC Sports Fan Forum | College Sports Blogs | College Football Association | SEC Sports Fan Trips | College Sports Gift | Fathead | College Sports Tailgate Party Shop | College Sports Merchandise | College Sports Apparel | SEC Sports Fan Store | SEC Football Tickets |
---
Home Page

About Us | Contact Us | Site Search | Advertise | Terms of Use |
---