Steve Spurrier Biography
University of South Carolina Head Football Coach Steve Spurrier Biography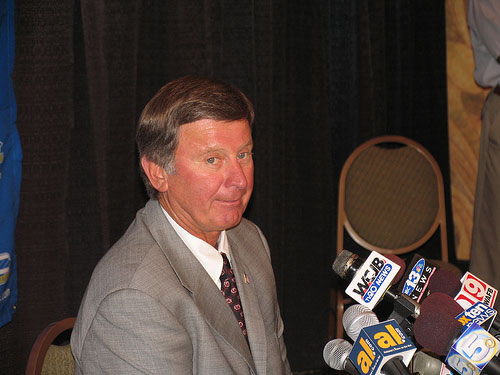 Stephen O. Spurrier was born on April 20, 1945 in Miami Beach, Florida.  It was evident in high school that Steve was an exceptional athlete.  At Science Hill High School in Johnson City, Tennessee, the would-be pro excelled at baseball, basketball, and of course football.

Obviously the latter stuck with him as he went on to become a great quarterback at the University of Florida. In fact, he probably was one of the best Southeastern Conference (SEC) QB's ever. His versatility was evident when he kicked a game-winning field goal.

But, we are way ahead of ourselves.

1966 was a high point in Spurrier's college football career. That season, he was named:

Winner of the Heisman Trophy
SEC Player of the Year

First-Team All-American

MVP of the Sugar Bowl.
In 1967, Spurrier was selected in the first round NFL draft by the San Francisco 49rs, where he spent the next nine seasons, before being traded to Tampa Bay. Unfortunately for Spurrier, the Buccaneers were horrible and made NFL history (in a bad way) by going 0-14. He was released from Tampa Bay and Spurrier decided this would be a good time to retire.

But, Spurrier's disappointing NFL career did not stop him from becoming a record-setting coach. He began as the Quarterbacks Coach at the University of Florida. He then spent a season each at Duke University and Georgia Tech. He was head coach of the USFL's Tampa Bay franchise for two seasons before the league folded. From 1987-1989, Spurrier was head "ball" coach at Duke where he earned ACC Coach of the year his last two seasons.

In December 1989, Steve Spurrier began his legendary career as head coach for the University of Florida Gators. He led the team to six SEC titles and received SEC Coach of the Year five times. Spurrier made history by becoming the first Heisman winner to coach a Heisman winner (Danny Wuerffel).

Spurrier is credited with giving the University of Florida's football stadium its nickname, "The Swamp". He felt the name was fitting for Ben Hill Griffin Stadium because only Gators came out of The Swamp alive. After creating a nationally acclaimed team, Steve Spurrier resigned from UF in 2002, feeling that 12 years was long enough as head coach of the major SEC team.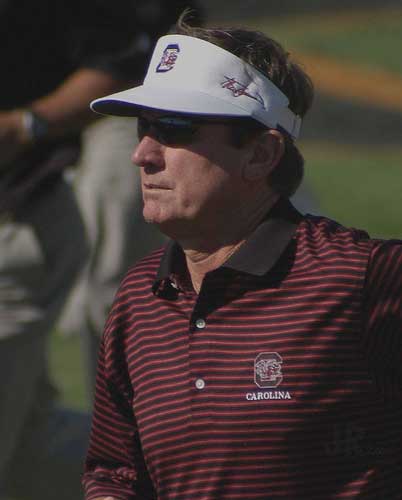 Spurrier signed a five-year $25 million contract with the Washington Redskins, earning him the largest contract in NFL history. However, his success with the team over the next two seasons did not go as planned, partially due to offensive line troubles that resulted in his quarterback becoming one of the most sacked in the league. Spurrier resigned after the 2003 season with a combined 2 year record of 12-20.

In November of 2004, University of South Carolina announced the retirement of Lou Holtz, and that Steve Spurrier would be his successor. In 2005, the Gamecocks finished with a 7-5 record and a trip to the Independence Bowl. They were defeated, however, by Missouri, 31-38. However, in 2006 the USC Gamecocks beat Houston 44-36 in the Liberty Bowl.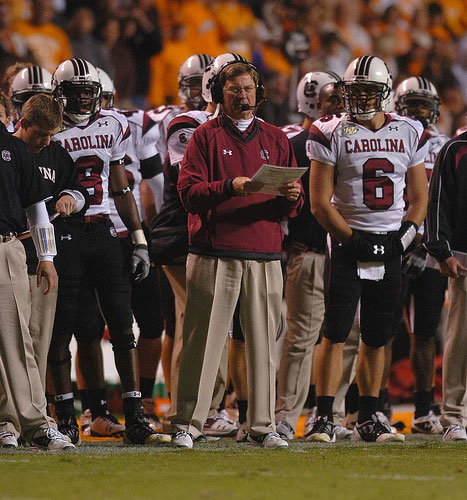 Steve Spurrier calls the play. Thanks bamaisback2006 at flickr.com for the picture.
As Spurrier and the Gamecocks head into the 2007 season, they sit on an overall record of 15-10 with the coach. Spurrier also carries the honor of being the first USC football coach ever to take the Gamecocks to a bowl game in his first two seasons. He is also one of only three South Carolina coaches with a Bowl Victory. Clearly Spurrier has turned the program around. They are now a threat to win any game in the SEC. And, that's saying a lot.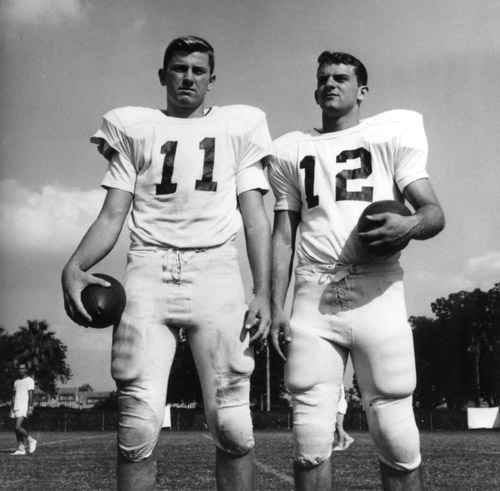 Steve Spurrier (#11) stands next to Tommy Shannon in 1964. At the time, Spurrier was a sophomore and shared the quarterback job with the senior Shannon. Thanks to Historic Photos of University of Florida Football for this picture.
---
---
Check out our current page about South Carolina Gamecocks Football and South Carolina Gamecocks Football History.
What do you think?

We'd love to hear your comments and/or opinions. If you submit them here, other visitors can read them, rate them and comment on them. An e-mail address is not required.

What Other Visitors Have Said
Click below to see contributions from other visitors to this page...

to the awesome steve spurrier Not rated yet
you are an amazing coach and im a huge fan of your team especially your player #5 stephan garcia hes so awesome you are a great coach!!!! keep up your …
a steve spurrier fan Not rated yet
Mr Steve spurrier i am a big vol fan in knoxville ,tn, and with our head coach stepping down at the end of the year ,we need a dam good head …
By
Mo Johnson
, Copyright © 2006-2017 SECSportsFan.com