SEC Football 2012:  Week 11 Review and Week 12 Preview
You ever get the feeling that every Saturday at 12:00 is just like opening up a new bottle of Single Barrel?  You know when the wrapping comes off and you begin pouring that sacred sauce over the cracking of ice cubes (Or having it served Neat like my partner in crime Coach B likes it) instant gratification and the element of pure joy is about to find you!
It's the same with the first kick of every weekend at 12:20 on the SEC Network.

Last Saturday was no exception as we were treated to nothing but excitement from Gainesville to Knoxville and all stations in between. Almost every game went down to the wire, unless you lived in Auburn or Baton Rouge and one of them went four overtimes.

This conference never fails to live up to expectations when it comes to excitement and unpredictability.

And you can also add in greatness as BCS slots four through nine are all SEC teams. Not four through nine with some other teams in there, but six SEC teams are in the top nine beginning at number four.

Pretty darn great.


I didn't think it possible, but a stone from the slingshot of Johnny Football felled mighty Alabama. In fact, I am pretty sure the clergy from Hickory, Indiana, fresh off rousing the Hickory Huskers to a state basketball championship, must have given them the same speech as David felled Goliath on Saturday.

Is it too late to get Johnny Manziel an invitation to New York for the first weekend of December? He's the best football player I have seen this year. I hear his family is trying to trademark the title "Johnny Football." They might want to also trademark the title, "Johnny Heisman."


The Alabama loss opened up the door for several teams around the country to play for the BCS Championship, but one you might not have noticed who is now up in the race is Georgia. If the Dawgs can win their final two games (Which they will without too much trouble) they should get Alabama in Atlanta on December 1st.

A win there and they should be right in the hunt for one of the top two spots in the BCS Championship. And remember, Notre Dame still has to play USC on the road, and Oregon still has Stanford and the Civil War with Oregon State, then a possible date in the Pac 12 Championship game.

If Alabama had run the table, what drama would that have left us as far as the SEC defending their streak of seven straight national champions? This way, we have to all sit around the TV, similar to 2007 when LSU got in on the final day, to see if the SEC can get another one of their teams in the championship game. That's excitement! It would be a stretch to have two SEC teams in the final game again like last year, but anything is possible.

Stay tuned.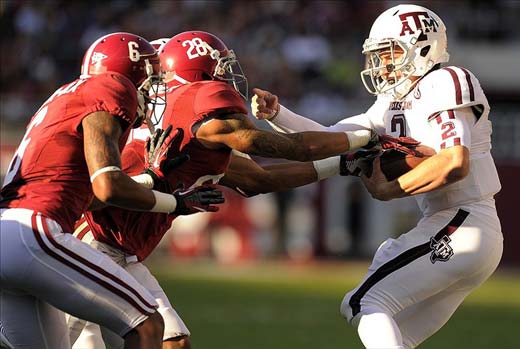 November 10, 2012; Tuscaloosa, AL, USA; Texas A&M Aggies quarterback Johnny Manziel (2) fends off Alabama Crimson Tide defensive back Dee Milliner (28) and defensive back Ha'Sean Clinton-Dix (6) during the first quarter at Bryant Denny Stadium. Photo Courtesy By John David Mercer-US PRESSWIRE.


I liked seeing all the fans dressed up as empty seats at the Tennessee-Missouri game. When you have two SEC East cellar dwellers going head to head, it would be tough to miss that enthralling test of manhood.

Again, the Vols found a way to lose. Ahead by 14 points twice in the second half, they allowed James Frankin, (not the Vanderbilt coach, although he would have done the same thing against the Vols bend but break defense), to covert two fourth down drives that would have stopped Missouri's final drive and given Derek Dooley a stay of execution.

Instead, Franklin completed a 28-yard touchdown pass on fourth down to tie the game, and after that, you just knew the Vols were not going to win. They are incapable of winning the tight games, and if they are playing an SEC team, forget it.

They won't win this weekend either, so that sets up a titanic struggle for the bottom of the barrel in the SEC East on November 24th as Kentucky comes to town.

Coach Scooter's prediction of the Vols and 'Cats playing on the final Saturday to see who will get their first conference victory doesn't sound near as stupid on November 12th as everyone thought it did on August 12th, does it?


Did you get the feeling the end of the Florida – Louisiana-Lafayette game was scripted by the same dude that write the end of Everybody's All-American?

I kept waiting for the announcers to yell that Lawrence to block the punt and the Ghost to run it back for the game winning TD.


By the way, Auburn just went three and out again.


Hey Starkville...how many losses in a row is that now? And you guys were pounding your chests and spouting of about taking them one and a time and landing in the BCS.

Yes, you've landed. And I think it is in a place that smells bad, if you know what I mean.


It was a tough night in the Magnolia State as Mississippi State got rocked, and Ole Miss gave up a late lead to a dangerous Vanderbilt team. What is in the water in Nashville?

If James Frankin (not the Missouri QB, although he...ahh he couldn't have coached the 'Doores to their sixth victory) can get two more wins, and he should be able to beat Tennessee and Wake Forest, he will have done what no other coach since George MacIntyre in 1982 has done, and that is win eight games in a season.

And if the 'Doores do that, and win their bowl game, they will have nine wins, which has only been done twice in school history as Dan McGugin did it twice (1904 9-0 and 1915 9-1)

If Franklin can pull that off, he will be the coach of the millennium. Whoever thought Vanderbilt could win nine games in a season? As my Aunt Molly always says, "Well butter my butt and call me a biscuit!"


By the way, did anyone else catch the ESPN 2 scoreboard after the Georgia-Auburn game? Don't ask me why I was watching the end of the game since the most compelling moment of that one was the coin toss, but I did get to catch that saucy little minx Wendy Nix, and her tantalizing repertoire of twirling her glasses in her hand, but not putting them on, as she talked about college football.

In fact, the moment was so mesmerizing, I had no idea who was sitting next to her. It could have been Heckle and Jeckle, those mischievous talking magpies from the Terrytoons Cartoons from the 40's, for all I know.

You know there had to have been scores of frat boys around the nation yelling at their TV's like Professor Turguson in Back to School. "HEY! FORGET ABOUT THOSE JUGHEADS IN THE PAC 12! PUT THOSE GLASSES ON! HEY! NIX! I'M TALKING TO YOU! DO IT! DO IT!!!!!!!

As I have mentioned many times before, Erin Andrews was nothing but overrated hype and I am glad she took her boring act to the minor leagues.

If you want a prime time performer, the girl you want is Wendy Nix, especially if she is wearing those black-rimmed glasses. When she is driving the ship, you won't care if your team is losing 50-0 at the half, or if they are talking about some fat guy who painted a cheeseburger on his chest while wearing only a jock strap in 20-degree weather during the Nevada-Utah game...


Week 12 Predictions
Week 12 has more cupcakes than the Little Debbie section of a Big Beautiful Woman Convention. Let's just see where the funs beings...

Western Carolina at Alabama

I'll bet the guys from Western Carolina are not going to send Johnny Manziel a Christmas card this December. All the Aggies did was get Bama ready to kill someone this week, and unfortunately, it will be the Catamounts.

And bringing in a 1-9 record is not exactly inspiring…

Alabama 50 – Western Carolina 7


Jacksonville State at Florida

As bad as Florida has played the last few weeks, I would give J-State a chance for the upset.

However, Florida is charmed this year and will probably pull the game out in the last seconds like they have the last few weeks.

My guess it will be a tie game with one second to go. The J-State QB will throw a desperation bomb that will be caught and run 99 yards to the one inch line, and then be fumbled.

Loucheiz Purifoy will get the fumble and run it back 99 yards for the winning touchdown at the gun for another heart stopping Gators win.

After last week, it can't get any sillier in Gainesville.

Florida 28 – Jacksonville State 21


Wofford at South Carolina

When you say Wofford, doesn't it sound like a dog sneezing? Say it really fast and emphasize the W in the name.

See, I told you so!

South Carolina 35 – Wofford 24


Georgia Southern at Georgia

Good thing for the Dawgs is they get two straight weeks of playing defense against the triple option.

Bad news is Alabama doesn't run the triple option. Can Georgia get a do over in their schedule?

Georgia 42 – Georgia Southern 14


Alabama A&M at Auburn

Remember the last time an A&M came into Jordan-Hare? It was 50 billion to zero in the first five minutes.

Good thing these guys aren't from Texas.

Auburn 24 – Alabama A&M 21


Sam Houston State at Texas A&M

The Aggies are rolling, and if they had caught some breaks in either the LSU or Florida game, we would be talking about them as a possible team for the BCS Championship game.

As it is, they will have to settle for being state champs since no other team in the state has the guts to play them…

Texas A&M 57 - Sam Houston State 14


Syracuse at Missouri

Really? They are playing this game so late in he year? Unless the surface is made of wood, don't waste my time having to think about this one….

Missouri 35 – Syracuse 14


Samford at Kentucky

Joker gets a big victory in a tune up before the Toilet Bowl clash with Tennessee next week.

Kentucky 28 – Samford 24


Arkansas at Mississippi State

Mississippi State looks like a dog after he's been neutered. Well, come to think of it, so does Arkansas, but Mississippi State is on a downward spiral that is so bad, it looks like one of Billy Kilmer's passes.

Arkansas comes into Starkville and springs the upset.

Arkansas 31 – Mississippi State 20


Ole Miss at LSU

Zack Mettenberger has finally played up to his potential. It's happened about the same time as him shaving off that porn star moustache.

Coincidence?

LSU 35 – Ole Miss 17

Vanderbilt at Tennessee

Last year, Tennessee was talking smack after beating Vandy, and James Franklin did not appreciate it one bit.

How can a team that won its first (and as it turned out only) SEC game in November talk smack? I would be keeping my mouth shut and hope that the media wouldn't take note that we were 1-6 in the conference.

The Vols are toast while the 'Doores are riding a huge wave of momentum and can bury their hated in state rivals deep into the abyss at the bottom of the SEC East standings.

This one will be no contest since Tennessee has no defense, no running game, no hope, no fight, no confidence and possibly no coach come Saturday night.

Vanderbilt 42 – Tennessee 28


What do you think?

We'd love to hear your comments and/or opinions. If you submit them here, other visitors can read them, rate them and comment on them. An e-mail address is not required.

What Other Visitors Have Said
Click below to see contributions from other visitors to this page...

Dawg fan by Fate, Vol fan by God Not rated yet
Since the run, jump, throw season is in recess I must comment on the Vol hardhat predicament. I'm a Gen. Neylandite by birth and I hope the brain trust …