Auburn vs Oregon: 2011 BCS Championship Game Review
Auburn Wins!!
The Auburn Tigers beat the Oregon Ducks 22-19 in the 2011 BCS Championship Game. Auburn won the game on a last second chip-shot field goal. Just as we predicted (see below) this was the best (and closest) BCS Championship Game since the 2005 - 2006 game that Texas won over USC 41-38. That was also the last time a team outside of the SEC won College Football's National Championship.
Thanks to Victorie at flikr.com for the photo of Cam Newton running the ball and Neon Tommy (also on flikr) for the picture of LaMichael James on the sideline.
---
The biggest surprise in the 2011 BCS Championship Game was probably that both teams' defenses stepped up and held their own against the opposing high-powered offenses. The over/under was 75 points; yet only 41 points were scored. Hope you had the "under."
All-in-all Auburn seemed the stronger team, especially on both lines of scrimmage. Auburn had more total yards (519-449); more time of possession (32:57 to 27:03) and more rushing yards (254 -75). Oregon hit a couple long passes and had a big turnover late that kept the Ducks close, very close. But, it was Auburn that largely contolled the line of scrimmage and had by far the largest number of positive plays.
Probably the defining moment of the game came in the third quarter. Oregon QB Darron Thomas connected with WR Lavasier Tuinei for a 43 yard gain to the Auburn 3. Actually, it appeared Tuinei would score easily -- even Brent Musburger declared: "Touchdown Oregon!!" But Demetruce McNeal tackled him from behind, saving the TD.
Oregon tried 4 times, but could not punch it in from the 3 yard line. Nick Fairley and Josh Bynes made two of the key stops.
Auburn Running Back Michael Dyer was named Offensive MVP of the game; Defensive Tackle Nick Fairley was Defensive MVP.
I have to emphasize that this was a close game. Auburn also was stopped on a 4th and 1 from the 1 when Cam Newton underthrew an open receiver. Early in the game, Oregon moved the ball and seemed to have Auburn on it's heels. A couple key INT's changed that. So, there were plenty of big plays on both sides of the ball. But, in the end, Auburn simply got the better of Oregon.
A few other notes:
An SEC team won the BCS Championship Game for the 5th straight year; 6 of the last 8 years; 7 times since 1998; and it's the 8th straight National Championship Game that an SEC team has played in and won.
The State of Alabama has it's second straight National Champion; two different teams. No other state has ever done that.
Auburn won 4 games this year with game winning Field Goals and won 5 games by 3 points or less. As we predicted, this experience in tough games showed down the stretch. This is the advantage that SEC teams bring to the table in National Championship games.
Cam Newton is sure to go pro. Look out for Alabama next year. The Crimson Tide will be rolling again.
Read more about the BCS Championship game and all the 2010 - 2011 Bowls SEC Teams Played In as well as how the Auburn - Oregon game cemented the SEC's claim as the Top National Championship Conference.
Here's our original, unaltered:
Auburn vs Oregon: 2011 BCS Championship Game Preview
Well, we got it! Auburn vs Oregon. The Ducks and Tigers are clearly the two best teams in college football, and just as clearly two of the best All-American players [Auburn Quarterback Cam Newton (won the 2010 Heisman Trophy) and Oregon Running Back LaMichael James (#3 in Heisman balloting)] will meet in Glendale, Arizona, on the football field, on January 10, 2011 to crown College Football's National Champion. Wow, I CAN NOT WAIT!!
Update: To add even more to the drama, Oregon Head coach Chip Kelly was just named by the AP as "Coach of the Year." Who came in second? You guessed it, Auburn's Gene Chizik. Wow, a bit more fuel for the fire....
The Auburn Tigers (13-0; ranked #1) and SEC Champions vs. the Oregon Ducks (12-0; ranked #2) and Pac-10 Champs is the match-up college football fans have been clamoring for the entire second half of the 2010 college football season. As much as I hate it, I've got to say that the BCS once again got the correct teams in the championship game, which is great for the BCS, but bad for anyone that is looking for a playoff system in college football.
As long as there are only two undefeated teams from the automatic qualifying conferences at the end of the regular season (as is the case this year), the BCS will live on with relatively little controversy. This is just a fact. Sorry to TCU, but until you play in a better conference, you'll always be on the outside looking in.
Auburn vs Oregon will be a game of "firsts." This will be the first time that either Oregon or Auburn has played in a BCS Championship Game. It will also be the first time the Ducks and Tigers have met on the football field -- ever. Finally, this will be the first SEC vs Pac-10 match-up in any BCS Bowl Game Ever! That alone will be really interesting due to claims by Pac-10 fans that they are disrespected and actually better than the SEC.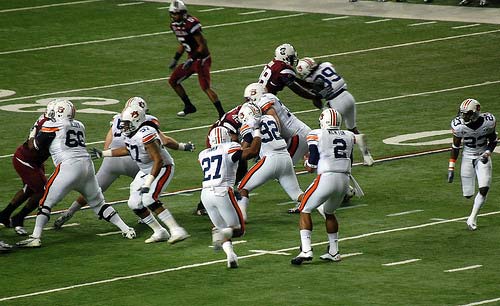 SEC Championship game Auburn Tigers completely dominate the South Carolina Gamecocks!
Thanks to Leigh Ann Simpson at flickr.com for this photo.
---
Auburn against Oregon marks the fifth straight season that the SEC has had a team in the National Championship, and it also marks the fifth straight season that the SEC will send two teams to BCS bowl games, with Arkansas making its first appearance in a BCS bowl in the Sugar Bowl against Ohio State.
In the past four years, SEC teams (Florida, LSU, Florida, and Alabama) beat Big Ten and Big 12 teams (Ohio State, Ohio State, Oklahoma and Texas) in each BCS Championship Game.
Both Auburn and Oregon have risen from the ashes of last season to become title contenders. Last year, Auburn got off to a sizzling 5-0 start before running into a buzz saw in Fayetteville, Arkansas. They went on to lose five of their last six games.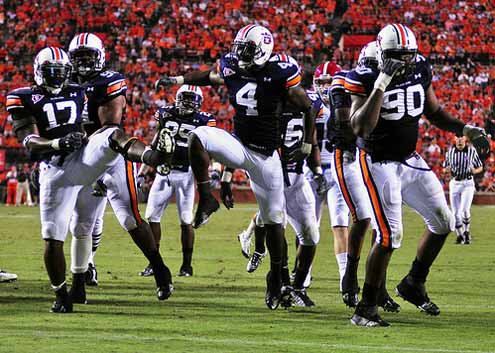 Auburn Tigers Celebration.
Thanks to Victorie@flikr.com for this photo.
---
Oregon had many off-season issues, and their Heisman contending quarterback, Jeremiah Masoli, was dismissed from the team in the spring after being arrested. The Ducks proved to be resilient, however, and their offense has yet to miss a beat this season even without Masoli.
Auburn and Oregon have had many similarities throughout this regular season, and I believe that this could be one of the best NCAA College Football Title Games ever. If both teams live up to their reputations, we can expect a low scoring first half, probably somewhere around 17-14, and a fireworks-filled second half with a final score that could end up with both teams scoring over 50 points with the way their explosive offenses work. And, yes, both teams have explosive offenses -- which is common in BCS Championship Games.
Neither defense has been particularly impressive this season as both have been prone to giving up leads early on in ballgames; but, both defenses have shown that they can tighten up and become impenetrable walls in the second half of games when it really counts.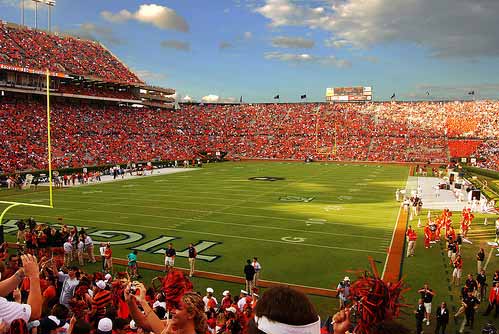 Sea of Orange.
Thanks to Victorie@flikr.com for this photo.
---
The main difference I have seen in the teams, besides that fact that Auburn has beaten 5 teams in the BCS Top-25 (that's every other SEC team in the Top-25 by the way) while Oregon has only defeated one team that is currently ranked (#4 Stanford), is that the Auburn defense is prone to creating turnovers exactly when it needs them. Oregon's defense has not shown that it can do that as much.
Yes, Oregon has a higher turnover margin than Auburn (as noted in one of the comments submitted at the bottom of this page); however, most of the turnovers Oregon's "D" got were in blow-out games where the opposing team was going for broke and taking risks. Many of the turnovers Auburn's "D" got this year were at crucial times in close games.
Speaking of which -- Oregon just didn't play in many close (or tough) games. Really, only their 15-13 win at Cal was close. The win at Arizona State was by 11 points. All the rest of Oregon's games were won by 2 or 3 touchdowns at least. Which is also why I think Oregon leads Auburn in most statistical categories.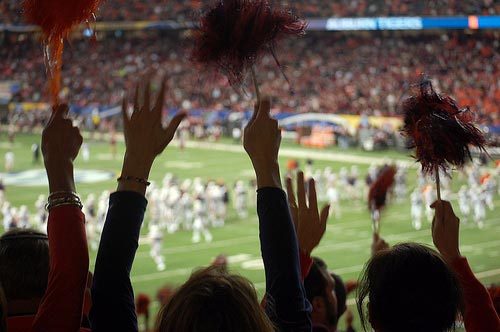 Most AU fans didn't sit down the entire game. It was AUsome!
Thanks to Leigh Ann Simpson at flickr.com for this photo.
---
Auburn, by contrast, beat Clemson in overtime; and beat five other teams by a touchdown or less. Including the comeback for the ages Cam Newton and the Tigers had against Alabama; winning the 2010 Iron Bowl 28-27 after trailing 24-0. Amazing.
Now it could be that Oregon is just awesome. Or, it could be that their Pac-10 schedule was weaker than Auburn's SEC schedule. I think it's the latter, but we'll find out on January 10. [Actually, you can get a pretty good idea from this PDF demonstrating that Auburn's 2010 schedule was one of the toughest any National Championship contender has ever played. Oregon does not make the list.
I think the Auburn vs Oregon BCS Championship Game will be close and decided on a late turnover by the Auburn defense. We'll see.
This game should be great fun for everyone watching it. It will have the offense to keep even fans that get bored entertained, and it should come down to a wild finish in the waning seconds. If Auburn does what it has been doing all seaon long, it will force a critical turnover (maybe from All-American Defensive Tackle Nick Fairley) that allows the Tigers to go up two scores and allows Cam Newton to bleed the clock. I think the final score will end up 49-43, with Auburn pulling it out with a clock-bleeding drive at the end of the game.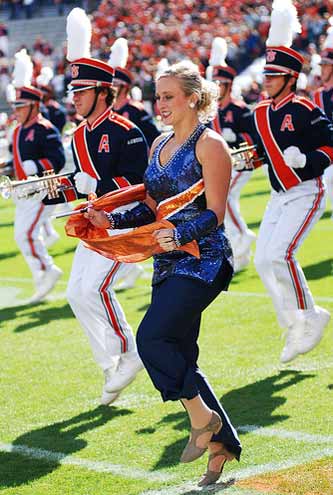 AU Cheerleaders.
Thanks to Leigh Ann Simpson at flickr.com for this photo.
---
The 2011 BCS Championship Game may well be the best National Championship Game we have seen since Texas vs. USC in 2006.
If you don't have tickets, don't wait! Get them now at Auburn vs Oregon Tickets.
Finally, here's the place to go for Auburn Tigers Fan Apparel & Merchandise and Oregon Ducks Apparel & Merchandise.
If you aren't pumped up yet for College Football's 2010 National Championship Game -- you will be after you check out this Oregon vs Auburn Highlight Video:
Interested in other bowl game match-ups? Check out our other College Football Bowl Predictions and SEC Bowl Previews. Read more about Auburn Tigers 2010 National Championship Season Review.
---
What do you think?

We'd love to hear your comments and/or opinions. If you submit them here, other visitors can read them, rate them and comment on them. An e-mail address is not required.

What Other Visitors Have Said
Click below to see contributions from other visitors to this page...

---
From Auburn vs. Oregon to SEC Football Blog | SEC Sports Blog | SEC Football | SEC Basketball | SEC Women's Basketball | SEC Baseball | SEC Track and Field | SEC Swimming and Diving | SEC Tennis | SEC Golf | SEC Gymnastics | SEC Soccer | SEC Softball | SEC Volleyball | Best College Sports Conference | College Football Bowl History | BCS Controversy | SEC vs Big Ten Debate | SEC Sports News | Current SEC Sports News | SEC Sports Pictures and Videos | SEC Sports Fan Forum | College Sports Blogs | College Football Association | SEC Sports Fan Trips | College Sports Gift | Fathead | College Sports Tailgate Party Shop | College Sports Merchandise | College Sports Apparel | SEC Sports Fan Store | SEC Football Tickets |
---
Home Page

About Us | Contact Us | Site Search | Advertise | Terms of Use |
---