Ed Orgeron Biography
Former University of Mississippi Head Football Coach Ed Orgeron Biography
Ed Orgeron was born on July 27, 1961. He excelled in football, basketball and track at South Lafourche High School in Galliano, Louisiana. At Lafourche High, Orgeron played on the State Championship Team in 1977 with the future New Orleans Saint and Atlanta Falcon Bobby Hebert.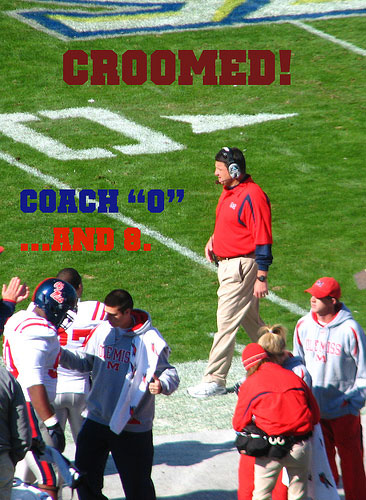 Ole Miss Coach Ed Orgeron before 2007 loss to Miss. State in the Egg Bowl. It ran the Rebels SEC record to 0-8 and Coach O was fired after the game. Thanks to rogersmith at flickr.com for the picture.


After high school, Orgeron went on to Northwestern State where he received a Bachelor's Degree in Liberal Arts in 1984. While at Northwestern, he was a starting defensive lineman for four years. His senior year he was captain of the Demons football team. He also served as a graduate assistant coach for the Demons in 1984 before moving on to the same position at McNeese State for one year.

Orgeron spent 1986 and 1987 as an Assistant Strength coach for the Arkansas Razorbacks, where he participated in the Orange and Liberty Bowls. He then moved to Miami to become a defensive line coach for four seasons. During his time at Miami, Orgeron coached eight All-Americans, including NFL first round draft picks. The Hurricanes won the national championship twice, in 1989 and 1991, and appeared in five New Year's Day bowls (1989 Orange, 1990 Sugar, 1991 Cotton, 1992 Orange, 1993 Sugar).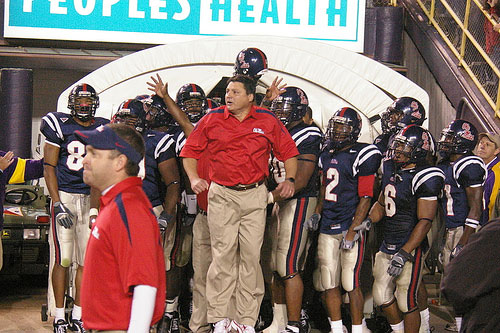 Ed Orgeron leads the Rebels onto the field. Thanks GMAC1018 at flickr.com for the picture.


Controversy plagued Coach Orgeron in 1991 when a permanent injunction of protection granted to a woman by the Dade County Court landed him in a 26-week domestic violence counseling program. In 1992 he was charged with second degree battery following a bar fight in Baton Rouge, Louisiana. Though the charges were eventually dropped, it was a dark time for Orgeron, and he was placed on probation by the Miami athletic department.

Orgeron spent a year with his family in Larose, Louisiana to get his life back on track. He worked in the private business sector for a year before returning to coaching in 1994 at Nicholls State. After a year he was hired as defensive line coach for Syracuse, where he remained for three seasons before spending six years at the University of Southern California as defensive line coach and recruiting coordinator. His 2002, 2003 and 2004 recruiting classes were ranked in the top five nationally. He was named the 2004 National Recruiter of the Year.

Coach Orgeron joined the Ole Miss Coaching staff as head coach in December 2004. His first two seasons have culminated in an overall record of 7-16 and garnered much criticism from the athletic community. However, University of Mississippi Chancellor Robert Khayat has publicized his support for Coach Orgeron. Khayat maintains that Orgeron inherited a troubled football program, and is optimistic that he will turn it around.

Update: No turnaround for Coach Orgeron. Ole Miss went winless in the SEC (0-8) in 2007. The Rebs were 3-9 overall. He was fired by Ole Miss after the 2007 football season. Ed Orgeron was promptly hired by the New Orleans Saints to be their Defensive Line Coach.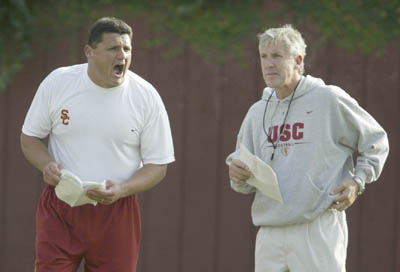 Ed Orgeron with Pete Carroll (Orgeron was USC's D-line coach). Thanks GMAC1018 at flickr.com for the picture.


For more information about Ed Orgeron and Ole Miss Football, see 2007 Ole Miss Football and Ole Miss Rebels Football History. Check out our current information about Ole Miss Rebels Football.


---

Ed Orgeron Biography   Ed Orgeron Biography
Ed Orgeron Biography   Ed Orgeron Biography


What do you think?

We'd love to hear your comments and/or opinions. If you submit them here, other visitors can read them, rate them and comment on them. An e-mail address is not required.

By
Mo Johnson
, Copyright © 2006-2017 SECSportsFan.com