---
If you are looking for our Current Mississippi State Bulldogs football page, check out 2010 Mississippi State Bulldogse Football.
---
Nice first season by
Dan Mullen
and the Mississippi State Bulldogs football team. In fact, they nearly qualified for a bowl game. And they
did
beat in-state rival Ole Miss. Great year really. Will 2010 MSU football be even better?
Get your
2010 Miss State Bulldogs Football Tickets
now.
Ever since the final down was played to conclude the 2008 season of football for the Mississippi State Bulldogs, the team has been poised and looking forward to the 2009 season in hopes of avenging what was a fairly poor season of football. Indeed, in 2008, the team only managed to win 4 games, en route to a 4-8 record. However, a new head coach has brought in a new spirit and a new atmosphere to MSU football, and players, fans, and alumni are all hoping, will also bring winning ways.
Indeed, Dan Mullen's hiring from SEC rival University of Florida (or, rather than hiring, his poaching if you ask Gators' fans), was one of the biggest stories in the SEC during this offseason. It is hoped that Mullen will be able to inject the struggling MSU offense with a new spark, one which was prevalent in the Florida game plan year in and year out under Mullen. And there is little doubt that Mullen's coaching will provide a jolt to the Bulldogs offensive scheme. However, what remains to be seen is whether or not the current team as assembled will be talented enough to pull it off.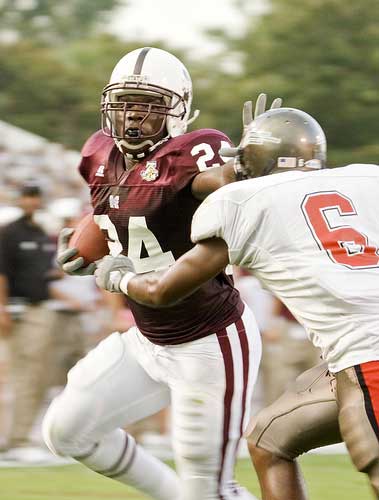 MSU runner stiff-arms opponent.
Thanks to haydensimons at flickr.com for the picture.
---
Mullen is going to have to figure out how, in 2009, to make things happen, and make his offense work, with a group of players that may or may not fit his system. And with a group of players that is, quite frankly, relatively devoid of legitimate play makers. One player who will be expected to shoulder a lot of the offensive load over the course of the coming season will be senior RB Anthony Dixon.
Now, Dixon is not considered to be one of the SEC's elite running backs, but frankly, explosiveness is not something that Mullen is expecting out of him. Instead, Dixon will be looked upon to provide consistency and leadership, along with strong carries into the teeth of the defense, moving the chains 4 yards at a time along the way. In addition to Dixon, MSU will also feature running backs Arnil Stallworth and Christian Ducre, all of which are good, although not great, backs.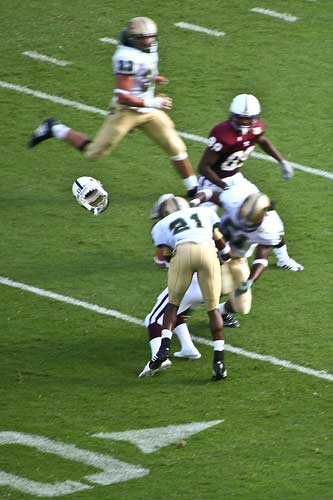 UAB defender knocks Mississippi State football helmet off head.
Thanks to haydensimon at flickr.com for the picture .
---
Defensively, Mullen, an offensive mind, is going to have to lean heavily on his assistant coaching staff, as well as on the veteran leaders that are returning to the MSU team in 2009. In fact, while the offensive cupboards are relatively barren, on defense, the Bulldogs are, indeed, expected to return some talented players. And in addition to a fairly complete returning squad, the team is also bringing in one talented transfer of note: JUCO transfer defensive tackle Pernell McPhee, who will be entering his junior season. McPhee has the ability to be one of the best defensive tackles in the conference, and he is expected to be a key leader right away.
All things being equal, there are two obstacles that will stand in the way of Dan Mullen being able to quickly turn the tide at MSU. One, as discussed above, is the fact that Mullen will have to do it all without his own recruits, thus, in many cases, trying to fit figurative square pegs into round holes. But the other, frankly, is the mere difficulty of the SEC schedule. There are no easy games in the SEC. As such, it is fortunate that the non-conference schedule should, indeed, provide some fairly easy wins. While Jackson State, Middle Tennessee state, and Houston are not pushovers, all are clearly beatable, and wins vs. these are essential.
All told, more likely than not, the MSU Bulldogs in the Mullen era will probably start off slowly. A similar record to last season, 4-8 or 5-7, is likely, and should not be viewed as an indictment of Mullen, who will likely need at least 2 if not 3 seasons to fully implement what he wants to do.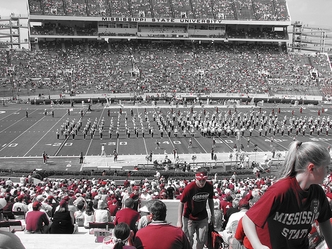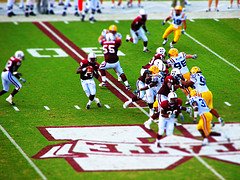 Thanks to flickr.com/photos/rogersmith for all photos. Some rights are reserved for these photos.
---
---
Mississippi State Bulldogs Football Links
What do you think?

We'd love to hear your comments and/or opinions. If you submit them here, other visitors can read them, rate them and comment on them. An e-mail address is not required.

---
Return to Home Page
Alabama Crimson Tide Football
Arkansas Razorback Football
Kentucky Wildcats Football
Ole Miss Rebels Football
Florida Gators Football
South Carolina Gamecocks Football
Auburn Tigers Football
Georgia Bulldogs Football
LSU Tigers Football
Tennessee Volunteers Football
Vanderbilt Commodores Football
From MSU Football to SEC Sports
---
SEC Sports Blog
|
SEC Football
|
SEC Basketball
|
SEC Women's Basketball
|
SEC Baseball
|
SEC Track and Field
|
SEC Swimming and Diving
|
SEC Tennis
|
SEC Golf
|
SEC Gymnastics
|
SEC Soccer
|
SEC Softball
|
SEC Volleyball
|
Best College Sports Conference
|
SEC vs Big Ten Debate
|
SEC Sports News
|
Current SEC Sports News
|
SEC Sports Pictures and Videos
|
SEC Sports Fan Forum
|
College Football Association
|
SEC Sports Fan Trips
|
2008 SEC Football Tickets
|
Fathead
|
College Sports Tailgate Party Shop
|
College Sports Merchandise
|
College Sports Apparel
|
SEC Sports Fan Store
|
---
Return to Home Page
About Us | Contact Us | Site Search |
---