Sylvester Croom Biography
Mississippi State University Head Coach
Sylvester Croom Biography
Sylvester Croom was born on September 25, 1954 in Tuscaloosa, Alabama. He took an interest in sports at a young age, and at Tuscaloosa High School played on the football team as linebacker and tight end. After high school, Sylvester went on to the University of Alabama where he began his record-setting career in college football under the infamous Paul "Bear" Bryant.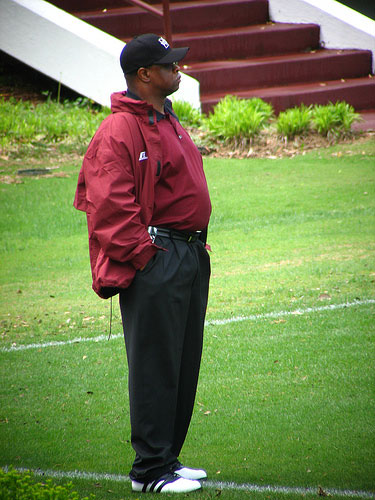 Sylvester Croom intently eyes an MSU scrimmage. Thanks to rogersmith at flickr.com for the picture.


During Croom's time with the University of Alabama, the Tide won three consecutive Southeastern Conference (SEC) Championships in 1972, 1973, and 1974, as well as a National Championship in 1974. Croom served as the Senior Captain in 1974. That season he was named to the All-SEC team, a Kodak All-American, and earned the Jacobs Blocking Trophy, which is awarded to the best offensive lineman in the league. As if all this was not enough, Croom was also named to the 1975 Senior Bowl in Mobile, Alabama.

Sylvester graduated from the University of Alabama in 1975 with a bachelor's degree in history and a minor in biology. It was at that point that Croom decided to give the NFL a try. He played for the New Orleans Saints for one season before returning to his Alma Mater to pursue his Masters Degree in Educational Administration.

Croom was a Graduate Assistant Coach and Centers Coach during the 1976 season at the University of Alabama. At the age of twenty-three he completed his Masters and continued coaching full-time. For the following ten seasons he was a Linebackers Coach for the Crimson Tide. In 1987, the coaching staff had become so inspired by Croom that they began giving the Sylvester Croom Commitment to Excellence Award, to an outstanding player each year.

Croom proved to be just as valuable to the University of Alabama on the sidelines as he was on the field. Four of his players, E.J. Junior, Mike Pitts, Cornelious Bennett, and Derrick Thomas were first round picks in the NFL draft. Wayne Davis and Thomas Boyd, two of Croom's linebackers, are ranked one and two in all-time tackles at the University of Alabama.
In 1987, Croom made the switch back to the NFL, this time as a coach. His NFL coaching resume includes four seasons with the Tampa Bay Buccaneers, one season with the Indianapolis Colts, five with the San Diego Chargers, five with the Detroit Lions, and another three seasons with the Green Bay Packers.

In 2004 Croom's football career completed its second full circle when he moved back to the college football level and accepted the position as Head Coach of Mississippi State University.

Croom's coaching record since taking over the program at MSU has garnered its share of criticism. His overall record ranks him just above Bobby Johnson of Vanderbilt [so, second to last in the Southeastern Conference (SEC)].

But, keep in mind how tough the SEC is and that Miss. State has never been one of the top SEC football teams. Larry Templeton, the school's athletic director, maintains that Croom is the right man for this job and has high hopes for the Bulldogs head coach as he goes into his fourth season with the team.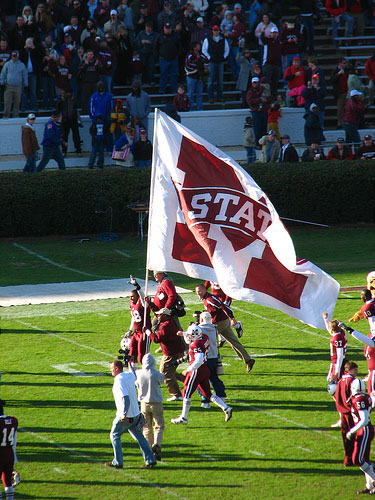 After Mississippi State's great 4th quarter comeback against Ole Miss to win the 2007 Egg Bowl, Bulldog's head coach Sylvester Croom ran a victory lap around the stadium with the Giant "M State" flag. Thanks to rogersmith at flickr.com for the picture.


Coach Croom has received quite a bit of notoriety for one other achievement. Although he downplays the significance of the title, the first African-American Head Coach of an SEC football team is an accomplishment he should be proud of. Still, as Sylvester Croom stated after he accepted the job:

"There ain't but one color that matters here, and that color is maroon."

Update: What a great year 2007 turned out to be for Sylvester Croom and MSU. A winning season and a bowl win. Awesome job!

For more information about Sylvester Croom and Mississippi State Bulldogs Football, see 2007 Mississippi State Football.

Check out current information about Mississippi State Bulldogs Football and Mississippi State Bulldogs Football History.


Sylvester Croom Biography
Sylvester Croom Biography
Sylvester Croom Biography


What do you think?

We'd love to hear your comments and/or opinions. If you submit them here, other visitors can read them, rate them and comment on them. An e-mail address is not required.

What Other Visitors Have Said
Click below to see contributions from other visitors to this page...

Croom






I have been and always will be a Ms. State Bulldog fan. There is no doubt Coach Croom changed the culture of Ms State, not because of his color but because …
By
Mo Johnson
, Copyright © 2006-2017 SECSportsFan.com