SEC Football 2012: Week 8 Review and Week 9 Preview
By Coach Scooter
As I pour myself another brown drink, and reflect on Saturday's games, I can't help but to think that we have reverted back to the old days when Florida and Alabama ruled the conference.
Both teams are the best the SEC has to offer right now, and we are heading for another SEC Championship game with both teams as guests of Atlanta to see who will probably play for the National Championship.
These two teams have played the most games against each other in the SEC Championship (7), with Florida holding a 4-3 advantage.
After this weekend, game number eight should go ahead and be scheduled as Florida has one last hurdle to win the East, and should beat Georgia, while Alabama only has LSU in their way to get back to Atlanta.
Sorry, Mississippi State, you're just not that good and you should enjoy the last few days, hours, minutes, seconds of what it feels like to be unbeaten.
Speaking of Florida, is there another team in the country that has done more with less? They had like three yards of offense and yet led USC 50 billion to nothing early.
Between USC and LSU unable to hold on to the ball without dropping it like sixth period Civics, Texas A&M forgetting to come out for the second half and Tennessee (Hold on while I try to control my giggling) well, let's just say they are Tennessee, the Gators don't have the easiest schedule in the world, but obviously do have the easiest set of inept players to face each Saturday in history.
Don't look now, but Vanderbilt is not looking too bad in the East. Granted, Auburn is way down this year, but if James Franklin is going to get the 'Doores to respectability, those are the games he needs to have.
Speaking of Auburn, they couldn't play dead in a backyard production of Our Town. Why hasn't Gene Chizik called me for help? This week, as Texas A&M comes to town, we could hold the game in my backyard. Does anyone have a barn? We could have the locker rooms in there. I can sew the jerseys, my Aunt Molly could be a cheerleader, and Uncle Goober could play the part of the head coach.
Sorry, I went off on A Few Good Men rant there for a second. Sorry, I am better now. Well, maybe not, but we'll continue…
If I were John Chavis, I would make sure Les Miles kissed my ass every day for the next ten years. Without Chavis, where would the Tigers be?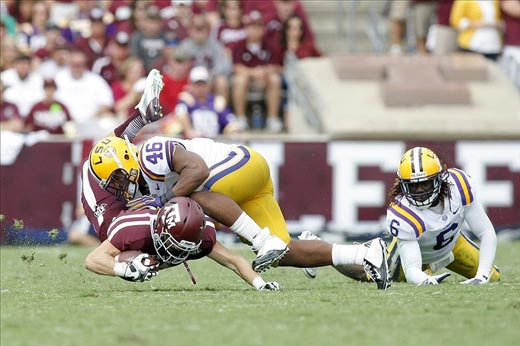 ---
And now it is time for our weekly segment on Overrated Quarterbacks. This week, and every week since the beginning of the year, we focus on Tyler "Guess what? I still have never won a big game" Bray.
No touchdowns, a lackluster performance in the first half, and as Tennessee was trying to mount a comeback, only down 23-10 and a touchdown would have given them some much needed momentum, he air mails a pass that was picked off.
Then he bolts out of the locker room like a yellow, egg suckin' dog (Sorry, my Georgia Championship Wrestling days just popped up there) without talking to the media. Is this guy a major head case or what? Maybe. However, it does appear that the term, coward, might apply here.
Georgia struggled against the worst team in the SEC last week as they narrowly escaped Lexington with a five-point victory. Not good if you are trying to knock off the number two team in the land this Saturday.
However, we all know not to look at the previous game in predicting what will happen in the next game. Florida is playing better right now, but in a rivalry game, especially with the SEC East lead at steak, UGA should play better than a lot of people are expecting them to.
Week 9 Predictions
Kentucky at Missouri
Wildcats versus Tigers? This sounds like a "Cat-Astrophy" from where I'm sitting, and I am not "Kitten" about that.
Neither of these two teams have been "Puuuurfect" this year, and I must "Paws" for a moment to consider when these two teams are going to "Cat-nip" their SEC losing streaks in the bud.
Well, for one team, they will no longer be a "Punch-lion" for all the endless jokes about their "cat-aclismic" demise in the SEC.
Missouri 35 – Kentucky 21
Tennessee at South Carolina
Both teams gave up 44 points last week. And I drank about 44 pints of bourbon having to watch both games.
Tennessee cannot stop anybody, and any offense with Tyler Bray leading the charge is uglier than the lead singer from Slade.
Both teams are reeling right now, but USC has the better team, and are at home. This one should be over by halftime, unless Bray somehow makes it into the fourth quarter without being benched. Aw, who am I kidding, this one is a blowout.
South Carolina 38 – Tennessee 14
Ole Miss at Arkansas
At the beginning of the year, who would have thought Ole Miss would be coming into this game with a better overall record than Arkansas?
Who would have thought Arkansas would be the train wreck they have been?
Who would have thought John L. Smith was a complete idiot?
I think we have a winner on question #3!
Ole Miss 28 – Arkansas 17
Florida vs. Georgia
Georgia has crawled out of more coffins than Bella Lugosi, and now, they have one more steak in the heart to avoid as they play Florida for what everyone believes is the SEC East championship.
Georgia has a chance in this one, as long as their defense can stop the run. Make Jeff Distell beat you with the pass, have no mistakes, and they will be in it all the way.
Every one of Florida's opponents has gift-wrapped points for them through turnovers or penalties, and eventually, that will end. Make the Florida offense work for their points, just like Vanderbilt did, and the game will be close.
Florida is the better team, but sometimes the better team doesn't win in this bitter rivalry. Like this Saturday.
Who let the Dawgs out? Woof Woof Woof!!!!
Georgia 21 – Florida 14
Texas A&M at Auburn
Update! My Uncle Goober will play the part of Gene Chizik on Saturday. Then again, he might call a better game than Chizik has the last few weeks.
Texas A&M 42 – Auburn 7
Massachusetts at Vanderbilt
Vandy has some momentum after playing Florida tough, and beating Auburn. Now they get a supposed breather with UMass coming to town.
Too bad Victor Cruz isn't around any longer to help the Minutemen since some salsa dancing would be needed if they want to hang with the 'Doores.
Vanderbilt keep the momentum up as they head into November with a realistic shot at reaching a bowl game.
Vanderbilt 28 – Massachusetts 10
Mississippi State at Alabama
I had to laugh at the Bulldog fans who have been spouting off about their chances to reach the national championship game.
MSU has not played anybody yet, and their next four games are Bama, A&M, LSU, Arkansas and Ole Miss. I wouldn't be surprised if last week is the last time we see a Bulldogs victory.
Alabama, meanwhile, is rolling, and they are clearly the best team in the nation, if not the world. You would think two unbeaten teams meeting this late in the SEC season would garner more hype.
Why, then, is this one being looked at like a spring intra squad game? Bama is good, while Mississippi State thinks they are good. Big difference…
Alabama 49 – Mississippi State 7
---
New! Facebook Comments
Leave a comment about this article in the box below and share it with your Facebook friends.
What do you think?

We'd love to hear your comments and/or opinions. If you submit them here, other visitors can read them, rate them and comment on them. An e-mail address is not required.

What Other Visitors Have Said
Click below to see contributions from other visitors to this page...

Two questions for you Not rated yet
Can we please stop showing an 80/20 ratio of losing & crying players vs winning and celebrating players. I felt really bad for Jordan Reed on Saturday, …
---
Bobby Petrino Fired | Story of Three Alabama Quarterbacks | Georgia Bulldogs Win SEC East | BCS Controversy: LSU vs Alabama Again | College Football Is Sick | Time is now for SEC Expansion | NFL Draft Prospects for Patrick Peterson and Stevan Ridley | SEC Offensive Lineman Prospects in the 2011 NFL Draft | Auburn vs Oregon 2011 National Championship Game Review | Auburn - Alabama Heisman Trophy Winners | LSU Beats Georgia 42-10: Too Many Georgia Fans Drank the Kool-Aid | 2011 SEC Football Rivalry Week Review and Championship Game Preview | Review of the 2010 - 2011 SEC Bowl Season | The Legacy of Legion Field | Cam Newton Controversy | My SEC Football Championship Game Story | Tennessee Vols Heartbreak Losses | Tennessee Tailgate Story | My Ideas To Make College Football Better | Origins of SEC School Colors | History of SEC School Mascots | SEC Teams vs Everyone Else All-Time Record | Terrible Officiating in Auburn-Arkansas Game | College Football Books and Videos | Cam Newton For Heisman | 2010 SEC Football Fantasy Football Picks | Conference Realignment Analysis | Lane Kiffin | Alabama vs Texas BCS Championship Game Review & Analysis | Best All-Time SEC Football Coach College Football Yesterday and Today | All-Time SEC Fantasy Football Team |
---
From SEC Football 2012: Week 8 Review and Week 9 Preview to SEC Football Blog | SEC Sports Blog | SEC Football | SEC Basketball | SEC Basketball Blog | SEC Women's Basketball | SEC Baseball | SEC Track and Field | SEC Swimming and Diving | SEC Tennis | SEC Golf | SEC Gymnastics | SEC Soccer | SEC Softball | SEC Volleyball | Best College Sports Conference | College Football Bowl History | BCS Controversy | SEC vs Big Ten Debate | SEC Sports News | Current SEC Sports News | SEC Sports Pictures and Videos | SEC Sports Fan Forum | College Sports Blogs | College Football Association | SEC Sports Fan Trips | College Sports Gift | Fathead | College Sports Tailgate Party Shop | College Sports Merchandise | College Sports Apparel | SEC Sports Fan Store | SEC Football Tickets |
---
Home Page

About Us | Contact Us | Site Search | Advertise | Terms of Use |
---