SEC Football 2012: Week 7 Review and Week 8 Preview
By Coach Scooter
Week 7 concluded around 12:30am after the final gun of the Tennessee-Mississippi State game. I made sure to stay close to my computer just in case the soon to be #1 QB in the upcoming NFL Draft, Tyler "I still haven't won a big game in my life" Bray, was going to Tweet about his wonderful evening in Starkville. (Pointing to my head) This ain't oatmeal up here, my friends…
#1QB in the draft? Really? Somewhere, I just heard a mocking "HA" from our Delta Tau Chi buddy Boone who was lamenting the Delta's mid term grades in the bowels of the Delta House. I sure hope they check with the guys from the Jewish House to make sure they steal the right exams next time…
Here are some observations about Week 7:
Is it just me, or do the yard numbers at Missouri's Faurot Field look as if they ordered a large set of stencils instead of medium? The numbers are way off the lines and it makes their field look like my Uncle Ted's backyard when he was hittin' the sauce one night and went out with a couple of cans of paint to try to make his backyard look like the football field from the Old Fulton County Stadium.
Speaking of Missouri, I have to ask Sheldon what color was that bus that just hit the team that was supposedly untouchable? Bama outrushed Missouri 362-3 and held an overall yardage advantage of 533-129. Three yards? My daughter's kindergarten soccer team rushed for more yards last Saturday. Then again, when the team Mom started giving out Cheeze-Its for the post game snack it was anarchy, so that might explain it.
Ole Miss snapped a 16 game SEC Losing streak by blasting Auburn on Saturday. That means Tennessee, Kentucky and Missouri now hold the top spot for the longest losing streak in the conference with four. With Kentucky hosting Georgia, and Tennessee waiting for Alabama in Knoxville on Saturday, they should both nudge out Missouri who is off this week.
Thanks a lot, Jeff Driskel! I had Vandy upsetting the Gators 31-24, and if it wasn't for him, that prediction was well on the way to coming true!
In all seriousness, this was a trap game for the Gators, and since Vandy always plays them tough in Nashville, you knew it would come down to the fourth quarter.
What I would worry about, if I were a Gator fan, is the injuries that have hit a once well-stocked cupboard of talent on the lines. As we get further into the season that might be the difference in how high Florida can go.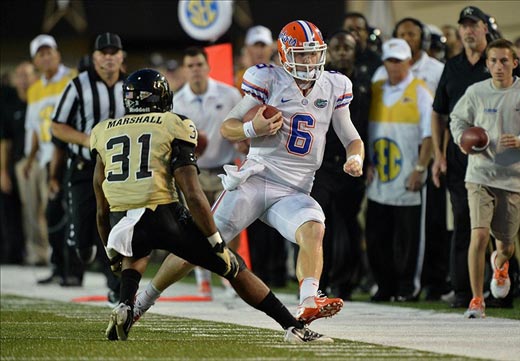 ---
Mississippi State is having a dream season. Too bad they have to wake up and see Alabama, Texas A&M, LSU and suddenly dangerous Arkansas all in a row after this week.
I don't know about you, but after seeing Bulldogs QB Tyler Russell on the sidelines, I got a real strong craving for a box of Whoppers. Maybe if they need a villain for the next Ghostbusters movie, Russell could be the Giant Whoppers Man, since he has the head for it.
"That was Death Valley. The place where opponents' dreams come to die," said an excited Les Miles after the Tigers upset South Carolina on Saturday night.
Yeah, Les, you big headed goof, that's what Will Muschamp said about the Swamp last week when your team came into Gainesville and wet the bed.
If I were you, Miles, I wouldn't be a bozo deluxe for one. But I also would keep my smart-aleck mouth shut and worry about what my offense has to do to go back to back plays without having a turnover, or being able to move the ball more than a yard at a time.
Week 8 Schedule
LSU at Texas A&M
The only reason why LSU won last week was the game was at home and at night. They have one of the best defenses I have ever seen and moving the ball against them is brutal. However, equally as brutal is the Tiger offense and if it were not for the defense, they might be hanging out with Auburn for last in the SEC West.
This one is at College Station and in daylight hours. Sorry, Les, you bigheaded goof (Sorry, I really like writing that) your dunce hat is back in losersville at the end of the this one.
Texas A&M 21 – LSU 14
Auburn at Vanderbilt
Auburn has pulled a goose egg twice in their SEC history. In 1950, the Tigers lost every conference game for a dubious 0-7-conference record (And just for the record, they lost every other game that year as well). Not to be outdone, the 1952 team also went winless in the SEC.
After Saturday, there will be talk of another senior class that will be steamrolling to join the party.
Vanderbilt 28 – Auburn 17
South Carolina at Florida
If I were Florida, I would have a serious case of the red ass about what happened in Baton Rouge Saturday night. No longer is the element of surprise and intimidation when going into a seriously hostile environment going to affect the Gamecocks like it did last week.
Besides, Carolina knew losing to LSU was not as critical to their title hopes as what will happen in Gainesville this week. A win pretty much sews up the SEC East and if they keep winning, a shot for the SEC Championship. And that usually means a chance at the National Championship.
Sorry, Gators, it was a nice run, but it's time to take the plunge. Injuries on the lines, as well as a fired up Carolina team out to redeem themselves after last week means trouble for Florida and the heart attack waiting to happen, Will Muschamp.
South Carolina 35 – Florida 24
Georgia at Kentucky
I had a chance to talk to Deputy Marshall Sam Gerrard from The Fugitive about this one as we were hanging out in a tunnel, trying not to fall down and lose our Glocks.
When I asked him what he thought about this one, he shook his head and said, "I don't care!"
After I bought him a cup of coffee and a chocolate doughnut with those little sprinkles on it, he told me, "Give it up Kentucky, it's time to stop running!"
Georgia 49 – Kentucky 14
Middle Tennessee at Mississippi State
The Bulldogs get one last victory before ending the year 7-5. Look on the bright side, MSU fans, this Tennessee team will make it closer than the last Tennessee team did.
Mississippi State 35 – Middle Tennessee State 31
Alabama at Tennessee
This is my favorite of all the SEC games played because of the great tradition behind it.
You have the great coaches from the past like: Wade, Neyland, Thomas, Bryant, Majors, Fulmer and Stallings.
The great players like: Cafego, Hutson, Bryant and Majors (Yes, as players too), Namath, Stabler, Kiner, Reynolds, Barker and Manning.
The great games like: 2009 Cody blocked field goal, 1995 Manning ends the jinx, the 2003 five OT thriller and Phillip Doyle's game winner at the gun in 1990.
Despite the fact both teams are going in opposite directions, this is one of the jewels of SEC Football. Because of this, Tennessee, like last year, will keep it close for a half, maybe into the fourth quarter, but Alabama is just too good and superior talent will make the difference.
Alabama 31 – Tennessee 21
---
New! Facebook Comments
Leave a comment about this article in the box below and share it with your Facebook friends.
What do you think?

We'd love to hear your comments and/or opinions. If you submit them here, other visitors can read them, rate them and comment on them. An e-mail address is not required.

---
Bobby Petrino Fired | Story of Three Alabama Quarterbacks | Georgia Bulldogs Win SEC East | BCS Controversy: LSU vs Alabama Again | College Football Is Sick | Time is now for SEC Expansion | NFL Draft Prospects for Patrick Peterson and Stevan Ridley | SEC Offensive Lineman Prospects in the 2011 NFL Draft | Auburn vs Oregon 2011 National Championship Game Review | Auburn - Alabama Heisman Trophy Winners | LSU Beats Georgia 42-10: Too Many Georgia Fans Drank the Kool-Aid | 2011 SEC Football Rivalry Week Review and Championship Game Preview | Review of the 2010 - 2011 SEC Bowl Season | The Legacy of Legion Field | Cam Newton Controversy | My SEC Football Championship Game Story | Tennessee Vols Heartbreak Losses | Tennessee Tailgate Story | My Ideas To Make College Football Better | Origins of SEC School Colors | History of SEC School Mascots | SEC Teams vs Everyone Else All-Time Record | Terrible Officiating in Auburn-Arkansas Game | College Football Books and Videos | Cam Newton For Heisman | 2010 SEC Football Fantasy Football Picks | Conference Realignment Analysis | Lane Kiffin | Alabama vs Texas BCS Championship Game Review & Analysis | Best All-Time SEC Football Coach College Football Yesterday and Today | All-Time SEC Fantasy Football Team |
---
From SEC Football 2012: Week 7 Review and Week 8 Preview to SEC Football Blog | SEC Sports Blog | SEC Football | SEC Basketball | SEC Basketball Blog | SEC Women's Basketball | SEC Baseball | SEC Track and Field | SEC Swimming and Diving | SEC Tennis | SEC Golf | SEC Gymnastics | SEC Soccer | SEC Softball | SEC Volleyball | Best College Sports Conference | College Football Bowl History | BCS Controversy | SEC vs Big Ten Debate | SEC Sports News | Current SEC Sports News | SEC Sports Pictures and Videos | SEC Sports Fan Forum | College Sports Blogs | College Football Association | SEC Sports Fan Trips | College Sports Gift | Fathead | College Sports Tailgate Party Shop | College Sports Merchandise | College Sports Apparel | SEC Sports Fan Store | SEC Football Tickets |
---
Home Page

About Us | Contact Us | Site Search | Advertise | Terms of Use |
---