SEC Football 2012: Week 6 Review and Week 7 Preview
While I was pouring another glass of the Single Barrel, and thinking about the weekend in the SEC, there are a few things that disturb me about the sport we all love. And notice, I wrote sport.
First of all, what the hell is wrong with you Georgia fans? I am not talking about the graduates of the school, or the great fans the Bulldogs have, but the trailer trash reaction to the loss last Saturday.
I am sure you all have heard about Aaron Murray and Christian Robinson's house getting rolled and egged after the loss to South Carolina. These must have been the same knuckleheads who crucified Terrance Edwards after dropping a long pass that could have gone for a touchdown in 2002 against Florida by driving around town with his number inside a Ghostbusters slash through it.
C'Mon you backwards ass idiots! These are kids playing a game. It is just a game. If you think you could do better, gets your fat asses out there and see how you would do against the beasts of the SEC.
Then again, without the cover of darkness to hide behind, I am sure you cowards would not be nearly up to the challenge.
By the way, Murray's father has just been diagnosed with Cancer last week. Hope you guys are happy with yourselves…
Now that I have gotten that out of my system, let's look at what happened in the SEC last Saturday.
Auburn vs. Arkansas. Casey Jones would be proud of that train wreck.
Florida once again showed why they are serious contenders in the SEC East this year. Granted, LSU could not move the football across the street, but being able to gash the tremendous Tiger defense for two scores in the second half was impressive.
Everyone talked about LSU being a National Championship game contender and they are. Their offense looked a lot like the offense they rolled out in last year's National Championship game...
Just goes to show everyone you shouldn't open your alligator mouth before the season starts. When the no talent ass clown Sheldon Richardson, who was last seen flat on his can after a 31-10 beating by South Carolina, opened his pie hole and said the rest of the SEC couldn't touch Missouri, period, the older, wiser pundits of the SEC just shook their heads.
Hey, Sheldon, how did that Vanderbilt game work out for you?
Don't look now, but Texas A&M is in the thick of the race in the SEC West. They won't win it, of course, but for being a first year school in the best conference in America, not too shabby.
I won't go into detail about the UGA-USC game, except to mention a few yucks.
The first yuck was watching Georgia try to run the football.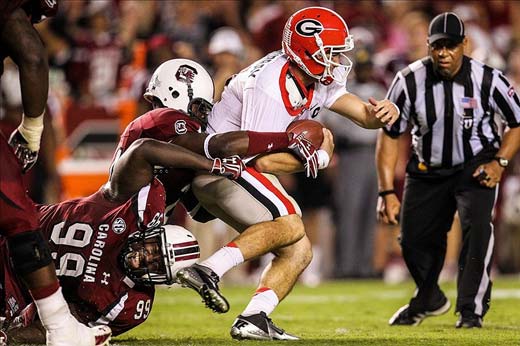 ---
The second was supplied by my good friend and loyal Gamecock alum, "Saucy" Stephanie, who was the most gracious, sensitive, courteous fan after the game to her husband, who is a proud UGA grad.
She didn't say much after the game, maybe because she was quite friendly with an old friend of hers, Mr. Woodruff Reserve, who can be a friend of mine anytime.
But what she did do is post a copy of the front page of the Sunday Atlanta Journal Sports section on her Facebook page with the huge headline reading, "COLDCOCKED." When one of her friends mentioned she hates when her husband's team loses, "The Saucy One" wrote, "Let 'em cry. It's good for them…"
Very subtle, Saucy. Like a sledgehammer through your front door…
The third Yuck was listening to the Georgia Bulldogs Radio Network play-by-play announcer Scott Howard. If you have ever had the misfortune of listening to one of his broadcasts, it's not a thing of beauty, but more like brutality.
Class and partiality are not in his vocabulary, and they should be when describing the actions of 18-22 year olds playing a game. Men like John Ward, Woody Durham and Eli Gold are the voices of their schools and as fans, we enjoy listening to them. One reason why is they appreciate greatness of the opponent in their descriptions of the game, while never losing passion for their school.
Howard, on the other hand, is nothing but a Larry Munson wannabe. His use of the words we, us, and our, when talking about the Bulldogs, is like fingernails on a chalkboard.
He has to realize he is in the booth and not on the field. He is doing nothing but chin wagging, not making tackles. If he wants to earn the right to use those descriptions, strap on a helmet and earn the right to say we, us and ours.
He also enjoys poking fun at other teams when the Dawgs are winning. Last week when they beat Tennessee, he got excited when UGA stopped running back Pig Howard. He shouted into the microphone, "TAKE THAT, PIG! BACK TO THE SLOP WHERE YOU BELONG!"
He has also criticized the Kentucky players (Well, we all have) when the 'Cats emptiness led to a blowout UGA victory a few years ago and openly joked about how bad their team was. Real classy, Howard. Maybe you should be the one going back to the slop where you belong…
Well, on Saturday night, I thought Howard was about to cry in his headset. He had all the excitement of a wounded turtle and I had to turn my radio up because I couldn't hear what he was saying since his voice was so soft and inaudible. I hung on every dreary, choked up, tearful description I was hearing.
I have no dog in he fight when putting my weekly recaps together, and have the utmost respect for my Georgia friends who are truly great fans.
But I have to admit that it was pure fun listening to a pompous, front running, jerk like Howard describe the game, and grasping for the words to tell everyone about how badly his team was getting their ass kicked.
Week 7 Predictions
Auburn at Ole Miss
Ole Miss is improving under first year coach Hugh Freeze, while Auburn is destructing under fourth year coach Gene Chizik.
Freeze is offering hope and promise, while Chizik is offering apologies and full refunds to the people who came to the game last week and were shortchanged because they paid to see an SEC team play, and they got an Atlantic Sun Conference team instead. (Just so you know, they don't play football in the A-Sun…)
As much as I would like to write that Auburn is going to rebound, I can't. I have seen their offense and frankly, it's offensive.
Ole Miss 24 – Auburn 14
Alabama at Missouri
Bama is due for a stinker, especially after an off week. Unfortunately for Missouri, it won't come this week.
Even if it did, since the Tigers couldn't even beat Vanderbilt, there is no chance in hell they could ever beat Alabama.
Alabama 38 – Missouri 0
Kentucky at Arkansas
Ever see the movie, Dumb and Dumber? You have it this weekend in Fayetteville…
Arkansas 27 - Kentucky 17
Tennessee at Mississippi State
Here is a chance for the Vols to get a win before two straight doubled digit losses in the next two weeks to Bama and South Carolina.
The Bulldogs usually begin games strong and then, for some strange reason, lose focus.
The Vols usually play the first 30 minutes tough, then wilt under the second half pressure of playing in the SEC. I still am not sold on Tyler Bray, especially if the game is on the line in the fourth quarter. I also am not sold on the defense, since they give up way too many big plays.
With the game in Starkville, that will tip the scales in the favor of the Maroon and White. Besides, the Vols do not know how to win yet, and since this one will be close into the fourth quarter, that's not a place they enjoy being.
Mississippi State 28 – Tennessee 21
Florida at Vanderbilt
Every time the 'Doores have a team beat that they have no business being on the same field with, they somehow find a way to lose at the end. That's why they are Vanderbilt.
This year, they get the Gators in Nashville, where they usually play them tough. Florida has depth, speed and talent. Vanderbilt has, um, some of those things.
As Lieutenant Dave Spradling said to Daniel Kaffee in A Few Good Men, "I don't know why I am agreeing to this," I have a feeling the 'Doores will spring the upset for the ages. It's a one in a million shot, and since Vandy has had a million chances to pull an upset like this, and never has, maybe Saturday their number will be up.
Vanderbilt 31 – Florida 24
South Carolina at LSU
South Carolina is rolling, while LSU is still looking for an offense.
Carolina is solid on both sides of the ball, and has the look of a champion. LSU has the look of a drunk Ann Margaret from Any Given Sunday.
The 'Cocks are the better tam, but it is too much to ask a team to be able to get up three weeks in a row for a big game. UGA last week, LSU this week, and Florida the next. If I were Carolina, I would call the guy that does Georgia's schedule…
I think their stumble will come this week, as Cocky will be rudely introduced to what a night game in Tiger stadium is all about.
LSU 27 – South Carolina 20
Texas A&M at Louisiana Tech
Funny thing about this one is both team are next to each other in the polls. What's not so funny is what A&M is going to do to the Bulldogs.
Texas A&M 42 – Louisiana Tech 21
---
New! Facebook Comments
Leave a comment about this article in the box below and share it with your Facebook friends.
What do you think?

We'd love to hear your comments and/or opinions. If you submit them here, other visitors can read them, rate them and comment on them. An e-mail address is not required.

---
Bobby Petrino Fired | Story of Three Alabama Quarterbacks | Georgia Bulldogs Win SEC East | BCS Controversy: LSU vs Alabama Again | College Football Is Sick | Time is now for SEC Expansion | NFL Draft Prospects for Patrick Peterson and Stevan Ridley | SEC Offensive Lineman Prospects in the 2011 NFL Draft | Auburn vs Oregon 2011 National Championship Game Review | Auburn - Alabama Heisman Trophy Winners | LSU Beats Georgia 42-10: Too Many Georgia Fans Drank the Kool-Aid | 2011 SEC Football Rivalry Week Review and Championship Game Preview | Review of the 2010 - 2011 SEC Bowl Season | The Legacy of Legion Field | Cam Newton Controversy | My SEC Football Championship Game Story | Tennessee Vols Heartbreak Losses | Tennessee Tailgate Story | My Ideas To Make College Football Better | Origins of SEC School Colors | History of SEC School Mascots | SEC Teams vs Everyone Else All-Time Record | Terrible Officiating in Auburn-Arkansas Game | College Football Books and Videos | Cam Newton For Heisman | 2010 SEC Football Fantasy Football Picks | Conference Realignment Analysis | Lane Kiffin | Alabama vs Texas BCS Championship Game Review & Analysis | Best All-Time SEC Football Coach College Football Yesterday and Today | All-Time SEC Fantasy Football Team |
---
From SEC Football 2012: Week 6 Review and Week 7 Preview to SEC Football Blog | SEC Sports Blog | SEC Football | SEC Basketball | SEC Basketball Blog | SEC Women's Basketball | SEC Baseball | SEC Track and Field | SEC Swimming and Diving | SEC Tennis | SEC Golf | SEC Gymnastics | SEC Soccer | SEC Softball | SEC Volleyball | Best College Sports Conference | College Football Bowl History | BCS Controversy | SEC vs Big Ten Debate | SEC Sports News | Current SEC Sports News | SEC Sports Pictures and Videos | SEC Sports Fan Forum | College Sports Blogs | College Football Association | SEC Sports Fan Trips | College Sports Gift | Fathead | College Sports Tailgate Party Shop | College Sports Merchandise | College Sports Apparel | SEC Sports Fan Store | SEC Football Tickets |
---
Home Page

About Us | Contact Us | Site Search | Advertise | Terms of Use |
---