SEC Football 2012: Week 5 Review and Week 6 Preview
By Coach Scooter
Cue up the Foghat music, or a little Blackfoot or those who need it, because this was a crazy day in the SEC.
While I pour myself a Single Barrel from the private stock of Mr. John Daniels (When you've known him for as long as I have, it's John), let's look at just what transpired on Saturday.
Ole Miss is improving. The Rebs went to Tuscaloosa and played the Tide hard. They trailed only 27-14 into the 4th Quarter. They only gave ups 125 yards rushing (Georgia had that in one run last week) and became the first team since Tennessee in 2011 to lead the Tide during a game in regulation when they took a 7-6 lead early in the second quarter.
I still think Alabama is the best team in the country, so for all the Bama fans reading this, don't go hating on me just yet. But hats off to Ole Miss for actually showing up for a change.
By the way, Georgia just scored again…
Stick a giant fork in the Hogs since they are cooked. Talk about pulling a Newman and just mailing it in, Arkansas gave up 58 points in a Texas sized shellacking to Texas A&M.
Looking at Arkansas in the two games they have played so far in conference, it is 110-10. In case you were wondering, and since this is Arkansas we are discussing, you probably weren't, the Razorbacks have the 10 points.
That has to put a smile on John L. Smith's face.
Hey, LSU, the season has started, Please wake up.
South Carolina was not being real nice to Kentucky last week. They teased the Cats into actually thinking they had a chance to upset the Gamecocks by trailing 17-7 at halftime.
However, applying the Derek Dooley strategy of thinking that contests are only 30 minutes, UK left their game in the locker room as Carolina tuned up for their huge matchup with Georgia by scoring 31 points in a laugher.

Hey, did I just see the special teams from Tennessee and Georgia on the sidelines reading "Kicking for Dummies?"
Speaking of the Tennessee – Georgia game, a lot of the pundits are talking about how great Georgia was, as well as their explosive running backs, Todd Gurley and Keith Marshall.
Gurley (Tough name to have as an SEC running back, so good thing this guy is awesome) and Marshall are indeed great. However, I wouldn't write the same thing about the Dawgs overall.
How can they lose a 17-point lead, in one quarter at home, against a team they were favored to beat by 14 points? Murray had three turnovers. The Vols gashed them for 197 yards rushing and almost 500 yards of total offense.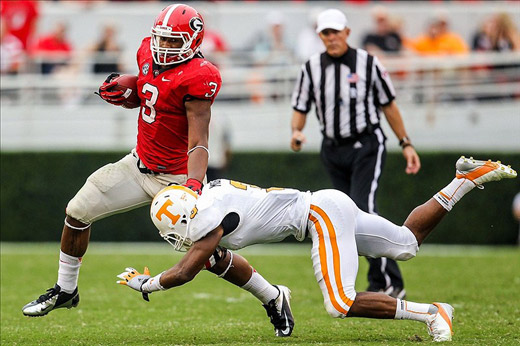 ---
The kicking game was atrocious, the defense gave up 30 points by HALFTIME, and Cordarrelle Patterson could have run from Athens to Savannah without anyone laying a paw on him as he took an aborted end around pass and scored.
If it were anyone but Tyler (I've never won a big game in my life) Bray, this one would have ended badly for the red and black. (In my best Coronel Jessup voice) Is this really, the fifth best team in the country?
I saw the pictures of Mark Richt walking off the field, pumping his fists as if they had won a blood feud by 50 points. Coach, if I were you, I would run back to the locker room quickly with my head low and think about getting my defense in order, rather than running around like a Dabo Swinney after his daily Red Bull Butt Chugging.
Giving up 44 points at home is an embarrassment, no matter who you playing, so why, again, is Georgia ranked #5?
For Tennessee, it was a moral victory for sure, but for Derek Dooley, his SEC record drops to 4-14, and they have not won an SEC game against anyone other than Ole Miss, Kentucky and Vanderbilt.
Moral victories will get you a first class ticket from Knoxville to Unempoloyedville, which we might see in a few weeks if they should lose at Mississippi State, which, by the way, they will.
Week 6 Predictions
Arkansas at Auburn
The Hogs are done. Finished. Train Wreck. Beano Cook Dead!
I have a feeling AD Jeff Long is looking back at his decision to fire Bobby Petrino and wonders, "Is infidelity really that wrong? I mean, let's not bicker and argue about who slept with who. This is supposed to be a happy time for Arkansas football. (Thanks to Sir Lancelot from Monty Python's Holy Grain for that one).
Auburn 28 – Arkansas 7
Mississippi State at Kentucky
Mississippi State has to love life right now as they get Kentucky this week, the Vols next week, then Middle Tennessee State before a trip to Tuscaloosa.
If I were Dan Mullen, I would be worried more about Middle Tennessee State than the other two. Can you say, undefeated into late October?
Mississippi State 34 – Kentucky 0
LSU at Florida
I thought much more of LSU at the beginning of the year, but now, after seeing them play, I am not sure. Is it their lackluster play? Or worse, Zack Mettenburger's porn star moustache?
With the Gators finally playing like the Gators of old, and seeing them in hostile environments pulling out second half victories, I have a feeling we will see Will Muschamp's team go to 4-0 in the SEC before the home crowd.
We will also see Will Muschamp go to 8-0 in strokes before the home crowd, so please have the EMT's standing by.
Florida 28 – LSU 21
Vanderbilt at Missouri
Did you catch "The Genius" Gary Danielson during last week's game say, "I am not sure I know the answer to this question, but…" Let me clue you in Danielson, you don't know the answer to a lot of other questions either.
Sorry, lost my train of thought since I had to think about what Vanderbilt was going to do this weekend.
Oh, that's right, I remember now. It's time for Missouri to get its first SEC victory!
Missouri 35 – Vanderbilt 17
Texas A&M at Ole Miss
Love the old school matchup in the Grove this Saturday. The Aggies have won all four games they have played against the Rebs and are coming off a pasting of Arkansas.
However, Ole Miss is improving and I have a feeling they will play well on Saturday. Take the Rebs. Take the Grove. But don't take my Single Barrel Jack Daniels. I'll need it for the post game in The Grove.
Ole Miss 24 – Texas A&M 20
Georgia at South Carolina
The first of the titanic struggles in the SEC comes on Saturday night in Columbia as South Carolina and Georgia meet for the inside track to the SEC East championship.
I thought UGA would win the East, since USC had the tougher schedule, and both teams were so close in terms of talent. And UGA has two stars in the making in Gurley and Marshall. As a matter of fact, I don't think Tennessee has tackled either of those two guys yet.
However, after seeing Georgia last weekend, and given the fact they have scored over 40 points in every against NOBODY, plus a defense they got from the playbook of Swiss Cheese State, I am not so sure they are worthy of the number five ranking they have been assigned.
South Carolina is the better team right now. They are at home. They have Marcus Lattimore, Conner Shaw and Jadeveon Clowney.
Cue the Gap Band's "Early in the Morning", since you will be hearing the Gamecocks cock-a-doodle-doing all night long.
South Carolina 28 – Georgia 10
---
New! Facebook Comments
Leave a comment about this article in the box below and share it with your Facebook friends.
What do you think?

We'd love to hear your comments and/or opinions. If you submit them here, other visitors can read them, rate them and comment on them. An e-mail address is not required.

---
Bobby Petrino Fired | Story of Three Alabama Quarterbacks | Georgia Bulldogs Win SEC East | BCS Controversy: LSU vs Alabama Again | College Football Is Sick | Time is now for SEC Expansion | NFL Draft Prospects for Patrick Peterson and Stevan Ridley | SEC Offensive Lineman Prospects in the 2011 NFL Draft | Auburn vs Oregon 2011 National Championship Game Review | Auburn - Alabama Heisman Trophy Winners | LSU Beats Georgia 42-10: Too Many Georgia Fans Drank the Kool-Aid | 2011 SEC Football Rivalry Week Review and Championship Game Preview | Review of the 2010 - 2011 SEC Bowl Season | The Legacy of Legion Field | Cam Newton Controversy | My SEC Football Championship Game Story | Tennessee Vols Heartbreak Losses | Tennessee Tailgate Story | My Ideas To Make College Football Better | Origins of SEC School Colors | History of SEC School Mascots | SEC Teams vs Everyone Else All-Time Record | Terrible Officiating in Auburn-Arkansas Game | College Football Books and Videos | Cam Newton For Heisman | 2010 SEC Football Fantasy Football Picks | Conference Realignment Analysis | Lane Kiffin | Alabama vs Texas BCS Championship Game Review & Analysis | Best All-Time SEC Football Coach College Football Yesterday and Today | All-Time SEC Fantasy Football Team |
---
From SEC Football 2012: Week 5 Review and Week 6 Preview to SEC Football Blog | SEC Sports Blog | SEC Football | SEC Basketball | SEC Basketball Blog | SEC Women's Basketball | SEC Baseball | SEC Track and Field | SEC Swimming and Diving | SEC Tennis | SEC Golf | SEC Gymnastics | SEC Soccer | SEC Softball | SEC Volleyball | Best College Sports Conference | College Football Bowl History | BCS Controversy | SEC vs Big Ten Debate | SEC Sports News | Current SEC Sports News | SEC Sports Pictures and Videos | SEC Sports Fan Forum | College Sports Blogs | College Football Association | SEC Sports Fan Trips | College Sports Gift | Fathead | College Sports Tailgate Party Shop | College Sports Merchandise | College Sports Apparel | SEC Sports Fan Store | SEC Football Tickets |
---
Home Page

About Us | Contact Us | Site Search | Advertise | Terms of Use |
---