SEC Football 2012: Week 4 Review and Week 5 Preview
By Coach Scooter
Florida pasted Kentucky on Saturday, which, I am sure was sweet music to Brent Pease after getting into an online word war during the week with former UK QB Jared Lorenzen.
If I were Lorenzen, and thank my personal God I am not, I would not have added any fuel to the fire, especially since the Gators are so much better than the Wildcats.
I am sure the Wildcat players were not happy either as "The Pillsbury Throwboy's" comments got them squashed. Unless you are going to an all you can eat contest, I would say it is best to keep "Chubs" at home and away from the media.
Have another doughnut, and shut the hell up, will ya?
I am not sure what happened in Columbia on Saturday since "Darth Visor" did not talk to the media after Saturday's game, or during his weekly teleconference. The 'Cocks are unbeaten and looking good, so what was the problem?
Then again, what questions could you possibly have when you just trounced Missouri and are unbeaten?
"Hey, Coach, how did Conner Shaw play today?"

"Coach, how did the defense play today?"

And my favorite, "Coach, did you think you had to outscore them to win today?"
Maybe I could try that strategy with my wife. "Um, Sweetie, I took out the trash and went to the grocery store, but forgot to pick up the kids from school. I believe that covers it. I don't need to take questions."
I don't know what was more hideous on Saturday night. Watching both offenses, or close-ups of Zack Mettenberger and Brian Van Gorder on the sidelines.
Those two looked like they just stepped out of an X rated move with those cheesy moustaches. In fact, instead of running out on the field to the fight song, whenever those two run on the field, the stadium needs to cue up cheesy porno music.
Remember the video of the Hindenburg when it went down in flames? Paint a Hog on the side of it because that's what you have in Fayetteville…
What kind of game will we have in Columbia next week? With Georgia scoring over 40 points in each game this year, can anyone stop them? And with Bacarri Rambo and Alec Ogeltree possibly returning this week against Tennessee, that one has the potential to be an all-timer.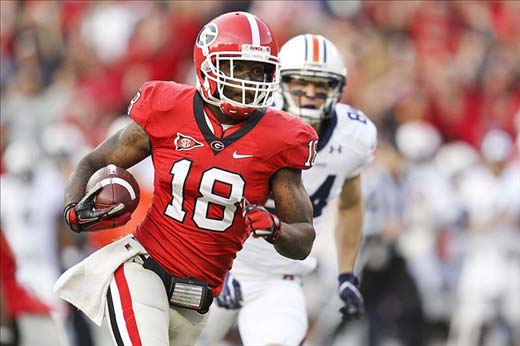 ---
However, I do have one question after watching UGA dismantle Vandy. Why would you want to review a close call at the goal line when Jordan Rodgers fumbled, which negated a touchdown? Did the replay guys have the Dawgs and 45 points?
Maybe Tennessee should look at joining the MAC. Then again, they would probably finish 7-5 after seeing what they could do against a team that has gone 1-11 in their last two seasons. Way to hold up that SEC superiority!
Tied at halftime, and leading only by a touchdown after three quarters, the Vols were able to add a couple of touchdown's late to make it look easy, but it wasn't.
Maybe they were afraid of being eaten after seeing Terry Bowden on the sidelines. Good thing he has gotten back into coaching since it looks like most of his free time off the field was spent coaching the Nathan's Hot Dog Eating Contest participants.
Week 5
Missouri at UCF
Banged up Missouri travels south to take on a Mickey Mouse team in a Mickey Mouse town. However, the Knights of Central Florida don't play like Goofy as they are 3-1 and have one of the more underrated coaches in the country in George O'Leary.
Given the fact the Tigers have played a tough schedule so far, they might think they are getting a week off from the rigors of big boy football. Not so as the Knights pull off the upset in the Magic Kingdom
UCF 24 – Missouri 20
Arkansas at Texas A&M
I talked to Keith Moon this week and he told me the same thing he told Robert Plant back in '68: The Hogs will go down like a Led Zepplin in this one.
Texas A&M 35 – Arkansas 10
Tennessee at Georgia
The Orange and White death march goes into Athens this week and as far as I am concerned, this one will not be pretty for the Vols.
With no defense (gave up 344 yards to the Akron Zits, or Zips, or whatever the hell their mascot is) and a running game that has looked serviceable against the patsies, but total collapse against the only SEC team they have played so far, Florida (83 yards total), this one will get ugly in a hurry, and at the end of the afternoon, the Dawgs will be declared Tennessee state champs.
Then again, with the success of the teams in the Volunteer state, they might decline that honor. It would be like holding the championship belt for the North Georgia Wrestling Alliance. Yes, it is nice, but who gives a crap?
Georgia 49 – Tennessee 21
South Carolina at Kentucky
What's Jared Lorenzen going to say this week?
I know what he'll say. "I would like extra chili and slaw on that dog and could you give me the extra large curly fries?"
Carolina tunes up for Georgia next week with a total demolition of Kentucky. But look on the bright side, 'Cats fans. This means you are one game closer to basketball season, as well as one game closer to replacing Joker Phillips.
South Carolina 28 – Kentucky 3
Towson at LSU
LSU recovers, and recovers nicely from their Auburn funk and gets back to looking like a Top 5 team.
Now, if we can get a case of razors sent to the Tiger locker room and shave off that cheesy 'stache from Zack Mettenberger's face, I think the rest of the SEC will be grateful for our efforts.
LSU 56 – Towson 14
Ole Miss at Alabama
The Rebels have played well so far under first year head coach Hugh Freeze and it looks like they are heading in the right direction.
Now reality sets in as they travel to Tuscaloosa to take on the best college football team in the land, (and would probably make the playoffs in the NFL as a wild card).
We'll see how far the Rebs have come on Saturday, however, I am not sure if it will be that far. But who knows, Bama is due for a stinker sooner or later, and not that Ole Miss has a chance of winning, but making it respectable is a step in the right direction.
Alabama 27 – Ole Miss 17
---
New! Facebook Comments
Leave a comment about this article in the box below and share it with your Facebook friends.
What do you think?

We'd love to hear your comments and/or opinions. If you submit them here, other visitors can read them, rate them and comment on them. An e-mail address is not required.

---
Bobby Petrino Fired | Story of Three Alabama Quarterbacks | Georgia Bulldogs Win SEC East | BCS Controversy: LSU vs Alabama Again | College Football Is Sick | Time is now for SEC Expansion | NFL Draft Prospects for Patrick Peterson and Stevan Ridley | SEC Offensive Lineman Prospects in the 2011 NFL Draft | Auburn vs Oregon 2011 National Championship Game Review | Auburn - Alabama Heisman Trophy Winners | LSU Beats Georgia 42-10: Too Many Georgia Fans Drank the Kool-Aid | 2011 SEC Football Rivalry Week Review and Championship Game Preview | Review of the 2010 - 2011 SEC Bowl Season | The Legacy of Legion Field | Cam Newton Controversy | My SEC Football Championship Game Story | Tennessee Vols Heartbreak Losses | Tennessee Tailgate Story | My Ideas To Make College Football Better | Origins of SEC School Colors | History of SEC School Mascots | SEC Teams vs Everyone Else All-Time Record | Terrible Officiating in Auburn-Arkansas Game | College Football Books and Videos | Cam Newton For Heisman | 2010 SEC Football Fantasy Football Picks | Conference Realignment Analysis | Lane Kiffin | Alabama vs Texas BCS Championship Game Review & Analysis | Best All-Time SEC Football Coach College Football Yesterday and Today | All-Time SEC Fantasy Football Team |
---
From SEC Football 2012: Week 4 Review and Week 5 Preview to SEC Football Blog | SEC Sports Blog | SEC Football | SEC Basketball | SEC Basketball Blog | SEC Women's Basketball | SEC Baseball | SEC Track and Field | SEC Swimming and Diving | SEC Tennis | SEC Golf | SEC Gymnastics | SEC Soccer | SEC Softball | SEC Volleyball | Best College Sports Conference | College Football Bowl History | BCS Controversy | SEC vs Big Ten Debate | SEC Sports News | Current SEC Sports News | SEC Sports Pictures and Videos | SEC Sports Fan Forum | College Sports Blogs | College Football Association | SEC Sports Fan Trips | College Sports Gift | Fathead | College Sports Tailgate Party Shop | College Sports Merchandise | College Sports Apparel | SEC Sports Fan Store | SEC Football Tickets |
---
Home Page

About Us | Contact Us | Site Search | Advertise | Terms of Use |
---