SEC Football 2012: Week 3 Review and Week 4 Preview
The Man Cave was rocking tonight as Ian Gillan, and the boys from Deep Purple crooned an all time classic, Highway Star, while I was writing out the Playbook.
Not only did that go well with the sausage cheese dip and Fritos Scoops, but it made having to watch the Ole Miss-Texas game bearable.
Here are some other thoughts about the week that was in the SEC:
Tyler Wilson may think he is a leader, but his comments left a little to be desired. "Do I feel that we, at times, gave up out there? Absolutely," Wilson said. "As a leader, it sucks to see people not do their jobs and to see things go wrong."
If I were one of his linemen, I would pull an old "The Longest Yard" type of blocking scheme when he comes back to the lineup. You know, the one where Paul Crew comes back into the game and his lineman all look at each other and let the guards blast him? Yeah, I have a feeling you might see that next week against Rutgers.
You know, I gave Tennessee the benefit of the doubt last week, thinking they might have turned the corner and would be a factor in the SEC this year.
Remember the movie, Ronin, with Robert DiNiro? "Whenever there is any doubt, there is no doubt." I should have remembered that as Florida ran around, over and through Tennessee in the second half to win by 17.
Florida made adjustments and their superior athletes made the difference. Then again, it is easy to do that when the team you are playing was running like a shut off faucet.
At least the Vols inability to generate a running game took the spotlight off another hole in their attack, the kicking game. For the third straight game, they missed an extra point, which makes one miss in each game so far this year. Talk about a buzz kill.
I have an idea! Why don't they go get Gus, the field goal kicking mule? If they can find him a helmet that won't fall off and cause him to miss a play, they would be set.
I mentioned this last week, and now Mike Slive should really consider adding Louisiana Monroe to the conference. They led Auburn twice, and rallied from a two-touchdown deficit to take the game into OT before losing.
That sound you heard was Gene Chizik on the headset to the equipment man for a new pair of pants. And a diaper wipe.
One SEC team did not fare as well in the extra session as the Hilltoppers of Western Kentucky, fresh off a 35-0 pasting by Bama last week, came into Lexington and stunned Kentucky 32-31.
My Aunt Molly once said of Joker Phillips, "That boy don't know whether to scratch his watch or wind his butt." I think that means he's not real smart, and after last Saturday's fiasco, I am sure that fact has been confirmed.
Take heart, Cats fans, basketball season is less than two months away!
Hey, did Texas just score again? Oh, sorry, that was LSU…
Good to see Vandy hang 58 on Presbyterian. Good thing they didn't play the Fighting Rabbi's of Weinberg State. With the distraction of the Rosh Hashanah holiday coming up, that one could have really been ugly.
Week 4 Predictions
We all have fantasizes in life. Mine, as mentioned before, is to see Kate Beckinsale in a tight Waffle House waitress uniform. Another is to stop seeing the SEC lose games to teams that have no business being on the same field with them. Hello Arkansas and Kentucky. And Auburn, you had better kiss your lucky paws it wasn't you. Will it happen this week? Keep reading and you'll find out.
Ole Miss @ Tulane
Ole Miss is improved and should beat Tulane. They should also savor their trip to New Orleans because it will be the last time they will be playing a football game in the Superdome for a long time, unless it is against Tulane in September…
Ole Miss 27 – Tulane 10
Kentucky @ #14 Florida
Trey Burton said Tennessee is a bunch of front-runners. Gee, wait until he sees the Kentucky fans. As soon as they do the coin toss, you'll see the fans running for the exits as if the P.A. Announcer at the Haystacks Calhoun Fan Club Convention tells the crowd the free buffet is open…
Oh, and by the way, Burton is a real genius. Doesn't that happen at every stadium when the home team is about to lose? He must have a team of Mensa Maniacs working on this for him.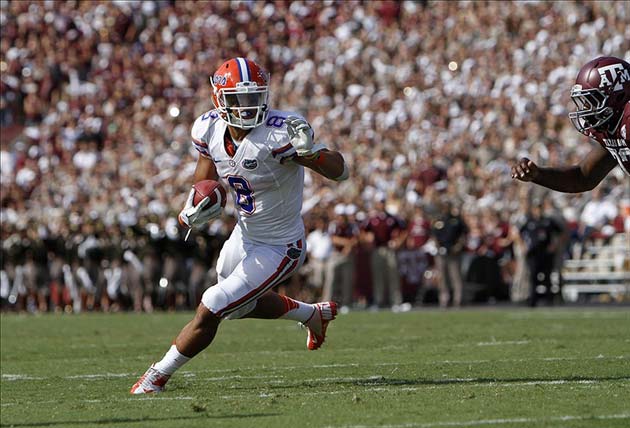 ---
I remember last year in Gainesville when Alabama trampled Florida. The fans left skids marks trying to get out of the stadium. Burton probably doesn't remember that since he was one of the people trying to leave.
Florida 35 – Kentucky 0
Missouri @ #7 South Carolina
Headline game in the SEC this week. Both teams are banged up, especially at QB. However, Carolina has the stud who can run the ball and that will be the difference.
South Carolina 24 – Missouri 17
Florida Atlantic @ #1 Alabama
I thought Owls were a lot smarter than this. Last week, Georgia. This week, Alabama. Yeech!
Alabama 49 – Florida Atlantic 3
Rutgers @ Arkansas
Arkansas should have their own reality series. Real Houseboobs of the SEC.
Rutgers 21 – Arkansas 14
South Carolina State @ Texas A&M
The Aggies won't have to work too hard at Yell Practice this week.
Texas A&M 52 – South Carolina State 7
South Alabama @ #23 Mississippi State
I thought the Bulldogs would be a little flat against Troy and darn if they almost proved me right. This week, I am sure South Alabama has their attention.
Mississippi State 27 – South Alabama 14
#2 LSU @ Auburn
Can it get any worse for Auburn? A 0-2 start, having to go to OT to beat ULM, and now LSU comes to town. Gene Chizik must think that Nick Saban is doing their scheduling.
After this week, Chizik will get to star in a new show with Joker Phillips and Derek Dooley, called The Three Stooges of the SEC. Cue the Stooges music!!!
LSU 35 – Auburn 10
Akron @ Tennessee
Speaking of Derek Dooley, the Vols better enjoy this one since this will be their last victory until November. The last two years have seen the Vols win only one once in October (They are lucky since it was Buffalo on October 1st) and are 5-12 in the month in the last two years.
Tennessee 34 – Akron 21
Vanderbilt @ #5 Georgia
I think this would be a better game if they brought out an UFC cage and had Mark Richt battle James Franklin. They could do the thing from the ESPN Fantasy Football commercial and put a pair of scissors in the middle of the ring and go from there.
Tony Schiavone could do the announcing. "Two of you walked into this cage, but only one is walking out."
Unfortunately, I think Franklin would do the same thing as Bill and grab for the scissors, thereby awarding the match, and the game, to Richt.
After the game, Richt could walk over to do the post match interview. In his best Ric Flair voice, he would yell, "You know, Tony Schiavone, it's punks like James Franklin, who try to jump on "Ravishing Richt", but they end up getting their butts kicked. WHOOOOO! And Tony Schiavone, you tell your wife I said hello, will ya brotha?"
Georgia 31 – Vanderbilt 21
Parting Shots
For the second straight year in my pre-season prospectus, I wrote that Tennessee might not get an SEC victory this year. I got a lot of hate mail from Vol fans when I wrote that, but similar to last year, after watching the debacle in Knoxville, tell me who in the SEC are they going to beat?
Where are four more wins going to come from to be eligible for a bowl? They will beat Akron and Troy (Although we have seen this year nothing is certain), and then have to win two of their last three against Missouri, Vanderbilt and Kentucky. They are not beating Georgia, Alabama, Mississippi State or South Carolina.
I still say the game on November 24th in Knoxville against Kentucky will be for both teams first and only SEC win this year.
Gee, has it gotten this bad? Vol fans hoping for their team to at least get to 6-6 for a shot at a crappy bowl game? Tough times have definitely hit Rocky Top.
Here is a random thought that struck me while watching the games on Saturday. In addition to painting the yard line numbers on the field, like the 10, 20 and 30, why have teams gone away from also using the 15, 25 and 35, like Georgia and LSU used to do? Are budgets so tight they did way with the practice to save money on paint?
I have a theory. It must have been former SEC Head Football Field Manger Carl Spacker from Caddyshack who is responsible. He must have got confused and killed all the Gophers at the University of Minnesota (a BIG no-no), and they had to dismiss him on the spot. As a result, they didn't have anyone to paint the yard line numbers on the fields across the SEC.
After leaving the conference under a cloud of controversy, especially when he told his boss it wasn't his fault nobody could understand what he was saying, he landed at Bushwood C.C. and the rest, as they say, is history. So another piece of the puzzle falls into place…
And speaking of Carl, I sure hope he got his credit troubles straightened out. He probably still has a lot of things on order…
Is the SEC really the best conference in America? The shadow Alabama has cast over the nation, as well as LSU being right there at the top with them, might have swayed opinion towards the southeast. But is all that love deserving?
The SEC has the two top teams in the country, as well as three in the top five, four in the top ten, and six in the tope 25. That's pretty solid.
Take out Alabama and LSU and there are still some pretty darn good teams with an opportunity to be there at the end of the year with a chance at the national championship. They currently lay in wait in Athens and Columbia.
However, after the top four teams, there is a gap, and it is wide.
Florida and Mississippi State and cute, fun, nice teams that pad the SEC's stats in the polls, but they are not ready for prime time. Mississippi State has not played anyone yet, and it takes Florida to the second half to wakeup.
Then the free fall begins as Tennessee, Missouri, and A&M rest in mediocrity. Then there is Auburn Ole Miss, Arkansas, Vandy and Kentucky stinkin' up the joint. And believe me, they do stink (Thanks to Gary from Weird Science for that quote).
Arkansas lost to Louisiana Monroe, who almost took down Auburn in Overtime. Kentucky lost to Western Kentucky at home after a terrible personal four penalty keep a drive alive in OT, then a trick play for a two-point conversion to win the game. Mississippi State was sluggish in beating Troy, as was Florida over Bowling Green.
Not the kind of results a league that is being touted as being ready to join the NFL as a third conference should have. It remains to be seen how this all shakes out, but the title that has rested with the SEC as best conference in America for all these years might be slipping.
---
New! Facebook Comments
Leave a comment about this article in the box below and share it with your Facebook friends.
What do you think?

We'd love to hear your comments and/or opinions. If you submit them here, other visitors can read them, rate them and comment on them. An e-mail address is not required.

---
Bobby Petrino Fired | Story of Three Alabama Quarterbacks | Georgia Bulldogs Win SEC East | BCS Controversy: LSU vs Alabama Again | College Football Is Sick | Time is now for SEC Expansion | NFL Draft Prospects for Patrick Peterson and Stevan Ridley | SEC Offensive Lineman Prospects in the 2011 NFL Draft | Auburn vs Oregon 2011 National Championship Game Review | Auburn - Alabama Heisman Trophy Winners | LSU Beats Georgia 42-10: Too Many Georgia Fans Drank the Kool-Aid | 2011 SEC Football Rivalry Week Review and Championship Game Preview | Review of the 2010 - 2011 SEC Bowl Season | The Legacy of Legion Field | Cam Newton Controversy | My SEC Football Championship Game Story | Tennessee Vols Heartbreak Losses | Tennessee Tailgate Story | My Ideas To Make College Football Better | Origins of SEC School Colors | History of SEC School Mascots | SEC Teams vs Everyone Else All-Time Record | Terrible Officiating in Auburn-Arkansas Game | College Football Books and Videos | Cam Newton For Heisman | 2010 SEC Football Fantasy Football Picks | Conference Realignment Analysis | Lane Kiffin | Alabama vs Texas BCS Championship Game Review & Analysis | Best All-Time SEC Football Coach College Football Yesterday and Today | All-Time SEC Fantasy Football Team |
---
From SEC Football 2012: Week 3 Review and Week 4 Preview to SEC Football Blog | SEC Sports Blog | SEC Football | SEC Basketball | SEC Basketball Blog | SEC Women's Basketball | SEC Baseball | SEC Track and Field | SEC Swimming and Diving | SEC Tennis | SEC Golf | SEC Gymnastics | SEC Soccer | SEC Softball | SEC Volleyball | Best College Sports Conference | College Football Bowl History | BCS Controversy | SEC vs Big Ten Debate | SEC Sports News | Current SEC Sports News | SEC Sports Pictures and Videos | SEC Sports Fan Forum | College Sports Blogs | College Football Association | SEC Sports Fan Trips | College Sports Gift | Fathead | College Sports Tailgate Party Shop | College Sports Merchandise | College Sports Apparel | SEC Sports Fan Store | SEC Football Tickets |
---
Home Page

About Us | Contact Us | Site Search | Advertise | Terms of Use |
---