SEC Football 2012: Week 13 Review and Week 14 Preview
I was in Knoxville for the Kentucky – Tennessee game on Saturday. Don't ask me why.
When I walked into Neyland Stadium, I felt I felt like Spicoli as I looked over at Uncle Soup and said, "There's no birthday party for me in here…"
Let's just say that there was plenty of Jack to help me get through the game, and as long as Dr. Daniels is around, my prognosis for recovery is very good. After a few days, anyway…
The only drama to the day was if the attendance would hit 60,000. It didn't. There were more empty seats in Neyland Stadium than at a Yoko Ono concert.
Feel really sorry for the ACC. The SEC made it a clean sweep of their little brothers to the east, outscoring them by a combined score of 161-74. With the 4-0 record, the SEC is 9-3 in those final four games over the last three years.
Every game is a blood feud, including the newly forged rivalry between those snobs from Vandy, and those elitists from Wake Forest.
Apparently, after the game was over, both fan bases ran out of Bloody Mary mix, which is about the same thing as Terry Bowden running out of Twinkies.
In the ensuing melee, both fan bases rushed every available store carrying the much-coveted mix, and the resulting crush of gold and platinum cards that hit the credit card services blew out terminals all over the East Coast.
Both Nicholas S. Zeppos, Chancellor of Vanderbilt University, and Wake Forest President Dr. Nathan O. Hatch are in closed-door meetings right now to discuss the possibility of cancelling this most bitter blood feud of a football series for the saftey of the entire country.
SEC Sportsfan will keep you posted once a decision is made.
My Carolina bud, "Saucy" Stephanie was at her best on Saturday night. Something about playing Clemson and seeing Dabo Swinney gives her a severe case of the red ass.
Here are a few of her posts from Saturday night:
"I think I just threw up a little in my mouth - and it was orange."

"Hope we stick it to Moo U tonight! C'mon, Gamecocks!"

"My new definition of multi-tasking? Watching us play Moo U, AND coloring with my daughter in her Christmas coloring book. Ooooh, tweet that TD, Dabo! Print that!!!!!"

"4peat? Yep! Tweet that. Print that. 'Nite!"

"Today I am thankful that not one drop of ink on my bachelor's degree is orange. GO COCKS!"
Remember the Three Stooges episode when Curly would hear "Pop Goes The Weasel," which sent him into a fury and then he would beat the crap out of whoever was around? Show "Saucy" a picture of Dabo and see what happens. It is truly amazing…
Who should win the Heisman? How about Freshman Johnny Manziel? No Freshman has ever won the Heisman before, but remember, the award is for the best college football player for this year. Not what he's done previous, or what he may do in the future, but right now.
If that is the criteria, who is better than Johnny football? Just like the SEC defenses found out when they played the Aggies, that argument is indefensible.
Hey Starkville, what happened?
You have to figure the end of the world is coming. We are headed towards Armageddon when:
Vandy is in a position to win nine games. Just to clarify, nine wins in, not nine years, but one year.
James Franklin will never have to pay for a meal, drinks or a bag of Funions in the city of Nashville ever again. (One day, I hope to be so revered that I can go anywhere in the city of Atlanta and get free Funions. That would be the greatest thing ever…)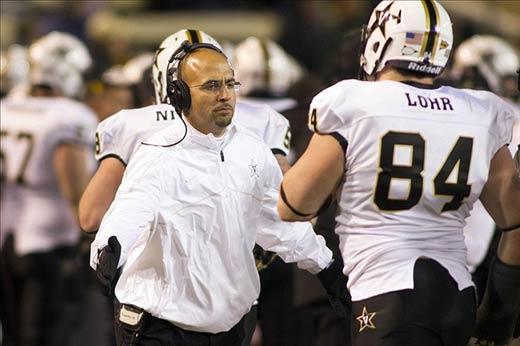 ---
Tennessee is out of a bowl game for the second consecutive year, and lost to Vandy 41-18. The Vols are 2-14 in he SEC the last two years.
The Vols use to contend every year, but now they cannot stop anyone. In fact, the total number of points the defense gave up in 2012 is about the same as Tara Reid's bar tab…
Auburn went from All In to All Out in only two years as the former national champs didn't post a victory in the SEC and were blanked 38-0 and 49-0 in their final two conference games.
How can a coach win a national championship, then get canned two years later? Only in the SEC.
South Carolina made it four in a row over Clemson for the first time since they won four straight from 1951-1954 season. They also made it two years in a row with at least ten wins, which is another school record.
I can remember the days when Carolina fans wished the Black Death would come to Brad Scott, and after the coin toss, it looked as if the disease had spread through the whole team.
From 1997-1999, they lost 18 straight SEC games, and posted a 1-10 and 0-11 record in 1998 and 1999 respectively. I can remember the old joke about those years. "How do you get a South Carolina fan to count to 11? 0-1, 0-2, 0-3…"
Now, they are a power in the SEC, and should be for years to come.
SEC Championship Game Prediction
11-1 Alabama Vs. 11-1 Georgia
This is one is going to be closer than many anticipate as Georgia is a year older and wiser, after last year's loss to LSU in the championship game.
This one will be close, and Georgia has a shot to beat the all mighty Crimson Tide. I agree that on any given Saturday, any team can beat the other.
I think the difference is Alabama has been there before, and won the big game. Georgia has a great team, but has not played anyone, except for Florida and South Carolina. They are not the type of team to hold up under the brutal expectations of the national spotlight against a team as powerful as Alabama.
Another key is Aaron Murray. He has the Tyler Bray stink since he has never performed well in a big game, although he has won a few in his time in Athens.
Given Nick Saban a chance to play for the national championship and he will never fail you.
And Georgia? Nice team, good players, but not championship worthy.
I just hope the fan base won't turn on Coach Richt and the players after they come up short on Saturday. This is a great coach with a great football team, but I think they are just a year away from the big time.
Alabama 28 – Georgia 14
---
New! Facebook Comments
Leave a comment about this article in the box below and share it with your Facebook friends.
What do you think?

We'd love to hear your comments and/or opinions. If you submit them here, other visitors can read them, rate them and comment on them. An e-mail address is not required.

---
Bobby Petrino Fired | Story of Three Alabama Quarterbacks | Georgia Bulldogs Win SEC East | BCS Controversy: LSU vs Alabama Again | College Football Is Sick | Time is now for SEC Expansion | NFL Draft Prospects for Patrick Peterson and Stevan Ridley | SEC Offensive Lineman Prospects in the 2011 NFL Draft | Auburn vs Oregon 2011 National Championship Game Review | Auburn - Alabama Heisman Trophy Winners | LSU Beats Georgia 42-10: Too Many Georgia Fans Drank the Kool-Aid | 2011 SEC Football Rivalry Week Review and Championship Game Preview | Review of the 2010 - 2011 SEC Bowl Season | The Legacy of Legion Field | Cam Newton Controversy | My SEC Football Championship Game Story | Tennessee Vols Heartbreak Losses | Tennessee Tailgate Story | My Ideas To Make College Football Better | Origins of SEC School Colors | History of SEC School Mascots | SEC Teams vs Everyone Else All-Time Record | Terrible Officiating in Auburn-Arkansas Game | College Football Books and Videos | Cam Newton For Heisman | 2010 SEC Football Fantasy Football Picks | Conference Realignment Analysis | Lane Kiffin | Alabama vs Texas BCS Championship Game Review & Analysis | Best All-Time SEC Football Coach College Football Yesterday and Today | All-Time SEC Fantasy Football Team |
---
From SEC Football 2012: Week 13 Review and Week 14 Preview to SEC Football Blog | SEC Sports Blog | SEC Football | SEC Basketball | SEC Basketball Blog | SEC Women's Basketball | SEC Baseball | SEC Track and Field | SEC Swimming and Diving | SEC Tennis | SEC Golf | SEC Gymnastics | SEC Soccer | SEC Softball | SEC Volleyball | Best College Sports Conference | College Football Bowl History | BCS Controversy | SEC vs Big Ten Debate | SEC Sports News | Current SEC Sports News | SEC Sports Pictures and Videos | SEC Sports Fan Forum | College Sports Blogs | College Football Association | SEC Sports Fan Trips | College Sports Gift | Fathead | College Sports Tailgate Party Shop | College Sports Merchandise | College Sports Apparel | SEC Sports Fan Store | SEC Football Tickets |
---
Home Page

About Us | Contact Us | Site Search | Advertise | Terms of Use |
---