SEC Football 2012: Week 12 Review and Week 13 Preview
Remember last weekend when we had all those pulse pounding, last second, wins in overtime, finishes in the SEC?
Sorry to disappoint you guys this week, but in honor of Thanksgiving, we had nothing but turkeys on Saturday.
In fact, I am reminded of the old WKRP Thanksgiving episode where Les Nessman was broadcasting live from the Pinedale Mall as he descried the turkeys plummeting to Earth like wet bags of cement.
That pretty much sums up what we saw in the SEC.
In fact, it was so bad, we had to depend on two other conferences, The Big 12 and Pac 12, to give us something to get excited about.
With losses by Oregon and Kansas Sate, it looks like the SEC will once again be in the BCS Championship Game. And if Notre Dame chokes like Albert DeSalvo on Saturday (DeSalvo was the Boston Strangler), there is a chance we will have another all SEC championship game. Mike Slive has to be lighting his cigars with hundred dollar bills right about now.
Serves all the other nimrods out there right who gloated the SEC's reign of title games was over. Gee, they say Karma is a chick who's first name beings with a B. I'm sure the same chuckleheads out there (No, not you, Miles. You'll get your in a minute) who were laughing it up last week, are eating what Lou Brown from Major League said he would like to give all the sportswriters.
Somewhere in the distance, I can hear Nelson from The Simpsons laughing…
Sad farewell to Derek Dooley. I know I have been hard on him and the Vols, but as a lifelong Tennessee fan, it was sad to see him and the football team get pummeled unmercifully against a team they had done that to so many years in a row.
Tennessee owns a 73-27-5 mark against their bitter rivals from Nashville. The Vols have only lost twice to the 'Doores since 1982, and those games were 28-24 in 2005 and 28-21 in 1982.
The longest losing streak against the black and gold was six games (1920-26) and winless streak was eight (1919-1926). In 1926, this guy Neyland took over and from then, it has been an orange and white cakewalk.
But now, Vandy showed they are a much better team from top to bottom. Better athletes, better talent, better coaching and a better attitude.
UT better make the right choice for a head coach, or scores like the 41-18 shellacking put on them by Vandy will signify this is only the beginning of little brother kicking the crap out of what used to be big brother.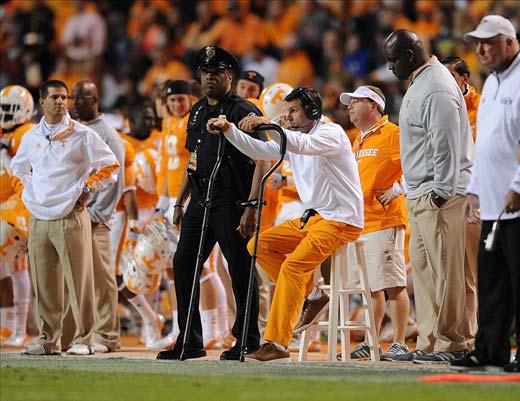 ---
Good to see Les Miles got his press conference speaking degree from the Georgia Championship Wrestling School of Interviewing. Good to see he was able to watch his old VCR tapes of Ric Flair, Buzz Sawyer and Thunderbolt Patterson so he could get ready to give a lively press conference.
That guy is a boob, and his ranting and raving during his post game press conference reminded me of how giddy my Uncle Larry was the night he came home and showed us a guitar pick he caught at the Jethro Tull/Rick Derringer concert.
Week 13 Predictions
LSU at Arkansas
First it was Joker, then Derek. Gene and John are dead men walking, they just don't know it yet.
After Saturday, Hog fans can flip the switch…
LSU 45 - Arkansas 17
Georgia Tech at Georgia
As much as I would like to pick the upset, since GT can be dangerous, it just is not going to happen.
I know this is a rivalry game, and UGA has everything to play for and the Jackets don't. However, between the Hedges is not where you want to be, especially since the Dawgs now have something to play for, and that is a possible shot at the national championship.
With a defense that looks like Tennessee's little brother, you cannot go against what the Red and Black offense is going to do on Saturday since they will be going to the end zone a lot.
Georgia 38 – Georgia Tech 21
Kentucky at Tennessee
As I have mentioned before, I predicted this at the beginning of the year and everyone thought I was crazy. I was even told to do some things with my body that are physically impossible.
However, the prediction did come true, and both teams will be fighting for the chance to not finish with a goose egg for the season in the SEC.
Both teams have lost their coaches, and are giving up more points than Lindsay Lohan's license. Difference is things in Knoxville must be far worse since they won't let Dooley near the stadium without a press pass and police escort, while the Joker will be yucking it up on the Wildcat sidelines for one, final afternoon in the sun.
I picked the Vols to win this one last year, and I ended up with a giant orange crème sickle on my face when they farted their way around the field and lost 10-7 to a team that did not even have a QB.
The way I see it, history will be made in Knoxville as the once mighty Vols will become the first ever Tennessee team to go through an entire SEC season without a conference win.
Kentucky 34 – Tennessee 31
Vanderbilt at Wake Forest
This will be the…um…15th titanic matchup between these two long time, bitter, SAT tabulatin', BMW Convertible drivin', rivals.
How can I be expected to watch the other blood feuds when this one is going on? This one is sure to blow the lid sky high off the Wake Forest campus…
Vanderbilt 35 – Wake Forest 7
Florida at Florida State
The Gators have not been the same since the Georgia debacle as they have slept walked their way to three wins over less than stellar opponents. In fact, I think Missouri was the only team that had a heartbeat, but it was a faint one at that.
The old boys from Florida still have an outside shot to play for the national championship, and coupled with their lackluster play, which I am sure is going to be corrected this week, they go to Tallahassee and knock off Chief Osceola and Renegade.
Florida 21 – Florida State 20
Auburn at Alabama
As I mentioned last week, Western Carolina was not going to be sending Christmas cards to College Station after the upset of the Crimson Tide the week before.
Now with Oregon and Kansas State's losses, you just know Nick and the boys have their sights set on a national championship game, as long as they keep winning.
That kind of motivation is not what Auburn wanted to see across the line of scrimmage.
In fact, as bad as Auburn is, they might not want to see anyone else from the SEC across the line of scrimmage.
Take heart, Auburn fans, at least you won't be the only SEC team to go winless this year…
Alabama 62 Billion – Auburn 0
Mississippi State at Ole Miss
Mississippi State finally ended their long losing streak last week. Then again, Arkansas has ended a lot of other teams losing streaks this year.
Ole Miss has improved, and if it were not for late game collapses against Texas A&M, Vandy and LSU, we might be talking about Hugh Freeze as the coach of the year.
The Rebs know how to play hard, they just don't know how to close out games. I have a feeling they will this week as Hugh Freeze will have a statue erected after he wins the Egg Bowl for the once downtrodden Rebels.
Ole Miss 28 – Mississippi State 20
South Carolina at Clemson
Carolina must be licking their beaks at the thought of going up against a Clemson defense that couldn't stop a parade of wounded turtles crossing through a parking lot.
The Tigers score a million points a game, but the trouble is their defense gives up 999,999 points a game, which makes for some exciting finishes.
Despite Marcus Lattimore going down, USC is still a dangerous football team, and I think the woes on defense will finally catch up to the Tigers.
I just hope Clemson decides to wear the all purple uniforms. At least they will be cool to look at as they are chasing down the Carolina players from behind all night.
South Carolina 52 – Clemson 28
Missouri at Texas A&M
Missouri lost to Syracuse last week at home 31-27. The Aggies knocked off Bama in Tuscaloosa two weeks ago.
Who do you think is going to win?
Texas A&M 54 – Missouri 14
---
New! Facebook Comments
Leave a comment about this article in the box below and share it with your Facebook friends.
What do you think?

We'd love to hear your comments and/or opinions. If you submit them here, other visitors can read them, rate them and comment on them. An e-mail address is not required.

---
Bobby Petrino Fired | Story of Three Alabama Quarterbacks | Georgia Bulldogs Win SEC East | BCS Controversy: LSU vs Alabama Again | College Football Is Sick | Time is now for SEC Expansion | NFL Draft Prospects for Patrick Peterson and Stevan Ridley | SEC Offensive Lineman Prospects in the 2011 NFL Draft | Auburn vs Oregon 2011 National Championship Game Review | Auburn - Alabama Heisman Trophy Winners | LSU Beats Georgia 42-10: Too Many Georgia Fans Drank the Kool-Aid | 2011 SEC Football Rivalry Week Review and Championship Game Preview | Review of the 2010 - 2011 SEC Bowl Season | The Legacy of Legion Field | Cam Newton Controversy | My SEC Football Championship Game Story | Tennessee Vols Heartbreak Losses | Tennessee Tailgate Story | My Ideas To Make College Football Better | Origins of SEC School Colors | History of SEC School Mascots | SEC Teams vs Everyone Else All-Time Record | Terrible Officiating in Auburn-Arkansas Game | College Football Books and Videos | Cam Newton For Heisman | 2010 SEC Football Fantasy Football Picks | Conference Realignment Analysis | Lane Kiffin | Alabama vs Texas BCS Championship Game Review & Analysis | Best All-Time SEC Football Coach College Football Yesterday and Today | All-Time SEC Fantasy Football Team |
---
From SEC Football 2012: Week 12 Review and Week 13 Preview to SEC Football Blog | SEC Sports Blog | SEC Football | SEC Basketball | SEC Basketball Blog | SEC Women's Basketball | SEC Baseball | SEC Track and Field | SEC Swimming and Diving | SEC Tennis | SEC Golf | SEC Gymnastics | SEC Soccer | SEC Softball | SEC Volleyball | Best College Sports Conference | College Football Bowl History | BCS Controversy | SEC vs Big Ten Debate | SEC Sports News | Current SEC Sports News | SEC Sports Pictures and Videos | SEC Sports Fan Forum | College Sports Blogs | College Football Association | SEC Sports Fan Trips | College Sports Gift | Fathead | College Sports Tailgate Party Shop | College Sports Merchandise | College Sports Apparel | SEC Sports Fan Store | SEC Football Tickets |
---
Home Page

About Us | Contact Us | Site Search | Advertise | Terms of Use |
---