SEC Football 2012: Week 10 Review and Week 11 Preview
Sipping a Single Barrel, alternating between Steppenwolf and Ronnie James Dio (Holy Diver or Man on the Silver Mountain would sound really good right about now) and shaking my head at the incredible game I just saw in Baton Rouge have put me in just the right mood to expound about the events that unfolded before me today.
Is college football important to the players? We all know it is to the fans and the region, but seeing A.J. McCarron weeping on the sidelines after the emotional victory reminds us all they care about the game. What other player, who has already won a national championship and is undefeated, would have that much of his heart and soul attached to the game?
Would you see Tom Brady or LeBron James crying after winning a regular season game?
In college football, players are playing for the team. Not a contract, not a trip to Disney World, or a million dollar endorsement hawking then next big ticket item for Christmas.
That's why you see the players crying after a game, win or lose. A.J. McCarron reminds us all that passion for their sport, their school, the fans and their family, make what we saw last Saturday night a moment for the ages in the SEC.
Is it me, or did the "Walking Jug head" Les Miles sound an awful lot like Gabby Johnson from Blazing Saddles during his halftime interview with Tracy Woolfson?
"An no sidewindin' bushwackin', hornswagglin' cracker croaker is gonna rouin me bishen cutter….Um, what was the question again, Tracy?"
He sounded a lot like my wife after nickel wine night at her favorite bar. Well, come to think of it, she never met a bar she didn't like so I am sure they all are her favorite so next time I'll be more specific.
Texas A&M rolls on, and I think Kevin Sumlin deserves some attention for SEC Coach of the Year. Yes, Nick Saban has the best team, and is the best coach, but being a first year coach in the first year in the SEC, Sumlin has done the best job with what he has, where he is, and the new conference he has been introduced into.
If they should figure out a way to upset Bama in Tuscaloosa on Saturday, he should win it in a landslide…
By the way, Troy just scored on Tennessee again. Is Derek Dooley using cardboard stand-ups of his defensive players out there or what? Nah, that's absurd. If he was, I am sure they would have held Troy under 48 points and seven billions yards of offense. In fact, Troy's last drive started last Tuesday, and they are still driving.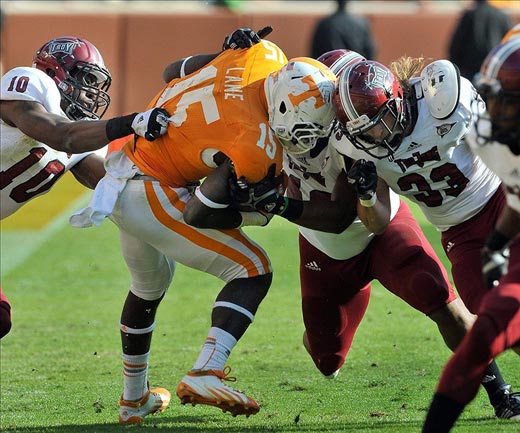 ---
Thank you for playing, Joker. The University of Kentucky has some nice parting gifts for you. But don't worry, Derek and Gene will be joining you backstage soon…
Vanderbilt getting eight wins? Back to back bowl games for the first time in school history? They took care of business last Saturday and did what any team that is better than their opponents do, and that is win the game easily.
The 40-0 victory has raised the stock of head coach James Franklin, and will do one of two things: A) give the 'Doores what they have always wanted/needed, and that is a solid coach to take them out of the lower echelon of the SEC, or B) have Franklin at a powerhouse football school next fall.
And as for another Franklin in the SEC, Missouri QB James Franklin would be elected governor of the state if he hadn't overthrown his receivers all day, especially at the end of the game with open receivers at the goal line that sealed their narrow 14-7 loss to once mighty Florida.
In fact, Franklin was so bad on Saturday, he could have overthrown Castro…
Georgia is one win away fro ma return trip to the SEC Championship game. It's funny, but all the UGA fans were calling for Richt's head after the USC loss. And once again, as if we play out the same stupid drama every September and October, he has the Dawgs right where they need to be.
I wish the Dawg Nation would realize they have themselves a great coach who has them in the hunt almost every year. If you want Jim Donnan back, I am sure that can be arranged. Well, as long as he can get Saturday's off to travel from his parole officer…
Week 11 Predictions
Arkansas at South Carolina
Arkansas comes off a heart pounding victory over Tulsa and looks to make it two straight as they invade Columbia. Sorry, I had to make that line as exciting as possible since the Hogs don't give me much to work with these days.
Carolina has had a week off after their narrow victory over Tennessee, and now they are playing on emotion, as their fallen teammate, Marcus Lattimore, was lost for the season.
The 'Cocks are the better team, are at home, and are playing with heavy hearts. That means there is going to be one helluva pig roast on Saturday afternoon.
South Carolina 35 – Arkansas 7
Louisiana-Lafayette at Florida
Florida reminds me of the Seinfeld episode when Jerry was dating the two faced girl. You didn't know if you were getting the good, the bad or the ugly.
Same thing with the Gators. Are we getting the team that smoked LSU and South Carolina, or the team that bumbled their way through Missouri and Georgia?
By the way, I love watching Trey "My mouth is bigger than my stats" Burton every Saturday. This guy talks so much smack, you would think Moe would use him when he has to deal with Larry and Curly.
The last time I saw Burton, he was flat on his can, handing the ball to Georgia more than Belue to Walker.
Despite having Burton's mouth running the team, instead of his legs running it, the Gators get back to looking good on Saturday.
Florida 49 – Louisiana-Lafayette 14
Missouri at Tennessee
Somewhere, General Neyland is rolling over in his grave. Well, more accurately, kicking and punching the hell out of it as the once proud Tennessee defense cannot stop a gentle summer breeze. Troy gained, get your calculators out, 721 yards on an SEC team.
Granted, the Vols chalked up 718, but that was against a Sun Belt defense and it took them to the final minutes to secure the victory.
With a defense like that, the Vols might not win an SEC game this year. I wrote it at the beginning of the year and am sticking to it. The Vols-Wildcats game on November 24th will feature two winless SEC teams.
And because of that, guess who I am picking this weekend?
Missouri 45 – Tennessee 28
Texas A&M at Alabama
The Aggies are the surprise of the SEC this year. The Crimson Tide are the best team in the SEC this year. Makes for a load of fun come Saturday in Tuscaloosa.
A&M looked sharp against fading Mississippi State, but will have its hands full as Alabama dodged a bullet in Baton Rouge last week, and now have a favorable schedule that should get them to Atlanta.
Given that, the Aggies have everything in their favor now. Bama is coming off a hard fought, emotional victory, while they have the momentum of a thrashing on the road of a one-loss team.
The pressure is on the Tide, not them. Nobody expects them to pull off an upset, especially on the road in a hostile environment.
Just as with Florida and LSU, the Aggies will keep it close and have Bama scared into the fourth quarter. And just like in those games, they will come up short in the end.
Alabama 28 – Texas A&M 21
Georgia at Auburn
Who will win? Why don't you ask me a hard question like: Will Auburn make it across the 50-yard line?
Georgia 34 – Auburn 0
Mississippi State at LSU
Zack Mettenburger finally played like the QB everyone thought he was going to be as they gave Bama all they wanted and deserved a better outcome.
Mississippi State played like the team we all thought they were as they crashed and burned against Texas A&M.
I wrote a few weeks ago we might have seen our last victory for the Bulldogs. LSU makes me look like a genius. Um, not the Gary Danielson kind of genius, but a blogging genius.
LSU 47 – Mississippi State 17
Vanderbilt at Ole Miss
Tough to pick the winner in this one as both teams are up and coming and have made some noise in the SEC.
Vandy is looking to hit the eight win plateau and finally be invited to a bowl game that is not in the state of Tennessee.
Ole Miss got it handed to them in Athens last week, and those kinds of losses can sometimes start the downward spiral that can unravel a season.
With both teams so evenly matched, you have to pick the home team. Hotty Toody!!
Ole Miss 21 – Vanderbilt 17
---
New! Facebook Comments
Leave a comment about this article in the box below and share it with your Facebook friends.
What do you think?

We'd love to hear your comments and/or opinions. If you submit them here, other visitors can read them, rate them and comment on them. An e-mail address is not required.

---
Bobby Petrino Fired | Story of Three Alabama Quarterbacks | Georgia Bulldogs Win SEC East | BCS Controversy: LSU vs Alabama Again | College Football Is Sick | Time is now for SEC Expansion | NFL Draft Prospects for Patrick Peterson and Stevan Ridley | SEC Offensive Lineman Prospects in the 2011 NFL Draft | Auburn vs Oregon 2011 National Championship Game Review | Auburn - Alabama Heisman Trophy Winners | LSU Beats Georgia 42-10: Too Many Georgia Fans Drank the Kool-Aid | 2011 SEC Football Rivalry Week Review and Championship Game Preview | Review of the 2010 - 2011 SEC Bowl Season | The Legacy of Legion Field | Cam Newton Controversy | My SEC Football Championship Game Story | Tennessee Vols Heartbreak Losses | Tennessee Tailgate Story | My Ideas To Make College Football Better | Origins of SEC School Colors | History of SEC School Mascots | SEC Teams vs Everyone Else All-Time Record | Terrible Officiating in Auburn-Arkansas Game | College Football Books and Videos | Cam Newton For Heisman | 2010 SEC Football Fantasy Football Picks | Conference Realignment Analysis | Lane Kiffin | Alabama vs Texas BCS Championship Game Review & Analysis | Best All-Time SEC Football Coach College Football Yesterday and Today | All-Time SEC Fantasy Football Team |
---
From SEC Football 2012: Week 10 Review and Week 11 Preview to SEC Football Blog | SEC Sports Blog | SEC Football | SEC Basketball | SEC Basketball Blog | SEC Women's Basketball | SEC Baseball | SEC Track and Field | SEC Swimming and Diving | SEC Tennis | SEC Golf | SEC Gymnastics | SEC Soccer | SEC Softball | SEC Volleyball | Best College Sports Conference | College Football Bowl History | BCS Controversy | SEC vs Big Ten Debate | SEC Sports News | Current SEC Sports News | SEC Sports Pictures and Videos | SEC Sports Fan Forum | College Sports Blogs | College Football Association | SEC Sports Fan Trips | College Sports Gift | Fathead | College Sports Tailgate Party Shop | College Sports Merchandise | College Sports Apparel | SEC Sports Fan Store | SEC Football Tickets |
---
Home Page

About Us | Contact Us | Site Search | Advertise | Terms of Use |
---