Cam Newton Biography
Cameron Newton was born on May 11th, 1989 in College Park, Georgia. He is a Junior Quarterback at Auburn University and he is already one of the greatest players in Auburn history even though he has only played for the team for one season. He went to high school at Westlake High School in Fulton County, Georgia.
Newton did not start his college career at Auburn; he originally went to the University of Florida where he was a highly touted recruit and the heir-apparent to Tim Tebow. Unfortunately, being the backup to Tebow for so long did not really appeal to him, and when Tebow decided to stay for his senior season, Newton knew that it was time for him to leave the school and find a new place to play.

Newton's departure from Florida left many people wondering just how true his statements about Tebow were, however, when it came to light that he not only had been charged with stealing a laptop, but that he had also been caught cheating in the classroom on three separate occasions. This obviously damaged Newton's image and legacy at Florida, which probably made it all the easier to part ways with the university in order to get his life back together.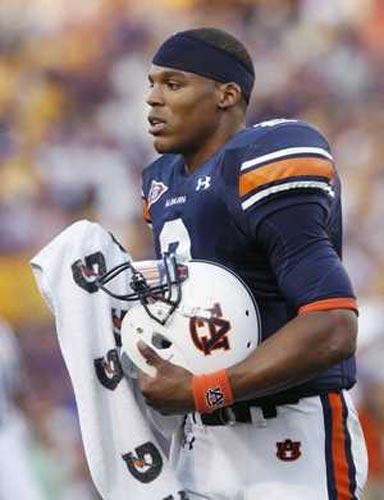 Cam Newton. Thanks to IllegalShift at flickr.com for the picture.
Newton resurfaced at Blinn College in 2008, looking to recreate his now tarnished legacy. He did more than just help his legacy however; he led Blinn College to its first NJCAA National Championship and at the same time placed his name firmly at the top of every recruiting list in the country. After a long courting process in which he was recruited by Mississippi State, Auburn, and others, he eventually chose to become and Auburn Tiger.

At Auburn, Newton quickly showed just why he was considered to be one of the best quarterbacks in the nation. He led two rousing victories over Arkansas and LSU, both of which would vie for the second BCS Bowl appearance in the SEC, and showed that he might have been even better than Tim Tebow was at Florida.

Then, allegations about his father, Cecil Newton, threatened to spoil Cam's season. It was claimed that Cecil shopped his son to Mississippi State in a pay-for-play scheme that became the talk of the nation. While all of this was going on, so did the football season; a season in which Cam Newton turned the Heisman race into a one man show. The only question was Newton's eligibility.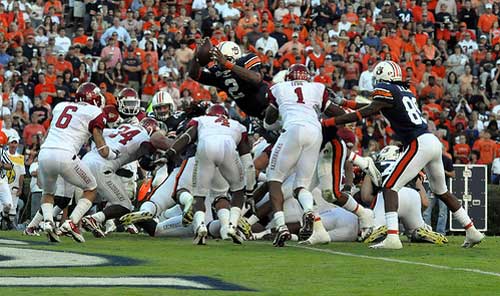 AU vs. Arkansas Cam Newton Touchdown. Thanks to Victorie@flikr.com for this photo.
The questions got so bad that Newton was deemed ineligible by Auburn on the week of the SEC Championship game, only to be reinstated by the NCAA the very next day. [Read more at Cam Newton Controversy.] Seemingly unshaken from the week, Newton led his team to a routing of South Carolina to the tune of 56-17.

Newton went on to win many of college football's most coveted awards. He won the Walter Camp, Davy O'Brien, and Maxwell awards, AP College Football Player of the Year, as well as the biggest award of all, the 2010 Heisman Trophy. All of these he won in landslide fashion as well.
Cam Newton is arguably one of the best players to ever play in the SEC. Even before his final game, he has passed for 2,589 yards, rushed for 1,409 yards (first SEC player ever to pass for over 2,000 and rush for over 1,000 yards) and scored 49 touchdowns. He is the third player to throw and rush for at least 20 touchdowns in the same season. Here are all of Cam Newton's Statistics. He also led the Auburn Tigers to a 13-0 record, an SEC championship and the 2011 BCS National Championship Game.

Cam Newton can update: DID further cement his legacy with a win in the National Championship Game on January 10, 2011. Cam was picked #1 in the 2011 NFL draft and is the starting QB for the Carolina Panthers. Cam Newton is probably the greatest player to ever play at Auburn.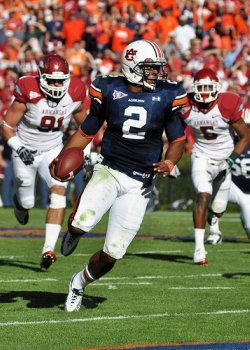 Thanks to Victorie for the photo of Cam Newton running the ball.
Here's our current information about Auburn Tigers Football and Auburn Tigers Football History.

What do you think?

We'd love to hear your comments and/or opinions. If you submit them here, other visitors can read them, rate them and comment on them. An e-mail address is not required.

What Other Visitors Have Said
Click below to see contributions from other visitors to this page...

Barbara, Florida Not rated yet
Cam forget the Naysayers God has a plan for you,he has not brought you this far to abandon you.Keep you head up high,make your family proud,oh that lovely …
By
Mo Johnson
, Copyright © 2006-2017 SECSportsFan.com