2012 SEC Football Championship Game Recap
Here is my Saturday afternoon/evening last week as I watched probably the greatest SEC Championship game ever since they have been doing this sort of thing back in 1992. We spent it with some VERY hardcore Georgia fans, so needless to say, it was a night. Here are the highlights:
4:06pm – I load the kids and the wife into the Queen Family Truckster (Once again, Antarctic Blue was unavailable, but my dealer, Lou Glutz, told me he could get he wagon, it would just take 6-8 weeks) and we head over to the house for the game.
4:08pm – I once again remind my wife, who is a Georgia Tech grad and loathes UGA almost as much as Brad Wesley loathed the townspeople of Jasper, not to either: A) drink too much, B) say something she would regret on Sunday morning, C) punch anyone out or D) all of the above. She assures me this won't happen, and that the last two times she was provoked.
4:14pm – I am looking for the game on satellite radio, since I also loathe UGA Play by play announcer Scott Howard and wish I could send Chuck Norris to round house kick his face into the ACC. When all attempts at this become futile, I bite the bullet and turn it over to the local station carrying the game.
4:15pm – After listening to Howard for only a few seconds, I turn to the wife and say, "Scott Howard is a butt nut." This attempt at humor quickly fades as my kids, ages five and three begin repeating, "Daddy's a butt nut! Mommy is a butt nut! We are all butt nuts!"
4:30pm – We get over to the house and are greeted by several shouts coming from the back room. In fact, I didn't need a street map to find the house, I only had to listen to the shouts of joy, anger or someone calling Gary Danielson a butt nut. I think that must have been one the kids again…
5:00pm – The man of the house, who we will call Freddy, because he did not want to have his real name mentioned since he is an attorney and this kind of behavior would really backfire on him during a trial, was already halfway into a bottle of the brown and he was as animated as a Looney Tunes cartoon. In fact, after Jarvis Jones sacked A.J. McCarron to cause a fumble, he looked like a Looney Tune and we seriously considered getting him psychiatric help.
5:10 – Freddy's wife, who we will call Becky, since she also does not want any of what happened on Saturday night to escape the confines of her immaculate home, was just as sweet as she could be as she made sure we all had plenty of drinks and food, as well as several pre-emptive apologies for what Freddy's behavior was going to be.
5:32pm – When Bama's fake punt was thwarted, the Georgia fans were jumping up and down like a Kriss Kross video. One went to high five another and they missed and smacked each other in the face. The failed trickery then led to most of the people in the room yelling at the TV, when CBS showed Coach Saban, about what he could do to himself. And I will tell you, what they suggested is physically impossible.
6:06pm – Becky had to remove their three year old son from sitting in Freddy's lap, since he almost belly bumped the kid right into the TV when he sprang up to dispute the late hit on A.J. McCarron in the red zone, which gave Bama new life. Their son flying through the air reminded me of Rudy during spring tryouts… Freddy went to mix a drink after the call, needing some liquid optimism.
6:07pm – Sanders Cumming's picks off McCarron in the end zone, which prompts Freddy to run and leap from the bar area, over the big screen TV (they have a split level house), and land perfectly in front of it. I gave him a 9.0, but the East German judge, who must secretly be an Alabama fan, gave him a 4.5 on the landing.
6:16pm – Remember that scene in Urban Cowboy when Bud comes back to Gilley's to fight Wes Hightower and you hear Lou Brown say, "Oh ****" because he sees what's about to happen? Well, when Aaron Murray got destroyed after being picked off by Ha'Sean Clinton-Dix Cougar-Mellencamp, and they showed the replay, I began to get the kids out of the man cave and tell the wife to seek shelter since I knew the house was about to explode. Sure enough, Freddy started racing for the TV and he had to be restrained by three dudes who kept yelling at him, "No, Freddy! This is how you broke the TV last time!!!"
6:31pm – Nick Saban must think he can save his extra timeouts for the second half as he lets the clock run down, which is bad news since A.J. McCarron, who is slower than two turtles humping in a barrel full of molasses, shoots through the Georgia defense for a first down at the five yard line. Bama kicks a FG, but it could have been much worse. Freddy, who is trying not to peek too soon, sits down, exhausted in front of the fireplace and says, "I'll take being three down. I'll also take another three brown," then gets up and heads to the bar.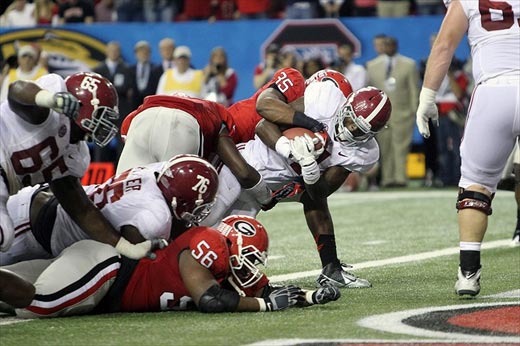 ---
7:11pm – UGA comes out of the locker room as if Freddy had driven down to the Georgia Dome and gave them the ole Knute Rockne at halftime. I got a much needed rest away from the re-creation of what it must have been like to watch a game with Sonny Corelone as Becky brought out her world famous banana pudding. So I took my bowl full of bliss and retreated away to the back of the man cave so I could eat in peace.
7:25pm – Whatever Freddy told them must have worked as the Dawgs took the opening kickoff and marched right down the field and scored. Todd Gurley's name was called so often during that drive I thought he was a medic during the Battle of Little Big Horn.
7:31pm – After a pass was tipped, or called tipped by the ref, who was hired by the Ronnie Millsap School of officials, the roof almost came off the house as Alec Ogletree took a blocked FG back for a touchdown and an incredible 21-10 lead for the underdog Bulldogs. It's funny because Cornelius Washington looked like Horseshack from Welcome Back Kotter as he was falling sideways and just happened to have his arm up in the right place.
7:32pm – I knew it was too good to be true, but Freddy's streak of two plus quarters without either breaking anything or spilling anything came to an end as he party fouled his brown all over the floor. His buddies kept him from crying over the dead bourbon by reminding him the Dawgs were up 11. This made him happy, but he did have to blink back a couple of tears.
7:36pm – The classic case of calling each other before the game was over reared its ugly head. You never, ever, call your family of friends while the game is going on, especially after a huge touchdown to give your team the lead. Freddy's father, called the house and the two began rejoicing. Somewhere, that evil bitch Karma was headed towards the neighborhood…
7:51pm – Bama responds like the champs they are as they drive down the field and stick it in the end zone. Freddy reminds the UGA defense that tackling is not optional at the SEC level since T.J. Yeldon ran through them like Paul Maguire when they announce the buffet is open in the press box.
7:52pm – Saban is going for two? This early? Why not as that man Yeldon rumbles into the end zone once again. It is like the Georgia players are chasing the guys from the Matrix. Little did anyone know that those two points would be huge later.
8:08pm – Yeldon again gets the Tide in close and Lacy finishes the drive off with a touchdown and an Alabama lead. Not to be outdone, Gurley rushes for another UGA score and the game is 28-25. The way I see it, just take everyone off the field except Lacy, Yeldon and Gurley and settle the championship that way.
8:31pm – The pressure is staring to get to Freddy. He has to sit in the same spot in the man cave, and I don't blame him. I thought I saw Karma peeking into the window, so it's a good thing he is respecting her wishes. I can also tell that he is also three to four sheets to the wind as he no longer looks like an attorney, but one of the guys he would be representing as his hair and eyes are now looking like Mutual of Omaha's Wild Kingdom. I do not know how much more he can take.
8:36pm – Unfortunately, he will have to take some more as McCarron did the one thing nobody in the universe thought would happen, and that was a bullet right through the hearts of the Red and Black Nation by THROWING for a touchdown. Bama leads 32-28.
8:45pm – UGA does what it needs to do as they stop Bama on third down and force a punt. Freddy is now yelling at an injured Alabama player, "I'm sorry you are hurt, and I really hope you are better before the Cotton Bowl, but now will you get your fat ass off the field so we can end this thing?"
8:55pm – Georgia begins their final drive and it doesn't look too good as Bama has intercepted the pass and if that is the case, Johnny Ballgame has arrived in the Dome and will walk down to the field in a matter of moments. This cannot be the way the greatest SEC Championship game ends, can it? This game was looking like a Kate Beckinsale, but now we are going to be left with Sporty Spice?
8:56pm – Freddy is inconsolable. However, I told him I thought the ball hit the ground and they are going to review it.
8:57pm – This news perks Freddy up as if Becky had begun parading through the house naked. Then again, after the wives had been hitting Freddy's "Mamacita Margarita's" for most of the night, I am surprised that has not happened more.
8:58pm – The call is reversed which give UGA new life, as well as the mood of the house. Freddy unknowingly stands up, which promos the other UGA fans to yell, "Sit your ass down! He quickly gets back in his seat, and is handed another drink. I noticed his hands are shaking and the clanking of the ice sounds like the icemaker in my refrigerator.
9:01pm – The call also gave new life to Aaron Murray as he suddenly became Roger Staubach, Kenny Stabler and Johnny Unitas all rolled into one as he fired three straight bullets down the field to the Bama five yard line.
9:02pm – Freddy is a basket case. He is wound tighter than the nuts on a new bridge. Murray and the Dawgs are in business. However Freddy cannot figure out why Murray is looking to the sidelines. "Spike it! Spike it!" he yells, as if Murray can hear him in his ear hole. Then again, as loud as he was yelling, I know Murray must have heard him.
9:03pm – Murray ignores Freddy's advice and instead follows Mike Bo-Bo's orders to run a play. The clock is ticking under ten seconds as Murray's throw is tipped, but still caught by Chris Conley at the five-yard line, but he falls backward and is tackled right there.
9:04pm – Freddy's sees the gravity of the situation, and while everyone else is going crazy, he slowly leans back against the fireplace and realizes the game is over. It was at that moment I knew what he was feeling since we all have been there before.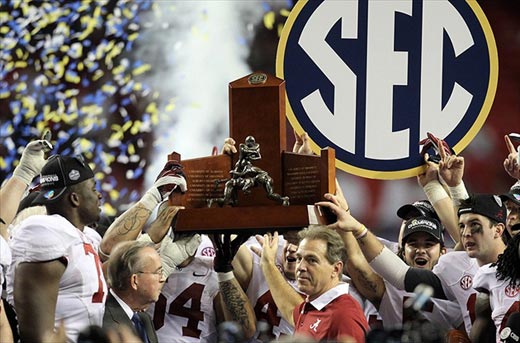 ---
9:15pm – With the loss, the house is transformed from One Flew Over the Cuckoo's Nest, to the Lawrence Welk Power Hour. We all slowly file out, saying thanks for having us over and sorry about the Dawgs. Freddy looked like Stephen A. Smith as he sat on the couch, drained of emotion, but not all the bourbon he consumed. He finally perks up and quips, "Well, hell. I guess we'll drive over to Charlotte for the ACC game. I am sure they will hold the kickoff until we get there…"
9:16pm – The wife is not amused at his Georgia Tech dig, but before she can let loose with a profanity laced tirade, I grab her and get everyone out the door and away from what was sure to be a rather nasty display of fisticuffs.
9:18pm – As I am strapping the kids in the car, I can't figure out what this ringing is in my ears. I felt as if I had dinner with the Costanzas. Then it hit me, I was in a mad house for the last five hours. It's a wonder I don't have to call the Miracle Ear people to see if I can get on their mailing list.
9:23pm – As we are driving home, I cannot help but to tune in Scott Howard to listen to him blubber all over the microphone. Sure enough, this guy is on the verge of tears and makes every excuse in the world for the loss. For some strange reason, my night has now become perfect. It could only get better if Howard did an extended SEC Championship game recap, or if the wife was feeling rather frisky after all the alcohol she had consumed.
9:24pm – Unfortunately for me, neither wish comes true, Howard is so lost and despondent, he sounds like Harry Doyle from Major League trying to find who the post game show is brought to you by. And then, I hear a noise coming from the passenger seat. It's the wife, passed out and snoring. Oh well, at least they had banana pudding…
---
New! Facebook Comments
Leave a comment about this article in the box below and share it with your Facebook friends.
What do you think?

We'd love to hear your comments and/or opinions. If you submit them here, other visitors can read them, rate them and comment on them. An e-mail address is not required.

---
Bobby Petrino Fired | Story of Three Alabama Quarterbacks | Georgia Bulldogs Win SEC East | BCS Controversy: LSU vs Alabama Again | College Football Is Sick | Time is now for SEC Expansion | NFL Draft Prospects for Patrick Peterson and Stevan Ridley | SEC Offensive Lineman Prospects in the 2011 NFL Draft | Auburn vs Oregon 2011 National Championship Game Review | Auburn - Alabama Heisman Trophy Winners | LSU Beats Georgia 42-10: Too Many Georgia Fans Drank the Kool-Aid | 2011 SEC Football Rivalry Week Review and Championship Game Preview | Review of the 2010 - 2011 SEC Bowl Season | The Legacy of Legion Field | Cam Newton Controversy | My SEC Football Championship Game Story | Tennessee Vols Heartbreak Losses | Tennessee Tailgate Story | My Ideas To Make College Football Better | Origins of SEC School Colors | History of SEC School Mascots | SEC Teams vs Everyone Else All-Time Record | Terrible Officiating in Auburn-Arkansas Game | College Football Books and Videos | Cam Newton For Heisman | 2010 SEC Football Fantasy Football Picks | Conference Realignment Analysis | Lane Kiffin | Alabama vs Texas BCS Championship Game Review & Analysis | Best All-Time SEC Football Coach College Football Yesterday and Today | All-Time SEC Fantasy Football Team |
---
From 2012 SEC Football Championship Game Recap to SEC Football Blog | SEC Sports Blog | SEC Football | SEC Basketball | SEC Basketball Blog | SEC Women's Basketball | SEC Baseball | SEC Track and Field | SEC Swimming and Diving | SEC Tennis | SEC Golf | SEC Gymnastics | SEC Soccer | SEC Softball | SEC Volleyball | Best College Sports Conference | College Football Bowl History | BCS Controversy | SEC vs Big Ten Debate | SEC Sports News | Current SEC Sports News | SEC Sports Pictures and Videos | SEC Sports Fan Forum | College Sports Blogs | College Football Association | SEC Sports Fan Trips | College Sports Gift | Fathead | College Sports Tailgate Party Shop | College Sports Merchandise | College Sports Apparel | SEC Sports Fan Store | SEC Football Tickets |
---
Home Page

About Us | Contact Us | Site Search | Advertise | Terms of Use |
---