2012 - 2013 SEC Bowl Season Recap
Music City Bowl
Vanderbilt 38 – N.C. State 24

Vanderbilt capped their first nine win season since the Wilson administration (1915) and only the third in school history (1904 being the other year...yikes. Did they offer history as a class at Vandy then? If so, it must have been a two week course...)

A teary eyed James Franklin, who has done an outstanding job in Nashville, told the world, "We are not going anywhere." Was that a slap in the face to the bowl people since they never go anywhere in the post season, since they always seem to play in Nashville when they go bowling?

Or was it a doom and gloom prophecy that they would never do this well again?

In all seriousness, Mr. Franklin deserves every coach of the year award for the job he has done with the 'Doores. And given a few breaks, (Florida) or a blown call (South Carolina), this might have been a 10-3, 11-2 team. At Vanderbilt, that is a scary proposition.

For all the Vol fans reading this, you had better hope the Vandy players don't begin to hold up signs reading, "We own this state..."

Chick-Fil-A Bowl
Clemson 25 – LSU 24

It was a fun night in the Georgia Dome as I was fortunate to see two very tough, hard hitting defenses play.

Unfortunately, I also passed Les Miles as I was walking back through the tunnel to the press area and immediately I got a rash. I found out later I am allergic to chuckleheads.

Why did Miles order back to back throws as the Tigers were trying to milk the clock late in the game? Zack Mettenberger, who couldn't complete a pass to air in the fourth quarter, gave Clemson a chance as his two incompletions set up the orange Tigers (had to make sure I clarified that one) for one last chance with plenty of time and two timeouts.

Then, the supposed ferocious purple Tigers (see how this works?) defense gives up a Tahj Boyd to DeAndre Hopkins pass play on a fourth-and-16 that kept alive a ten play drive that ended with a Clemson field goal at the gun to win it.

A ten play drive with 1:39 remaining?

All in all, this was not a good night to be an LSU fan. Then again, at least the team and their fans looked like they wanted to be in Atlanta. That's more than I can say for some other teams in the SEC...

Gator Bowl
Northwestern 34 – Mississippi State 20

I got a real nice email in my box the other day. It read, "Dear Coach Scooter. Kiss my ---."

Signed Jim Delany

Commissioner

Big Ten Conference

I guess my Bowl Preview comments about what the SEC would do to the Big Ten in the New Year's Day Bowls was not looked on too favorably.

Outback Bowl
South Carolina 33 – Michigan 28

Can you believe South Carolina has posted back to back eleven win seasons? Steve Spurrier has done what the powers that be in Columbia wanted, and that is to make the 'Cocks a perennial power in the SEC.

And in other news, JadevonClowney just threw the whole state of Michigan for a loss.

This guy is a very, very bad man. In fact, on his tackle of Michigan RB Vincent Smith, Smith's helmet went for more yards than Michigan's offense totaled on the day.

This dude is so ferocious, when the Boogeyman goes to bed at night, he looks in his closet for JadevonClowney.

Capitol One Bowl
Georgia 45- Nebraska 31

I love it when players talk trash, get their butts kicked, then still talk trash.

Before the bowl game, Nebraska QB Taylor Martinez said that UGA's defense was just another typical Big Ten defense.

Then after scoring 24 points (seven points came on a pick six) he stood by his comments.

"I think the Big Ten, talent-wise, is a lot better, and the defenses in the Big Ten are better than SEC defenses. This was supposed to be one of the top defenses in the SEC, and we pretty much did anything we wanted against them."

The Bulldogs defense was not one of the best in the SEC, but we all appreciate you thinking it was. Then again, since the SEC is usually referred to as the best in the country in a lot of things, I can see where he might get that one mixed up.

The Bulldogs defense has been spotty for most of the season, so that's not such a big surprise the Huskers were able to roll up over 400 yards of offense against them. But what the punky QB didn't mention is that in the second half, when it counts the most, they gave up just seven points and won going away.

Hey Martinez, you threw for 204 yards two TD's and two picks. You didn't do anything you wanted against them. You lost. Get over it.

By the way, the Black Shirts are dead. They gave up 115 points in the last two games, which were the Big Ten Championship and the Capitol One Bowl.

Sugar Bowl
Louisville 33 – Florida 23

It just goes to show the state of the bowls these days. When you are not that interested in playing in the Sugar Bowl, something has to change.

In what was a monumental waste of state funds, the uninspired Gators traveled to New Orleans and got their butts kicked by a Big East team that ended the season in a four way tie for the conference championship. They got the BCS bid after winning a pressure packed rock, paper, scissors playoff with, and are you ready for this, Cincinnati, Rutgers and Syracuse.

Hats off to Charlie Strong and the Cardinals as they kicked Florida all over the Superdome. Teddy Bridgewater had a lot to do with it, as well as a defense that played mahjong with Jeff Driskell's teeth for most of the game.

And seeing big mouth Jeff Burton, who talks more than he plays, lying flat on his can for most of the night was a study in what happens when one team thinks they are putting on a show, and the other team thinking they are playing football.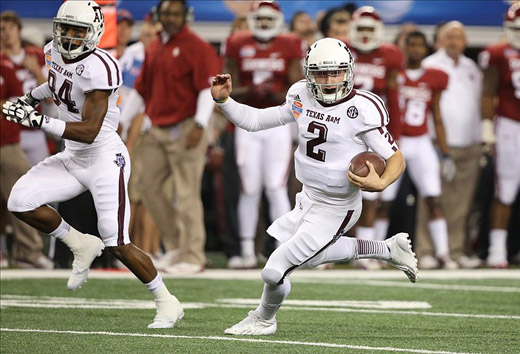 Jan 4, 2013; Arlington, TX, USA; Texas A&M Aggies quarterback Johnny Manziel (2) scrambles in the second quarter against the Oklahoma Sooners during the 2013 Cotton Bowl at Cowboys Stadium. Photo Courtesy By Matthew Emmons-USA TODAY Sports.


Cotton Bowl
Texas A&M 41 –Oklahoma 13

There are certainties in life. You know the old one about death and taxes.

But now add Bob Stoops cannot win a big game, and A&M QB Johnny Manziel will kick your butt. And after he kicks your butt, he will be caught in a very provocative post game photograph.

After the year he had, I am beginning to think that this is Johnny Manziel's world and the rest of us are just living in it.

Compass Bowl
Ole Miss 38 – Pittsburgh 17

Congrats to Hugh Freeze and the Rebels as they made a nice turnaround. Although it was only 7-6, they still made progress and if they had not collapsed in a few of their games in the later stages, they could have won eight or nine games. Nice to think about, but now the expectations in Oxford are much higher.

And having Alabama and LSU in their backyard, as well as Texas A&M, we'll see what kind of job Freeze can do.

Here's another nugget to chew on, the attendance at the Compass Bowl (59,135) was more than the Sugar Bowl (54,178).

When Ole Miss blew away the team that should have beaten Notre Dame in OT, you had to figure things would not go too well for the Irish in the BCS Championship game.

BCS Championship
Alabama 42 – Notre Dame 14

This one was never in doubt as Alabama affirmed their place as college football's best team and gave birth to a dynasty.

What a lot of people fail to mention, when the SEC bias comes in, is Bama has taken advantage of opportunities.

When they lost last year, it took an Oklahoma State loss to Iowa State (I'm still wondering how that happened) to get them into the game. If the Cowboys don't lose, the Tide does not get in.

This year, if Oregon AND Kansas State don't lose, and if Ohio State had not been on probation, Alabama does not get a chance to play for the championship.

If that happens, Nick Saban is not regarded as one of the greatest coaches in the history of college football, Alabama does not come anywhere close to being called a dynasty, and the SEC is regarded as one of, but not the best, conference in the country.

Oh, and I almost forgot, Saban would never be anywhere close to challenging Bear Bryant for most national championships.

One thing about being great is you take advantage of opportunities, whether you deserved them or not.It isn't the Tide's fault circumstances played out the way they did. As with all success stories, they were there when preparation met opportunity.

Another thing that makes Saban's boys tough to beat is they have tremendous discipline. Not only playing the game, but when the play is over.

Being in the Dome for the LSU game, even on touchbacks, the Tigers were in the faces of the Clemson players talking trash. And after every play.And every timeout. And at halftime I think some of their players ran over to the Clemson locker room as opened the door to talk some more trash. They waste all that energy being punks instead of football players.

There's no place for that nonsense. This is a football game, not the Little Rascals clubhouse. Look at the year LSU had compared to the year Alabama had and tell me that does not have something to do with success and failure.

Then look at the game Monday. Did you see any in your face smack talk from the Bama players? Or retaliation after a play was over? The most outrageous hit was when Barrett Jones shoved his QB A.J. McCarron after a delay of game penalty, well after the game was out of hand. The intensity of the team, even with the game long over, was as impressive as the final score.

This is a team with the best players, the best coaches, and the best game plan. This is why they are national champions the last three of four years.

Unfortunately for the restof the SEC, and the country, it is not going to slow down anytime soon.

What do you think?

We'd love to hear your comments and/or opinions. If you submit them here, other visitors can read them, rate them and comment on them. An e-mail address is not required.

What Other Visitors Have Said
Click below to see contributions from other visitors to this page...

Already Getting Ready For Next Season Not rated yet
The 2012-13 Southeastern Conference athletic season is coming to a close, but thoughts are already turning to 2013-14 in many areas. Witness the …