2011-2012 SEC Bowl Previews and Predictions
This year's bowl preview had me in a Godfather mood, so I attached a Godfather character to the game so you can get a better idea of what you will be seeing in the coming weeks.

This is an offer you can't refuse...
Franklin American Mortgage Music City - Luca Brazi
December 30 (6:40 PM ET, ESPN)

Mississippi State (6-6, 2-6 SEC) vs. Wake Forest (6-6, 5-3 ACC)

(Miss State favored by 7; all odds on this page approximate)

Remember the look on Luca Brazi's face when he got to hang out and have a drink with Bruno Taltallia and Virgil Sollozo? Well, that's what my face looks like when I think about this one.

I am honored and grateful that I have the opportunity to watch what is sure to be a titanic 100-yard struggle. And I hope the first touchdown is a masculine one.

I pledge my ever-ending loyalty to the SEC, and hope that watching two teams with a combined 12-12 record will not make me want to sleep with the fishes.
Prediction: Mississippi State 27 - Wake Forest 24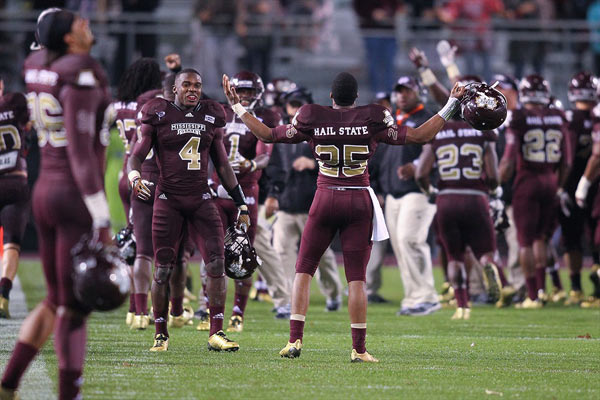 NOV 26 Ole Miss at Mississippi State- Mississippi State celebrates-Mississippi State won the annual Egg Bowl rivalry by a score of 31-3 at Davis Wade Stadium in Starkville, MS.
AutoZone Liberty Bowl - Jack Wolz
December 31 (3:30 PM ET, ABC)

Vanderbilt (6-6, 2-6 SEC) vs. Cincinnati (9-3, 5-2 Big East)

(Vanderbilt favored by 2)

James Franklin will not be voted man of the year in the SEC! I don't care how many Commodore goons come out of the woodwork!

And let me tell you something else my Bearcat friend, both teams lost to Tennessee.

This bowl is perfect for both teams. It will make them both household names with recruits. But the 'Doores are not quite up to handling a team that can put up some points like Cincinnati.

And in this one, the 'Cats will make Vandy look ridiculous. And a team from the SEC cannot be made to look ridiculous.

Was that James Franklin I hear yelling from the locker room?

Prediction: Cincinnati 35 - Vanderbilt 20
Chick-Fil-A Bowl - Clemenza/Tessio
December 31 (7:30 PM ET, ESPN)

Auburn (7-5, 4-4 SEC) vs. Virginia (8-4, 5-3 ACC)

(Auburn favored by 3)

Both teams looked like Bruno Tattaglia after Sonn'y button men got him during the last few games, especially Auburn, who was blown out in three of their last four SEC contests. UVA looked like Paulie after their blowout loss to Virginia Tech.

Both teams can make a statement for their families (conferences) in the ever-present SEC vs. ACC battle. I know their territory has been chiseled in 2011, and if they cannot get a victory to give them some momentum going into 2012, there will be nothing left to build on.

I really like what Mike London has done in Charlottesville and since Auburn's Mike Dyer will not be playing in the game, I think it will be the Tigers who will have to ask to be let off the hook.for old times sake.

Can't do it, Gene...

Prediction: Virginia 27 - Auburn 14
Outback Bowl - Sonny Corleone/Carlo Rizzi
January 2 (1:00 PM ET, ABC)

Georgia (10-3, 7-11 SEC) vs. Michigan State (10-3, 7-1 Big Ten)

(Georgia favored by 3.5)

Remember when Sonny chased down his brother in law Carlo and beat the crap out of him? That's what is going to happen in Tampa.

Despite running head long into a brick wall in the SEC Championship game, Georgia will be happy to see a team of mortals lined up across from them in this one. They have the talent on offense with Aaron Murray and a group of receivers that will stretch the field.

The Dawgs got better as the season went along, and since the Spartans are about as good as Mississippi State or Auburn, this one should be over by halftime.

I am not sold on the strength of the Big Ten, especially since Sparty ranks 77th in rushing and 59th in total yards in the FBS.

This one is going to be an all out war, and since the Red and Black will be going to the mattresses, I feel sorry for anyone wearing green. Besides, the Spartans are pimps. They could never outfought Santino...

Prediction: Georgia 38 - Michigan State 7
Capital One Bowl - Don Emilio Barzini / Philip Tattaglia
January 2 (1:00 PM ET, ESPN)

South Carolina (10-2, 6-2 SEC) vs. Nebraska (9-3, 5-3 Big Ten)

(South Carolina favored by 2.5)

If there was not a Georgia, or a Michigan State, these two teams might be playing in a BCS Bowl game. Just like if there were no Corleone's, Barzini and Tattaglia would be the kingpins of New York.

Carolina lost starters Stephen Garcia to suspension and Marcus Lattimore to an injury, but still won ten games. That's impressive.

Times have changed. It's not like the Old Days, when they could give the ball to George Rogers. A suspension and an injury is not the act of a friend. Connor Shaw must draw the water from the well. After all...we are not in the ACC.

As head of the crime families, Barzini was a notch above Tattaglia. The same holds true in this one as I think USC is a notch better than Nebraska

Prediction: South Carolina 21 - Nebraska 17

Nebraska RB Rex Burkhead (22). The Nebraska Cornhuskers defeated the Penn State Nittany Lions 17-14 at Beaver Stadium in State College, PA.

AT&T Cotton Bowl- Virgil Solozzo/Moe Green
January 6 (8:00 PM ET, FOX)

Arkansas (10-2, 6-2 SEC) vs. Kansas State (10-2, 7-2 Big 12)

(Arkansas favored by 7)

Arkansas reminds me of Virgil Sollozzo. Tough, progressive and has an idea to further their cause. Problem was, just like Sollozzo, when they ran into someone smarter, they got squashed.

K-State reminds me of Moe Green. Also tough, smart and has a good thing going, but not so much on the radar. Like Moe, when they got a little too cocky and stepped on the wrong toes, they were blasted.

The Hogs must have thought they had LSU beaten in the first half of their game in November, and the disappointment might carry over to this one. They shot them with 14 points and the Tigers are still alive. Well, that's bad luck for them, and even worse luck for Kansas State if the 'Cats don't bring their A-Game.

K-State has to figure the Hogs were getting chased out of the SEC by LSU, Bama and the other five families, so they have a chance in this one. And they were making their bones when the Hogs players were going out with cheerleaders.

This one should be a great game since both teams are evenly matched. I like Arkansas offense, and since they are not playing either LSU or Alabama, I think they will be having the veal. It's the best in the city...

Prediction: Arkansas 38 - Kansas State 21
TAXSLAYER.com Gator Bowl - Don Corleone
January 2 (1:00 PM ET, ESPN2)

Ohio State (6-6, 3-5 Big Ten) vs. Florida (6-6, 3-5 SEC)

(Florida favored by 2.5)

As you remember, the Don was slippin', according to Sollozo, and so are these two once powerful teams.

The Gators and Buckeyes met for the BCS Championship after the 2006 season, but now they are relegated to the Tax Slayer.com Bowl. Oh, how the mighty have fallen. It appears both teams had Fredo on the sidelines calling plays.

Ohio State is 1-9 in bowl games vs. the SEC, and 6-6 in the Big Ten this year. I think their brain is going soft with all that comedy they are playing their conference.

Florida's offense is in the same state as Sonny on the gurney after the little bullet party Barzini's men gave him on the Causeway. "Look how they massacred my offense," Don Vito Muschamp must have sobbed after the season.

Urban Meyer is crying up in the press box. I hear the Gator chomp loudly in the crowd. I see Florida players running up and down the field. Featured Blogger of mine, I think it is time to tell your Don, what every one seems to know.

And now that I have had my drink.

Prediction: Florida 28 - Ohio State 14
Allstate BCS Championship - Michael Corleone

January 9 (8:30 PM ET, ESPN)

Alabama (11-1, 7-1 SEC) vs. LSU (13-0, 8-0 SEC)

(Alabama favored by 1)

"It's not personal, Sonny, it's just business..."

The two best teams in the world (with the exception of the Green Bay Packers.maybe) take the field for control of the college football world.

LSU won the first matchup, but Alabama was the better team. However, they did not capitalized on all the opportunities they received. You have to answer for the missed field goals, the interceptions and the poor play in OT, Carlo.or Nick.or whatever name you want to put there.

Where does it say you can't beat a team twice in a season? I'm talking about a team in the first meeting, at their own stadium, that had horrendous special teams play, could not make a play in overtime, and got what was coming to them. That's a terrific story.

Now the scene shifts from Tuscaloosa to New Orleans, which is a pseudo home game for the Tigers. But the Tigers have to beat Alabama twice to win the championship. Interesting...

This one time, I will let you ask me about my pick for the National Championship. You think that farce that went down in Tuscaloosa could fool a Corleone? Saban settles all Alabama business in the Dome.

Prediction: Alabama 24 - LSU 14
Here's your 2011 - 2012 Bowl Game Schedule and the rest of the 2011 - 2012 College Football Bowl Predictions.
Here's the best place for College Football Bowl Game Tickets.
You can find more current bowl previews at The Best Sports Blog and The Best Football Blog.
---
What do you think?

We'd love to hear your comments and/or opinions. If you submit them here, other visitors can read them, rate them and comment on them. An e-mail address is not required.

What Other Visitors Have Said
Click below to see contributions from other visitors to this page...

SEC Bowl Game Predictions






I agree with all except two! Vandy beats Cincy and Ohio St beats Florida! John says: the alabama vs lsu game will not have scores that high and …
By
Mo Johnson
, Copyright © 2006-2017 SECSportsFan.com