Archie Manning Biography
When people think of the Manning name, most will immediately think of Peyton or, in some cases, Eli. But, they were not the first Mannings to step into the national spotlight; that honor goes to their father, Elisha Archibald Manning III, or as most people know him, Archie Manning. Archie was born on May 19th, 1949 in Drew, Mississippi.
Archie Manning burst onto the national spotlight in his college years. He attended the University of Mississippi (Ole Miss), where he became known as one of the greatest quarterbacks to ever play in the Southeastern Conference. In fact, his performance in one of the first ever nationally televised SEC games garnered so much attention that it helped to garner attention to the league itself. It helped that the game was against Alabama, who was already a national powerhouse by that point.
Archie threw for 436 yards and rushed for 104 more, on his way to leading his team to an incredible performance. Although they lost the game, Archie's 540 total yards by a quarterback was a record that has never been broken, even to this day. Even the famed Florida quarterback Tim Tebow was unable to accomplish this feat, showing just how much of an accomplishment it really was.

Unfortunately for Manning, the close losses, even when he clearly outperformed the opposing team, became part of his career.

Ole Miss went 15-7 with him at the helm, a hardly spectacular record when one compares it to other famed quarterbacks, but it was still enough to land him third in the Heisman race his senior year, as well as earning him all-SEC honors for all his seasons played. He was even named SEC quarterback of the quarter century for 1950-1975.

In 1971, Archie made the move from college to professional football by entering the NFL draft. He was chosen second overall by the New Orleans Saints.

Archie saw great success as an individual player, but never could shake the fact that he was a Hall of Fame player on an abysmal team.


Ole Miss Rebels quarterback Archie Manning scrambles against the Tennessee Volunteers in 1969. Thanks to RebelNation1947 at flickr.com for the picture.

The Saints only had one winning season when he was their quarterback, while the other nine seasons with Archie at the helm all ended up with more losses than wins. Players for other teams respected Manning's abilities, as well as his drive to win even when it seemed hopeless.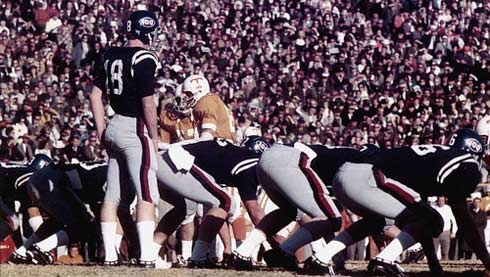 Ole Miss Rebels versus Tennessee Volunteers in 1969. Archie Manning #18 is the Ole Miss quarterback. Thanks to RebelNation1947 at flickr.com for the picture.

After ten seasons with the Saints, Archie moved on to play for the Houston Oilers in the 1982-1983 season, and the Minnesota Vikings from 1983-1984. Unfortunately, his career never tool off, and he is widely regarded as one of the best quarterbacks to never win a Super Bowl. His final stats on his career proved that he was a great player, with 2011 completions and 125 passing touchdowns, as well as rushing for 2197 yards and 18 touchdowns. He also had 173 interceptions, and had the lowest winning percentage of any quarterback that ever had over 100 starts, though this is more attributed to the horrible teams he played for than any of his own doing.

After Archie ended his football career, he went on to become a TV football analyst for the NFL, as well as be enshrined in the College Football Hall of Fame. He is, and always will be, the beginning of a legacy of one of the greatest American football families that we have ever seen, and possibly ever will see.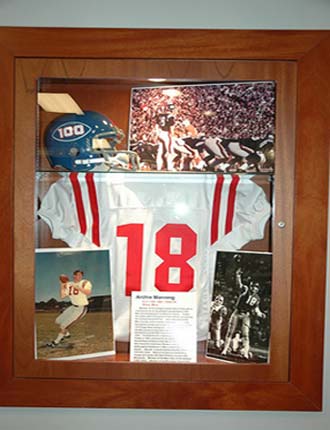 An Ole Miss Rebel and college football legend Archie Manning is honored in his home Locker Room. Thanks to RebelNation1947 at flickr.com for the picture.


Get Your Archie Manning Fathead at:


Other Archie (and Eli and Peyton) Manning Display Merchandise
Eli Manning, Archie Manning, and Peyton Manning Autographed 8 x 10 Action Photographs Deluxe Custom Frame Giants, Saints, Colts:



Archie Manning and Eli Manning Autographed Ole Miss Rebels Authentic Full Size Football Helmet:



Archie Manning Autographed 16 x 20 Photograph:



Archie, Peyton and Eli Manning - Action - Autographed 16x20 Photograph:

Learn more about the "First Family of SEC Football" at Peyton Manning Biography and his younger brother Eli Manning Biography.

If you like Ole Miss football, check out our current Ole Miss Rebels Football and Ole Miss Rebels Football History pages.


What do you think?

We'd love to hear your comments and/or opinions. If you submit them here, other visitors can read them, rate them and comment on them. An e-mail address is not required.

By
Mo Johnson
, Copyright © 2006-2017 SECSportsFan.com