Eli Manning Biography
If there ever was a man that grew up under constant shadow, that man was Eli Manning. Eli is called by some the prince of the Manning legacy, and is almost always mentioned after his older brother, Peyton. Instead of shrinking under the enormous expectations society placed upon him at an early age, Eli Manning blossomed early and eventually fought his way out from under his family's shadow.
Eli Manning was brought into this world on January 3, 1981, in New Orleans, Louisiana. He was, at first, not very fond of the thought of playing football; in fact, he was a self-proclaimed "mama's boy". This is, of course, a blasphemous thought to anyone that is aware of all that he has accomplished today. Eli attended Isidore Newman High School, the same school that both of his older brothers, Cooper and Peyton, had already graduated from. This is when the comparisons truly began between Eli and Peyton, especially when one looks at the final numbers of their high school careers. Peyton put up 7,207 passing yards with 92 touchdowns, while Eli put up 7,389 yards and 89 touchdowns, making them two of the best quarterbacks in the history of the school.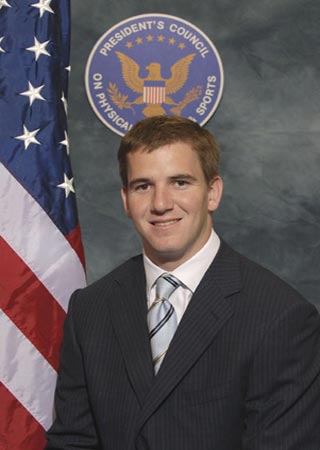 Eli Manning, in 2007 for The President's Council on Physical Fitness and Sports.
Thanks to wikipedia.org for the picture.
---
After his high school career ended, Eli made his way to his father's alma mater, Ole Miss. He rode the pine for his first season, before finally getting his chance to shine as an SEC quarterback for the first time. In between this, he had a bit of trouble with the law in the form of public intoxication; why it shocks anyone that a 19 year old college student would get drunk, I will never know. Anyway, after he was finished atoning for his mistakes, he lead the Ole Miss Rebels to a shocking 6-1 start before meeting the Arkansas Razorbacks in what would be the single most memorable SEC football game in history. Eli would lose that game in 7 overtimes 58-56, but his name still went down in history for his performance with 312 passing yards and 6 touchdowns.
The rest of his college career was spent relatively under the radar for a Manning, with the exception of his senior year, when Ole Miss went 10-3 and barely missed out on playing for the SEC Championship to an LSU team that would win the National Title that same year. Eli went on to be drafted by the San Diego Chargers, which caused a great amount of controversy, as none of the Mannings supports him playing in San Diego; even Eli himself refused to play for them. So, instead of losing their first overall draft pick to an unknown law school (Eli wanted to get a law degree instead of playing for the Chargers- it was that bad), the Chargers traded him to the New York Giants for Phillip Rivers.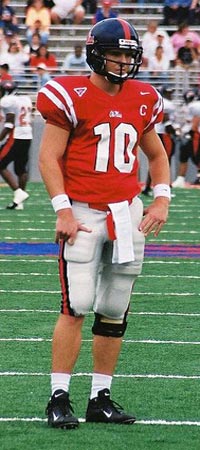 Eli's first few years with the Giants were trying, to say the least. The Giants simply did not have a solid offensive line to protect him, and its defense could not protect any leads that he could give them. But, in 2007, Eli finally broke through; not in the regular season, but where it really counted- the playoffs. Eli led his team to a wild-card victory over Tampa Bay, as well as Dallas, and traveled to historic Lambeau Field to play Brett Favre and the Green Bay Packers. Instead of crumbling under the pressure like he had been accused of doing before, he led his team to an improbable overtime victory to place them in the Super Bowl.
People believed that the magic would run out at this point, as no one had come close to stopped the machine that was the 18-0 New England Patriots, the first NFL team looking to go undefeated since the Miami Dolphins did it in 1972. But, as they say, that's why we play the game. Eli Manning put in a spectacular, game winning performance that stunned the New England fans all across the nation- with a little help from a man named David Tyree of course. This finally allowed Eli to step out of his brother's shadow, and become a man in his own right.
Eli has not been back to the Super Bowl since that day, but he has not needed to. He will always be remembered, not just as a Giant, but as a slayer of giants in one of the upsets of the century. While many may still think of him as "just Peyton's younger brother", he has firmly cemented himself as a man in his own right.
If you like Eli Manning you'll love the
Eli Manning Fathead
. Learn more about the greatest NFL star ever to come out of the SEC
Peyton Manning Biography
and the Mannings' father
Archie Manning Biography
.
And, here's more about the Current
Ole Miss Rebels Football
and
Ole Miss Rebels Football History
.
What do you think?

We'd love to hear your comments and/or opinions. If you submit them here, other visitors can read them, rate them and comment on them. An e-mail address is not required.

---
Archie Manning Biography | Antonio Langham Biography | Billy Cannon Biography | Bo Jackson Biography | Bob Gain Biography | Cam Newton Biography | Chris Samuels Biography | David Pollack Biography | Frank Kinard Biography | Herschel Walker Biography | Ike Hilliard Biography | Jack Youngblood Biography | Joe Namath Biography | John Hannah Biography | Josh Reed Biography | Ozzie Newsome Biography | Peyton Manning Biography | Reggie White Biography | Shawn Andrews Biography | Terrance Cody Biography | Terry Hoage Biography | Tim Tebow Biography | Tommy Casanova Biography | Tracy Rocker Biography |
---
From Eli Manning Biography to SEC Football | SEC Sports Blog | SEC Football Blog | SEC Basketball | SEC Basketball Blog | SEC Women's Basketball | SEC Baseball | SEC Track and Field | SEC Swimming and Diving | SEC Tennis | SEC Golf | SEC Gymnastics | SEC Soccer | SEC Softball | SEC Volleyball | Best College Sports Conference | College Football Bowl History | BCS Controversy | SEC vs Big Ten Debate | SEC Sports News | Current SEC Sports News | SEC Sports Pictures and Videos | SEC Sports Fan Forum | College Sports Blogs | College Football Association | SEC Sports Fan Trips | College Sports Gift | Fathead | College Sports Tailgate Party Shop | College Sports Merchandise | College Sports Apparel | SEC Sports Fan Store | SEC Football Tickets |
---
Home Page

About Us | Contact Us | Site Search | Advertise | Terms of Use |
---