Best All-Time Major League Baseball Team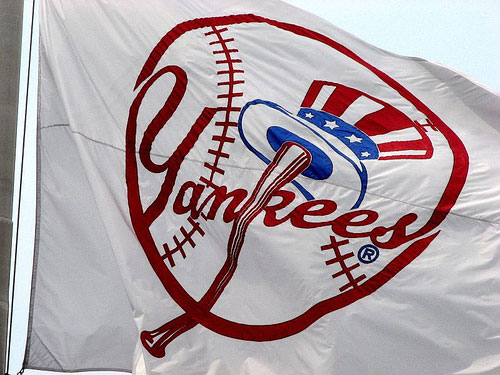 Huge NY Yankees flag blows in wind.
Thanks to kcjc009 at flickr.com for the picture.
---
The 1998 New York Yankees baseball team is our choice as the greatest single season baseball team of all time. And it probably shouldn't be any other way. After all, the New York Yankees are the most storied franchise in the history of baseball (and potentially in the history of all professional sport; although Celtics and Canadiens fans may make a case for their own organizations).


What made the 1998 team so special is because it was just that. A team. A perfect balance of superstars and role players, big money talent, and lower priced diamonds in the rough. And the entire orchestra made great music under the direction of Manager Joe Torre en route to a modern.
One thing needs to be underscored before beginning discussion of the '98 New York Yankees. Do not be swayed by the outlandish payrolls of Yankees teams since the turn of the century, or by the seemingly All-Star laden lineups that have been put onto to the field in pinstripes of late. Rather, understand that this Yankees team was not built around free agent superstar acquisitions and a payroll nearly 50% higher than its next closest competitor.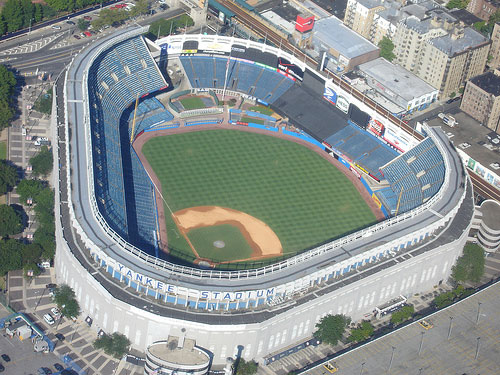 Overhead view of Yankee Stadium.
Thanks to icyblue at flickr.com for the picture.
---
Not nearly. In fact, in 1998 the Yankees were actually #2 overall with a payroll of only about $73 Million. While that number was clearly among the highest in baseball, it was in a range in which 10 teams were within $22 million of it, and as such, was competitive with the rest of baseball.

The 1998 season was remarkably special on so many levels. One thing to keep in mind was the practically unheard of margin the Yankees won the American League East by. The Boston Red Sox managed a solid 92-70 record, while not always good enough to win a division, typically good enough to finish a team within 4 to 5 games of the top of the division. Their 92-70 record meant that the Red Sox finished a full 22 games behind the Yankees in 1998.

To put that in perspective, the Minnesota Twins, in the American League Central that season, had the mirror opposite record of Boston, 70-92, and finished 3 games closer to its divisional leader, at 19 games behind.
It's difficult to decide exactly what the most dangerous part of the Yankees lineup was in 1998. The offense would be a good place to start, a nine man lineup that was built around home grown talent, some key acquisitions, and a number of role players having the years of their lives. The lineup had no holes. At the top of the lineup were guys like Chuck Knoblauch, star shortstop Derek Jeter, and Paul O'Neill who had one of the finest years of his career.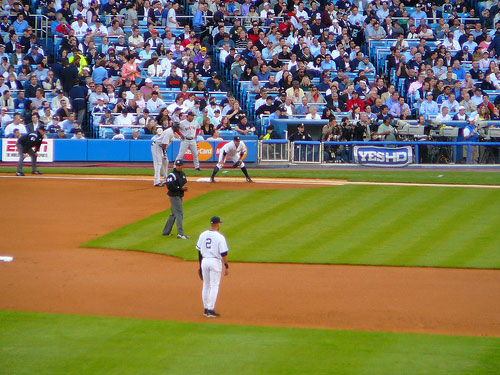 Yankees - Redsox.
Thanks to chotideb at flickr.com for the picture.
---
The middle of the lineup was deadly and balanced, featuring Bernie Williams, Tino Martinez, and Darryl Strawberry, who hit 26, 28, and 24 home runs respectively. Yet what made this team particularly dangerous was probably the bottom of the order, which consisted of Jorge Posada, Scott Brosius, and Chad Curtis who, with 21 stolen bases on the year, represented another lead off hitter of sorts.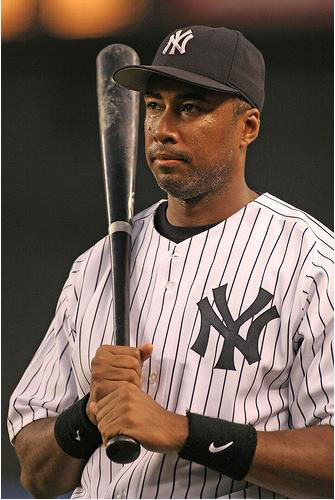 Bernie Williams deep in thought before batting.
Thanks to kenjibaseball at flickr.com for the picture.
---
While the offense was potent, the pitching rotation may have been, in reality, what made this team so special. The rotation was headed by David Cone, a capable ace on any roster. However, Cone was also followed by David Wells, Andy Pettitte, and Orlando "El Duque" Hernandez who had a stunning 12-4 record with a 3.13 ERA on the season. The starting rotation was rounded out by Hideki Irabu who, while a disappointment for his career, had a more than adequate as a #5 starter going 13-9 with a 4.06 ERA on the season.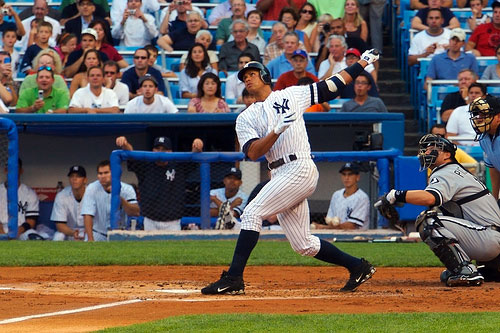 Alex Rodriguez shows his home run swing.
Thanks mrosal at flickr.com for the picture.
---
Or perhaps what truly carried this team to its ultimate glory were the guys who were on the mound when it counted the most, during crunch time, when the game was on the line. The Yankees bullpen was full of talent, and was led by arguably the greatest closer of all time Mariano Rivera. Not to be overlooked, however, was the stellar performance of middle reliever/spot starter Ramiro Mendoza, who went 10-2 with a 3.25 ERA on the season.
So, which is the best all-time major league baseball team? No doubt, it was the 1998 New York Yankees.
See a complete list of all the World Series Championship teams at World Series Winners.
---
The Boston Red Sox vs New York Yankees rivalry is certainly the best. Find out why at Best All-Time Baseball Rivalry.
Other "all time best team" articles:
What do you think?

We'd love to hear your comments and/or opinions. If you submit them here, other visitors can read them, rate them and comment on them. An e-mail address is not required.

What Other Visitors Have Said
Click below to see contributions from other visitors to this page...

Hogie Not rated yet
1927 Yankees best ever no question about that. Also had best player ever Babe Ruth on team.
Absolutely Not rated yet
Even as a die-hard, born-and-raised Red Sox fan, I can't argue with anything you wrote. The '98 Yankees were a hell of a team! Head-to-head against …
---
Best All-Time SEC Baseball Coach | Best All-Time SEC Baseball Player | Best All-Time SEC Baseball Program | Best All-Time SEC Baseball Team | Best SEC Baseball Rivalry | History of SEC School Mascots | Origins of SEC School Colors | Best All-Time Baseball Rivalry |
---
From Best All-Time Major League Baseball Team to SEC Baseball | SEC Sports Blog | SEC Football | SEC Football Blog | SEC Basketball | SEC Basketball Blog | SEC Women's Basketball | SEC Track and Field | SEC Swimming and Diving | SEC Tennis | SEC Golf | SEC Gymnastics | SEC Soccer | SEC Softball | SEC Volleyball | Best College Sports Conference | College Football Bowl History | BCS Controversy | SEC vs Big Ten Debate | SEC Sports News | Current SEC Sports News | SEC Sports Pictures and Videos | SEC Sports Fan Forum | College Sports Blogs | College Football Association | SEC Sports Fan Trips | College Sports Gift | Fathead | College Sports Tailgate Party Shop | College Sports Merchandise | College Sports Apparel | SEC Sports Fan Store | SEC Football Tickets |
---
Home Page

About Us | Contact Us | Site Search | Advertise | Terms of Use |
---