Are you looking for a great book about the early years in college football history? If so, I have found the book for you.
The title is
Stars of an Earlier Autumn: College Football from 1869-1936
and it is due to be published on November 6, 2007. It is written by Tex Noel, one of the leading college football historians in America. His research is often quoted and has been published in many places - including USA Today and ESPN.com. Tex has a passion for college football statistics research. He has spent decades doing it. And, his years of work have culminated in this masterpiece.
Stars of an Earlier Autumn documents the many stories and records that were established in college football between 1869 and 1936. These were the formative years of the sport that has grown to become arguably the most important sport in America today.
Unfortunately, the early years of college football are largely forgotten and unknown. Tex has done a great service to the sport and to each of its fans by documenting its early history - before it was forever lost.
How did Tex Noel find the information he documents? He spent over 17 years researching school record books, newspaper accounts, audio interviews, and various other publications to uncover many, otherwise unknown, all-time game, season, and career marks for all statistical categories.
The book has numerous lists and ratings of teams and players that played in eras when national football rankings were sporadic and scores were often astronomical. However, the most interesting parts of the book are the stories and anecdotes that are uncovered.
There is a particularly interesting eyewitness account of the very first college football game (between Princeton and Rutgers). This first game was played with a rugby ball that players lifted and ran some "unusual" plays. So, it was from a game of rugby that football first evolved.
Stars of an Earlier Autumn discusses how college football became entwined with American culture, such as how it was used during the Great Depression to raise money to assist the needy.
The book contains many interesting insights into the origins of various aspects of college football that we take for granted today. For instance, it is interesting to read about how players in that earlier era transferred schools frequently and how that often led to eligibility disputes between colleges. Those issues, in turn, led to the current "National Letter of Intent" and other procedures that today govern college football eligibility.
SEC football may be the best today, but there was time when the Ivy League dominated. The author does a great job of giving the Ivy League the credit it deserves for developing our modern game. [You can read more about Ivy League football at
SEC vs Ivy League Football
.]
The book enlightens us with details you won't find anywhere else about the accomplishments and contributions of the many early stars of college football. Some of the names you'll read about include:
Parke Davis


Walter Camp


Sammy Baugh


Chris Cagle


Jim Thorpe


Jess Neely and,


Bobby Wilson


If some of these names don't ring a bell - you should read this book. If they do ring a bell, you will appreciate reading this book.
Thanks to Tex Noel, college football fans will forever have a window they can look through to see the early, formative years of American college football.
If you are interested in purchasing Stars of an Earlier Autumn, clicking the link below will take you to the best place to do it:
If you are in need of assistance with some independent StatResearch you are compiling, you can contact Tex directly through using the form located at
SEC Football Statistics
.
---
Here's a great place to find other
college football books and videos
. If you are interested in early college football history -- take our poll of the best SEC football team ever at
Top All-Time SEC Football Team Survey
.
Check out STARS Table of Contents
College Football Stars of an Earlier Autumn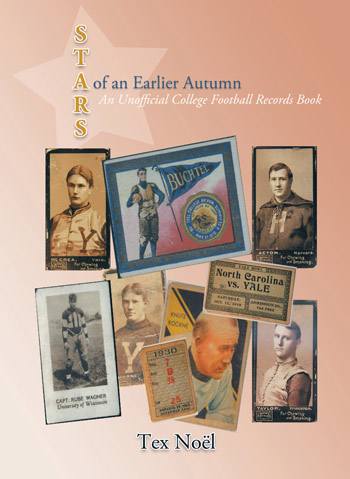 Thanks
---
SEC vs ACC Football
SEC vs Big Ten Football
SEC vs Big 12 Football
SEC vs Pac-10 Football
SEC vs Big East Football
SEC vs Ivy League Football
SEC vs Big Ten Debate
Best SEC Sports College
Top College Fan Attendance Conference
Best College Basketball Conference
Best All-Time NCAA College Football Player
Best All-Time NCAA College Football Coach
Best All-Time NCAA College Football Team
Biggest All-Time College Football Rivalry
Most All-Time College Football Rankings
Top College Football Bowl Conference
Top All-Time College Football Conference Record
Top All-Time NCAA College Football National Championship Conference
Top College Football Fan Attendance Conference
Top College Football Revenue Conference
---
From Great Early College Football History Book to SEC Sports
|
SEC Sports Blog
|
SEC Football
|
SEC Basketball
|
SEC Women's Basketball
|
SEC Baseball
|
SEC Track and Field
|
SEC Swimming and Diving
|
SEC Tennis
|
SEC Golf
|
SEC Gymnastics
|
SEC Soccer
|
SEC Softball
|
SEC Volleyball
|
Best College Sports Conference
|
SEC vs Big Ten Debate
|
SEC Sports News
|
Current SEC Sports News
|
SEC Sports Pictures and Videos
|
SEC Sports Fan Forum
|
College Football Association
|
SEC Sports Fan Trips
|
College Sports Tickets
|
Fathead
|
College Sports Tailgate Party Shop
|
College Sports Merchandise
|
College Sports Apparel
|
SEC Sports Fan Store
|
---
Return to Home Page
About Us | Contact Us | Site Search |
---