Biggest All-Time Tennis Rivalry
There have been a number of tremendous rivalries that have taken place over the course of tennis history, and those rivalries have included some great rivalries in men's tennis as well as one particularly tremendous rivalry in the arena of women's tennis.
Some of these tremendous rivalries include the rivalry between Andre Agassi and Pete Sampras, the rivalry between Jimmy Connors and John McEnroe, the rivalry between Boris Becker and Ivan Lendl, and, in more modern days, the rivalry between Roger Federer and pretty much the rest of men's tennis.
And one cannot discuss rivalries without mentioning what may be the 2nd best rivalry of all time, the match up between Martina Navratilova and Chris Evert. However, as great as this rivalry was, it does not take the prize as best rivalry in tennis history. That honor goes to the rivalry between Bjorn Borg and John McEnroe.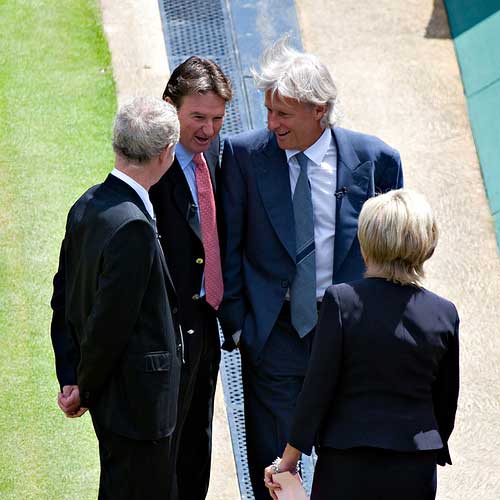 Thanks to bluemoose at flickr.com for this photo of Bjorn Borg, John McEnroe and Jimmy Connors being interviewed on Centre Court just before the 2007 Wimbledon Finals between Roger Federer and Rafael Nadal.
---
The Borg-McEnroe rivalry came at a perfect time for the sport of tennis. It came during the late 1970's and early 1980's, a period of time in which, domestically, pro-American sentiment was at a nearly all-time high, and a rivalry that included one American and one European was considered appointment viewing.
It also came at a time when tennis was expanding from a fun game to play to a sport that people chose to watch, both in person and on television. More events than ever were being televised and more people than ever were attending them.
Borg and McEnroe were joined by Jimmy Connors as the 3 preeminent men's tennis players at the time in what in retrospect was probably the "golden era" of men's tennis. Such different and entertaining personalities all playing at the same time. While all were tremendous, and great rivalries formed between all of them, the Borg-McEnroe rivalry was particularly special.
One reason why this rivalry was so remarkable was probably because of the remarkable contrasts in the personalities of the two men. Bjorn Borg carried himself with stoicism on the court. He was steely nerved, and rarely lost his cool during his matches. He was even given the nickname "Ice Borg" as a result of his ice cold demeanor. Meanwhile, McEnroe was anything but rigid. He was a firestorm on the court, throwing caution to the wind in regards to his emotions, often letting his opinions be heard loudly to the judges and umpires. His nickname, in sharp contrast, was "McBrat".
Borg's career peak was slightly earlier than McEnroe's, which also fed into the rivalry, in the sense that it seemed as if McEnroe was trying to "steal" the top ranking from Borg. This was first noticed in 1979, when Borg had his finest year, beginning and ending the year with the #1 ranking. It was also during that year that John McEnroe made one his first biggest splashes, winning the US Open in a year that Borg otherwise dominated.
In the following year, 1980, Borg faced off directly with McEnroe at Wimbledon, a tournament that Borg had won in the 2 years prior. The end result was an epic match that ended in a 5 set Borg win, but the end result was that the rivalry was officially ON -- the biggest all-time tennis rivalry.
Over the next few years, the two met regularly, with nearly every match up resulting in a hard fought, close contest. McEnroe ultimately got the last laugh, with a 1981 US Open win that, many observers believe, marked the beginning of the end for Borg.
---
Want to read about Pete Sampras, the best tennis player ever (well that's what we think)? Check out Best All-Time Tennis Player.


Don't forget to read about the following rivalry pages,
What do you think?

We'd love to hear your comments and/or opinions. If you submit them here, other visitors can read them, rate them and comment on them. An e-mail address is not required.

What Other Visitors Have Said
Click below to see contributions from other visitors to this page...

tennis rivals -- Chris vs Martina Not rated yet
the evert - navratilova rivalry was the best ever. it was something else! the the borg mcenroe...........i think the evert navratilova rivalry was …
---
Alabama Crimson Tide Tennis | Arkansas Razorbacks Tennis | Auburn Tigers Tennis | Florida Gators Tennis | Georgia Bulldogs Tennis | Kentucky Wildcats Tennis | LSU Tigers Tennis | Mississippi State Bulldogs Tennis | Ole Miss Rebels Tennis | South Carolinaa Gamecocks Tennis | Tennessee Volunteers Tennis | Vanderbilt Commodores Tennis |
---
From Biggest All Time Tennis Rivalry to SEC Sports | SEC Sports Blog | SEC Football | SEC Basketball | SEC Women's Basketball | SEC Baseball | SEC Track and Field | SEC Swimming and Diving | SEC Tennis | SEC Golf | SEC Gymnastics | SEC Soccer | SEC Softball | SEC Volleyball | Best College Sports Conference | SEC vs Big Ten Debate | SEC Sports News | Current SEC Sports News | SEC Sports Pictures and Videos | SEC Sports Fan Forum | College Football Association | SEC Sports Fan Trips | College Sports Tickets | Fathead | College Sports Tailgate Party Shop | College Sports Merchandise | College Sports Apparel | SEC Sports Fan Store |
---
Return to Home Page
About Us | Contact Us | Site Search |
---