Best Golf Rivalry of All Time

Young golf fans will probably consider, as the best golf rivalry of all-time, the current rivalry that pits the superstar of today's game Tiger Woods against the worthy left-handed challenger Phil "Lefty" Mickelson. The Woods-Michelson rivalry continues to grow and has taken on a renewed and deepened intensity now that Mickelson has ended his Major's jinx and is finally winning against Woods on some of the biggest stages.
However, the ultimate, and biggest, all-time golf rivalry can be none other than the great rivalry that existed between Jack Nicklaus and Arnold Palmer.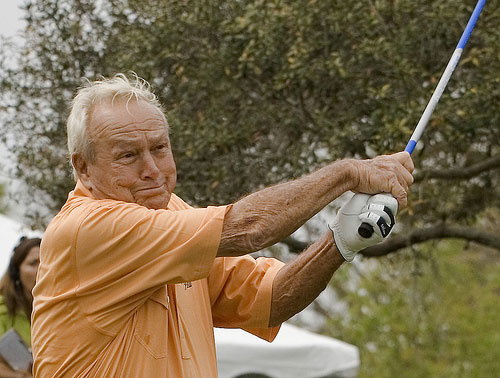 Arnold Palmer after swing at his Bay Hill Invitational in March 2007.
Thanks to GrandmaDee at flickr.com for the picture.
---
The Nicklaus-Palmer rivalry was intriguing in that, while there was definitely a period of time during which both were playing an extremely high level of golf, in many ways, it was almost a changing of the guard.
When Nicklaus entered the professional golf arena, Palmer was the man on top; the player who was widely considered to be the best player in the game. However, Nicklaus rapidly asserted his presence on the game, and took away that title. The rivalry essentially consisted of this power shift.
Great NEW Nicklaus vs Palmer book
The Nicklaus-Palmer rivalry came at a critical time for the sport of golf, and paved the way for golf becoming the sport it is today. This was especially true in regards to fan interest, and particularly, in regards to television.
Palmer was a fan favorite, but it was not until the arrival of Jack Nicklaus, and the subsequent fervor over the fierce competition that existed between these two quite evenly matched golfers, that fans viewed these televised matches in droves, and televised golf became a mainstay of sports broadcasting.
One of the best aspects of this rivalry is that it was conducted in a respectful and gentlemanly manner. Arnold Palmer, despite being the veteran who had essentially earned his stripes, never seemed resentful of Jack "The Golden Bear", at least publicly.
Both combatants treated each other with the utmost of respect, and that made this rivalry that much more enjoyable to watch. This was particularly telling, and a credit to the character of Palmer, in that the new kid on the block, Nicklaus, quite quickly moved past Palmer on the PGA pecking order, eventually winning a staggering 18 Major Championships; easily outnumbering Palmer's total of 7.
According to most impartial observers, the rivalry between Jack Nicklaus and Arnold Palmer reached its pinnacle at the 1962 U.S. Open at Oakmont. It was here that Jack Nicklaus, with the great college football coach, Woody Hayes, rooting him on from the gallery, overcame a 3 shot deficit to Arnold Palmer to ultimately force a playoff.
Nicklaus then battled the great Palmer, and also dealt with the rabid supporters of Palmer, known affectionately throughout the golfing world as "Arnie's Army," and eventually beat Palmer in the 18 hole playoff 71 to 74.
That tournament marked the turning point in their rivalry. Despite the fact that Palmer still maintained a high level of play for many years to come; from that point on, Jack "The Golden Bear" Nicklaus clearly had the upper hand in their rivalry. Nicklaus was the player on rise, while Palmer was on his slow ride down from the top. A ride that was still peppered with successes along the way.
In the end, few golf fans (other than very youngest) have any doubt that Arnold Palmer vs Jack Nicklaus was the greatest golf rivalry in history.
---
We think Jack Nicklaus was the greatest golfer ever. To read why, check out Best All-Time Golfer.
Want to read about other great sports rivalries? You can right here:
Looking for Golf News and a great Golf Blog? If so, check out Golfblogger.
What do you think?

We'd love to hear your comments and/or opinions. If you submit them here, other visitors can read them, rate them and comment on them. An e-mail address is not required.

---
Alabama Roll Tide Golf | Arkansas Razorbacks Golf | Auburn Tigers Golf | Florida Gators Golf | Georgia Bulldogs Golf | Kentucky Wildcats Golf | LSU Tigers Golf | Mississippi State Bulldogs Golf | Ole Miss Rebels Golf | South Carolina Gamecocks Golf | Tennessee Volunteers Golf | Vanderbilt Commodores Golf |
---
From Best Golf Rivalry of All Time to SEC Sports | SEC Football | SEC Basketball | SEC Women's Basketball | SEC Baseball | SEC Track and Field | SEC Swimming and Diving | SEC Tennis | SEC Golf | SEC Gymnastics | SEC swimming and diving | SEC Softball | SEC Volleyball | Best College Sports Conference | SEC vs Big Ten Debate | SEC Sports News | SEC Sports Blog | SEC Sports Fan Forum | Tickets | Fan Trips | Fan Store |
---
Return to Home Page
About Us | Contact Us | Site Search |
---