2008 Tennessee Volunteers Soccer
---
If you are looking for our Current Tennessee Volunteers Soccer page, check out Tennessee Volunteers Soccer.
---
Congrats to Tennessee Volunteers Soccer
-- for hanging tough through the season and coming back to WIN the 2008 SEC Soccer Tournament Championship!!
Tennessee Vols soccer has definitely come into its own in recent years. Since 2002, Tennessee has landed five appearances in both the NCAA and NSCAA Championships, making it to the third round four times, and has even managed to put three SEC Championships under their belt.
Last season the Lady Vols Soccer team ended up 15-5-2; 8-2-1 in the SEC. They got a #3 seed in the 2007 NCAA Soccer Tournament and won two games, making it to the "Sweet 16" before losing to Portland.
This year, UT's soccer team has the 2007 SEC Offensive Player of the Year, senior forward Kylee Rossi. Rossi is Tennessee's all-time leading goal scorer with 30 career strikes. The Lady Vols also have a NSCAA third-team All-American in senior goalkeeper Jaimel Johnson. Both Rossi and Johnson were Preseason All-SEC soccer players.
However, so far things have been tough for Tennessee soccer in 2008. They have had a tough schedule, facing nine teams that reached the 2007 NCAA tournament including 18-time national champion North Carolina. They lost to UNC. They also have already played the top 3 teams in the SEC; losing to Florida and South Carolina, but beating LSU.
Still, we think the Lady Vols are a talented bunch and will come through this OK. We think they'll end up 3rd in the SEC East and make it to the NCAA Tournament. In the end, 2008 will be a winning season for Lady Vols soccer. But, not a great one.
Discussion of last year's team:
With an impressive 12-7-4 season last year and a trip to the NCAA Sweet 16, the Lady Vols had a great 2006 season. Tennessee ranked twenty-third in the nation last year according to Soccer Times, with some big wins over Duke and UAB. Kylee Rossi led the team with twenty-five points and landed a place on the Top Drawer Soccer National Team and a selection to the Soccer Buzz All-Central Region. Rossi was also one of four SEC athletes to be recognized by the NSCAA last year.
After such an impressive 2006 season, Tennessee Volunteers soccer is coming back better than ever this year with eight returning starters and an impressive new recruit class. Many players spent most of the summer playing on league or club teams, fine tuning and improving their skills for the 2007 season.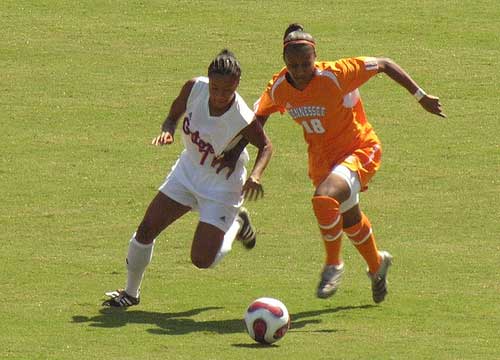 Florida's Ameera Abdullah battles Tennessee's Erica Griffin for control of the soccer ball.
Thanks to bobbyuggles at flickr.com for the picture.
---
Kylee Rossi, who was also the Southeastern Conference (SEC) Offensive Player of the year in 2006, will no doubt make a huge impact on the team playing hard at both forward and midfield. Emily Redberg should also be successful this year after having to wait an entire season to play. She had five goals and thirteen points in 2005 and will likely be a big contributor to Tennessee Volunteers soccer.
Redberg, Rossi, and Jaimel Johnson (Goal Keeper) were all picked for the 2007 All-SEC Preseason Team.
Many of the upcoming sophomores have never played, so it will be interesting to see how well they fare this season. If they are able to rise to the challenge, the Lady Vols could have a tremendous team. With the talent and experience that Tennessee possesses, there is no question that the team will have a winning season again this year. They also have a good shot at going far in both the SEC and NCAA Tournaments.
Tennessee has a lot to brag about when it comes to the 2007 team, which has landed at number four in the Central Region's best recruiting classes. Hand-picked by head coach Angela Kelly, the six new players, two of which are ranked in the top 150 recruits for 2007, seem to be creating a stellar team of athletes. Tennessee is ranked 24th nationally by the NSCAA/Adidas College Soccer Poll.
Some of Tennessee's veteran players are also making headlines; most notably, Rossi was named to the 2007 watch list for the M.A.C. Hermann Trophy. She is one of forty-five hopefuls named as a trophy contender. The M.A.C. Hermann Trophy is awarded to the top male and female student-athlete in Division I of the NCAA and is considered one of the highest individual awards. Rossi has also been playing for the W-leagues U-21 teams over the summer.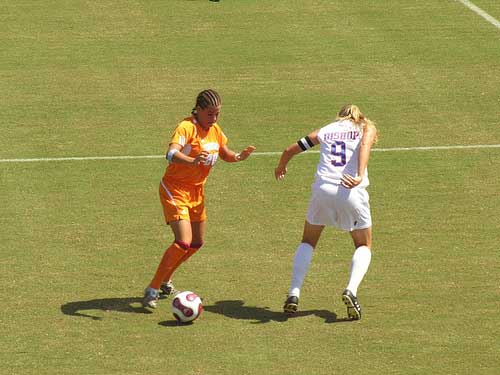 Tennessee soccer player dribble.
Thanks to bobbyuggles at flickr.com for the picture.
---
Prediction:
Tennessee will challenge Florida for the top spot in the SEC. Tennessee will finish second to Florida in the regular season, but win the SEC Tournament and win at least two games in the NCAA tournament. 2007 will be a great year for Tennessee Volunteers Soccer.
Tennessee Volunteers fans get your
Merchandise and Apparel
,
Tennessee Vols Fathead
,
Tickets
, and
Baseball Caps
.
---
Check out 2009 Tennessee Volunteers Soccer.
What do you think?

We'd love to hear your comments and/or opinions. If you submit them here, other visitors can read them, rate them and comment on them. An e-mail address is not required.

2007 Tennessee Volunteers Soccer Schedule:
Aug 18 Carson-Newman (Exhibition) 7:00 PM Home
Aug 21 Louisville (Exhibition) 5:00 PM Home
Aug 31 UCF vs. Minnesota (Lady Vol Classic) 5:30 PM Home
Aug 31 Penn State (Lady Vol Classic) 8:00 PM Home
Sept 02 Penn State vs. UCF (Lady Vol Classic)10:30 AM Home
Sept 02 Minnesota (Lady Vol Classic) 1:00 PM Home
Sept 07 Virginia Tech 5:30 PM Away
Sept 09 Wake Forest 1:00 PM Away
Sept 14 Nebraska 4:00 PM Away
Sept 16 USC 4:00 PM Away
Sept 21 UNC Greensboro 7:00 PM Home
Sept 27 South Carolina 8:00 PM Home
Sept 30 Florida 2:00 PM Home
Oct 05 LSU 8:00 PM Away
Oct 07 Arkansas 2:00 PM Away
Oct 12 Kentucky 7:00 PM Away
Oct 14 Vanderbilt 3:00 PM Away
Oct 19 Ole Miss 7:00 PM Home
Oct 21 Mississippi State 2:00 PM Home
Oct 25 Alabama 8:00 PM Away
Oct 28 Auburn 2:00 PM Home
Nov 02 Georgia 7:00 PM Away
2007 Tennessee Volunteers Soccer Roster:
Molly Baird GK
Mia Boyd M
Molly Delk M
Julie Edwards F
Tanya Emerson M
Jordan Falcusan D
Anna Fisher F
Erica Griffin D
Ali Halverson F/M
Mich Imgram M
Sarah Jackyra M/D
Jaimel Johnson GK
Sarah Kitchin GK
Ashley Owens F
Hayley Prendergast F/M
Emily Redberg F
Kylee Rossi F/M
Kyrstin Smith M
Melissa Seros D
Devon Swaim F/M
Kelsey Troutman
Sarah Van Sickle D/F
Leslie Vineyard M
Alissa VonderHaar M
---
Return to Home Page
Alabama Crimson Tide Soccer
Arkansas Razorbacks Soccer
Auburn Tigers Soccer
Florida Gators Soccer
Georgia Bulldogs Soccer
Kentucky Wildcats Soccer
LSU Tigers Soccer
Mississippi State Bulldogs Soccer
Ole Miss Rebels Soccer
South Carolina Gamecocks Soccer
Vanderbilt Commodores Soccer
From Tennessee Volunteers Soccer to SEC Sports
SEC Football
SEC Basketball
SEC Women's Basketball
SEC Baseball
SEC Track and Field
SEC Swimming and Diving
SEC Tennis
SEC Golf
SEC Gymnastics
SEC Soccer
SEC Softball
SEC Volleyball
Best College Sports Conference
SEC vs Big Ten Debate
SEC Sports News
SEC Sports Blog
SEC Sports Fan Forum
Tickets
SEC Sports Fan Trips
SEC Sports Fan Store
About Us
Contact Us
Site Search
---