Bluegrass is a beautiful thing and makes for a beautiful landscape however at least according to the Lady Wildcats of Kentucky it may not make the best soccer playing surface. This realization comes on the heels of a season in which the Lady Wildcats struggled to get their footing finishing the season with a 5-12 record overall and never winning more than a single game in a row.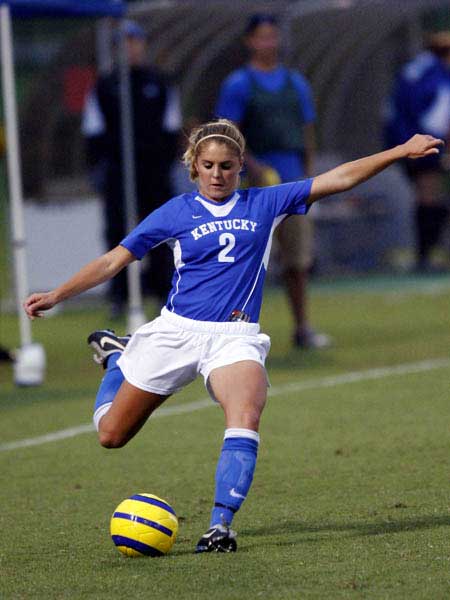 Lady wildcats soccer kick.
Thanks to ukathletics for the photo.
---
Indeed, the Lady Wildcats had a challenging schedule. There is no denying that when four of your first five games in a season are against ranked nonconference opponents it's also not surprising that the team lost four of its first five games. However, even following that difficult start, the Lady Wildcats never really were able to get into a groove, winning only five out of 19 games over the course of the season. There were some highlights, however, over the course of 2008. The team managed a season ending win in double overtime over Vanderbilt, and also managed an overtime win over Mississippi State two games prior. However, the biggest game of the season may have actually been a loss, that being a strong but unsuccessful performance against the Lady Gators early in the SEC season.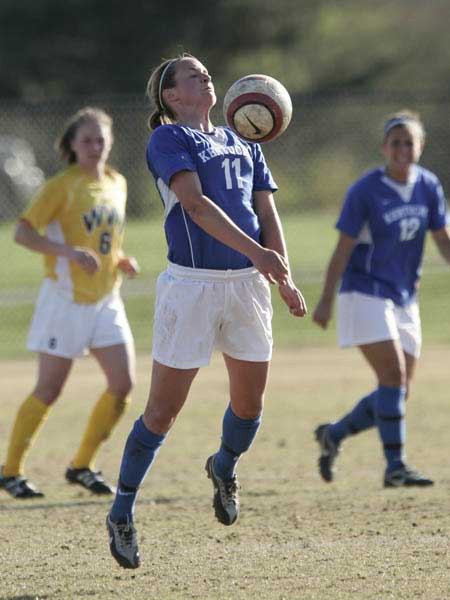 Kentucky soccer player hits ball off.
Thanks to ukathletics for the photo.
---
***ads-468x60.shtml***
The Lady Wildcats may have a difficult time putting points on the board in 2008. No player scored more than six goals or more than 13 points total for the season, and in fact only two players even managed double digit point totals. The two leading scorers for the Lady Wildcats were Laura Novikoff (she managed six goals and 13 total points), and Nicole Holdsworth (she managed five goals and 13 total points). The only other player with more than three goals on the season was Giuliana Lopez, who scored four. Much of the credit for keeping of the team in games in which he was having trouble scoring must go to goaltenders Sydney Hiance. Hiance, in her 15 games started, only allowed 1.75 goals per game. Hiance was backed up by Laura Burton, who started five games and a lot a similar goals average of 1.84.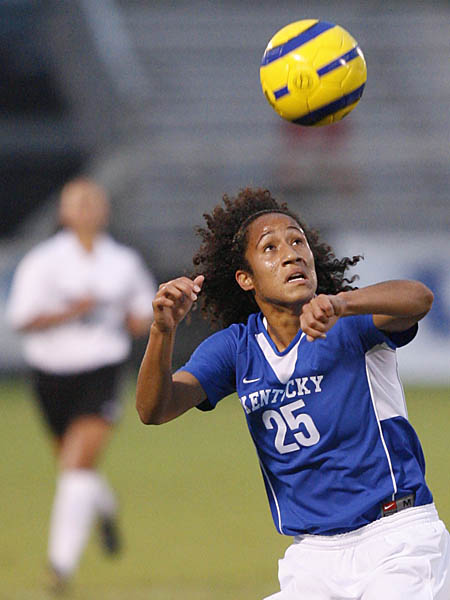 Lady Wildcat heads soccer ball.
Thanks to ukathletics for the photo.
---
Now what remains to be seen is whether 2008 represents merely a valley in the fortunes of this otherwise fine program, or if it is in fact the beginning or the continuation of a decline which may ultimately entrench the program at or near the bottom of the conference. Indeed this team which began play back in 1992, was once one of the elite programs in the SEC. After the debut season's record of 8-10-1, the team went to 13-7 in its second season, and a couple seasons after that they took their success to a new level. In 1995, the team went 17-7 (6-2 in the SEC).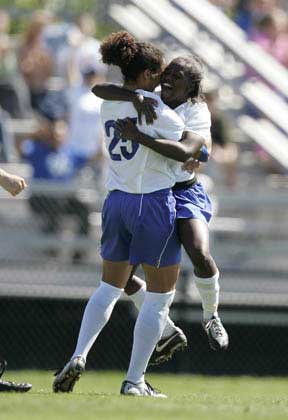 Kentucky Lady Cats soccer celebration.
Thanks to ukathletics for the photo.
---
The team followed that up with another strong season in 1996 before slumping a bit in 1997 and 1998. The however in 1999, Kentucky soccer may have had among its finest hours. The team amassed a record of 16 wins against only three losses along with two ties. The team also went 8-1 in the SEC. Following that campaign the team posted three more winning seasons in a row, and then after another brief down spell, the team returned to success in 2006.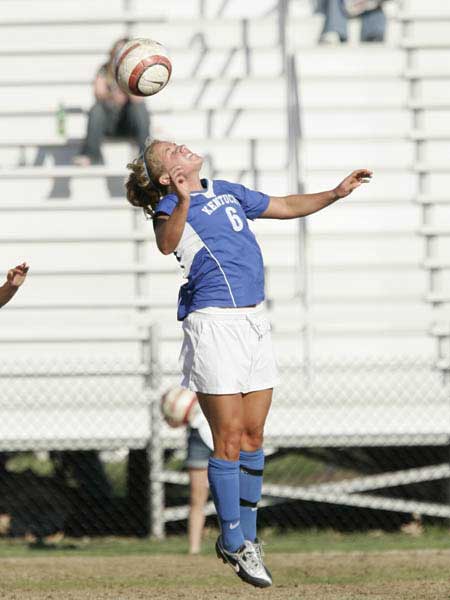 UK soccer player heads the ball.
Thanks to ukathletics for the photo.
---
Based on this cycle of this program in years past, is not unreasonable to conclude that this could be yet another lull for the program, and that it may be headed for an upswing shortly. However 2008 may have been one of the programs worst seasons ever, and a quick return to glory certainly cannot be expected.
Get the wildest Kentucky Wildcats
Tickets
,
Baseball Caps
and other fantastic
Merchandise and Apparel
here.
---
---
If you are looking for our 2008 Kentucky Wildcats Soccer page, check out 2008 Kentucky Wildcats Soccer.
---
What do you think?

We'd love to hear your comments and/or opinions. If you submit them here, other visitors can read them, rate them and comment on them. An e-mail address is not required.

---
Return to Home Page
Alabama Crimson Tide Soccer
Arkansas Razorbacks Soccer
Auburn Tigers Soccer
Florida Gators Soccer
Georgia Bulldogs Soccer
LSU Tigers Soccer
Mississippi State Bulldogs Soccer
Ole Miss Rebels Soccer
South Carolina Gamecocks Soccer
Tennessee Volunteers Soccer
Vanderbilt Commodores Soccer
From Kentucky Wildcats Soccer to SEC Sports
SEC Football
SEC Basketball
SEC Women's Basketball
SEC Baseball
SEC Track and Field
SEC Swimming and Diving
SEC Tennis
SEC Golf
SEC Gymnastics
SEC Soccer
SEC Softball
SEC Volleyball
Best College Sports Conference
SEC vs Big Ten Debate
SEC Sports News
SEC Sports Blog
SEC Sports Fan Forum
Tickets
SEC Sports Fan Trips
SEC Sports Fan Store
About Us
Contact Us
Site Search
---