2012 SEC Football Predictions
Dec 05, 2012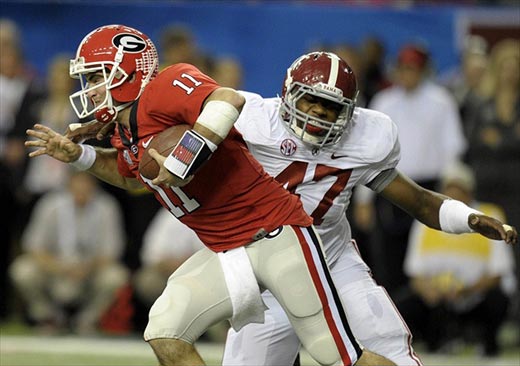 Well, the SEC has made yet another BCS Championship game, much to the dismay of everyone else outside of the Southeast. I had to laugh when Bama was knocked off by Texas A&M and all the pundits were spouting off like they had been liberated from the Evil Empire, only a week later were they back in the Gulag. I just did a Nelson from the Simpson HA-HA!!!


Dec 04, 2012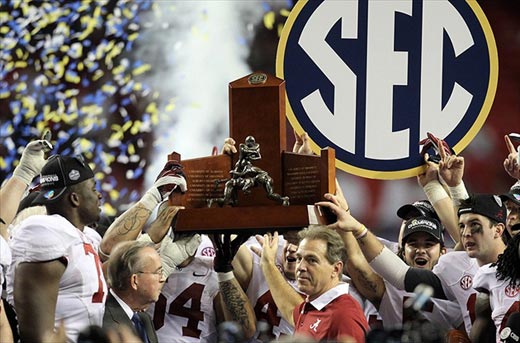 Here is my Saturday afternoon/evening last week as I watched probably the greatest SEC Championship game ever since they have been doing this sort of thing back in 1992. We spent it with some VERY hardcore Georgia fans, so needless to say, it was a night.


SEC West
1. Arkansas
The Hogs will be more disciplined this year with John L. Smith at the helm, yet still will have the explosiveness with a new core of receivers and Tyler Wilson back. They got to keep on the coaching staff that got them nearly to the top last year and just lost who may have been too distracted to lead them in their head Coach who's name you dare not speak. His brother is still on as the offensive coordinator so all of those wonderful plays are still there. They get back Knile Davis and will have a much stronger running game as they have their returning backs to spell him. They got some recruits on defense and look way more athletic this year. If there ever was a year, this is the year that Arkansas has been waiting for.
2. Alabama
Even losing a bunch of players does not affect head coach Nick Saban. He simply reloads. His style puts people in the pros. This was obvious in this years draft with four in the first around and another in the 2nd. The man is a genious. This may be why he seems so aloof some of the time. The Tide has a decent looking schedule. They open with Michigan, then a game they should win easily, but after that it's Arkansas in what may be the game for the division.
3. LSU
I simply feel that Les Miles won't have the luck this year. I just don't think you can use the gadget plays and get away with winning that way for three years in a row. I know he is a good coach and I know he gets a crowd pumped up, but he baffles me. They definitely have talent and speed. They are going to have to clear up their Quarterback situation and decide on a clear cut offense. I think the potential is there, but with a tough schedule that faces a lot of top contenders I don't see it happening.
4. Texas A&M
I put A&M here because I feel they can beat the weaker SEC teams and they have a very light out of conference schedule. They have some growing to do in the way they recruit before they compete with the big boys, but they are a good addition to the conference and we should be excited they are here. The loss of Tanneyhill will hurt, and replacing him will be the biggest task this spring and summer.
5. Auburn
Auburn needs to find an identity again. They have good talent, but they seem to be running around like chickens with their heads cut off. They don't know who they want at quarterback or at what time, they switch runningbacks too much and I hope they went out and recruited better tight ends and receivers. The defense is solid and can get them a bowl bid, but not a very good spot in this tough conference.
6. Mississippi State
They have a favorable early season schedule to build up confidence and that is their only hope. If they can get better in the first three to five weeks then they may be able to come up and bite someone unexpectedly later on in the season. They have a murderer's row at the end with LSU, Arkansas and Alabama coming and they need to get ready. They do have some returning talent and need to rely on that leadership.
7. Ole Miss
Coach Freeze has some work ahead of him. It appears as though Houston Nutt has left a mess for someone else to clean up again. In Arkansas Bobby Petrino had to suffer through a losing season before beginning a new tradition and I would imagine it won't be much different for Coach Freeze. I have no doubt that his coaching ability will allow for the players to play hard and for them to play smart, the smart thing is not Nutt's strong point. He will get them to execute. You could tell last year that they looked confused. I don't want to say that Nutt is not smart, I want to say that I don't think he knows how to teach it. Freeze has a bit of talent and may surprise someone, but it won't be often.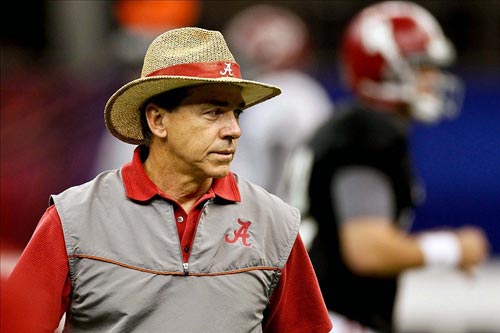 Alabama Crimson Tide head coach Nick Saban during a team practice for the 2012 BCS national championship game to be played against the LSU Tigers at the Mercedes-Benz Superdome. Photo Courtesy By: Derick E. Hingle-US PRESSWIRE.
---
SEC East
1. Georgia
Georgia has quite a bit returning and with Aaron Murray they should be flying high in the weaker East division. They have the schedule behind them as well as a young team that Coach Richt can guide. I am a major fan of his and believe he can lead these men to the SEC Championship and let the chips fall where they may between them and Arkansas.
2. Florida
I am only predicting Florida to lose three games this season, but one happens to be to Georgia. If somehow they can get past Georgia they may be in the SEC championship game. While Vanderbilt made a good run at it last year, I think they will drop off and with South Carolina being punished by the SEC I believe they will be in a two team race for the East.
3. Vanderbilt
Vanderbilt has a very favorable schedule and there are a lot of games in it that are if games. There are games like South Carolina, Auburn, Wake Forest or games such as these that could be won, so this is a tricky one. I simply don't think they have the talent. They will certainly have the smarts, effort and execution. These things always make for close games. There is a chance, but just a chance.
4. South Carolina
South Carolina definitely has good players returning at skill positions on offense, but will the defense being hampered by the taking away of scholarships and will players leave because of the lack of postseason play? The punishments made to them will hurt. This is something that was uncalled for and I would have not thought it would have happened under Spurrier. I think that individuals may have a good year, but the team will fall.
5. Tennessee
I got a chance to watch this team last year and was not impressed. They are fairly big, but were very prone to penalties which pushed the game back and horrible on special teams. Their pass defense wasn't very good either. Of course I live in Arkansas so they were up against Wilson and three wide receivers who were just drafted in the NFL. They simply need more time under the new coach to get his type of players there, not sure he will get there.
6. Missouri
Missouri is a very dangerous team, but has the hardest schedule, perhaps of any of the East teams. They don't match up well with the in conference teams they play and the out of conference teams are pretty rough with the exception of one. They will come in with that wild spread offense and I think they could really do some things. I don't feel like they are ready to play with the speed and size in the SEC yet though. Let them recruit, and I will put them around number 2 or 3 of this list guaranteed.
7. Kentucky
Kentucky will not be here for long. I could easily see them up as far as 4th. I put them here because, to me, they are the biggest question mark in the SEC. They have been for years. They are always so up and down. If they ever get some consistency about them then they may get to a point of getting to bowl games very often.
Here's some early, pre-season 2012 College Football Predictions.
Will the Southeastern Conference win the BCS Title again? Here's our 2012 SEC Football Preview and Predictions.
---
New! Facebook Comments
Leave a comment about this article in the box below and share it with your Facebook friends.
---
What do you think?

We'd love to hear your comments and/or opinions. If you submit them here, other visitors can read them, rate them and comment on them. An e-mail address is not required.

What Other Visitors Have Said
Click below to see contributions from other visitors to this page...

scgamecocks






south carolina at 4 must be a joke right? how on earth is that possible? they are 2nd behind Georgia... a very close 2nd. watch and see
hogfan Not rated yet
I would love to see Arkansas at number one! But lets give credit where credit is due. Alabama and LSU deserve one and two until Arkansas beats them. Also …
---
Auburn - Alabama Heisman Trophy Winners | 2011 SEC Football Recruiting Summary | Tennessee Tailgate Story | My Ideas To Make College Football Better | 2010 Preseason College Football Conference Comparison | Origins of SEC School Colors | History of SEC School Mascots | College Football Books and Videos | Cam Newton For Heisman | Conference Realignment Analysis | Lane Kiffin | Alabama vs Texas BCS Championship Game Review & Analysis | Best All-Time SEC Football Coach | College Football Yesterday and Today |
---
From 2012 SEC Football Predictions to SEC Football | SEC Sports Blog | SEC Football Blog | SEC Basketball | SEC Basketball Blog | SEC Women's Basketball | SEC Baseball | SEC Track and Field | SEC Swimming and Diving | SEC Tennis | SEC Golf | SEC Gymnastics | SEC Soccer | SEC Softball | SEC Volleyball | Best College Sports Conference | College Football Bowl History | BCS Controversy | SEC vs Big Ten Debate | SEC Sports News | Current SEC Sports News | SEC Sports Pictures and Videos | SEC Sports Fan Forum | College Sports Blogs | College Football Association | SEC Sports Fan Trips | College Sports Gift | Fathead | College Sports Tailgate Party Shop | College Sports Merchandise | College Sports Apparel | SEC Sports Fan Store | SEC Football Tickets |
---
Home Page

About Us | Contact Us | Site Search | Advertise | Terms of Use |
---