SEC Bowl Game Previews and Predictions
BCS Championship Game — #2 Alabama vs. #1 Notre Dame
Well, the SEC has made yet another BCS Championship game, much to the dismay of everyone else outside of the Southeast.
I had to laugh when Bama was knocked off by Texas A&M and all the pundits were spouting off like they had been liberated from the Evil Empire, only a week later were they back in the Gulag. I just did a Nelson from the Simpson HA-HA!!!
This game will come down to the defenses, and both teams have great ones. However, give Saint Nick a month to prepare his team and they are virtually unbeatable. (Yeah, I remember the Utah Sugar Bowl, but Bama didn't give a crap, and neither did anyone else).
This one will be a lot closer than people think, but the Tide in a big game is unbeatable, and since their offense is better than the Irish (I can still see Yeldon and Lacy running up and down the field against Georgia) you have to give it to Bama once again, as well as the SEC.
Lucky seven for the SEC!
Prediction: Alabama 24 Notre Dame 10
Get your SEC Bowl Game Tickets.
Sugar Bowl — #3 Florida vs. #21 Louisville
Florida benefited from NOT playing in the SEC Championship. They would have lost, and then been relegated to either the Cap One or the Outback, so this worked out perfectly.
Louisville got here by snagging the BCS automatic bid as the Big East champs.
Forgive me while I walk out of the room to throw up.
Charlie Strong has done a wonderful job at Louisville. Then again, Strong will probably not be there when the first of January rolls around, so there could be some distractions.
Ironically, the last time Florida was in the Sugar Bowl, it was Charlie Strong's last game, so there is some nice symmetry working in the French Quarter.
Both teams got here on a so called free pass, but Florida really deserves the bid, while Louisville is on a fiscal cliff of it's own because as soon as Strong leaves, the Cardinals will be weak.
Since this is the AllState Sugar Bowl, it is fitting that Louisville is going to look a lot like that Mayhem guy in the commercials once the Gators get through with them.
Prediction: Florida 35 – Louisville 7
Capital One Bowl — #7 Georgia vs. #16 Nebraska
Everyone in Atlanta was up in arms this week when they learned that UGA was not going to the beautiful BCS, but instead, going to be headed to the SEC's chubby but cute sister, the Capitol One Bowl.
Imagine thinking you have a date with Wendy Nix, and Holly Rowe answers the door. That's how the Bulldog Nation feels right now.
I say tough dog biscuits, Dawg fans. You don't want to get slighted? Then move the ball five yards further and you won't have to worry about it.
The same thing happened to Tennessee in 2001 when they upset Florida, then lost in the SEC Championship and ended up in the Capitol One. It has happened to several other teams over the years so you have to figure this is such a screwed up system, the only thing that makes sense about it is, it doesn't make sense.
With that said, if Wisconsin can hang 70 on the Huskers, how many do you think Aaron Murray and the Dawgs will hang? 170? 770?
In the annual SEC vs. Big Ten slugfest every bowl season, I think Jim Delany better start writing out his list of excuses for why his teams get waxed.
And he will have to bring a lunch to come up with enough reasons why Nebraska will be out of this one by the time the National Anthem is played.
Prediction: Georgia 90 – Nebraska 1
(They will institute Canadian Football League rules so the Huskers can get on the scoreboard at least once during this blowout)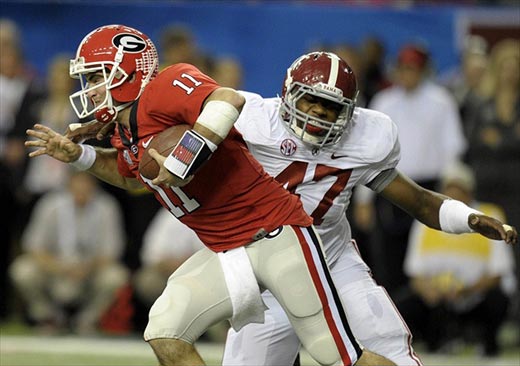 ---
Cotton Bowl — #9 Texas A&M vs. #11 Oklahoma
Great matchup as an old Big 12 conference game will be played in Big D.
Just like the Alabama loss a few years ago in the Sugar Bowl, I think Oklahoma will pull a Cliff Clavin and mail this one in. Getting punked out of the BCS by Northern Illinois is the worst loss Bob Stoops has ever had at Oklahoma.
Why would you care about this game, if a MAC school beat you out?
On the other hand, Texas A&M just finished a surprising and exciting run through the SEC, and had a chance to run the table had it not been for two second half home losses to LSU and Florida.
Since Johnny Football is on the Aggies side, and the Aggies are out to prove they belong with the other SEC powers that be, I have a feeling they get it done in Dallas.
Prediction: Texas A&M 31 – Oklahoma 17
Outback Bowl — #10 South Carolina vs. #18 Michigan
Is it just me, or does it seems South Carolina plays in the Outback Bowl every year? This will be the fourth trip since 2001 so they are familiar with the territory.
Enter a Michigan team that has caught fire under second year coach Brady Hoke. Hoke got the Maize and Blue to New Orleans where they won the Sugar Bowl last year, and now are looking for back-to-back victories to cap the season.
I really like South Carolina in this one, but I would like them better if they had Marcus Lattimore. Clowney and his buds will keep the game close, but in the end, Michigan will spring the upset. This is one Jim Delany will not have to make excuses for.
I just hope whomever tries to interview Hoke after the game has their head on a swivel incase cute little Holly Rowe comes slashing in with a forearm to clear a path.
Prediction: Michigan 31 – South Carolina 27
Chick-Fil-A Bowl — #8 LSU vs. #14 Clemson
This one will probably be the most entertaining of the bowl season.
Tajh Boyd, Andre Ellington and DeAndre Hopkins will keep a very good LSU defense on their toes all night long.
On the other side of the ball, Zach Mettenberger got better as the season progressed, and that was good news for the Bayou Bengals.
As close as these teams are in talent, the deciding factor is the fact that LSU never seems to lose in Atlanta. From 1924 through 1962, the Tigers played Georgia Tech in Atlanta, and posted a terrible 2-7 record.
But starting with the inaugural Peach Bowl/Chick-Fil-A Classic in 1968, they have gone 10-1. That includes going 5-0 in the bowl game (Most games were blowouts as they outscored their opponents 147-54) and 4-1 in the SEC Championship. Throw in a victory over North Carolina in the 2010 Chick-Fil-A Kickoff game and these guys just don't lose in the Dome.
They won't lose this year, either.
Prediction: LSU 34 – Clemson 14
Gator Bowl — Mississippi State vs. #20 Northwestern
That fork you see tells all of us the Bulldogs are done. Then again, we all could see that coming right after Alabama showed them what a real football team looks like.
Prediction: Northwestern 38 – Mississippi State 21
Music City Bowl — Vanderbilt vs. North Carolina State
You have to feel for the Commodores. They posted their first eight win season since Vito Corelone was running molasses to Canada, using the trucks he and Hyman Roth owned, and made a fortune with, by the way.
Despite all of that, they still have not gotten out of the state of Tennessee for their bowl game. This will be their third bowl game since 2008 and for the first time in their history, they are going to consecutive bowl games. But once again, they are staying home.
In a de Facto home game, and given the fact the Wolfpack fired their coach, I have a feeling we are going to see something we haven't seen in a very long time.
Vandy gets their ninth win of the year. Who would have thought that in August?
Prediction: Vanderbilt 42 – North Carolina State 17
BBVA Compass Bowl — Ole Miss vs. Pittsburgh
You have to like the job Hugh Freeze did in Oxford. He made the Rebs respectable this year and has them in a bowl game. And get this, it is not in Dallas at the Cotton Bowl.
Ole Miss was a frequent guest at the Cotton, playing there three times in the 2000's ('03, '08, '09). This time, they will travel to Birmingham to take on a Pitt team that should have knocked off Notre Dame.
The game will be held in nostalgic Legion Field in Birmingham. There is not one place on earth I would rather be in January than Birmingham. Note the air of sarcasm there?
Given the fact Pitt has a team that is capable of beating the best in the country, which Ole Miss cannot lay claim to since they fell way short of Alabama, I think Pitt gives the Rebs a lesson on what it means to play post season football.
Pitt is it, but this is just the sort of thing that Ole Miss needs to take the next step to being relevant in the SEC.
Prediction: Pitt 27 – Ole Miss 20
Get your SEC Bowl Game Tickets.
---
New! Facebook Comments
Leave a comment about this article in the box below and share it with your Facebook friends.
What do you think?

We'd love to hear your comments and/or opinions. If you submit them here, other visitors can read them, rate them and comment on them. An e-mail address is not required.

---
From SEC Bowl Game Previews and Predictions to SEC Football | SEC Sports Blog | SEC Football Blog | SEC Basketball | SEC Basketball Blog | SEC Women's Basketball | SEC Baseball | SEC Track and Field | SEC Swimming and Diving | SEC Tennis | SEC Golf | SEC Gymnastics | SEC Soccer | SEC Softball | SEC Volleyball | Best College Sports Conference | College Football Bowl History | BCS Controversy | SEC vs Big Ten Debate | SEC Sports News | Current SEC Sports News | SEC Sports Pictures and Videos | SEC Sports Fan Forum | College Sports Blogs | College Football Association | SEC Sports Fan Trips | College Sports Gift | Fathead | College Sports Tailgate Party Shop | College Sports Merchandise | College Sports Apparel | SEC Sports Fan Store | SEC Football Tickets |
---
Home Page

About Us | Contact Us | Site Search | Advertise | Terms of Use |
---