SEC Football Week 2 Review
Contact Coach Scooter at Twitter.
Week 2 in SEC Land was everything we thought it would be and then some. I missed on Auburn, bulls eyed on Bama, and what we thought might happen in Athens eventually did.
Let's begin with three fantastic finishes in the SEC:
Auburn 41 - Mississippi State 34
In a shootout that went down to the final play, Auburn wiggled off the hook once again as a heart stopping goal line stand turned the Bulldogs away twice in the final seconds to win by a touchdown.
After last week's miracle comeback, the Tigers once again found themselves with their backs to the wall, especially after it was revealed Mississippi State coach Dan Mullen was going to go for two points and the win if they had scored the touchdown.
The Maroon rushed for 333 yards and had over 500 on the day. QB Chris Relf passed for 195 yards and rushed for 106 more. Mike Dyer was the workhorse for Auburn with 150 yards rushing and two TD's.
Did anyone else notice the music blaring over the loudspeakers during timeouts? I heard, "Cum on Feel the Noize," "Crazy Train," "Rebel Yell," and "Hush." Was the Press Box Sound Dude auditioning for the head DJ position on the Don Kirshner's Rock Concert Reunion Tour?
Whatever happened to hearing the marching band? I am sure the older alumni are sitting in their seats, shaking their heads asking, "Martha, is this the Oak Ridge Boys?" "No, Earl. It sounds an awful lot like Gordon Lightfoot, if you ask me…"
Maybe the Sound Dude got spooked when Spirit, the War Eagle, swooped down and went SPALT right into a luxury box during the pre game festivities. The bald eagle was OK, and after the game, many fans were glad Spirit did not met with "Fowl" play…. (Sorry, I couldn't resist that one).
South Carolina 45 - Georgia 42
In a slugfest of Biblical proportions, South Carolina came into Athens and stole a victory from embattled coach Mark Richt and Georgia, 45-42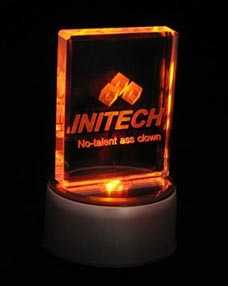 The Bulldogs were their own worst enemy as turnovers and a fake punt all lead to touchdowns. Antonio Allen returned an interception 25 yards for a score, and Stephon Gilmore's 56-yard return with a fumble set up another.
However, Melvin Ingram was the one who drove the steak through the Dawgs hearts as he scored a TD on a fake punt, and another when Jadeveon Clowney flung UGA QB Aaron Murray to the ground, causing the ball to tumble loose, where Ingram was there to scoop it up and run for a touchdown. And get this: Ingram is a DEFENSIVE END! He became the first player since 2006 to score from both sides of the ball.
Speaking of Jadeveon Clowney, he is following in the footsteps of another heralded freshman, who became a star in last year's Georgia game, Marcus Lattimore. This year, Clowney looks like he will be the making the other team look like clowns, as he will get to hand out the "Initech Ass Clown of the Game" Award to many of the offensive linemen he will see on the Gamecock schedule.
Kentucky 27 - Central Michigan 13
Fantastic, you ask? Well, is most certainly was. Why? Because when the clock read zero, it meant the game was over, and that was the most fantastic thing I have ever seen!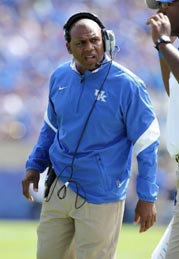 Excuse me if I am missing something here, but wasn't this supposed to be an SEC team on the field? Central Michigan led in total yards, passing yards and had a nine-minute advantage in time of possession. It looked like every time Kentucky punted the ball to the Chippewas, they held on to it for about a week.
The 'Cats were behind in the third quarter and rolled up an impressive 94 yards total offense in the first half.
In fact, Joker Phillips told the team afterward, "We'll have a team meeting tonight at 8:00. Anyone who needs to take a shower, please do."
Did you see the game? Didn't it look as if it was being shot from the International Space Station? Not necessarily a bad thing, because the game was such a stink burger, but it was ESPNU for goodness sake and some of the action looked so far away, I thought I was watching an ant farm.
One thing I did notice, however, was it must have been "Empty Seat Day," at Commonwealth Stadium as thousands of fans dressed up like empty seats. Oh those tricky Wildcats and their silly Marketing schemes!
Alabama 27 - Penn State 11
Similar to last year's demolition of the Nittany Lions, Alabama showed once again they are a team to be reckoned with as they took their circus act on the road, and behind those big grey elephants, knocked out Penn State 27-11.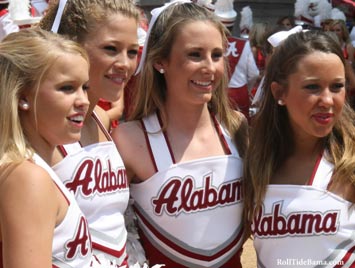 It looks like Nick Saban has found himself a QB as AJ McCarron went 19-31 with a TD and more importantly, no turnovers. "He did a nice job today," Coach Saban told the media afterwards. Translation, "He might not be Namath, but he is certainly no Freddie Kitchens…"
Is it just me, or does Bama look like they have 67 defensive players on the field at one time? Every time Penn State QB Robert Bolden looked to pass, he must have thought he was seeing the Crimson Tide team picture running straight at him. In fact, the head cheerleader even had a tackle for a loss. And that's the female cheerleader I'm talking about.
In all seriousness, there was one stretch where five straight passes were almost intercepted. On Saturday, Bama's defense was big, they were fast, and they were seriously pissed off at Penn State.
Tennessee 45- Cincinnati 23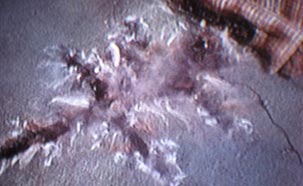 As I mentioned last week, the message boards were full of venom as fans of both schools beat their chests…er…keyboards, about what their school was going to do to the other.
I was shocked, shocked I tell you, to notice the Cincinnati fans were nowhere to be found come Sunday morning!
Tyler Bray made the Bearcats defense look like the cat from Christmas Vacation as he passed for a career-high 405 yards, four touchdowns and ran for a fifth score as Tennessee got their first win over a nonconference BCS opponent in six tries.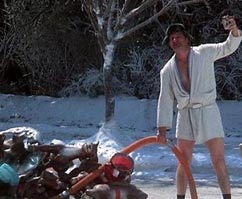 The Cincinnati offense wasn't as bad as they scored a TD on the third play of the game, but after that, it looked like Eddie, Clark's loveable brother-in-law, was sending in the plays. As Clark always says, "His heart is bigger than his brain," and it showed as the 'Cats could only manage nine points in the final three quarters.
The Vols better enjoy this one, because judgment day is coming next Saturday in Gainesville. We'll see just how far this team has come when they invade the Swamp.
Vanderbilt 24- UConn 21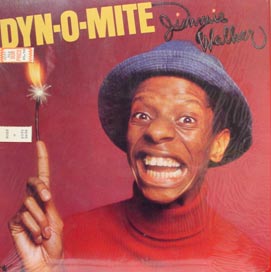 Dyno-Mite! The 'Doores rallied from a 21-14 deficit in the fourth quarter to beat Connecticut 24-21. Carey Spear kicked a 31-yard field goal with 2:56 left, and the defense managed to stop the Huskies last drive to preserve the victory.
New coach James Franklin is off to a 2-0 start, and with it, Vandy's first winning streak since 2008. That has all the fans in Nashville excited, especially closet 'Doores fan, Jimmie Walker. Walker has just released an album to celebrate the streak.
Cupcake Central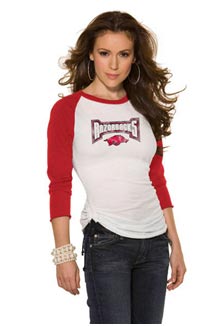 Arkansas 52 - New Mexico 3
The Hogs rolled up 52 points and over 600 yards of offense. Even Alyssa Milano scored.
And I am sure most of the Arkansas players would like to return the favor…
Ole Miss 42 - S. Illinois 24
Hotty-Toddy! Ole Miss jumped out to an early 21-0 lead, but had to get a late touchdown to seal the victory as they got past Southern Illinois 42-24.
Jeff Scott rushed for three touchdowns and scored another on a punt return as Ole Miss avenged an opening week loss and evened their record at 1-1.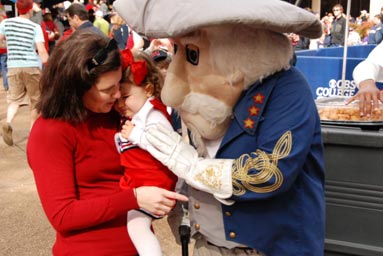 Steve Strother rushed for 116 yards for Southern Illinois, but the Salukis couldn't overcome four interceptions thrown by Paul McIntosh.
"Please don't tell anyone I am here. The suits over in the President's Office don't like me very much…" (above)
Florida 39 - UAB 0
Chris Rainey was a one man show for a second straight week as he rushed for 119 yards and made a beautiful dive backward into the end zone for a TD as the Gators tuned up for a matchup with Tennessee by blasting UAB 39-0.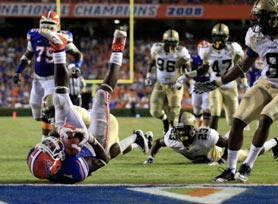 "Just doing my job, just trying to score touchdowns for the team," Rainey said.
About the only thing that went wrong for the Gators was red zone offense. Most of those points were salvaged by kicker Caleb Sturgis, who kicked three field goals, but all those could have been touchdowns.
LSU 49 - Northwestern State 3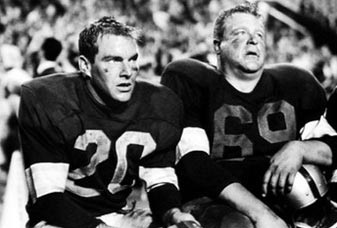 Good to see the Tigers got Gavin Grey and his old buddy Lawrence into the game in the first half. I just hope Cake wasn't bird-dogging Miss Babs. You know, Gavin can be so common sometimes.
Here's our
SEC Football Week 3 Preview .
New! Facebook Comments
Leave a comment about this article in the box below and share it with your Facebook friends.
---
What do you think?

We'd love to hear your comments and/or opinions. If you submit them here, other visitors can read them, rate them and comment on them. An e-mail address is not required.

---
Auburn - Alabama Heisman Trophy Winners | 2011 SEC Football Recruiting Summary | Tennessee Tailgate Story | My Ideas To Make College Football Better | 2010 Preseason College Football Conference Comparison | Origins of SEC School Colors | History of SEC School Mascots | College Football Books and Videos | Cam Newton For Heisman | Conference Realignment Analysis | Lane Kiffin | Alabama vs Texas BCS Championship Game Review & Analysis | Best All-Time SEC Football Coach | College Football Yesterday and Today |
---
From SEC Football Week 2 Review to SEC Football Blog | SEC Sports Blog | SEC Football | SEC Basketball | SEC Basketball Blog | SEC Women's Basketball | SEC Baseball | SEC Track and Field | SEC Swimming and Diving | SEC Tennis | SEC Golf | SEC Gymnastics | SEC Soccer | SEC Softball | SEC Volleyball | Best College Sports Conference | College Football Bowl History | BCS Controversy | SEC vs Big Ten Debate | SEC Sports News | Current SEC Sports News | SEC Sports Pictures and Videos | SEC Sports Fan Forum | College Sports Blogs | College Football Association | SEC Sports Fan Trips | College Sports Gift | Fathead | College Sports Tailgate Party Shop | College Sports Merchandise | College Sports Apparel | SEC Sports Fan Store | SEC Football Tickets |
---
Home Page

About Us | Contact Us | Site Search | Advertise | Terms of Use |
---