2008 Mississippi State Basketball
---
If you are looking for information about this year's team, go to
Current Mississippi State Bulldogs Basketball Information.
---
Congrats to Mississippi State basketball!!
The Bulldogs won the SEC West and made it to the semi-finals in the SEC tournament. Not bad.
Now the "real" college basketball season begins as MSU faces Oregon in the first round of the NCAA tournament. Their first game in March Madness is Friday in Little Rock. If they win that one, then it's on to probably face #1 seed Memphis -- also in Little Rock, on Sunday.
Tickets? See
2008 March Madness Tickets and Rebate
.
Prior Discussion:
Mississippi State Bulldogs basketball is one of the bright spots in Mississippi State athletics. The Bulldogs first won an SEC basketball championship in 1959. Since that time, they have won five more. They also won the SEC basketball tournament in 1996 and 2002. Finally, MSU has been to the NCAA tournament eight times and made it to the "Final Four" in 1996.
Mississippi State basketball had an impressive season last year, racking up a 23-14 record and tying for first (with Ole Miss) in the SEC West. In the SEC tournament, they defeated Kentucky before losing to Arkansas in the second round 81-72.
Miss. State was invited to the 2007 National Invitational Tournament (NIT) where they went through three rounds of wins before being defeated by West Virginia in the semifinals by a close 63-62 final score.
The Bulldogs look to be in good shape for the upcoming year. Junior Jamont Gordon will return for another year as a key player after hinting at opting out to join the NBA draft. Charles Rhodes will also return after being one of the best players on the team last season. Both Gordon and Rhodes have scored over 1,000 points during their tenure at State and were the top two scorers last year.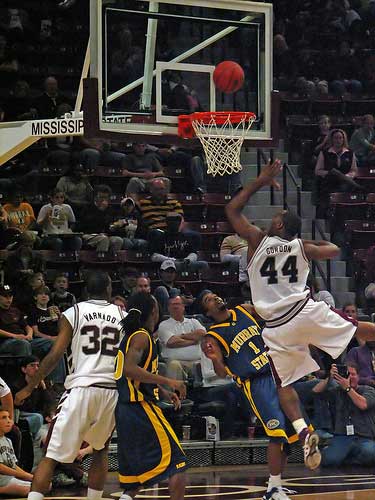 Mississippi State's Jamont Gordon makes a power move to the hoop
Thanks to rogersmith at flickr.com for the picture .
---
Billy Begley returns to the team for a fifth year under a full scholarship to finish up his successful career as a Bulldog. Coach Rick Stansbury has added Riley Benock to the team this year. The Kentucky native will lend his versatility and 6'5" stature to the "Dawgs" this year. Mississippi State junior Brian Johnson has been given the opportunity to travel to China to compete in the Reach USA program.
Mississippi State basketball will compete for the SEC West championship again. However, we think they will finish second to Arkansas. However, they'll make it to the NCAA tournament ("March Madness") this year and win their first round game.
Cheer on the Mississippi State Bulldogs with a selection of awesome
Merchandise and Apparel
,
Tickets
, and
Baseball Caps
.
---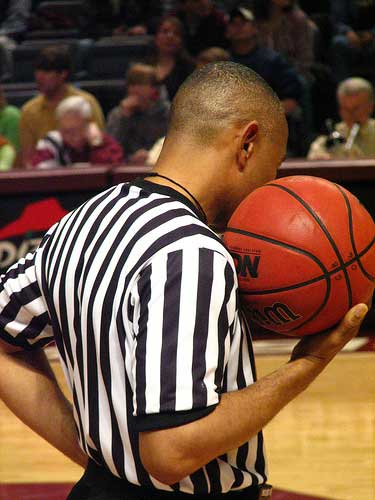 Basketball Referee before MSU game.
Thanks to rogersmith at flickr.com for the picture .
---
2007-2008 Mississippi State Bulldogs Basketball Schedule
Nov 3 Univ. of Cumberlands (Exhibition) (H)
Nov 6 Oklahoma City (Exhibition) (H)
Nov 10 Louisiana Tech (H)
Nov 15 Clemson (H)
Nov 17 Tennessee-Martin (H)
Nov 22 UC Irvine (Anaheim, CA)
Nov 23 Southern Ill/Chattanooga (Anaheim, CA)
Nov 25 TBA (Anaheim Classic)
Dec 1 Murray State (H)
Dec 8 Southeastern Louisiana (H)
Dec 13 Miami (H)
Dec 15 South Alabama (A)
Dec 19 Loyola Marymount (A)
Dec 21 Texas A&M-Corpus Christi (A)
Dec 29 Missouri (H)
Jan 5 Lafayette College (A)
Jan 9 LSU (A)
Jan 12 Georgia (H)
Jan 15 Kentucky (H)
Jan 19 Alabama (A)
Jan 26 Mississippi (H)
Jan 30 Arkansas (A)
Feb 2 Tennessee (H)
Feb 6 Alabama (H)
Feb 9 Auburn (A)
Feb 16 Arkansas (H)
Feb 20 Ole Miss (A)
Feb 23 South Carolina (A)
Feb 27 Auburn (H)
March 1 Florida (A)
March 5 Vanderbilt (A)
March 8 LSU (H)
March 13 SEC Tournament Begins Atlanta's Georgia Dome
Other Mississippi State basketball pages are at
Current Mississippi State Bulldogs Basketball
;
Mississippi State Bulldogs Basketball History
;
Mississippi State University - Starkville Trip
; and
Rick Stansbury Biography
.
2007-2008 Mississippi State Basketball Roster
2 Ravern Johnson G/F Freshman Lyon, Mississippi
3 Billy Begley G Senior Henderson, Kentucky
10 Joe Lupe G Sophomore Madison, Mississippi
11 Ben Hansbrough G Sophomore Poplar Bluff, Missouri
15 Riley Bencock G Freshman Battletown, Kentucky
21 Brian Johnson F/C Junior Laurinburg, North Carolina
22 Barry Stewart G Sophomore Shelbyville, Tennessee
23 Charles Rhodes F/C Senior Jackson, Mississippi
24 Kodi Augustus F Freshman Grenada, Mississippi
25 Phil Turner G Freshman [R] Grenada, Mississippi
32 Jarvis Varnado F Sophomore Brownsville, Tennessee
33 Brandon Bolen G Freshman Madison, Mississippi
44 Jamont Gordon G Junior Nashville, Tennessee
45 Elgin Bailey F/C Freshman New Orleans, Louisiana
What do you think?


We'd love to hear your comments and/or opinions. If you submit them here, other visitors can read them, rate them and comment on them. An e-mail address is not required.

---
Return to Home Page
Alabama Basketball
Auburn Basketball
Florida Basketball
Georgia Basketball
Kentucky Basketball
LSU Basketball
Arkansas Basketball
Ole Miss Basketball
South Carolina Basketball
Tennessee Vols Basketball
Vanderbilt Basketball
From Mississippi State Basketball to SEC Sports
SEC Football
SEC Basketball
SEC Women's Basketball
SEC Baseball
SEC Track and Field
SEC Swimming and Diving
SEC Tennis
SEC Golf
SEC Gymnastics
SEC Soccer
SEC Softball
SEC Volleyball
Best College Sports Conference
SEC vs Big Ten Debate
SEC Sports News
SEC Sports Blog
SEC Sports Fan Forum
College Sports Tickets
SEC Sports Fan Trips
SEC Sports Fan Store
About Us
Contact Us
Site Search
---