---
If you are looking for information about this year's team, go to
Current Tenneessee Vols Basketball Information
.
---
Very disappointing end for 2008 Tennessee Vols basketball. Losing to Louisville in an ugly, sloppy game that they were never really in. And, that comes after their first two lackluster wins in the NCAA Tournament.
Of course, they lost in the semi-finals of the SEC Tournament as well. So, all in all, it was an exciting and promising 2007-2008 season. It had its good moments. But, it ended in disappointment. I guess there's always next year.
Prior Discussion:
So far, so good. The Vols won the SEC Basketball regular season title -- as expected. They lost by one point in OT to Arkansas in the semi-finals of the SEC Tournament (disappointing, but not too bad). And, they got a #2 seed in the East region of the NCAA Tournament (OK). By the way, in case you were wondering -- it's official -- Tennessee played the toughest basketball schedule in the nation this year -- #1 RPI!! So, they are ready!
Now, the real season (and fun) begins. March Madness starts Friday as Tennessee plays American University. The game will be on CBS and starts at 11:15 EDT. After that, they will play the winner of Butler-South Alabama on Sunday. Assuming they survive, those games, it will get much tougher down the road as North Carolina and Louisville are also in the East.
No doubt, Tennessee is in the toughest region. However, they are close to home (Birmingham, AL Rounds 1,2; Charlotte, NC, Rds 3,4) which is nice and no team is dominant this year, so they could go all the way. Bruce Pearl and his Vols have had a wonderful season (including ranked #1 for a week for the first time ever). It will be really fun to watch them in the Tournament.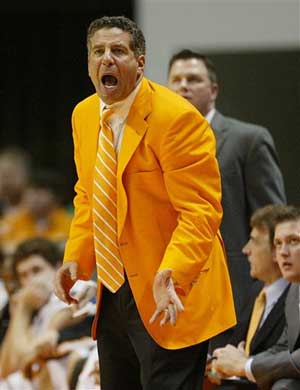 Thanks to weltal327 at flickr.com for this photo of Bruce Pearl coaching in his BRIGHT orange jacket.
---
It would be even more fun to be there in person as history is made. If you are looking for tickets, go to
2008 March Madness Tickets and Rebate
.
Even earlier prior discussion:
Tennessee Vounteers basketball has arrived! In fact, we think they will be the top team in the Southeastern Conference (SEC) this year. And that's saying something. If you don't think being #1 in SEC basketball means much, you should definitely read
Best College Basketball Conference
.
2006-2007 was a break-out season for UT men's basketball. The Vols made it all the way to the "Sweet 16" of the NCAA Basketball Tournament. And, they probably should have beaten Ohio State and gone even further.
2006 National Coach of the Year,
Bruce Pearl
, has done at outstanding job in Knoxville and has the privilege to coach a great team returning four starters from last year. Those starters include a potential college basketball player of the year - Chris Lofton.
Last year, Tennessee basketball finished with a 24-11 regular season record; including going 16-0 at home. They tied for second in the SEC East. The Vols made it to the first round of the SEC tournament only to lose to LSU 76-67. Tennessee then went to March Madness and beat Long Beach and Virginia before losing to Ohio State by a heartbreaking 85-84 final score.
As noted above, the Vols have four starters (only lost Dane Bradshaw) and eight letter-winners returning for the 2007-2008 season. Those players include the top six scorers from last year. Chris Lofton, Jordan Howell, and JaJuan Smith are all experienced seniors. Newcomer, Tyler Smith (transfer from Iowa) should help as well. He was granted a waiver by the NCAA and will be allowed to play this year.
Tennessee toured Europe in the off-season and JaJuan Smith and Ryan Childress looked particularly good in some of those games. The Vols are ranked #2 in the nation in some early pre-season polls.
Prediction
We think Tennessee will edge out Kentucky for first place in the SEC. We also think they will make it to the Final Four of the NCAA tournament. Where they go from there is anyone's guess. They will be a major player for the 2008 NCAA Division I Basketball Championship.
Show them you care and you're behind them!
Get your own Tennessee Volunteers
Merchandise and Apparel
,
Tickets
, and
Baseball Caps
.
---
2007 - 2008 Tennessee Vols Basketball Schedule
November 9 Temple Home
November 14, 16 Legends Classic Home
November 20 Middle Tennessee Home
November 27 North Carolina A&T Home
November 30 Louisiana-Lafayette Home
December 4 UT-Chattanooga Away
December 15 Western Kentucky Away
December 19 UNC Asheville Home
December 22 Xavier Away
December 29 Gonzaga Away
January 9 Ole Miss Home
January 12 South Carolina Away
January 17 Vanderbilt Home
January 19 Ohio State Home
January 22 Kentucky Away
January 26 Georgia Home
January 29 Alabama Away
February 2 Mississippi State Away
February 5 Florida Home
February 9 LSU Away
February 13 Arkansas Home
February 16 Georgia Away
February 20 Auburn Home
February 23 Memphis Away
February 26 Vanderbilt Away
March 2 Kentucky Home
March 5 Florida Away
March 9 South Carolina Away
March 13 SEC Tournament Atlanta
Other Tennessee Vols Basketball Pages
2007 - 2008 Tennessee Vols Basketball Roster
1 Tyler Smith F Sophomore Pulaski, Tennessee
2 JaJuan Smith G Senior Decatur, Tennessee
4 Wayne Chism F Sophomore Bolivar, Tennessee
5 Chris Lofton G Senior Maysville, Kentucky
12 Ramar Smith G Sophomore Detroit, Michigan
15 Jordan Howell G Senior Auburn, Alabama
21 Justin Jackson G Junior Fredericksburg, Virginia
23 Cameron Tatum G Freshman Tucker, Georgia
24 Tanner Wild G Junior Huntington, West Virginia
25 Josh Tabb G Sophomore Carbondale, Illinois
30 J.P. Prince G Sophomore Memphis, Tennessee
30 Ben Bosse F Junior Knoxville, Tennessee
32 Duke Crews F Sophomore Hampton, Virginia
33 Brian Williams C Freshman Cincinnati, Ohio
34 Ryan Childress F Junior Cincinnati, Ohio
What do you think?

We'd love to hear your comments and/or opinions. If you submit them here, other visitors can read them, rate them and comment on them. An e-mail address is not required.

---
Return to Home Page
Alabama Basketball
Auburn Basketball
Florida Basketball
Georgia Basketball
Kentucky Basketball
LSU Basketball
Mississippi State Basketball
Ole Miss Basketball
South Carolina Basketball
Arkansas Basketball
Vanderbilt Basketball
From Tennessee Vols Basketball to SEC Sports
SEC Football
SEC Basketball
SEC Women's Basketball
SEC Baseball
SEC Track and Field
SEC Swimming and Diving
SEC Tennis
SEC Golf
SEC Gymnastics
SEC Soccer
SEC Softball
SEC Volleyball
Best College Sports Conference
SEC vs Big Ten Debate
SEC Sports News
SEC Sports Blog
SEC Sports Fan Forum
College Sports Tickets
SEC Sports Fan Trips
SEC Sports Fan Store
About Us
Contact Us
Site Search
---