Very strong finish to the season by the Wildcats. In fact, they ended up 2'd in the SEC East. Kentucky basketball also did well in the SEC tournament -- only losing in OT (after a controversial "no-call" to eventual champ -- Georgia.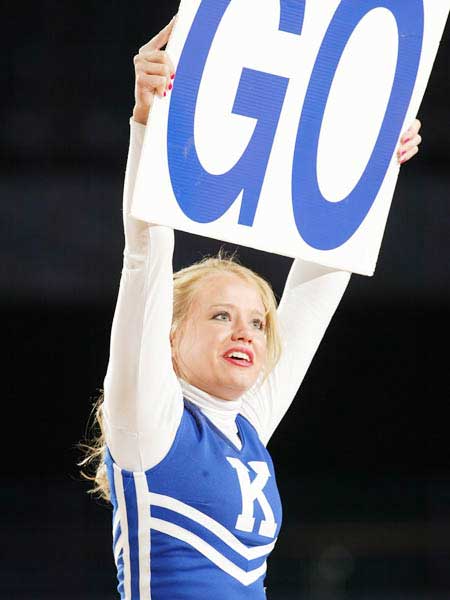 Kentucky's cheerleaders held above head .
Thanks to ukathletics for the photo .
---
The NCAA selection committee obviously took all that into consideration in granting UK an 11 seed in the South Region. Kentucky faces Marquette on Thursday in Anaheim, California. My money is on Kentucky!
Anyway, maybe you want to take a quick spring break to California and catch a game or two. If you need tickets, check out
2008 March Madness Tickets and Rebate
.
Prior Discussion:
Kentucky Wildcats basketball is one of the great college basketball programs in America. (See articles listed at bottom of this page). The Wildcats have seven NCAA titles and the most overall wins of any college basketball team in history.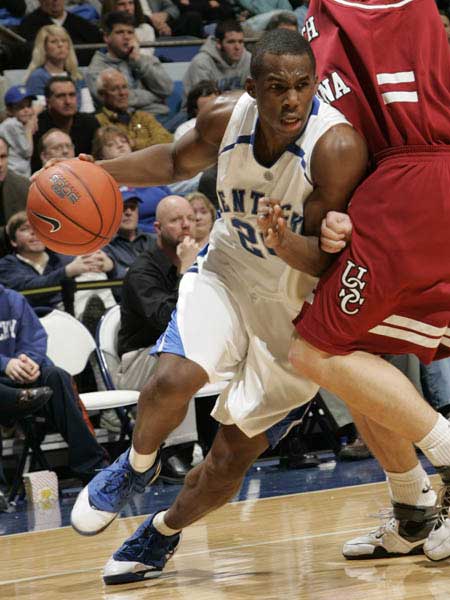 Kentucky Wildcats Jodie Meeks drives to basket.
Thanks to ukathletics for the photo .
---
Although the Florida Gators have overshadowed the Cats in recent years, the men of UK and head coach Billy Gillispie are looking to reclaim their title as the best team in the SEC.
Kentucky basketball had a good season in 2006-2007 with a 22-12 record. They were fourth in the SEC East (top 4 teams were all from the SEC East) and made it to the quarterfinals in the SEC tournament, where they were defeated by Mississippi State by a heartbreaking 84-82 final score. The Wildcats made it to the second round of the NCAA tournament where they defeated Villanova before losing to Kansas 88-76.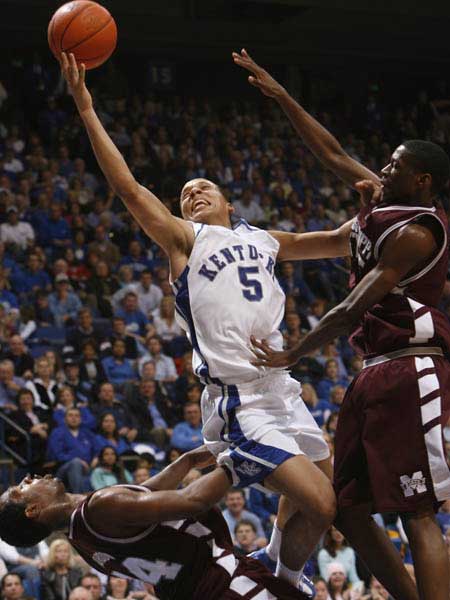 Mississippi State Basketball player draws charge.
Thanks to ukathletics for the photo .
---
The Cat's enter this season with one of their key players (Derrick Jasper) still recovering from arthroscopic knee surgery. He is expected to rejoin the team by early October. Jasper started in twenty-seven games last season as a freshman and will be a key asset when he returns.
Jared Carter is also recovering from surgery, his second one for a torn right shoulder. Carter is currently in rehab and is expected to make a full recovery in time to play in the upcoming season. He was out for most of the 2007 season due to the same injury but was able to start in three games.
Kentucky Wildcat basketball fans made headlines recently as they were named #1 for college basketball fan attendance last season. That was the nineteenth time the Cats have been recognized for their large crowds.
---
---
Prediction
Kentucky will battle with Tennessee for tops in the SEC. We think the Cats will finish second to UT. However, they will go far in the NCAA tournament. UK basketball is back!
Go wild with your own Kentucky Wildcats
Merchandise and Apparel
,
Tickets
, and
Baseball Caps
.
---
2007 - 2008 Kentucky Basketball Schedule
November 21 Liberty Home
November 24 Texas Southern Home
November 27 Stony Brook Home
December 1 North Carolina Home
December 8 Indiana Away
December 15 UAB Home
December 18 Houston Away
December 22 Tennessee Tech Home
December 29 San Diego Home
December 31 Florida International Home
January 5 Louisville Home
January 12 Vanderbilt Home
January 15 Mississippi State Away
January 19 Florida Away
January 22 Tennessee Home
January 26 South Carolina Home
February 2 Georgia Away
February 6 Auburn Away
February 9 Alabama Home
February 12 Vanderbilt Away
February 16 LSU Away
February 19 Georgia Home
February 23 Arkansas Home
February 27 Ole Miss Home
March 2 Tennessee Away
March 5 South Carolina Away
March 9 Florida Home
March 13 SEC Tournament Atlanta
Other Kentucky Basketball Pages
2007 - 2008 Kentucky Basketball Roster
1 Alex Legion G Freshman Detroit, Michigan
3 Ramel Bradley G Senior New York, New York
5 Derrick Jasper G Sophomore Paso Robles, California 13 Michael Porter G Sophomore Modesto, California
15 A.J. Stewart F Freshman Jacksonville, Florida
21 Perry Stevenson F Sophomore Lafayette, Louisiana
23 Jodie Meeks G Sophomore Norcross, Georgia
25 Mike Williams C Freshman Solihull
32 Joe Crawford G Senior Detroit, Michigan
34 Ramon Harris F Sophomore Anchorage, Arkansas
42 Mark Coury F Sophomore Detroit, Michigan
43 Jared Carter C Junior Georgetown, Kentucky
54 Patrick Patterson F Freshman Huntington, West Virginia
What do you think?


We'd love to hear your comments and/or opinions. If you submit them here, other visitors can read them, rate them and comment on them. An e-mail address is not required.

What Other Visitors Have Said
Click below to see contributions from other visitors to this page...

Jared Carter and Mike Williams.






I want to know why in the heck we have two boys over 7' tall and sitting on the bench? If they are not good enough to play then why don't you get rid …
Big Ten Basketball: Why I Miss the SEC




I moved from Western Kentucky to Central Ohio about 18 months ago. I attended many games at the University of Kentucky, and very seldom saw an empty seat. …
---
Return to Home Page
Alabama Basketball
Auburn Basketball
Florida Basketball
Georgia Basketball
Arkansas Basketball
LSU Basketball
Mississippi State Basketball
Ole Miss Basketball
South Carolina Basketball
Tennessee Vols Basketball
Vanderbilt Basketball
From Kentucky Basketball to SEC Sports
SEC Football
SEC Basketball
SEC Women's Basketball
SEC Baseball
SEC Track and Field
SEC Swimming and Diving
SEC Tennis
SEC Golf
SEC Gymnastics
SEC Soccer
SEC Softball
SEC Volleyball
Best College Sports Conference
SEC vs Big Ten Debate
SEC Sports News
SEC Sports Blog
SEC Sports Fan Forum
College Sports Tickets
SEC Sports Fan Trips
SEC Sports Fan Store
About Us
Contact Us
Site Search
---