2007 - 2008 Florida Basketball


---
If you are looking for information about this year's team, go to
Current Florida Gators Basketball Information.
---
It was a gallant effort by Billy Donovan and Florida Basketball this season. Despite losing all 5 starters from their National Championship team -- they almost managed to get back to the NCAA Tournament. Alas, it was not to be as they lost in the first round of the SEC tournament to Alabama.
The Gators got a bid to the NIT tournament. They made it all the way to the NIT's "Final Four" where they lost to UMASS. Not bad for an "off-year."
Florida basketball will be stronger next season ('08-'09). More to come on that....
Prior Discussion:
University of Florida Gators Basketball has become a college basketball powerhouse with much thanks to the direction of head coach Billy Donovan, who has been with the team since 1996. Read more about him at our new Billy Donovan Biography.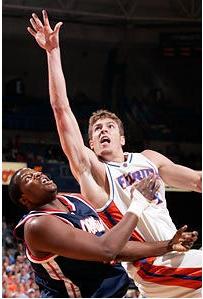 David Lee Playing College Basketball.
Thanks to bjsmith at flickr.com for the picture.
---
Of course, you will remember that Donovan almost left the Gators for the NBA in the off season. In fact, he signed on with the Orlando Magic, only to change his mind 24 hours later.
Very smart move. If he stays with the Gators, Donovan will have many great teams for many years and ultimately be known as one of the best college basketball coaches of all time.
The Gators won the SEC basketball championship in 2005, 2006, and 2007 and are one of only three schools to win the title for three consecutive years. Of course, they won back-to-back national championships in 2006 and 2007 and became the first team to accomplish this feat in over fifteen years.


---
---
Last season, Florida finished with a 35-5 record and, as noted above, were SEC and NCAA Basketball Champs.
Some argue the 2005-2007 Florida Basketball teams were the best in college basketball history. Certainly, Billy Donovan and his Gators have done much to raise the stature of SEC Basketball. See Best College Basketball Conference.
But, the 2007 - 2008 season will be very different. The Gators lost all five starters (4 to the NBA draft: Joakim Noah, Corey Brewer, Teurean Green, and Al Horford) and only have four returning players.
However, Florida basketball had the nation's top recruiting class and, of course, are led by a great college basketball coach. Junior guard Walter Hodge will be a key asset this season after averaging nearly six points per game and hitting fifty percent from the three-point range. Forward Jonathan Mitchell is expected to play well and is impressive from three-point range.
The Gators will see a new addition to their staff this year after Rob Lanier signed on as assistant coach. Lanier, who will replace Donne Jones, previously coached for Virginia where he experienced great success.
Prediction: Florida will get better and better as the season progresses. They'll end up 4th in the SEC East, but with a nice, winning record. They'll get an NIT bid and make a run in the NIT. Look out for Florida basketball in the future.
Find fantastic Florida Gators Merchandise and Apparel, Tickets, and Baseball Caps when you click on the links.
---
2007 - 2008 Florida Basketball Schedule
November 1 Flagler TBA Home
November 5 Lynn TBA Home
November 9 North Dakota State TBA Home
November 11 Tennessee Tech TBA Home
November 14 North Carolina Central University TBA Home
November 17 Rutgers TBA Home
November 20 North Florida TBA Home
November 23 Florida State TBA Home
November 27 Stetson TBA Home
November 30 Vermont TBA Away
December 3 Jacksonville TBA Home
December 5 Florida A&M TBA Home
December 15 Georgia Southern TBA Away
December 19 Charleston Southern TBA Home
December 22 Ohio State 3:45pm Away
December 29 Temple TBA Away
January 2 High Point TBA Home
January 8 Alabama TBA Away
January 12 Auburn Noon Home
January 16 Ole Miss 8:00pm Away
January 19 Kentucky TBA Home
January 23 South Carolina 8:00pm Away
January 27 Vanderbilt 1:00pm Home
February 2 Arkansas 3:00pm Away
February 5 Tennessee TBA Away
February 9 Georgia 3:00pm Home
February 13 LSU 8:00pm Home
February 16 Vanderbilt 3:00pm Away
February 20 South Carolina 8:00pm Home
February 27 Georgia TBA Away
March 1 Mississippi State 2:00pm Home
March 5 Tennessee 9:00pm Home
March 9 Kentucky Noon Away
March 13 SEC Tournament Begins Atlanta Georgia Dome


Other Florida basketball pages to read include Current Florida Gators Basketball; Florida Basketball History; Biggest SEC Basketball Rivalry; University of Florida Gainesville Trip; and, Billy Donovan Biography.
2007 - 2008 Florida Basketball Roster
0 Jon Mitchell F Sophomore Mount Vernon, New York
4 Shane Payne G Freshman Weston, Florida
5 Jai Lucas G Freshman Houston, Texas
14 Adam Allen F Freshman Milton, Florida
15 Walter Hodge G Junior Guaynabo, Puerto Rico
21 Dan Werner F Sophomore Middletown, New Jersey
23 Alex Tyus F Freshman St. Louis, Missouri
25 Chandler Parsons F Freshman Winter Park, Florida
33 Nick Calathes G Freshman Winter Park, Florida
34 Marreese Speights F Sophomore St. Petersburg, Florida
40 Hudson Fricke G Freshman Greenville, South Carolina

What do you think?


We'd love to hear your comments and/or opinions. If you submit them here, other visitors can read them, rate them and comment on them. An e-mail address is not required.

---
Alabama Basketball Auburn Basketball Arkansas Basketball Basketball Georgia Basketball Kentucky Basketball LSU Basketball Mississippi State Basketball Ole Miss Basketball South Carolina Basketball Tennessee Vols Basketball Vanderbilt Basketball From Florida Basketball to SEC Sports SEC Football SEC Basketball SEC Women's Basketball SEC Baseball SEC Track and Field SEC Swimming and Diving SEC Tennis SEC Golf SEC Gymnastics SEC Soccer SEC Softball SEC Volleyball Best College Sports Conference SEC vs Big Ten Debate SEC Sports News SEC Sports Blog SEC Sports Fan Forum College Sports Tickets SEC Sports Fan Trips SEC Sports Fan Store About Us Contact Us Site Search
Return to Home Page
---