2013 Arkansas Razorbacks Football Preview
The Good: Hmmm, there is not much in Fayetteville these days to feel good about.  However, there is light at the end the tunnel as Bret Bielema is now in charge after several successful years at Wisconsin.  His first order of business is to put as much distance as he can between his team and the Bobby Petrinoregime, plus the lame duck John L. Smith tenure.
Given a few years, he should be able to do that, especially if he can have some success against teams they are capable of beating.  Beating the likes of Alabama, LSU and Texas A&M will have to wait a few years, however.

The Bad: Only three starters return on offense, but that might not be a bad thing because their offense was really awful last year. Senior Kicker Zack Hocker was only 11 for 18 on field goals in 2012.

The Ugly: This was a team that a few years ago finished in the Top 5 with their only losses to Alabama and LSU.  Last year, they went 4-8, and were blown out by Alabama (52-0), Texas A&M (58-10), South Carolina (38-20) and Mississippi State (45-14).  They also lost to Rutgers and UL Monroe.  That's actually REALY ugly.

Starters Returning: 3 – Offense/7 - Defense.

Schedule: Not good.  The Hogs have road games at Florida, Alabama, and the season ending clash with LSU.  That will not do wonders for their optimism.  The first fourgames are winnable as UL Lafayette, Samford and Southern Miss are at home, and a road game at Rutgers.  However, reality returns the next week as Texas A&M comes to town and that won't be easy.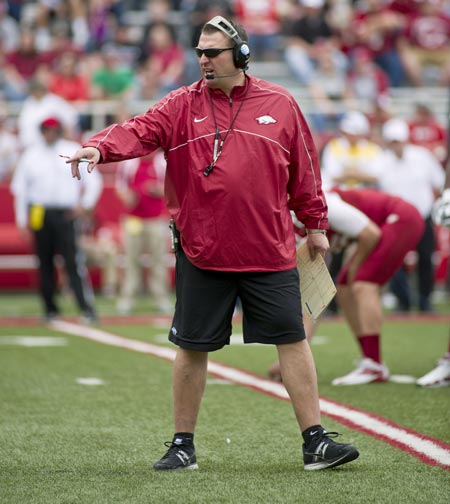 Outlook: It is going to take some time, but Bielema will turn the Arkansas program around and get them back into contention.  This year, however, they are going to take their lumps, and in the SEC West, that means the hammer is about to be dropped.  The offense is going to change as Bielema will bring in a power drive blocking attack that will help the running game, but that will take time to get the right pieces in place.

Prediction: 7th SEC West.


Check out the Top 3 Returning SEC QB/WR Duos.

Look out 2013 SEC Football Preview and Predictions.


Individual 2013 SEC Football Team Previews and Predictions (Listed in Order of Predicted Finish):

Read Scott Sergent's outstanding new book:
---


More Arkansas Football Pages:
What do you think?

We'd love to hear your comments and/or opinions. If you submit them here, other visitors can read them, rate them and comment on them. An e-mail address is not required.

By
Mo Johnson
, Copyright © 2006-2017 SECSportsFan.com