Top 3 Returning SEC QB/WR Duos
by Jesse Perkins
The SEC has made its presence known the last decade in the trenches, but even college football's top conference has shown it can air the football out when needed. The traditional pro-style offenses are finding the play action pass to be a major asset, while the new breed of spread offenses want to give their most dynamic receivers the oppurtunity to make plays. But which group will have the most success through the air?

(3) Checking in at number 3 and narrowly making the cut, is none other than Johnny Manziel and Mike Evans. Sure, Johnny Manziel did have 1,400 yards rushing and utilized his legs more than once to escape the pressure of defenses, but his arm was most certainly overlooked throughout all of last season. Manziel tallied 3,700 yards passing and had several receivers to choose from. Evans would benefit most from Ryan Swope's underachieving 2012 campaign as Johnny Football and Mike Evans would connect for 1,105 yards.

Johnny Football will continue to give Defensive Coordinators fits with not just running, but his passing ability as well. Unfortunately for defenses in the SEC, Mike Evans will be returning and will utilize a huge 6'6 frame to his advantage every chance he gets.

(2) The 2nd best QB/WR tandem in the SEC is Bo Wallace and Donte Moncrief. Wallace is an absolute gamer and will go into 2013 with the 3rd most passing yards in the SEC among active quarterbacks from last season with 2,994. He has been working all summer trying to cut down on turnovers and his Head Coach Hugh Freeze has to be proud of that. On the receiving end, Jr. Donte Moncrief needs no introduction. Moncrief set Freshman school records at Ole Miss and as a true sophomore, half of his 66 total receptions were in the final 3 games.

He won't beat you with outright speed but is arguably the most physical WR in the conference. Should Donte stay through his Senior season and perform like he is capable, he would likely shatter most every SEC receiving record in the book. If Wallace stays healthy, we have every reason to believe Moncrief will get the ball thrown his way and should continue tearing defenses apart.

(1) Who is the best and most anticipated QB to WR duo in the SEC? Look no further than AJ McCarron and Amari Cooper. Yep, the same AJ McCarron that has had the priviledge to hand the football off to first round running backs the last two seasons. He has truly used this to his advantage, and even more so in his Sophomore season with Cooper on the scene. AJ is asked to do nothing more than what his coaches ask of him. Even though he will likely be standing behind the best offensive lineman in the SEC, and surrounded by big power backs yet again, look for Saban to implement Amari Cooper into his gameplan early and often.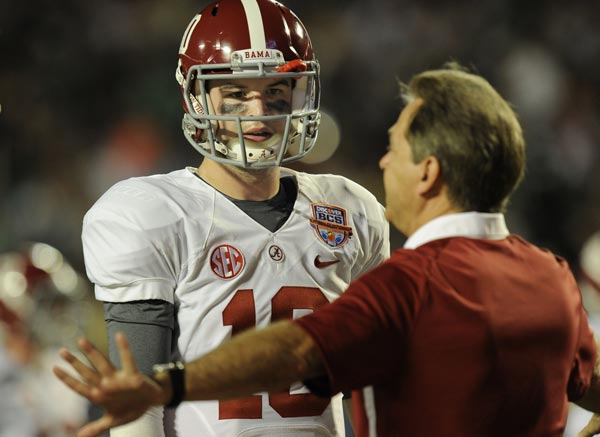 Jan 7, 2013; Miami, FL, USA: Alabama Crimson Tide quarterback A.J. McCarron (10) talks to head coach Nick Saban during warm-ups against the Notre Dame Fighting Irish prior to the start of the 2013 BCS Championship game at Sun Life Stadium. Photo Courtesy By Eileen Blass-USA TODAY Sports.
Cooper recorded exactly 1,000 yards and finished 2nd to only Chad Bumphis in receiving touchdowns with 11. McCarron had the best QB Rating in the SEC last season and with the speed of Amari Cooper out wide, there is no better combo in the Southeastern Conference.