2013 SEC Football Preview and Predictions
Best Team: South Carolina. With apologies to Georgia and Alabama, South Carolina is the team to beat in the SEC this year.  USC has the best defensive player in the country and an explosive offense.  Pair that up with a coach that knows how to win the big game and that's a tough combination to overcome.
Worst Team: Kentucky.  Granted they are going in a new direction, but the talent level is not where it needs to be in the SEC.  However, they make up for that with not a lot of depth.  Hmm, when does Midnight Madness begin in Lexington?

Team Ascending: Tennessee.  Getting rid of Derek Dooley and Tyler Bray has already made them better.  Add Butch Jones, a fresh start and an unbelievable recruiting class, and the Vols are in a position to get back to challenging for the title in the East.  It won't be this year, but the future looks bright.

Team Descending: Missouri.  The Tigers had some recent success in the Big 12, but last year was a rude awakening as they had their first losing season since 2004.  Unfortunately, the East is loaded again this year and their permanent cross division rival is Texas A&M.  That's not good...

Best Offensive Player: Aaron Murray.  This guy came within five yards of winning the SEC, and probably a national championship last year so that has to be the ultimate motivation for 2013.  He is talented, a leader and will have the Bulldog offense firing on all cylinders so look for him to be in the thick of the Heisman talk this year.

Best Defensive Player: JadevonClowney.  Can you say Murray's competition for the Heisman?  He very well could be only the second player ever to win the award.  Besides that, he is a beast.
 
Most Exciting Player: Johnny Manziel, Texas A&M.  Despite having his head where it is physically impossible to place it, you cannot take your eyes of this guy since he is the definition of playmaker.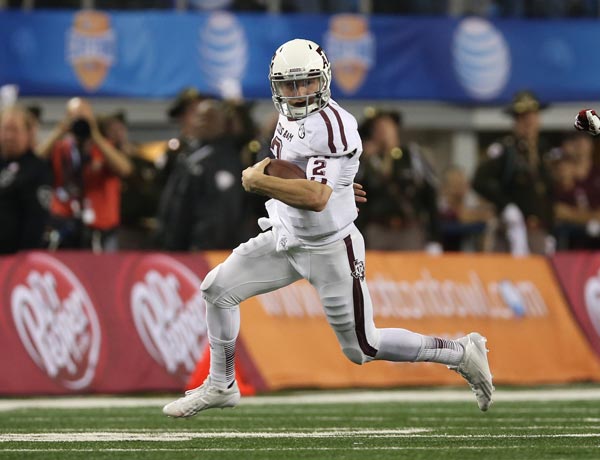 Must See Games:
August 29th
Ole Miss at Vanderbilt
If either of these teams is going to take the next step up the SEC ladder, these are the kind of games that set the tone for a season and a program to turn the corner.

August 31st

Alabama vs. Virginia Tech/Georgia at Clemson
Two huge SEC vs. ACC matchups will go a long way in determining where two of the nation's best teams from last year are going to finish in 2013.

September 7th

South Carolina at Georgia 
Winner gets the inside track to the SEC East championship, as well as a possible SEC and national championship.  After this one, both teams should be favored in the remainder of their games.

September 14th

Alabama at Texas A&M
Saban's possible dynasty goes into a very hostile environment to try to extract some revenge from last year's collapse in Tuscaloosa.

September 21st

Tennessee at Florida
Welcome to the SEC, Butch.  After 60 minutes with the Gators, the Vols will have a good idea of where they stand in their rebuilding project.

September 28th

Ole Miss at Alabama/LSU at Georgia
Similar to Tennessee, the Rebels will get a good idea of where they stand on the road to being a contender.  Meanwhile, over in Athens, the third monster in four weeks for the Dawgs will be a huge challenge 'tween the Hedges.

October 5th

LSU at Mississippi State
Is this the game that finally gets the Bulldogs over the hump?

October 12th

Florida at LSU/Texas A&M at Ole Miss
The Gators stuffed LSU last year, but this time the Tigers are at home and want to erase that nightmare.  How about this scenario: Ole Miss and A&M both beat Alabama, so the winner of this one has the inside track to the West title.  Not likely, but this is another brick in the Ole Miss foundation if they could knock off the Aggies.  They should have last year.

October 19th

Georgia at Vanderbilt
The Dawgs usually struggle in Nashville...

October 26th

Tennessee at Alabama
The Vols are not on Bama's level yet, but this old school rivalry is always a must see due to the tradition and the legends that have played in the game.  With the exception of 1943, due to World War II, these teams have met every season since 1928.

November 2nd

Georgia vs. Florida (Jacksonville)
Last year, the Gators came in unbeaten, but Georgia's bone crushing defense rocked them out of the SEC East title picture and was the springboard for them to take the crown.  This year, Florida might be in the same position to turn the tables.

November 9th

LSU at Alabama
Two heavyweights will slug it out in Tuscaloosa in what is always a brutal matchup.  The home team has lost the last two years, so that bodes well for the Tigers, especially given the fact they let one slip away last year in Baton Rouge.

November 16th

Florida at South Carolina
The Gators trashed the 'Cocks last year in Gainesville.  I have a feeling that one has not been forgotten in Columbia...

November 23rd

Vanderbilt at Tennessee
The 'Doores are on the rise, while the Vols are rebuilding.  As of 2013, Vandy owns the state, which is something that has not happened for over 100 years.  As incredible as that sounds, it means both teams are going to slug it out for 60 minutes, and maybe more, for bragging rights.  And with both coach's reputation for intensity, things will be at a fever pitch.

November 30th
Pick any of the games that begin on Thursday and you will be glued to your TV set.

SEC Championship:
South Carolina over Alabama


Read Scott Sergent's outstanding new book:
Individual 2013 SEC Football Team Previews and Predictions (Listed in Order of Predicted Finish):

What do you think?

We'd love to hear your comments and/or opinions. If you submit them here, other visitors can read them, rate them and comment on them. An e-mail address is not required.

By
Mo Johnson
, Copyright © 2006-2017 SECSportsFan.com