2011 SEC Football Week 1 Review & Week 2 Preview
As we finished up the first Saturday of the college football season, there were a few surprises that all us SEC fanatics might want to keep in the back of our minds this year. Thank goodness for LSU, because with Georgia and Ole Miss falling to teams from the big bad west, and Auburn, who should have fallen to another western team, the myth of SEC invincibility might be all but over.

Let's get to the week that was in the SEC:
Mississippi State set a school record in rolling of 645 yards of offense and dominated the game from start to finish. If this keeps up, not only will Dan Mullen have a Major Award delivered to his house, but he might get a Red Ryder BB Gun as well, so he can go hunting Tigers and Elephants in route to an SEC West championship. They have a long way to go, seeing how Bama and LSU looked so good on Saturday, but keep your eyes on these Dogs since anything is possible.


Mississippi State 59 - Memphis 14

(Cue the Jaw Harp and Ralphie from A Christmas Story here) "It's Chad Bumphis, da-da-da-dut-da-da! " Bumphis caught a 44 yard TD from QB Chris Relf to get the Bulldogs going as they crushed Memphis in the Liberty Bowl.
Kentucky 14- Western Kentucky 3
Exhibit #1 in the decline of the SEC: Kentucky rolled up, get this, 75 yards of total offense through the first three quarters. The UK basketball team rolls up more points than that every night. And come to think of it, the men's basketball team does as well.

Morgan Newton, obviously no relation to Cam Netwon, threw three interceptions. The Wildcats led 7-3 at halftime, and had to be proud of the fact they were outgained 101-35 in total offense in the first thirty minutes, and 234-190 for the game.

The Hilltoppers were no better as their offense struggled early and often, and after looking at the replays, they couldn't even move the ball across the street. Their only points came in the first quarter after, if can you believe it, a Kentucky interception.
I am all for tradition, but if these two single wing offensive wannabes want to put on an exhibition like that, the fans should get a refund. And offensive was exactly what that game looked like. Good to see they took a picture of Kentucky's offense just before kickoff. (See above)
Auburn 42 - Utah State 38
Exhibit #2 of the decline of the SEC: The big bad SEC really showed the guys from, what conference was it again, the Great Western Alliance Athletic Association, or whatever it is, what playing big boy football is all about. Unfortunately for Auburn, what they showed was Utah State whipping their tails for the first 58 minutes of the game and were lucky to get out with a win.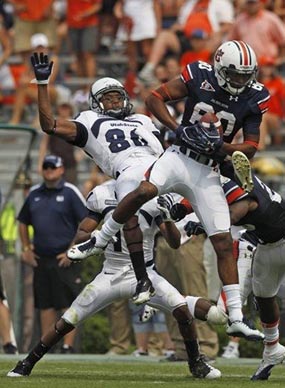 Michael Dyer capped off an amazing last three minutes by rushing for a short TD with :30 seconds to play to give the Tigers a miracle comeback victory.

The game came down to an onsides kick, after Auburn drove down the field to score a TD to close the game to 38-35. Chris Brooks must have been watching his Dorf on Onsides Kick videos as he hit a perfect ball that bounced high into the air. Most of the Aggies thought it looked pretty good too since none of them blocked the on coming Auburn players. When Emory Blake ran up, leaped high into the air, the ball, and the game, belonged to Auburn. The last TD drive was inevitable.

The Aggies, not to be confused with the ones from Texas, rushed for 227 yards, while the Tigers could only advance the ball for a paltry 78. They outgained the home team by almost 100 yards, and had a fake field goal pass completion to set up a TD that gave them a ten-point lead with three minutes to go. And somehow, they still lost the game. Good thing, because if that upset would have happened, all us SEC fans would be eating crow, and War Eagle, right now. (AP Photo - Dave Martin)

BYU 14 - Ole Miss 13
Exhibit #3 of the decline of the SEC: I think both teams must have watched the Kentucky game for tips on how to roll up some points. Both teams are currently under NCAA Investigation for mismanaging an offense, and the fear is both offenses might have set the game back 100 years.

Ole Miss had a 13-point lead in the fourth quarter, on the strength of two field goals and a 96 yards interception return for a TD by Charles Sawyer. Other than that, the offense had the day off.

BYU was no better as they couldn't score until the last quarter on a TD pass from Jake Heaps to Ross Apo to cut the margin to six points. Then trouble struck as Rebs QB Zack Stoudt, looking more like former Steelers QB Cliff Stout, got smashed and dropped the football. It skidded into the end zone when it was recovered for a Cougars TD.

Look on the bright side, SEC fans, at least with this loss, you can't say a particular conference is better than the SEC since BYU is an independent so maybe that will take the sting out of the loss. Then again, maybe it won't.

Boise State 35 - Georgia 21
The last and most noted of all the exhibits from last Saturday has to be what happened in the Georgia Dome. Boise State, often regarded as a big fish in a small pond, played like sharks in dismantling Georgia by two touchdowns.
Kellen Moore showed why he is a talented QB as he carved up the Dawgs defense for 226 yards and three TD's as the Broncos took a 28-7 lead late in the third quarter and never looked back.

He also showed he is a classy person he is as well. "Growing up watching football, I have a ton of respect for the SEC," Moore said. "I'm aware of all the success they've had. I watched Georgia play a lot of big games growing up. To play a game like this was a lot of fun. I enjoyed it. We were fortunate to come out on top."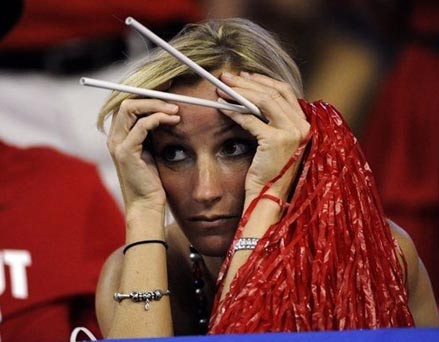 What most of the Atlanta papers, and fans that have called into the radio shows have stated, is that this game was important to the Dawgs, but next week was critical, so this one wasn't that bad to lose because it was no big deal.

Yeah, right.

Boise State's third straight victory over a marquee opponent on opening day showed they are a team ascending, while Georgia is descending like a meteorite falling to Earth. It also showed UGA has issues on both sides of the ball, and now has a head coach who officially went on deathwatch after that stinker. While the fans had their alibis, they had better think about the load of whoop ass Carolina will bring to Athens next week. If they start 0-2, Richt better call Phillip Fulmer to see where the best retirement communities are. (AP Photo - David Tulis)

Alabama 48 - Kent State 7
The Crimson Tide gave T-Town something to smile about after a terrible tornado hit the city four months ago as they downed Kent State 48-7.

With some of the destruction still seen around the neighborhoods, AJ McCarron threw for 226 yards and a touchdown, while fellow QB Phillip Simms was 7 of 14 for 73 yards and a TD. Both QB's threw two picks so the QB situation must improve before a trip to Happy Valley to play Penn State next week.

Kent State was not mercilessly booed or mocked as several of their players had come down to help with the relief efforts in July, and several Alabama Facebook pages asked that the Golden Flashes not be booed as they came on the field.

"That was real classy," said quarterback Spencer Keith, who completed 20 of 47 passes for 99 yards and a touchdown with one interception.

It was a tough day for Kent as they had 90 yards total offense and minus-9 yards rushing.

South Carolina 56 - East Carolina 37
I feel sorry for coach Spurrier. With all of the off the fields problems Stephen Garcia has had lately, the Ol' Ball Coach benched the star QB to send a message. Too bad the rest of the team didn't get it as they fell behind by 17, so he had no choice but to put him back in.

Garcia ran for two touchdowns and threw for another as the Cocks rolled to a 56-37 victory in Charlotte. They outscored the Pirates 42-13 in the second half as they tuned up for a huge showdown with Georgia next week.

Marcus Lattimore rushed for 112 yards, which was more than half of the USC total for the night, as well as three TDs, while DE Jadeveon Clowney, had seven tackles. Um, those two guys are men, and the rest of the SEC needs to take notice.

LSU 40 - Oregon 27
All right, I admit it. Coach Scooter missed the boat on this one, but I am thrilled to have been left on the dock. LSU was one of the few bright spots for he SEC this weekend as they clobbered the third ranked Ducks by 13.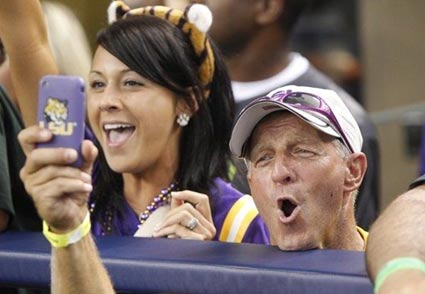 Oregon had everything going for them, up to the kickoff to begin the game. Fumbles, missed assignments and having LaMichael James rush for only five more yards than he did in the National Championship game last January, 54, gave the opportunistic Tigers all they needed in establishing themselves as a national contender.

Once again, Les Miles pulls a rabbit out of his mad hat as the Tigers withstand several distractions to play a complete game, and show why they always get up for the big games, no matter where they are held.

As a side note, I would have the same look on my face (above) if I were sitting next to the hottie LSU fan wearing the Tiger ears. Another reason why you have to love SEC football. (AP Photo - LM Otero)

Here are the rest of the cupcake games played "At a little sweet shop just on the edge of town." (Thanks to Del Preston from Wayne's World 2 for that one.)

Tennessee 42 - Montana 16
Vols rebuilding project looks like it is progressing as Rogers and Hunter both go over 100 yards receiving.

Arkansas 51 - Missouri State 7
Arkansas joins LSU and Alabama as contenders for division, conference and national titles aspirations.

Florida 41 - FAU 3
Will Muschamp wins his debut. Urban Who?

Vanderbilt 45 - Elon 14
Doores break on through to the other side as they route Elon. They better savor that one since it won't happen too much more this year.
SEC Preview - Week 2
Last week: 9-3



Central Michigan at Kentucky

Where are they playing this one? Tampa? After last week, anything is possible for the Kentucky Wildcats. Since both team played poorly last week, I am not sure if either wants to win. However, I think CMU will want to knock off UK more than the other way around, so I am calling for an upset as Central Michigan gets it done on Saturday.

Central Michigan 24 - Kentucky 20

Mississippi State at Auburn
Similar to Boise State and Georgia, here is another tail of two programs going in opposite directions. Mississippi State is hungry, talented and has a coach that knows what he is doing. Auburn has lost too many great players after last year's run, and the new guys need a little time to figure it all out.

Unfortunately for Gene Chizik, twin brother of former Braves pitcher Tom Glavine, they don't have a little time. Bulldogs get ready for LSU with a victory on the Plains.

Mississippi State 35 - Auburn 17

Cincinnati at Tennessee
I was reading the conversation boards on ESPN today and was surprised to read a ton of hatin' going back and forth. You would think this was Bama-UT or Florida-UT. Last time I checked, these teams have not seen too much of each other since '92 so where is all this hostility coming from?

Both teams won easily last week, so something has to give. The Cats return ten of eleven starters, which normally is a good thing, unless you went 4-8 the year before, like they did.

Tennessee is still trying to find their way back to big boy football, and the verdict is still out on their progress. The Vols are not the Vols anymore, and because of that, there will not be a blowout like 1992. This one will go to the fourth quarter before Tyler Bray makes a play that Zach Collaros won't, and that will be the difference.

Tennessee 31 - Cincinnati 21

Alabama at Penn State
This one is renewal of one of the great intersectional games as two of college football's most storied programs square off in Happy Valley.

Both teams have issues at Quarterback, but Bama has everything else going for them. Speaking of issues, the Lions have several on both the lines, and that is not a good thing to have going into a big game.

This one will be a lot closer than last year in Tuscaloosa, especially since the fired up Penn State crowd will be in the game the whole way. The difference will be the Crimson Tide running Trent Richardson all night long, and sooner or later, the suspect Penn State defensive line will break. When it does, that will be all Bama will need to get out of town with a W.

Alabama 24 - Penn State 14

Northwestern State at LSU
Remember at the end of the Michael Keaton Batman movie, the Joker's laughing box playing over and over? This is what I think of when I saw this game on the schedule.

LSU 56 - Northwestern State 3

S. Illinois at Ole Miss
Once again, the Rebs have broken my heart, and every other heart in the SEC. I am going on record as saying Ole Miss will never win a game they are supposed to ever again. Like this Saturday.

Southern Illinois 28 - Ole Miss 21

UAB at Florida
Will Muschamp keeps the train a rollin' as they tune up for the Vols.

Florida 34 - UAB 10

New Mexico at Arkansas
Last year, the Hobos, um, Lobos, posted their second consecutive 1-11 season. I am sure Bobby Petrino took notice of that.

Arkansas 63 - New Mexico 7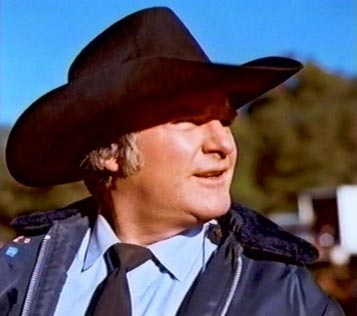 UConn at Vanderbilt
Paul Pasqualoni takes over for Randy Edsall at Storrs after 12 years there, so there is a new sheriff in town.

Unfortunately for the Huskies, the sheriff looks more like Roscoe P. Coletrain than Buford T. Justice, so I don't expect too much out of UConn this year. Because of that, and because the Doores are at home, this is going to be a "Dynamite" upset as Vandy gets it done in Music City.
Vanderbilt 28 - UConn 14
SEC Game of the Week
South Carolina at Georgia
When I think about the Game of the Week in the SEC on Saturday, I start talking like Judge Smails from Caddyshack: "Oh, Billy, Billy, Billy. This is a biggie, Billy. Don't let me down."

There are several plots, sub plots, high plots, low plots, and a few no plots that will all met in Athens on Saturday afternoon.

A USC victory will cement their hold on the SEC East, as well as silence any doubters that last year was a fluke.
A UGA victory will erase the embarrassment of a loss on opening day, and give the Bulldogs a leg up (no pun intended.well, maybe a little.) on the rest of the division. A loss will make Steve Spurrier begin the QB carousel for the rest of the year.

A loss sends UGA to 0-2 and might be the door slammer on Mark Richt's career tween the Hedges.

After seeing both teams last week, I think Georgia comes in desperate, and a desperate team at home is dangerous. However Carolina is the better team, and a better team always finds a way to beat a desperate team. Call U-Haul, there might be a new Alpha in the dog house sooner than you think.
South Carolina 31- Georgia 17

What do you think?

We'd love to hear your comments and/or opinions. If you submit them here, other visitors can read them, rate them and comment on them. An e-mail address is not required.

What Other Visitors Have Said
Click below to see contributions from other visitors to this page...

No love for Florida and Other SEC Week 1 Thoughts






I love the way journalism is structured to sway opinion one way or the other. Alabama plays a not-so-talented Kent State and wins 48-7, gets a respectable …
By
Mo Johnson
, Copyright © 2006-2017 SECSportsFan.com