SEC Football Week 4 Preview
Week 4 Predictions
Last week: 7-2 Overall: 23-8
Georgia at Ole Miss
What a better time to visit the Rebels, especially after Vanderbilt shellacked them last week. Gee that's a strange sounding sentence; shellacked by Vanderbilt. I'll bet you never thought you would see those words in this Blog. Or any Blog for that matter.
Georgia got it rolling last week, so I think they are back on track. As for Ole Miss? I think they are standing on the tracks, which is not where you really want to be in the SEC.
Georgia 38 - Ole Miss 14
Florida Atlantic at Auburn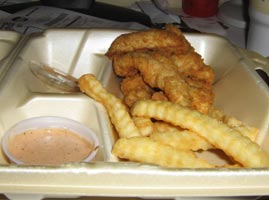 Auburn proved to be human last week as their streak of victories, which felt like it stretched back to the Shug Jordan days, finally ended.
I hate to waste your time having to read this, but to make it official, Auburn is going to cruise in this one and start a new streak of victories. Instead of having to waste your time seeing the inevitable, why don't you join me over at Guthries for a chicken finger platter? That meal would be much more compelling than the game.
Auburn 42 - Florida International 7
Louisiana Tech at Mississippi State
Mississippi State lost this game a few years ago, and that should be on the minds of the Bulldogs. After two tough losses, I think the Maroon get the momentum back, especially with the bruising ground game they will put on the field.
You gotta have more cowbell, and you'll hear it a lot on Saturday.
Mississippi State 31 - Louisiana Tech 10
LSU at West Virginia
There is a rumor floating around that West Virginia is looking to head to the SEC. Well, if that is true, is it a coincidence they are playing one of the best teams in the conference in Morgantown on Saturday night? Maybe they want to test drive the Porsche before they decide to buy it?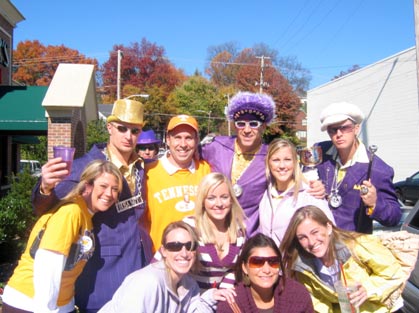 If that's the case, they would be a welcomed addition since West Virginia is football crazy. However, they will have to take notes from the resident crazies in the SEC. The fans are so nuts, they actually have tryouts to be on the fan traveling squad. Don't think so? Look at this picture from a LSU - Tennessee game I was at a few years ago in Knoxville. I think these guys were selected to the All-America fan team at the end of the year. As well as the cute LSU girls too…
In the end, defense will win it, and since LSU has one of the best in the nation, they get the nod on the road.
LSU 21 - West Virginia 10
Arkansas at Alabama
The game of the week in the SEC has mighty Alabama hosting Arkansas. Last year, Arkansas gave Bama everything they had, but came up short. This year, both teams are even better, so get ready T-Town, you are in for one whale of a game.
This is Arkansas' shot to climb into the elite in the SEC. Sooner or later, if they are going to be mentioned in the same breath with the powers that be, they are going to have to win games like this.
I see an incredible battle that will go down to the final quarter. In fact, the game will be so exciting, that it might give 'ol Verne Lundquist a heart attack. If not, can we have one delivered to the clown sitting next to him?
Alabama 24 - Arkansas 21
Florida at Kentucky
The Gators proved they are for real as they have dominated three straight opponents and have the speed on both sides of the ball to be dangerous.
On Saturday, they will see a Kentucky team that has the rushing attack comparable to a pack of wounded turtles. I can see it now: Lots of white jerseys flying into the Kentucky backfield on each play. Chris Rainey running for about a billion yards. Will Muschamp getting another severe case of the red ass after another Gator penalty. Joker Phillips hitchhiking on I-75 during the third quarter so he won't have to stick around to watch the offense go backwards.
This one is going to have all the fun of being at the carnival and watching a table full of fat kids having a corn dog eating contest.
Florida 49 - Kentucky 0
Vanderbilt at South Carolina
Interesting battle in Columbia as both teams can claim no worse than a share of the lead in the SEC East with a win.
The Surprising 'Doores are unbeaten, and so are the 'Cocks. Vandy QB Larry Smith has played well so far this year, but he has a thing for getting sacked. It's like he bets the over on sacks every week.
A lot of fans are hittin' the boards with opinions about Carolina only beating Navy by three points, so they must be overrated. Don't we have a school for college football ignorance we can send these people to? Navy gives everyone a tough game, that's why none of the big boys want to play them.
Despite these teams have split the last four meetings, the fact remains that Carolina is good. Vandy is not. Lattimore and Clowney bring home victory number four on Saturday.
South Carolina 35 - Vanderbilt 7
Parting Thoughts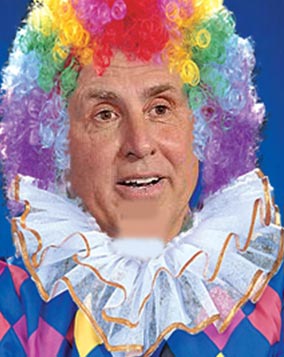 I have to mention it was good to see Verne and "The Clown" Gary Danielson in mid season form. Verne kept referring to Da'Rick Rogers as Derrick Rogers, Justin Hunter as Jason Hunter, and tried to pronounce the name of a city in Tennessee named Ooltewah (ooh-del-wah), which is close to Chattanooga. Verne repeated over and over, "Yes, he is from Oooteway…" Aw, Verne, please stop sounding like the guys from the AT&T commercial trying to sing the words to "Rock the Casbah…"
I know it's not all Verne's fault as having to sit next to "The Clown," Gary Danielson, must have rubbed off on him. Verne must be suffering from Daniel-myalga, after having to be so close to him every season.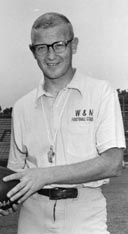 After a Florida punt was shanked to give the Vols good field position, Danielson said, "That's the first break Tennessee has had in the kicking game in the last five years." Really, Bozo? (Cue Ringling Brothers music here) You can remember every game the Vols have played for the last five years? You can't even remember to pick up your clown suit from the cleaners before the game every Saturday.
Here's another gem. After Tennessee scored their final TD, Danielson said, "That must have been a busted coverage." Funny thing is, he said that after every Tennessee score! I know he has a man crush on Tim Tebow, but hey, he's gone, can you be a little more objective? There were two teams on the field. (Well, technically, but only one really showed up)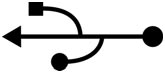 Lou Holtz was slobbering (literally) over the Gators on College Football Final when he said, "The Gatorssss are well coacccchhed, and looked like a contender in the SSSSSSSSEC Easssssssssst." Hmm, well "Super Lou" is that why they had 16 penalties? Yeah, well coached…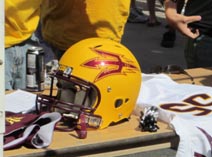 Is it just me, or does the new Arizona State helmet logo look a lot like the logo for a USB Cable?
Overrated: Erin Andrews. Underrated: Wendi Nix in glasses
Why do people wave their arms in the stands when a kicker is about to attempt a field goal or extra point? Is the kicker looking up at them before he kicks it? I'm sure he's looking at the spot, right? Ya think?
Maybe the kicker looks up into the crowd, just for fun and says to himself, "Hmm, why are they all waving the arms? Do they want something? Hey, hold it a minute guys, let me see what they want while I am trying to nail this game winner from 45 yards…"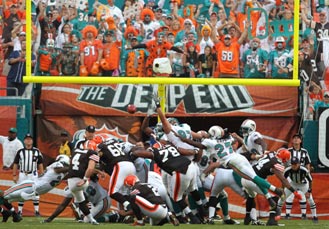 I can see it in basketball, since the player has to look up, and the backboards are made of glass, but in football, it's pretty friggin' stupid (Along with the Maryland helmets). If you want to wave your arms and act like Big Bird, go to see the Sesame Street Show. If you want to look like a knowledgeable college football fan, stand there and hope your special team gets the job done.
---
What do you think?

We'd love to hear your comments and/or opinions. If you submit them here, other visitors can read them, rate them and comment on them. An e-mail address is not required.

---
Auburn - Alabama Heisman Trophy Winners | 2011 SEC Football Recruiting Summary | Tennessee Tailgate Story | My Ideas To Make College Football Better | 2010 Preseason College Football Conference Comparison | Origins of SEC School Colors | History of SEC School Mascots | College Football Books and Videos | Cam Newton For Heisman | Conference Realignment Analysis | Lane Kiffin | Alabama vs Texas BCS Championship Game Review & Analysis | Best All-Time SEC Football Coach | College Football Yesterday and Today |
---
From SEC Football Week 4 Preview to SEC Football Blog | SEC Sports Blog | SEC Football | SEC Basketball | SEC Basketball Blog | SEC Women's Basketball | SEC Baseball | SEC Track and Field | SEC Swimming and Diving | SEC Tennis | SEC Golf | SEC Gymnastics | SEC Soccer | SEC Softball | SEC Volleyball | Best College Sports Conference | College Football Bowl History | BCS Controversy | SEC vs Big Ten Debate | SEC Sports News | Current SEC Sports News | SEC Sports Pictures and Videos | SEC Sports Fan Forum | College Sports Blogs | College Football Association | SEC Sports Fan Trips | College Sports Gift | Fathead | College Sports Tailgate Party Shop | College Sports Merchandise | College Sports Apparel | SEC Sports Fan Store | SEC Football Tickets |
---
Home Page

About Us | Contact Us | Site Search | Advertise | Terms of Use |
---