SEC Football 2012: Week 2 Review and Week 3 Preview
I just finished watching College Game Day Final so I decided to pour myself another glass of the Single Barrel Daddy's Apple Juice. As the soothing sounds of Foghat's Rollin' and Tumblin' became sweet music to my ears, here are a few thought's about what I have seen today.
Why is the conference looking to add schools such as FSU, Texas, Oklahoma, or Virginia Tech? If I were Commissioner Mike Slive (or Mike Slime as my buddy Coach Chris calls him), I would be on the Bat Phone immediately to contact Louisiana Monroe.
Not only has have the Red Hawks knocked off Mississippi State as well as a Nick Saban coached Alabama team, but now they have felled another giant in #8 Arkansas.
ULM had 550 yards of offense and almost doubled Arkansas time of possession. They also made the clutch plays when they had to.
That sound you just heard was Arkansas plummeting out of the polls and going splat into obscurity. There goes my ten thousand shares of Piggly Wiggly stock…
Good to see Walter Matthau and Jack Lemmon on the sidelines Saturday as their appearance inspired the #7 ranked Dawgs to a woodshed beating over SEC newbie Missouri.
The game taught the Kittens (They aren't Tigers just yet) a few lessons. The first is to keep your mouth shut when playing an SEC team that has been in the big game before.
Two, last time I checked, games are 60 minutes so Missouri should plan on sticking around a lot longer than they did on Saturday.
And three, and this is most important, Sheldon Richardson can do your taxes. If you need a root canal, Sheldon is your man. But talking the talk and walking the walk is not Sheldon's strong suit. (Bonus points if you know what movie that is from…)
Is it just me, or does anyone else have this strange feeling Kiehl Frazier just turned the ball over again? That guy played more like Marvis Frazier today.
I have to add that Jenn Brown is making everyone ask who the hell Erin Andrews was and why did we care? The braided pony tail hanging over the left shoulder was oh so fetching, and gave all of us a reason to watch Mississippi State finally beat an SEC West school not named Ole Miss for the first time under Dan Mullen.
Fans of SEC Sportsfan.com have been asking me if I have been in touch with "Saucy" Stephanie, my South Carolina bud, and I have to report that she does check in from time to time.
If you don't remember her, she is the chicka that send me, not play-by-play updates, but drink-by-drink updates of her at games. In fact, her vocabulary has expanded colorfully by a million words whenever you mention the name Dabo Swinney. Throw in the fact her Hubby is an UGA grad, things get interesting this time every year.
She was a little nervous before this one as losing Conner Shaw cast a shadow over the 'Cocks victory over Vandy last week, but "The Saucy One" can breath easier as Carolina made out all right without Shaw as they trampled East Carolina in Columbia today.
And I am sure after UGA thumped Missouri, there was some other making out going on in her house after they put the kids to bed.
Maybe Texas A&M should remember that games are 60 minutes long. Following a disturbing trend from last year, they once again blew a lead in the second half as Florida shut them out in the second half and won 20-17.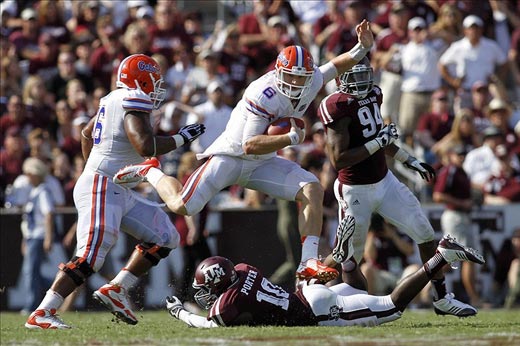 ---
The Gators had never won a game when trialing at the half under Will Muschamp, but knowing they were playing A&M, they must have known it as in the bag.
Is this not playing a full 60 minutes a Big 12 thing or what? First Missouri, now A&M. Gee, I hope that's not contagious.
I really hope Bama, and Tennessee enjoyed their cupcakes this week. I would say the same for Kentucky, but I wasn't sure which team was the cupcake in their game with Kent State. I do tip my cap to LSU however, as their cupcake was from a big boy conference. Then again, take out USC and Oregon and that big boy conference looks more like the Shoney's Big Boy conference…
Look who is 2-0! Ole Miss has not been unbeaten at this point of their season since Col. Reb was a private.
I would like to submit this next point as evidence of Vanderbilt being Vanderbilt. An obvious incompletion was ruled as a catch, and the clowns in the replay booth must have gotten the memo that this was Vandy they were ruling on, so they allowed the play and it led to a field goal that broke a fourth quarter tie.
The 'Doores fumbled on their next play from scrimmage, and from that point on, all anyone could see was Jack and Rose clinging to a floating piece of debris as they watched their ship begin to sink. (Cue the Titanic music)
What a difference a week makes, huh? Here's a tip for all us SEC fans: Tread lightly whenever you encounter a Big Ten fan since this one will surely be thrown in your face when talking about which conference is better. And stop calling me Shirley…
Week 3 Predictions
Time to re-visit the Barrel and change the CD. I am thinking we go for a little Allman Brothers this time. Hey, a few more visits to the Barrel and I might start seeing Gregg Allman. I am pretty sure I don't want that to happen.
While I am doing that, read over what I think is going to happen this week in the SEC:
Louisiana-Monroe @ Auburn
Dare I predict another upset? Dare, dare… Well, if the ULM had not beaten Arkansas last week, I would say it could happen. Unless Auburn turned their papers over when hey got back to town on Saturday, and after seeing their performance on Saturday it is a possibility, the Tigers will see the Red Hawks coming.
Auburn 35 – ULM 28
Presbyterian @ Vanderbilt
You have to think the Blue Hose (Yes, that is Presbyterian's mascot) love the opportunity they will get this week. After all, that is why they are Vanderbilt, right?
This time, James Franklin gets his first victory of the season. Even the 'Doores can't screw this one up right? Gee, I sure hope not…
Vanderbilt 35 – Presbyterian 14
Texas A&M @ Southern Methodist
An old SWC matchup unfolds on Saturday as two foes who haven't played since the 80's rekindle their old rivalry.
Here is a tip, Mustangs: Let the Aggies get a lead in the second half. Then you will have them right where you want them and then you'll come away with the upset.
However, I saw the 30 for 30 Pony Excess episode, so I think unless Eric Dickerson and Craig James are in the lineup, SMU might be a little outgunned. Where is Sherwood Blunt when you need him?
Texas A&M 27 – SMU 7
#1 Alabama @ Arkansas
Do we have to do this? I mean really, this one is going to be over before the coin toss. I think Arkansas will still be in their free fall on Saturday, and the only thing I would worry about as a Bama fan is if they are going to land on Coach Saban when they finally hit the ground…
Alabama 38 – Arkansas 17
#18 Florida @ #23 Tennessee
The biggest game in Coach Derek Dooley's career unfolds on Saturday night in Knoxville as ESPN's College Game Day will be on hand to see who will get their first signature win in the SEC.
Win, and he has Big Orange Nation back on his side, and the Vols are headed in the right direction. Lose, and the word will be he can't win the big one and the coaching search will begin in earnest.
At the beginning of the year, I felt Florida had better talent and would wipe the field with the Vols. Throw in the fact the Gators played in a hostile environment last week and somehow pulled through, so that has to make you think going to Knoxville won't scare them too much. Besides, UT can't run the ball across the street, and that's never a good sign.
However, right now, Tennessee is the better team, and since the game is played this Saturday, instead of on paper at the beginning of the year, I have a feeling Coach Dooley finally gets it done, and the Vols will have ended eight long years of frustration to the Gators.
Tennessee 24 – Florida 20
Western Kentucky @ Kentucky
Willie Mays Hayes: Vaughn, you better call the Stewardess, I think I need one of those bags…
Ricky Vaughn: I don't think there are any stewardesses…
Coach Scooter: I don't think there are any football teams in this one either…
Kentucky 17 – Western Kentucky 16
Arizona State @ Missouri
So, Sheldon, whadda think now?
Arizona State 34- Missouri 31
Mississippi State @ Troy
Do I smell an upset? I sure do. Either that, or forgot about the cheese dip I was heating up in the microwave…
Troy 31- Mississippi State 28
UAB @ #8 South Carolina
Do I smell another upset? Not if I want "The Saucy One" to keep sending me drink-by-drink updates. Then again, I should really talk to her about sending me drink-by-drink drinks…
South Carolina 42 – UAB 17
Florida Atlantic @ #7 Georgia
Will the case of Geritol reach the stadium before game time? Will their AARP membership be approved? Will the UGA players not have to take history classes sine they are so old they know it all already?
Unfortunately for FAU, all those questions get a big fat yes. And after the game, Coach Mark Richt is buying at the Red Lobster's Early Bird Special.
Georgia 45 – FAU 14
Idaho @ #3 LSU
Tiger Bait! Tiger Bait! I hope Mike the Tiger likes potatoes…
LSU 58 – Idaho 16
#14 Texas @ Ole Miss
As our good buddy Al Chervik once said, "Hey honey, you must have been something before electricity," this matchup back in the 50's and 60's would have been something special.
However, this is the 2010's, and the only thing special about this one, is the level of hotness both schools coed's bring to the game. Anyone with a camera please send pics since this one will be more special at the tailgate than on the field.
Texas 27 – Ole Miss 3
---
New! Facebook Comments
Leave a comment about this article in the box below and share it with your Facebook friends.
What do you think?

We'd love to hear your comments and/or opinions. If you submit them here, other visitors can read them, rate them and comment on them. An e-mail address is not required.

---
Auburn - Alabama Heisman Trophy Winners
|
2011 SEC Football Recruiting Summary
|
Tennessee Tailgate Story
|
My Ideas To Make College Football Better
|
2010 Preseason College Football Conference Comparison
|
Origins of SEC School Colors
|
History of SEC School Mascots
|
College Football Books and Videos
|
Cam Newton For Heisman
|
Conference Realignment Analysis
|
Lane Kiffin
|
Alabama vs Texas BCS Championship Game Review & Analysis
|
Best All-Time SEC Football Coach
|
College Football Yesterday and Today
|
---
From SEC Football 2012: Week 2 Review and Week 3 Preview to SEC Football Blog
|
SEC Sports Blog
|
SEC Football
|
SEC Basketball
|
SEC Basketball Blog
|
SEC Women's Basketball
|
SEC Baseball
|
SEC Track and Field
|
SEC Swimming and Diving
|
SEC Tennis
|
SEC Golf
|
SEC Gymnastics
|
SEC Soccer
|
SEC Softball
|
SEC Volleyball
|
Best College Sports Conference
|
College Football Bowl History
|
BCS Controversy
|
SEC vs Big Ten Debate
|
SEC Sports News
|
Current SEC Sports News
|
SEC Sports Pictures and Videos
|
SEC Sports Fan Forum
|
College Sports Blogs
|
College Football Association
|
SEC Sports Fan Trips
|
College Sports Gift
|
Fathead
|
College Sports Tailgate Party Shop
|
College Sports Merchandise
|
College Sports Apparel
|
SEC Sports Fan Store
|
SEC Football Tickets
|
---
Home Page

About Us | Contact Us | Site Search | Advertise | Terms of Use |
---