SEC Football 2012: Week 1 Review and Week 2 Preview
Tennessee 35 – N.C. State 21
Lots of yucks at this one as Coach Scooter and his motley band of Vol fans hit the Georgia Dome to see if Tennessee could break their six game losing streak in Atlanta.
Here is a shot of our spot, which was nice since we were close to the Dome as well as other UT fans.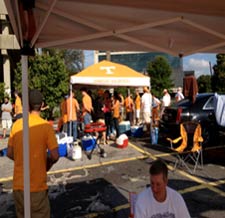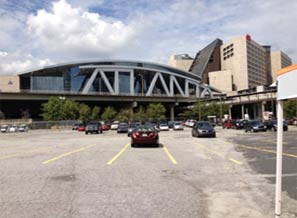 The guys next to us were perfect tailgating companions. They brought some great music, lots of drinks and since they were younger, lots of hot women. The music selection was great, but when someone snuck in Iron Maiden's "Run to the Hills," I knew things were about ready to get out of control. In fact, I thought I heard a Krokus song as we were heading over to the Dome, so I know for sure we were all about to hit rock bottom.
Then again, when you bring these items to a tailgate, such as a 30 pack of PBR, Cheese Balls, Popeyes Chicken and the ultimate tailgate necessity, Funions, you know control is slowly beginning to slip out of your grasp….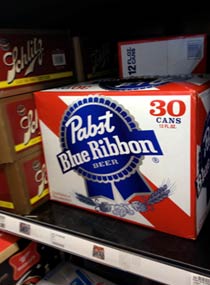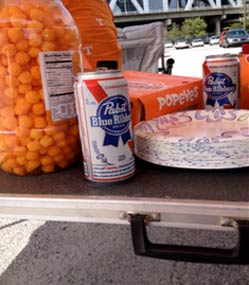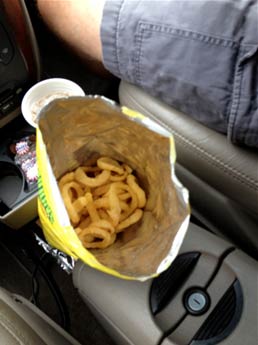 Since it was the first game of the year, fashion was important, hence the dueling orange shorts with the power T's on them. To quote Modell from Diner, "It's very tasteful…"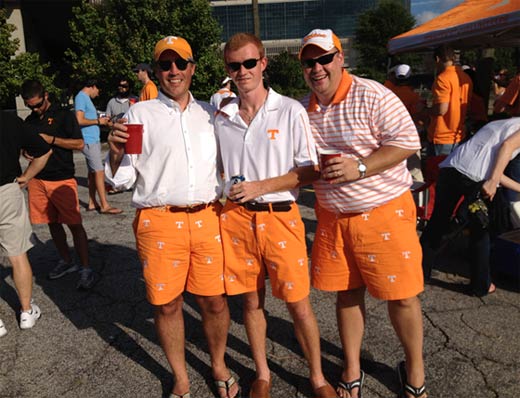 Trying to get all these jug heads to the Dome before kickoff was like watching Michael Palardy kick; it was a mess heading in several directions and none of them straight.
Of course, on the way to the Dome, we found a young lad who peaked too early. It's like my Aunt Molly always says, "That boy gotta whole head full of simple."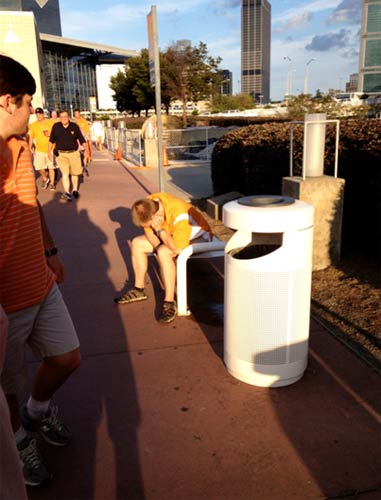 After many stops and starts, we finally get into the Dome. As we were walking to our seats, I spied a Tennessee fan wearing lederhosen. I am all for crazy sports gear, and this fit the bill. I went to take his picture as he was walking away, and one of his buddies, incidentally not named Fritz or Uli (Uli doesn't care about anything, he's a Nihilist) stopped him so he and Coach B could get a picture together.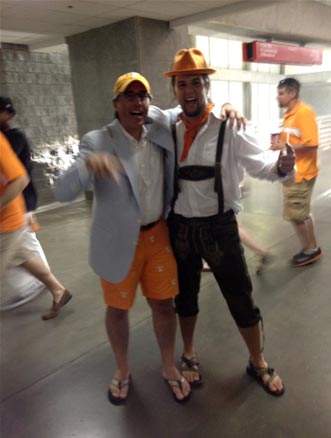 The funny thing was, when the guy turned around, it turned out to be my Nephew, Conner!!!! Of all the Domes in all the towns and all the Vol fans in lederhosen in all the world, he walks into mine… God love that kid!!!!!
We get to our seats, which are on the front row so we had a prime location for the game. We have Coach B to thank for that since he got the tickets in 2007, when they announced the game, so despite the fact he stressed that he might be tardy in ordering the tickets, I think he did all right.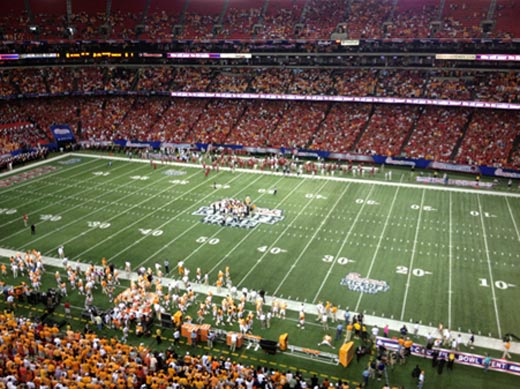 We settle into our seats, and it took us a while but we noticed Uncle Soup was not with us. I knew he visited with Dr. Daniels earlier to cure an ailment he was nursing (Yeah, it was called being sober at a Tennessee game) so there was no telling where he might end up. I even looked to the catwalk above the Dome, just to make sure he didn't take a wrong turn and end up there.
Sure enough, about midway through the first quarter, he showed up. "Soup, where the hell have you been?" I asked.
Slurring the whole way, he was able to piece together the following, "I saw a sign that said, Jack lives here. So I spent some time looking for his place."
He never found his place, but he did find unconsciousness with about five minutes to go in the second quarter.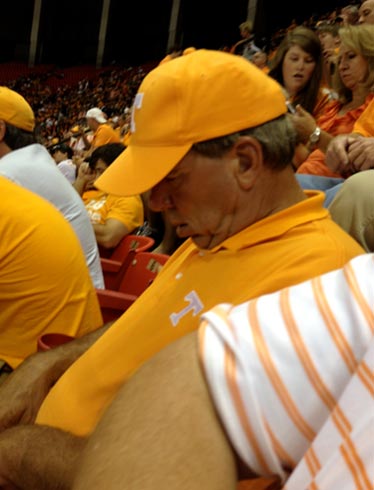 After Cordarrelle Patterson took an end around for a long touchdown run, to go along with a 41 yard TD catch in the first quarter, Aunt Molly sent me a text message. "That Cordarrelle Patterson is smoother than a spanked baby's butt."
The rest of the game went of without a hitch as the Vols won to uphold the honor of the SEC.
The yucks were not over as after the game, Coach B and Coach Kinley were walking back to the car when they saw a commotion ahead. It turns out Al Wilson and Leonard Little were there signing autographs and talking pictures with the fans.
In his excitement, and probably stupor, he tried to take their picture, but was so excited, he had the iPhone camera backwards, and took about ten pictures of himself, until someone in the crowd yelled over to him, "Flip the camera, ya dumbass."
We lost Uncle Soup again and worried he was in either jail or in Marietta. About a half hour later, and with us the last car in the now scary parking lot in downtown Atlanta, he appears out of he shadows with a large homeless man. We found out later his name was Leon, so he became Homeless Leon for the rest of the night.
Uncle Soup gave Homeless Leon 12 bucks, a 6 pack of beer, my bag of Funions (Which gave me a severe case of the red ass), and what was left of the Popeye's. I guess Christmas came early this year, huh?
By the way, I am still not talking to Uncle Soup after he gave away my Funions…
# 9 South Carolina 17 – Vanderbilt 13
Yeah, the 'Doores got jobbed. However, since they are Vanderbilt, don't expect them to get that call.
Texas A&M – Louisiana Tech
Hurricane Isaac 1 – Aggies and Bulldogs 0
#6 Georgia 45 – Buffalo 23
The Dawgs sleepwalked through a snoozer, but Missouri has their attention now.
#23 Florida 27 – Bowling Green 14
Speaking of sleeping, did the Gators realize the season began on Saturday?
Missouri 62 – SE Louisiana 10
Is Missouri ready for prime time? We'll see on Saturday.
Ole Miss 49 – Central Arkansas 27
Despite a sluggish start, new coach Hugh Freeze has his first victory in Oxford.
Mississippi State 56 - Jackson State 9
Dan Mullen needed that one.
#14 Clemson 26 – Auburn 19
In a back and forth struggle, Auburn was the first team to blink.
#10 Arkansas 49 – Jacksonville State 24
John L. Smith just got himself one more week in Fayetteville.
#3 LSU 41 – North Texas 14
Pretty routine as the Tigers have a nice tune up before Washington comes to town.
#2 Alabama 41 - #8 Michigan 14
Any questions, Big Ten fans?
#25 Louisville 32 – Kentucky 14
It looks like the Joker will be run out of Lexington faster than you can say, "Holy crap, Batman!"
Week 2 Preview
Auburn at Mississippi State
Auburn is coming off a tough loss against Clemson while Mississippi State looked great against Jackson State. With the game in Starkville, and fearing an Auburn letdown, I see Mississippi State winning two in a row and making Dan Mullen's future a little brighter, at least for one more week.
Mississippi State 17 – Auburn 10
East Carolina at #9 South Carolina
How hurt is Conner Shaw? If he does play, how effective will he be? No worry, Marcus Lattimore will keep the heat off Shaw until he can heal. By the way, does it look like South Carolina put the names of their players on the back of the jerseys with a label maker?
South Carolina 24 – East Carolina 10
#24 Florida at Texas A&M
Welcome to the big time, Aggies! After seeing Florida last week, I have a feeling there is going to be some gigging going on as a maroon wave will sweep the Gators back into the swamp.
Texas A&M 31 – Florida 24
Western Kentucky at #1 Alabama
After all the hype, I have to admit, Alabama is not the best team in football. In my last power poll, I have them behind the Giants and Patriots…
Alabama 49 – Western Kentucky 0
Georgia State at Tennessee
UT has a rosy outlook after a solid performance last week and now gets a chance to tune up before Florida comes to town. The Vols get victory #2 as the orange and white prepare for the biggest game of the Dooley era.
Tennessee 38 – Georgia State 7
UTEP at Ole Miss
Good to see the Rebs got off the deck to beat Central Arkansas, after trailing at the half. Don't short change Mike Price's team as the Miners played Oklahoma tough, tied at halftime and trailed 10-7 in the fourth quarter.
Ole Miss 21 – UTEP 17
#8 Arkansas vs. Louisiana-Monroe
The Hogs looked as good as their pre-season predictions in rolling up 49 points. Look for more of that on Saturday.
Arkansas 52 – Louisiana-Monroe 14
Washington at #3 LSU
LSU passed the first test easily, but Washington comes to town and this one might be tougher than predicted. I know the Tigers are a huge favorite, but I have a feeling that the Huskies will play well. Not well enough to win, but good enough to hang around.
LSU 31- Washington 20
Kent State at Kentucky
I would rather watch Uncle Soup match wits with Homeless Leon…
Kent State 24 – Kentucky 21
Vanderbilt at Northwestern
Speaking of matching wits, it doesn't get any better that this. I just hope for the sake of the officials, they get the calls right or James Franklin is going to play bocce ball with their heads.
Vanderbilt 28 – Northwestern 21
#7 Georgia at Missouri
The game of the week in the SEC sees Missouri take their first steps to becoming a big boy in the college football world. Unfortunately, they get the old men of the SEC in the Georgia Bulldogs. You can talk all you want, but eventually you have to get on the field and play the game. That's bad news for the Tigers as Georgia welcomes them into the SEC with a swift kick to their candy asses.
Georgia 27 – Missouri 10
---
New! Facebook Comments
Leave a comment about this article in the box below and share it with your Facebook friends.
What do you think?

We'd love to hear your comments and/or opinions. If you submit them here, other visitors can read them, rate them and comment on them. An e-mail address is not required.

---
Auburn - Alabama Heisman Trophy Winners | 2011 SEC Football Recruiting Summary | Tennessee Tailgate Story | My Ideas To Make College Football Better | 2010 Preseason College Football Conference Comparison | Origins of SEC School Colors | History of SEC School Mascots | College Football Books and Videos | Cam Newton For Heisman | Conference Realignment Analysis | Lane Kiffin | Alabama vs Texas BCS Championship Game Review & Analysis | Best All-Time SEC Football Coach | College Football Yesterday and Today |
---
From SEC Football 2012: Week 1 Review and Week 2 Preview to SEC Football Blog | SEC Sports Blog | SEC Football | SEC Basketball | SEC Basketball Blog | SEC Women's Basketball | SEC Baseball | SEC Track and Field | SEC Swimming and Diving | SEC Tennis | SEC Golf | SEC Gymnastics | SEC Soccer | SEC Softball | SEC Volleyball | Best College Sports Conference | College Football Bowl History | BCS Controversy | SEC vs Big Ten Debate | SEC Sports News | Current SEC Sports News | SEC Sports Pictures and Videos | SEC Sports Fan Forum | College Sports Blogs | College Football Association | SEC Sports Fan Trips | College Sports Gift | Fathead | College Sports Tailgate Party Shop | College Sports Merchandise | College Sports Apparel | SEC Sports Fan Store | SEC Football Tickets |
---
Home Page

About Us | Contact Us | Site Search | Advertise | Terms of Use |
---